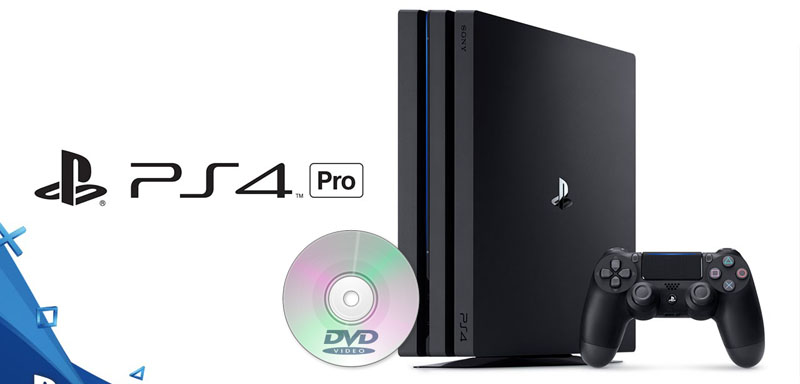 PS4 Pro is initially designed to offer heightened gaming experiences, whether via your existing HDTV or a new 4K TV. It can read game disks fine, however, many folks have found it's a painful experience to play their own DVD movies thru PS4 Pro. And there are frequently asked questions listed below:
"Ps4 pro wont play dvd or blu ray. Everytime I try to play a movie I get a error code that says i must connect to the internet. The problem is I am connected. I even have the connect to internect box checked. I have the latest updates. I just bought this **bleep**. Anyone else having this issue?"
"My PS4Pro will not play DVD movie disks? It reads game disks fine. It can even read the title of DVD's movie disks, but when I select start from the menu bar, it generates the error "Cannot start the application. (CE-30022-7)" These same disks playback fine on other systems. How to resolve?"
The two questions showed above are asked by PS4 Pro users, they all have encountered the DVD to PS4 Pro playback issues. After bought PS4 Pro, many users want to use it to play Blu-ray or DVD discs, but there are a few of users have encountered DVD to PS4 Pro playback issues, they found many DVD discs can't be played by PS4 Pro, so what's the reason? In fact, the reasons that cause the failure of DVD playback on PS4 Pro might be various. Generally, there are some factors that can affect DVD playback on PS4 Pro. Read on to learn details.
Reasons for the failure of DVD playback on PS4 Pro and The Fixes
Case 1: PS4 Pro Internet Connection
Insert the DVD disc, and then select the content from the content area. Your PS4 Pro system must enable the disc playback feature over the Internet, one time only, before you can play any DVDs. After this feature is enabled, your PS4 Pro system doesn't have to connect to the Internet to play DVDs. If you can't set the internet well, PS4 will fail to play the DVD and show the message to you.
You can do these steps: Select (Settings) > [Network] > [Set Up Internet Connection], and then follow the on-screen instructions to configure network settings. For more information, you can read this article.
Case 2: DVD Region Codes
This issue is caused by disc's protection technology, some DVD discs will not be played by PS4 Pro due to the region limitation, and some will not be played due to technology issue, due to users' reports we know that PS4 Pro can only play limited DVD or Blu-ray discs.
Each PS4 Pro game console is manufactured for a specific DVD region, following international standards. The PS4 Pro console can play DVDs that are sold in the same region as the console. See the following tables for the countries in each disc region. Some DVDs are not region-encoded or are coded to all regions. Region-free DVDs will play on any PS4 Pro console.
Note Game discs for the PS4 Pro console are not coded to regions.
Find the region code represented as a number between 1 and 8 on the packaging, and verify that it matches your region.
| | |
| --- | --- |
| Region | Geographic regions/countries |
| 1 | United States, Canada, Bermuda, U.S. territories |
| 2 | Europe (except Russia, Ukraine, and Belarus), Middle East, Egypt, Japan, South Africa, Swaziland, Lesotho, Greenland |
| 3 | Southeast Asia, South Korea, Taiwan, Hong Kong SAR, Macau |
| 4 | Mexico, Central and South America, Australia, New Zealand, Oceania |
| 5 | India, Afghanistan, Ukraine, Belarus, Russia, Africa, Central and South Asia, North Korea |
| 6 | People's Republic of China, Hong Kong SAR |
| 7 | Reserved |
| 8 | Special international venues, such as airplanes and cruise ships |
Case 3: Scratched DVD Can't be Played on PS4 Pro
Some DVD discs may not be playable on PS4 Pro due to scratches, dust, the quality of recording, or the characteristics of the recording device. In this case, you can use some DVD Copy tool to backup whole DVD video from the scratched, dust DVD discs. Then play DVD Video-TS folder on PS4 Pro.
Case 4: Unfriendly DVD for PS4 Pro
PS4 Pro can't play any DVD. Some DVD discs may damage your system:
- 8 cm discs
- Non-circular discs, such as discs in the shape of a card, star, or heart
- Discs that are cracked or deformed, or discs that have been repaired
Some DVD Rippers can copy 8cm DVDs to Video-TS. Then you can add Video-TS folder to PS4 Pro for playback.
Case 5: Rare Instances
In rare instances, DVDs, BDs and other media may not play properly on your PS4? system. This is primarily due to variations in the manufacturing process or encoding of the software.
The Easiest Solution - Converting DVD to PS4 Pro Supported Formats
PS4 Pro allows users to enjoy videos, photos, and music saved on USB storage devices and media servers using PS4 Media Player. You can rip and convert DVD to PS4 Pro supported video format then stream DVD video via USB or media server without worry about your DVD Region codes, DVD dust, DVD decryption technology, etc. You can use a DVD Converter to transcode DVD to the following formats which supported by PS4 Pro Media Player.
Inser the Chart
PS4 Pro Supported Media Formats

MKV

Video: H.264/MPEG-4 AVC High Profile Level 4.2

Audio: MP3, AAC LC, AC-3 (Dolby Digital)

AVI

Video: MPEG4 ASP, H.264/MPEG-4 AVC High Profile Level 4.2

Audio: MP3, AAC LC, AC-3 (Dolby Digital)

MP4

Video: H.264/MPEG-4 AVC High Profile Level 4.2

Audio: AAC LC, AC-3 (Dolby Digital)
There are many programs out there that allow you to make copies of your DVDs and let you watch them the way you want to view them. Most free conversion programs won't work with copy protected DVDs, here EaseFab DVD Ripper (available for Windows and Mac users) come out, it can remove the DVD region code as well as the copy protection such as RCE, Sony ArccOS, UOPs, Disney x-project DRM for playing DVD on PS4 Pro. It can convert DVD to PS4 Pro supported MKV, AVI, MP4. With the customization feature, you can adjust video and audio codec, bit rate, frame rate, resolution to make the video to fit in your PS4 Pro perfectly. While other software may be unable to copy some certain DVDs or yield audio/video not in sync, EaseFab DVD Ripper almost always functions perfectly.
Tip: If you want to play both Blu-ray and DVD discs by PS4 Pro, please turn to EaseFab Blu-ray Ripper for help.
Converting DVD to PS4 Pro compatible videos
Step 1: Load DVD movies.
Insert the DVD disc into your computer's optical drive, click "File" > "Load from disc" to load DVD disc into the program, apart from DVD disc, you can also use the program to load Video_TS folder, IFO or ISO image file into the program.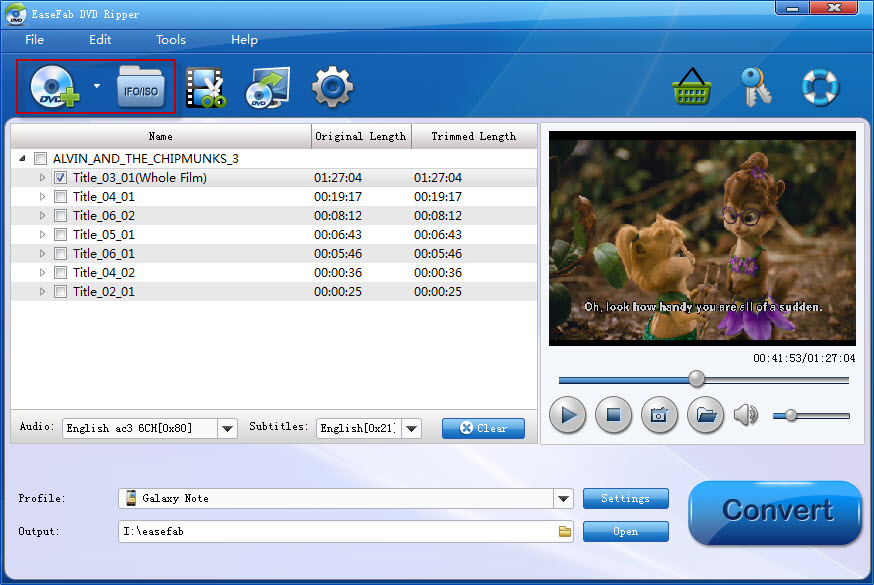 Step 2. Choose the output format
Now you should choose MP4, MKV, AVI (for MP4, MKV, MOV is usually encoded with H.264) as the output video format then press the "Settings" button to choose H.264 as the codec.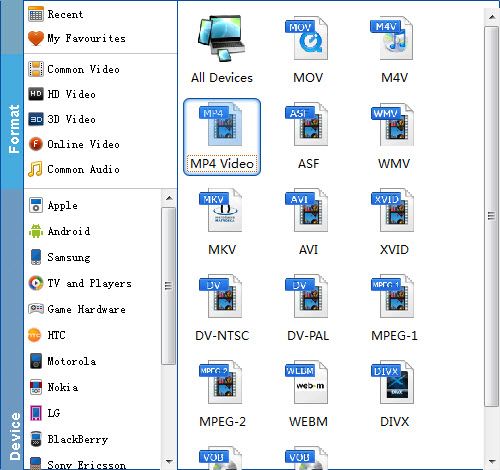 Step 3. Start ripping DVD to PS4 Pro
Hit right-bottom "Convert" button to start to convert HD video to PS4 Pro supported MKV, MP4, AVI video. Once the process ends, open the output folder to get the generated files.
Play Converted DVD on PS4 Pro via USB
You'll need to download the Media Player from PlayStation?Store before you can play video on PS4 Pro via USB. Select Media Player from the content area and then select Download from the screen that appears. Then following the steps below to start view videos on PS4 Pro via USB.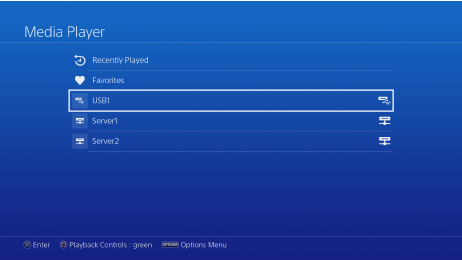 1. Select (Media Player) from the content area. Connected USB storage devices or media servers that are on the same network as your system will be detected and automatically displayed.
2. Select the USB storage device or media server.
3. Select the DVD video that you want to play.