Home
>
Resources
> DVD Tips >
Upscale DVD to 1080p
Posted by Matthew Watt - Sep 08, 2021 | Contact Author

How to Upscale and Convert a DVD to 1080p Video on PC/Mac
A simple guide on how to transfer your favorite movies on DVDs to Micro SD Card so that you can enjoy them on your smartphone or tablet on the go.
There are two common DVD resolutions, wherein 720x480 is standard NTSC resolution and 720x576 is standard PAL resolution. You can enjoy the best quality when you watch your DVDs on your old standard display with a resolution of 480p or 576p. But when you try to enjoy the DVD movie on an 1080P HDTV or even Ultra HD TV, you'll find the picture of standard DVD movie won't fill the screen but show black borders or there are smearing and pixelation on the movie. Why?
Theoretically, the DVD size is so small that it takes only ~16% of the display area of a 1080P HDTV. To cover the whole TV screen, the DVD resolution is often scaled from 480p/576p to 720p, 1080p to fill the entire screen of HDTV. Generally, most modern HDTVs and DVD players feature an DVD upscaling function which aims to improve the quality of old DVD movie to fit the new screen by upconverting old DVD content to 1080p HD or even 4K Ultra HD. But this doesn't mean they are doing a good job. In fact, DVD to 1080p upscaling by DVD player or HDTV is far from perfect. There are visual artifacts. Stretched appearance, blurry image and even distortion are noticed when you are closer to TV if poor upscaling is performed.
How most upscaling DVD players and HDTV upscale DVDs?
Common DVD resolutions are 720×480 pixels (NTSC) or 720×540 pixels (PAL). When a DVD is played on an HD display at 1920x1080P, namely the 345,600 pixels or 388,800 pixels need to be displayed on 2073600 pixels. The way the HDTV sets upscale DVD video fit the 1080P widescreen is by making each pixel from the video occupy 6 or 5.33 pixels on the monitor. As most sets apply a poor scaling algorithm, the DVD looks blurrier than the original video at the original resolution. Most upscaling DVD players do the exact same thing – they simply enlarge the image and don't improve DVD quality in essence. High-end players run an algorithm to determine when a pixel is one color or another, which requires a mathematical comparator operation.
Any other way to upscale DVD to 1080p without quality loss?
If you are unwilling to be confined to display itself or perplexed by the poor upscaling algorithm, why not try third-party DVD upscaling software like EaseFab DVD Ripper. This software is an easy-to-use yet powerful program with an advanced algorithm that can maximize the output quality. With over years of experience, it will easily rip any protected DVDs, old and new titles, homemade/burned discs, other DVDs and upconvert DVD to HD 1080P, 4K, 720P, etc. videos in whatever format, be it MP4, MOV, AVI, WMV, or HEVC, with no perceivable quality loss. With 350+ built-in formats and devices, you can convert DVDs to Mac, iPhone, iPad, Apple TV, iTunes, iMovie, etc.
How EaseFab DVD Ripper upscale DVDs to 1080p
When upscaling a DVD to 1080P, the built-in High Quality Engine will apply. How does it work? It's based on the Deep Convolutional Neural Networks to find the edge of the video image. Then the edge-refinement algorithm will work to make the residual lines thinner. The thinner the residual lines are, the less blurry an image is. This method can prevent pixelization and blurry outcomes, making the upscaled 1080P DVD video watchable on a bigger screen.
[Tutorial] How to upconvert DVD to 1080p without quality loss?
To begin with, you need to download and install EaseFab DVD Ripper Windows or Mac version on your computer. The DVD upscaling guide below takes the Windows version for an example. Mac version has the same process.
Step 1. Load the source DVD
Launch EaseFab DVD Ripper on your PC or Mac. Click the "Load DVD" button to load the source DVD. This best DVD upscaling software will automatically remove any encryption on the DVD and detect the correct title.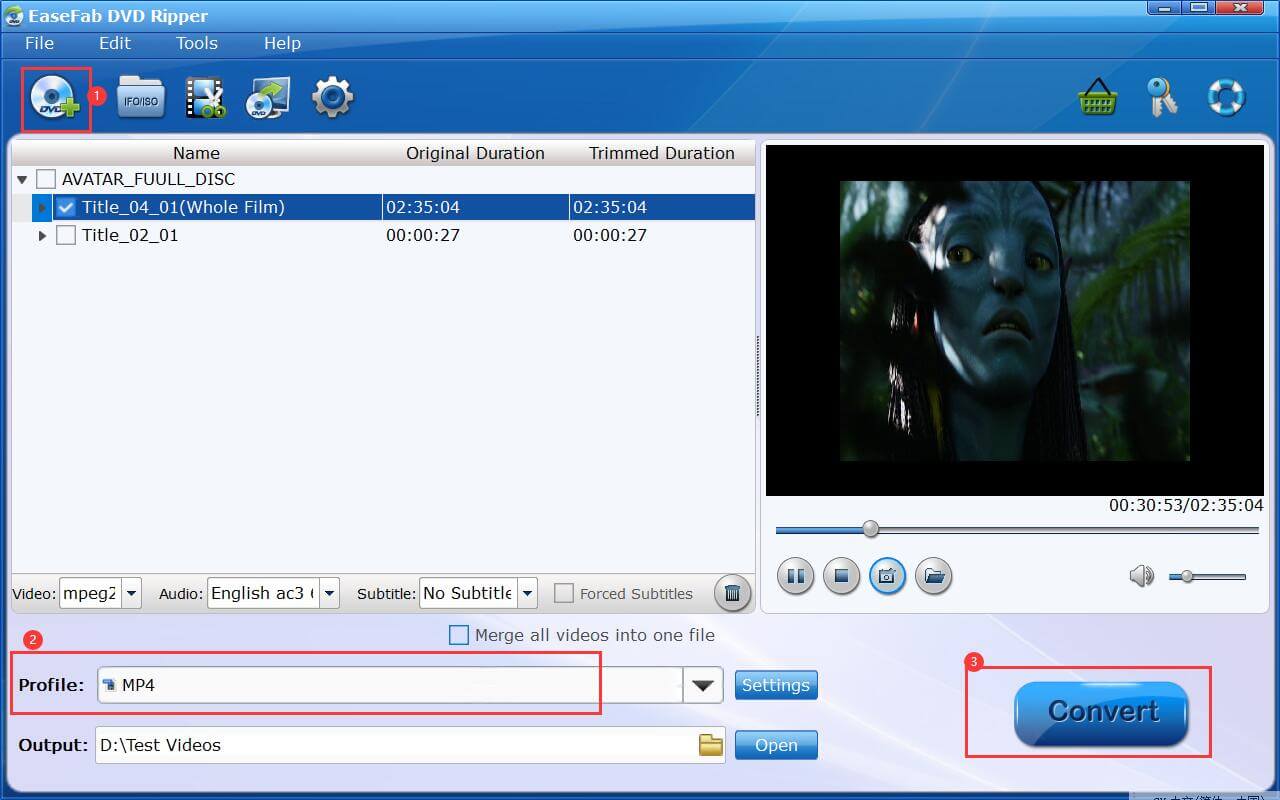 Step 2. Select an output format
There are many output formats for your choice. To get the best result, you're suggested to rip DVD to MP4 for upscaling. Go to "Profile" bar and select "MP4" from "Common Video" category.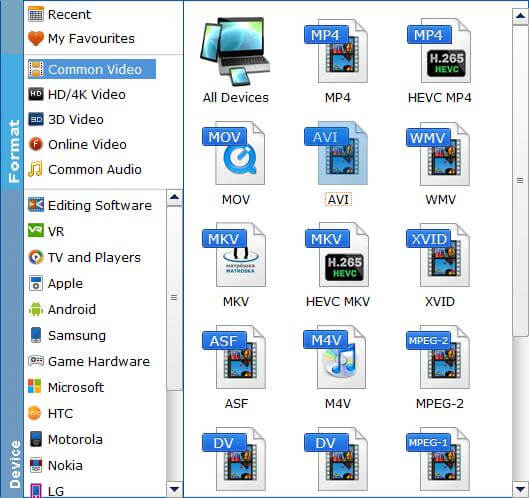 Step 3. Upscale DVD resolution to 1080P
Click the "Settings" button beside the Profile bar to enter the Settings window. Find Resolution and open the drop-down menu. Select 1920x1080 to upscale DVD 480P/576P to 1080P and click OK. In fact, you can change DVD resolution to 720P, 2160p (Ultra HD), etc. or set the resolution by yourself to fi widescreen or other higher resolution display with a specific size.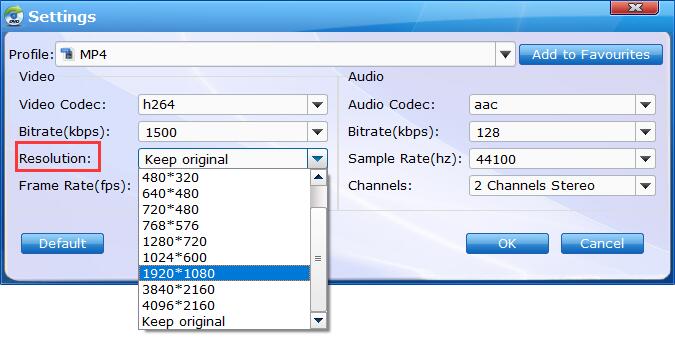 Step 4. Start to upscale
When everything is OK, click the big "Convert" button to start the DVD upconverting to 1080p MP4 videos.
Other Useful How-to Guides & Tips
This articles shows you the simple step-by-step guide on how to extract subtitles from DVD to a SRT file format. Read on for details.
This article introduces two easy solutions to add subtitles to DVD movies or videos so that you can better understand the movie plot.
Learn how to easily and fast convert DVD to lossless MKV file while maintaining full video, all audio and subtitle tracks, and original DVD video quality.
This is an instructional article on showing how to share and upload DVD to Google Drive by ripping DVD to digital format with excellent video quality.
Copyright © 2023 EaseFab Software Corporation. All Rights Reserved.