Summary: This article will introduce the best 5 DVD to digital converters and show you how to convert a protected DVD or a home video DVD to a digital file in MP4, MKV, ISO and other formats.
Physical DVD discs are indeed not as convenient as digital files. And video streaming subscription has surpassed physical media as a more popular choice for home entertainment. Nowadays many people don't or rarely buy new DVDs. If you own a big collection of movies and TV shows on DVDs and don't want to leave your DVDs idle to gather dust and become obsolete, you can consider converting DVDs to digital files to give them a second life.
In this article, we will share you with 5 best DVD to digital converter software and services (free options included) and step-by-step tutorials on how to convert protected/Disney/home video DVDs to digital files in MP4, H.264, HEVC, MKV, etc. for using on NAS, Plex, TV, hard drive, mobiles, etc.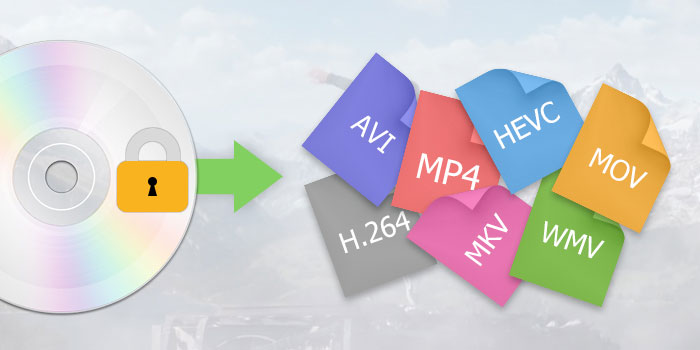 2023 Best DVD to Digital Converters/Service You Should Try



Way 1. Convert DVD to Digital with EaseFab DVD Ripper
There are numbers of paid or free programs that claim to digitize and rip DVD discs. If you do not want to be held back by slow processing, various types of disc copy-protection and you want to make full video copy of a DVD disc without limits, EaseFab DVD Ripper is highly recommended. It's a totally clean, fast, easy-to-use yet poweful DVD to digital converter that you're looking for. It allows you to:
● Convert DVD to digital copies in all mainstream formats, including but not limited to MP4, MKV, AVI, HEVC, M4V, H.264, MOV, etc. without quality loss visually, up to 98% original quality reserved and 90% smaller than the source DVD.
● Any DVDs with regions and copy-protections you have are supported, incl. encrypted DVD movies, old DVDs, damaged discs, TV shows, workout DVDs, etc.
● Digitize DVD discs for Plex, NAS, TVs, phoes, tablets, hard drive, PC/Mac, iTunes, cloud, etc. with high quality and small size.
● Remove ads/trailers, select subtitles/audio tracks, adjust settings (resolution, frame rate, 4:3/16:9 aspect ratio, etc.)
● Finish DVD digitizing and conversion at ultra-fast speed using hardware acceleration, multi-core CPU, and Hyper-threading technology. 5X faster than similar programs.
Free download EaseFab DVD Ripper Windows or Mac version to convert DVD to digital files:
[Tutorial] How to convert DVD to digital with EaseFab DVD Ripper
In this guide we take EaseFab DVD Ripper Windows version as an example. Mac version shares the same steps.
Step 1. Load DVD movies
Insert the DVD disc into your computer's hard disk and launch EaseFab DVD Ripper. Then click "Load DVD" to add the DVD files. As you can see, you can select the titles you want to rip and merge them into one big file. At the bottom, you can select your desired subtitle and audio track.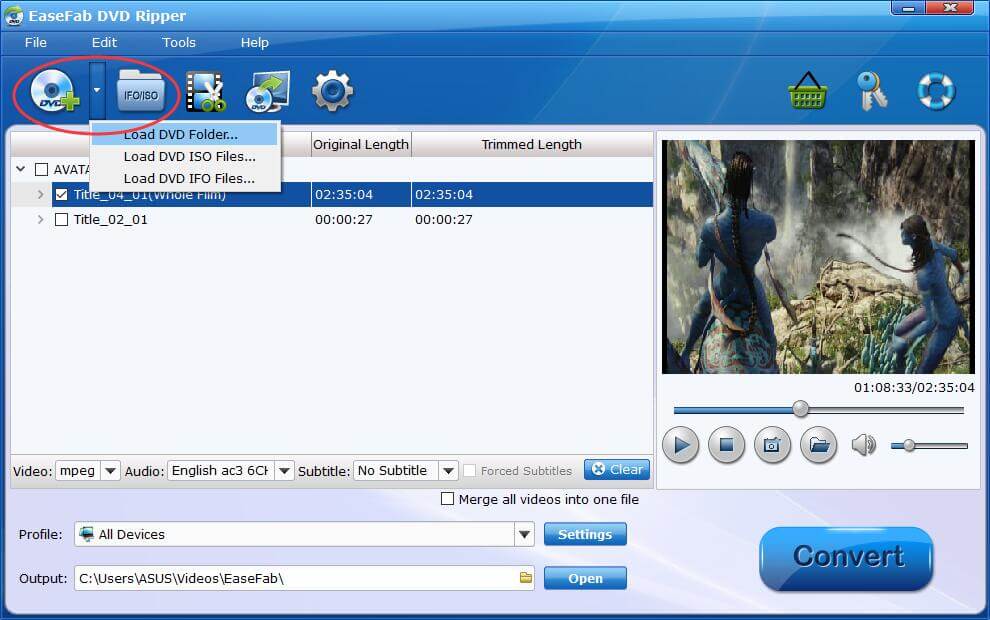 Step 2. Select output format
Then click "Profile" and select the format you prefer. you can see all popular formats devices divided into various categories.
Which is the best format for DVD Disc to Digital?
• To save a digital copy of DVDs on the computer, you can convert DVD disc to MP4, AVI, WMV, MKV (Windows 10 already supported);
• To play DVD movie on Apple TV/iPhone/iPad/Mac and other Apple devices, choose to digitize DVD to MP4, MOV, M4V;
• To watch DVDs on Android/Xbox/PS4, convert DVD to MP4, H.264, 3GP, WebM, MKV;
• To copy DVD disc to digital files on the hard drive or other storage in 1:1 with all intact DVD videos/audios/subtitles, copy DVD to VIDEO_TS folder or DVD to lossless MKV file.
The most commonly-used DVD movie digital format is MP4, as it works well with almost all players, mobiles, NAS, Plex, web sites, cloud services, etc. with good compression and excellent quality. So here we take ripping DVD to MP4 digital video file as an example. Choose MP4 from Common Video Category.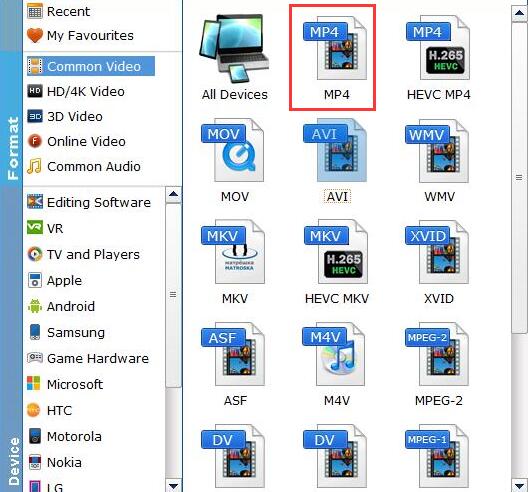 Step 3. Start ripping
The last step is to click Convert button to being ripping your DVD to digital videos. When the conversion finishes, click Open to get the ripped videos and enjoy them anywhere you like.
Before creating a digital copy of DVD movie, you can click the Settings icon to adjust the video/audio settings, for instance, adjust output file bit rate, aspect ratio, frame rate, sample rate, etc.. You can also click Edit to add subtitles, adjust the volume, crop & expand the video to remove black bars, trim the video to rip episode from DVD if the TV series are combined into a single file.
Way 2. Convert DVD to Digital Free with Handbrake
Handbrake a free open source video transcoder which can also be used as a DVD to digital converter on Windows, Mac, and Linux. There is no more DVD decryption feature built-in Handbrake since version 0.9.3. But you can still rip some protected discs to digital files in MP4, MKV, or WebM, if with VLC libdvdcss installed. By loading the libdvdcss library in the application folder, Handbrake will dynamically read CSS and region-locked DVDs and then re-encode them into MP4 or MKV.
Besides enabling you to rip DVDs to digital format, Handbrake also lets you get a quick result by taking advantage of the presets in the side panel, from General, Web, Matroska to Devices. There are advanced parameters you can tinker with, available for precise encoding settings, effects, parameter adjustment, etc, which, though, are something of a learning curve.
[Tutorial] How to convert DVD to digital free with Handbrake
Step 1. Download, install and open Handbrake on your PC or Mac.
Step 2. Insert the DVD you want to convert to digital.
Step 3. Click Open Source to load the DVD movie. Handbrake will take some time to scan the title.
Note that you can rip unprotected DVDs only. If the DVD, ISO image, or DVD folder is encoded with CSS or region code, please download libdvdcss, a simple library designed for accessing DVDs with CSS decryption (make sure the version is compatible with your Windows version. Here is the 64-bit version we offer and then back up the .dll file to your Handbrake folder.).
Or else, an error message like "copy-protected sources are not supported", or "no valid source or titles found" will prompt when you try to free convert CSS-encrypted DVD to digital using Handbrake.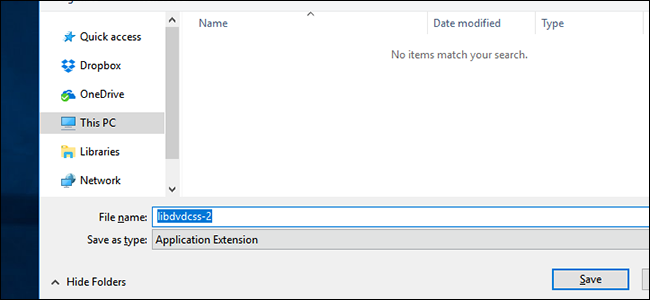 Step 4. The main title will be selected for homemade DVDs by default. For protected DVDs, you can find the title via VLC and manually select the right title from the Title dropdown box.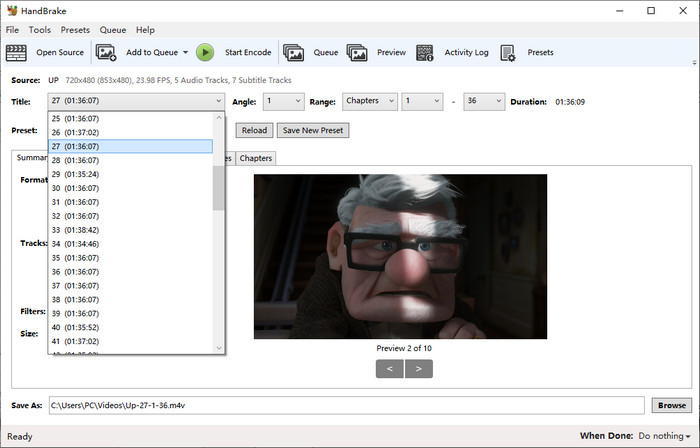 Step 6. Click the quality presets drop-down menu, ranging from General, Web, Matroska, Hardware, etc. You can preferably choose Fast480p30 for the US or Fast576p25 for Europe. You can also choose HQ and Super HQ for better image quality, which may also result in slow DVD encoding speed.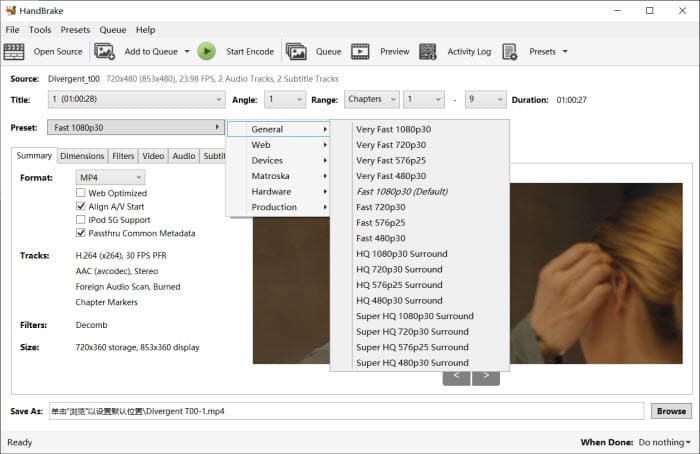 Step 6. Choose the format MP4 or MKV from the drop-down list in the Summary. Here we take MP4 for an example.
Step 7. Adjust the quality settings as per your needs. You can use the Picture, Video, Audio, Subtitles, and Chapters tabs further. Preferably, you can choose H.264 for MP4 video, set RF 18-22 for your DVD movies, enable 2-pass encoding for better image quality, and more.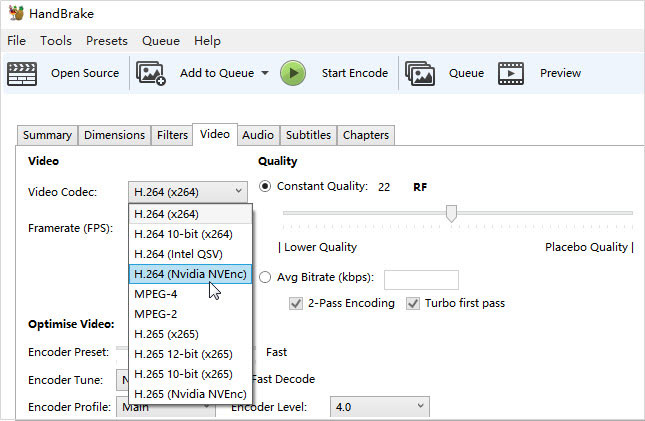 Step 8. Click the Browse button at the lower part and select a destination folder to save the resulting MP4 or MKV file. You can also use an external drive and store your DVD movie on your HDD or SDD, a USB drive, a NAS, or in the cloud.
Step 9. Then click Start Encode on the above toolbar to begin to free convert DVD to digital on Windows or Mac You can watch the conversion process. After the ripping, you can add the MP4 movie to your library in a movie library problem like Plex.
Way 3. Convert DVD to Digital Free with VLC
VLC proves itself a solid choice with its simplified interface and powerful DVD decoder feature. Besides a popular media player, it offers an easy way to convert DVD to digital files in MP4 H.264, H.265, WMV, Webm and more, with no need for extra codec packs.
However, VLC comes with a few trade-offs. VLC just supports ripping CSS and regional discs. You can't decrypt and rip a sophisticatedly-protected DVD with VLC, and you have no control over the conversion - resolution, bitrate, frame rate, deinterlacing, aspect ratio, volume, and more. Despite VLC doesn't offer more conversion profiles like AVI or WMV, and there are some hidden tabs and buttons in our test, you can still follow the steps to rip a DVD to digital with VLC.
Step 1. VLC acts as a DVD ripper since version 0.9.6. So you can feel free to download, install and run the VLC media player above 0.9.6. And then feel free to enjoy the free DVD to MP4 conversion on your Windows or Mac.
Step 2. Insert the original DVD into the disc drive.
Step 3. Open VLC, and select Convert/Save... under the Media menu in the top left corner of the main interface.
Step 4. Click the Disc button to load the DVD. VLC requires a special library called libdvdcss if you want to break the CSS encryption encoded on DVDs. The Windows and Mac builds have the library built-in, so it's no problem to rip CSS DVD to digital on Windows and Mac. But if you have some other protected DVDs, make sure to decrypt the DVD beforehand.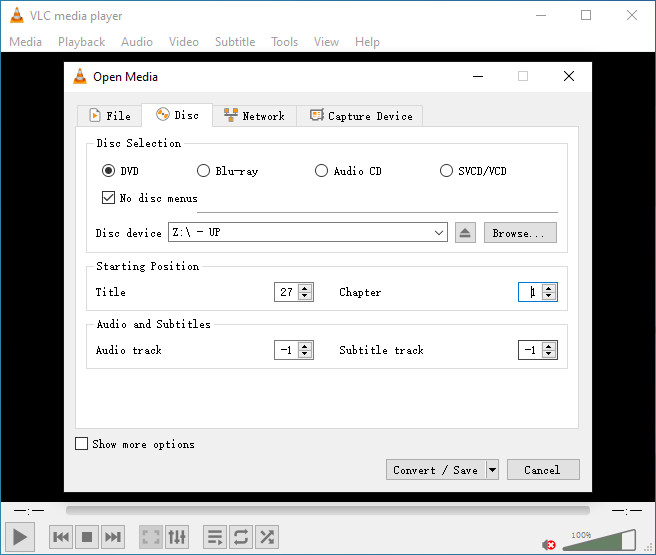 Step 5. Once the DVD movie in the Disc Device is loaded correctly, you can do some tweaking. Under Starting Position, you are available to choose which title or chapter you want to rip. Just leave this as the default if you want to rip the whole movie. Under Audio and Subtitles, you can also choose the specific audio or subtitle track as per your needs.
Step 6. Click the Convert/Save button once you finished the settings. Alternatively, you can also go to the Open Disc from Media tab > browse and choose DVD location at Disc Drive > choose Convert from the drop-down menu next to the Play button.
Step 7. When the Convert window pops up, select Video - h.264 + MP3 or other profile from the Profile dropdown menu.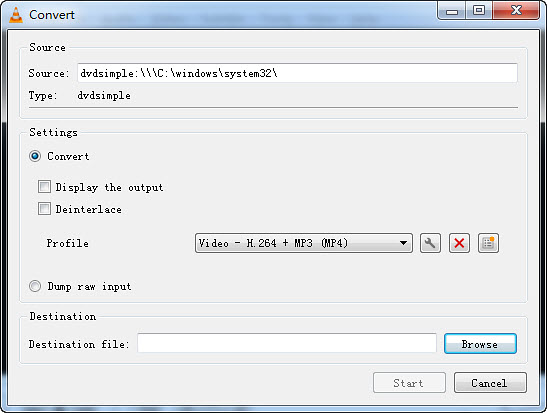 Step 8. Click the Browse button and pick a folder where you want to save the converted movie. Give the converted movie a new name with a file extension .mp4 or other. Or VLC won't rip the DVD to MP4 or other formats properly. Then click the Start button and convert a DVD to digital file.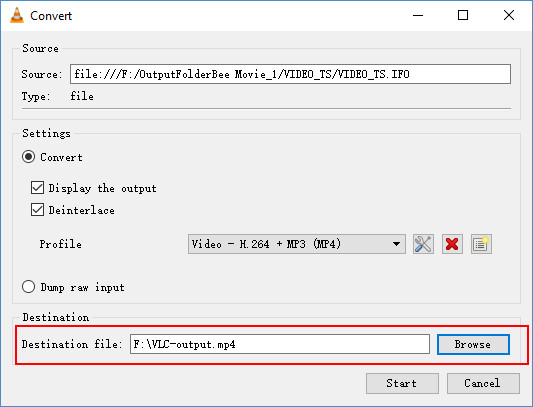 Way 4. DVD to Digital Service near You - DVDWalmart
Walmart offers a more one-size-fits DVD to digital service through DVDWalmart, a.k.a. YesVideo. Its digital media transfer service is $15.96 for the first 30 minutes of footage, and $5.46 for each additional 30 minutes. Footage can be saved to a USB for $12.96 and is stored online for 90 days in MemoryCloud. Media can be mailed in or dropped off in-person.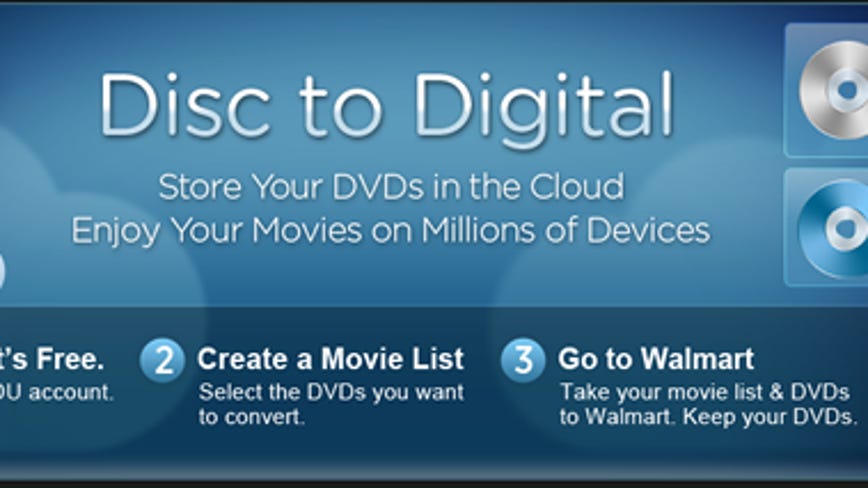 How to use DVDWalmart to transfer DVD to digital copy
Step 1. Create your order online or at Walmart.
Step 2. Bring your DVD and order confirmation printout (if you created your order online) to Walmart Photo near you or mail your order.
Step 3. Pick up the digital copy at Walmart if you dropped off your DVD at Walmart and wait for it to be delivered to you if you sent your media directly to Walmart. You may need to wait 3-4 weeks to get th e digital copy.
Way 5. Use Disc to Digital Service - VUDU
If you are looking to digitize commercial DVDs or Blu-ray discs — basically anything protected under copyright law — a service like Vudu is going to be your best option. VUDU's disc to digital service allows you to scan the UPC of your existing DVDs and Blu-Ray discs, convert to a digital format, which is then downloadable or can be viewed through the Vudu app. The conversion service costs $2 per disc and works with iOS or Android. Keep in mind that not every movie is going to be supported by Vudu, but it does have a search tool on its website to check eligibility.
How to convert DVD to digital with VUDU disc to digital service?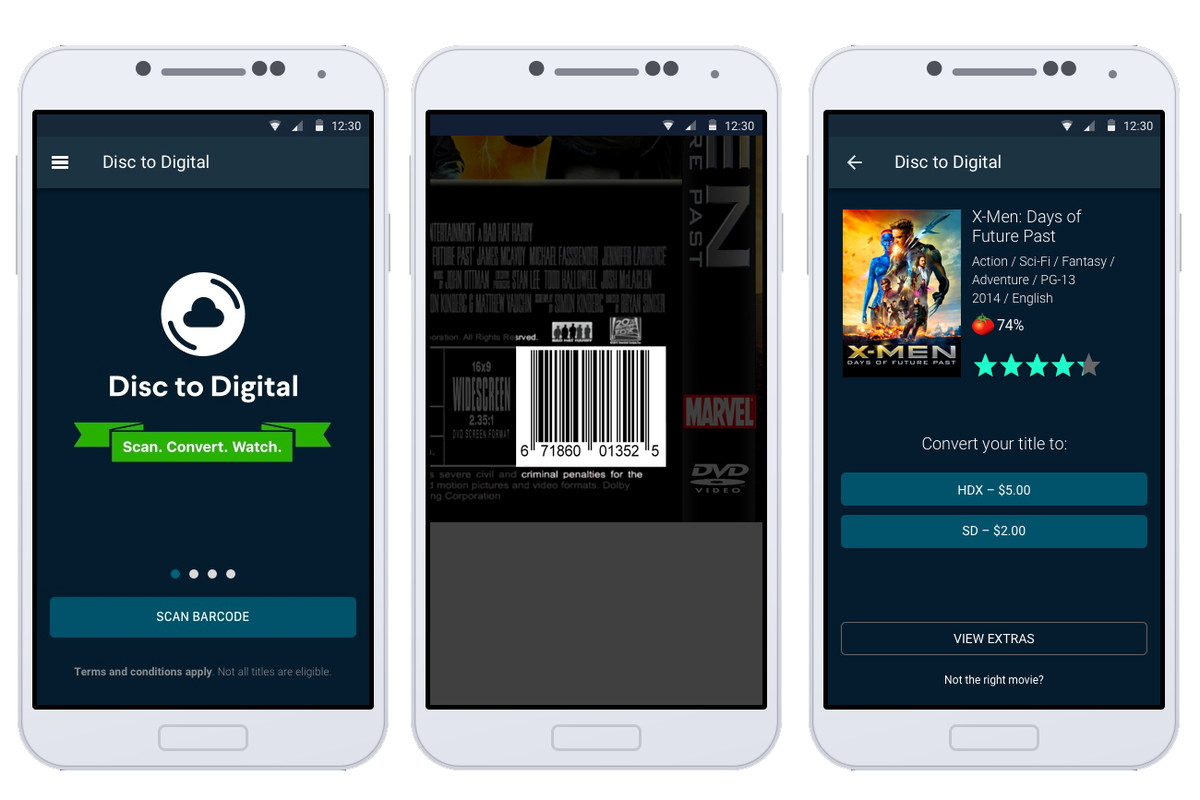 On iPhone:
Step 1. Visit vudu.com/disc on your iPhone and click Convert Disc.
Step 2. Sign in.
Step 3. Allow app permissions.
Step 4. Scan barcode, select output quality, and watch the digital copy.
On Android:
Step 1. Download VUDU app from your app store.
Step 2. Sign up if you don't have an account. And then, sign in.
Step 3. Select Disc to Digital and grant the app access.
Step 4. Scan the UPC barcode on your DVD case, pay for the DVD to digital conversion (DVD to SD: $2 per disc; DVD to HDX: $5 per disc), and then watch instantly.
Comparisons of Above-mentioned DVD to Digital Methods
Which way to choose for converting DVD to digital? Below we've listed the the advantages and disadvantages of each method to help you determine which one is best for you.
DVD to Digital Methods

Advantages

Disadvantages

EaseFab DVD Ripper

● It provides over 500 output profiles to choose.
● It helps users to convert DVD to digital at home.
● It is easy to use, even for beginners. No technology skill needed.
● It is more cost-effective than other methods.
● It works fast. A DVD can be converted to digital within minutes.
● Support both home DVD and copy-protected movie DVDs.
● It allows editing video before ripping.
● Need to download and install software on your PC or Mac.
● Need DVD drive.

Handbrake

● It is totally free.
● It provides dozens of output presets.
● It can't bypass copy protections.
● Some settings are confusing for beginners.

VLC

● It is free of charge.
● It can do more than DVD to digital.
● It requires quite a long time to digitize DVD.

DVDWalmart

● You don't need to do the conversion by your self.
● It is troublesome.
● It is expensive.
● Users will wait long time to get digital copy.

Vudu

● You can process DVD to digital right from your mobile.
● There is no need to use DVD drive.
● It costs much if you have a large DVD collection.
● It sets limit on maximum conversions per year.
● It is only available in US and Mexico.
Not all DVDs are supported to convert.