Storing physical DVDs not only creates space issues but also a risk of scratching and damaging them. Moreover, playing these disc videos on your portable players may be a problem. In all such situations, the best solution is to use a DVD ripper tool to convert them into digital files like MP4, MOV, MKV, etc. for backup or playback anywhere. If you're looking for the best DVD ripper software for macOS, we've got you covered with the five best free and paid options for you.
Choosing a DVD ripper for Mac should be easier and faster now, which only supports 64 bit applications which has already set a higher bar for blooming new converters and many old transcoding programs. But the fact is, without a set standard, we are still at sea picking an ideal DVD ripper for daily use on macOS.
What Makes the best DVD Ripper for Mac (macOS Ventura or lower)
There's a good mixture of DVD ripping programs for Mac users out there, including free, paid, and freemium options. These differ in various aspects, including ease of use and features. Before we jump into our list, let's take a look at the criteria we used to choose the best mAC DVD rippers. Those that made it to the list meet most, if not all, of the following criteria:
• Easy to use and beginner-friendly
• Large selection of output formats and conversion choices
• High-quality video output and a manageable size
• Advanced customization tools
• Reasonably priced
• Timely customer service (help and support)
Note: If you are going for a free DVD ripper software, be aware that there are a lot of less than reputable products that will flood your home computer with malware and tracking software when installed. Stick to the best known names if you're going for a free program, or buy a premium ripper program from a respectable company like EaseFab.
Here's our list of the best DVD rippers for Mac users
1. EaseFab DVD Ripper for Mac
This is the best DVD ripper software for macOS (Monterey included) overall, with loads of ripping features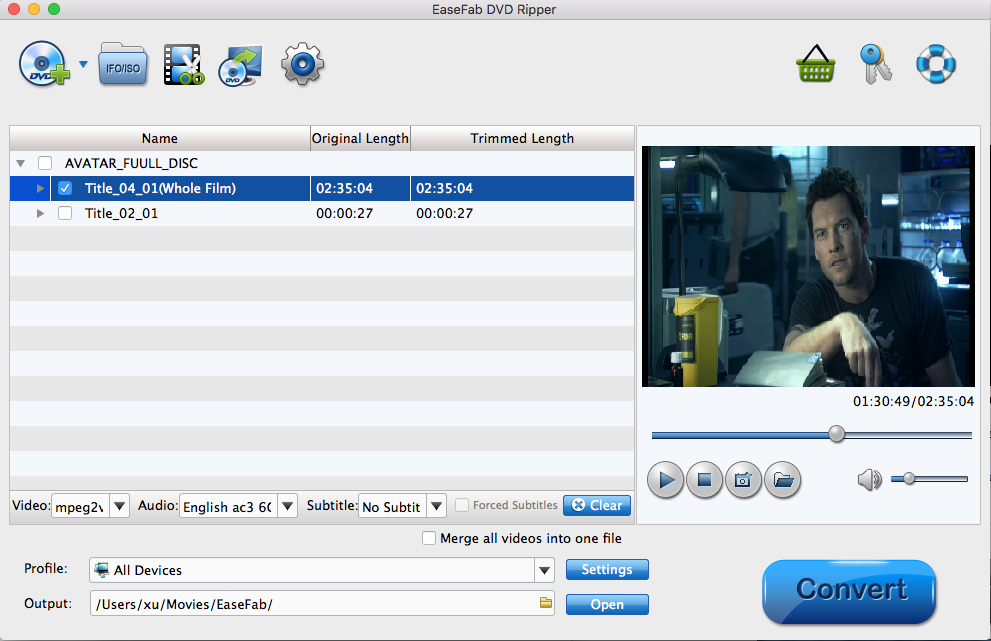 If you're interested in backing up your DVD collection and don't want to be held back by time restrictions or slow processing, EaseFab DVD Ripper for Mac is the best DVD rippers for macOS I've tried. The software provides a special 64-bit version for macOS Catalina, Big Sur and Monterey users and you can download the free trial of the 64-bit version here. It isn't free, you need to pay annual subscription fee to use it for ripping DVD discs longer than three minutes. But you get a lot for your money, and can even handle physical DVD discs that are encrypted, region-locked or unplayable.
Having to pay for DVD ripping software isn't all bad though. It means you don't have to contend with in-app ads and upsells, and you get advanced features you wouldn't find in free DVD rippers. Plus, EaseFab's price tag is fairly low, and we definitely think it's worth it.
Although EaseFab DVD Ripper is lightweight, it doesn't hold back on performance. It can read all kinds of DVD sources: protected and unprotected DVD discs, VIDEO_TS folder, DVD ISO and IFO file. As a professional and powerful all-in-one DVD disc handling tool, EaseFab DVD Ripper for macOS Catalina integrates DVD ripping, conversion, and backup in one place. Using it is as simple as loading the disk, selecting the output folder, and pressing the big, blue 'Convert' button. The straightforward navigation makes it suitable for beginners and advanced users.
EaseFab DVD Ripper has the ability to convert DVDs into virtually any popular video and audio format such as H.265, H.264, MP4, MOV, MKV and AVI. If you don't know what settings to use, not to worry, as there are more than 200 pre-configured device profiles to choose from. Additional tools include split, trim, slip, merge, adding audio and subtitles, and snapshot, among others.
What's more, the best DVD Ripper for macOS Catalina offers enough freedom for all DVD movie lovers like you to back up your favorite DVD movies in a personalized way. Three different copy modes: Main movie, Full Disc Copy and Customized movies are provided to let you copy the exact movie part you want. With it, you can effortlessly keep your DVD discs from scratched, damaged, or manage your movies in more convenient way.
With EaseFab DVD Ripper for Mac, you will instantly experience the latest and most advanced technologies, including but not limited to Passthrough, HEVC, 4K, etc., and it will always keep updating to support the newest releases and devices. EaseFab DVD Ripper for Mac comes with tutorials, FAQs and a knowledgebase on its official website. And EaseFab provides timely and excellent customer support service, including lifetime free upgrade of product and technical support.
Price: You can try out EaseFab DVD Ripper for free, but you can only convert 3 minutes worth of a DVD movie at a time. The use the full version on one Mac for one year, you'll pay $22.95.
Pros:
+ Very fast rips
+ Loads of profiles
+ Easy-to-use application
+ No annoying ads
+ Contains an editor
+ Excellent customer service
Cons:
- Although the interface is easy to understant, it need to be improved.
2. HandBrake 1.2.2 or later
The top free option in DVD ripping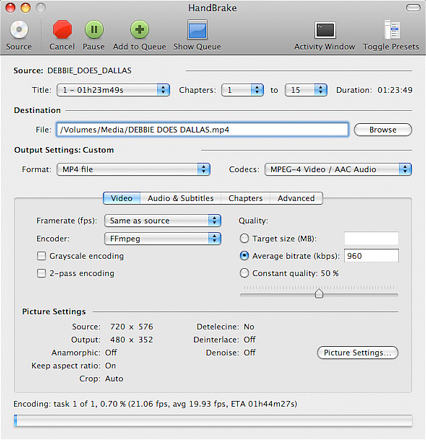 On macOS, you should never miss out HandBrake! HandBrake Mac now supports hardware accelerated DVD ripping. It rips DVD disc/ISO image/VIDEO-TS folder to MP4 and MKV formats, encoded in H.264, H.265, MPEG-4 and MPEG-2. Despite being embedded with only two output formats, it's favored by Mac and Windows users for being free. But you have to download install libdvdcss for HandBrake to bypass DVD copy protections. While it is not designed with a superficial interface and not specified to newbies, it really caters to those who want to dig into making their own customized videos from DVD.
Pros:
+ Support a large number of output formats.
+ Full features to use for advanced computer users.
+ Support batch conversion and chapter markers.
Cons:
- Unable to rip some copyrighted DVD discs.
- Sophisticated for newbies in many detailed parts.
3. MakeMKV
Free, no GPU acceleration, rip DVD to MKV only, large file size because of no compression.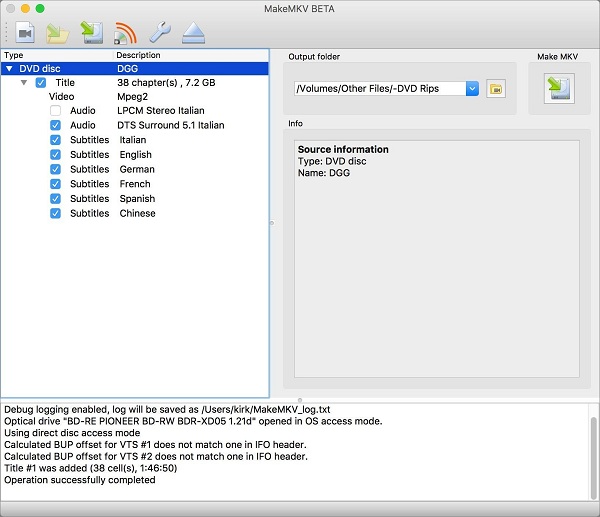 MakeMKV is good free DVD ripper software for macOS Catalina, Windows and Linux. It rips DVD to MKV, and can cope with DVD copy protection AACS. Common functions like preserving chapters information and track languages are included. Sadly, you can tell from its name that this free Mac DVD ripping tool will only allow you to output an MKV file.
Converting DVD to AVI, MP4, MOV, FLV can't be realized using it. And on its download page there is a note warning you that MakeMKV is not signed by Apple. To successfully install this free Mac DVD ripper, you need to adjust gatekeeper options.
Another thing you need to know is that MakeMKV doesn't compress video while ripping, so your output will be a very large file. You need to use an extra video compressor to reduce file size if you have limited storage space.
Pros:
+ Simple to use
+ Rips DVDs
Cons:
- Lack of personalization in editing and clipping.
- Overall process is slow
- Lacks compression
4. Leawo DVD Ripper for Mac
Like the above professional Mac DVD ripping solutions, Leawo DVD Ripper has the same full ripping features to copyd DVD disc or the DVD folders into any video formats with no quality loss. Powered by its excellent decryption technology, it easily removes common DVD copy protections and region codes that block the copy of the disc. Multiple additional ripping functions are easy in touch, including subtitle and audio tracks selecting, 2D to 3D converting and practical video editing. It is suitable for Windows users while providing a counterpart for Mac users.
Price: To use the full version on one Mac for one year, you'll pay $29.95 and for lifetime licence, you'll pay $39.95 which is a little much expensive than other Mac DVD ripping tools on the market.
Pros:
+ Plenty of preset profiles
+ Decent selection of editing tools
+ Quality output
+ No additional software installed
Cons:
- Slow speeds
- Free version is limited
- Have to pay extra for some standard features
5. Aimersoft DVD Ripper for Mac
Aimersoft provides a modern, intuitive interface that's ideal for beginners. While it's on the pricier side, it does provide very high-quality output and fast DVD file conversion. As with most of these converters, you get what you pay for.
That being said, the selection of editing tools don't match up to the offerings of some competitors. Features include dozens of video formats (including MP4, AVI, MOV, MPEG), up to 4K resolution, and more than 125 preset profiles. Aimersoft is also available for Windows.
As with most paid options, you won't have to deal with ads, upsells, or prompts to install additional software.
Price: Aimersoft costs $29.95 for an annual subscription for one PC. A lifetime subscription is $49.95. This isn't cheap but it's a slightly better deal than some others.
Pros:
+ Lots of preset profiles
+ Great quality video
+ Beginner-friendly
+ Excellent speeds
Cons:
- Price is quite high
- Free version isn't really usable
Verdict - Best DVD Ripper for macOS Ventura or lower
We've evaluated the best five feature-packed Mac DVD ripping program based on functionalities and features that each software owns. Of course, which DVD ripper utility you employ to rip and convert your DVD movies on Mac is best determined by your actual needs, the platform of your machine and basically your budget. With these factors in mind, you should get the suitable ripper as well as converter in hand.