Summary: What is DVD region code? What if you failed to play DVDs that locked by region code? If you're confused about these, you've come to the right place. Read on to find the answers.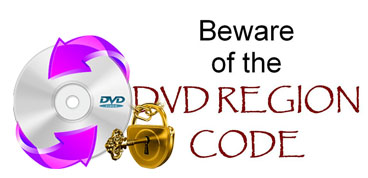 Click one of the links below to jump to any section of the guide:
Part 1: What does DVD Region Code mean?
DVD region code is a digital rights management technique mainly for controlling DVD content, release date and price by the distributors. Almost all commercial DVDs that are sold have what is called a "region code" (also called "regional code"), which only allows the DVD to be played on DVD players that have this region code, and the only DVD players that typically do have this region code are those sold in that same region.
- For example: standard DVD players purchased in the U.S. or Canada will only play DVDs that specify they are REGION 1 dvds; standard DVD players purchased in New Zealand will only play DVDs that specify they are REGION 4 DVDs.
- For example: Region 4 DVDs WON'T PLAY in a standard Region 1 DVD player; Region 1 DVDs WON'T PLAY in a standard Region 4 DVD player.
- U.S.A. and CANADA share the SAME REGION CODE: Region 1. An R1 dvd purchased in Canada is exactly the same as an R1 dvd purchased in the U.S., and vice versa.
Part 2: Where DVD Region Codes Are Used?
| | |
| --- | --- |
| DVD Region Code | Geographic Region(s) Used |
| Region 0 | Discs that bear the region 0 symbol either have no flag set or have regions 1–6 flags set. Region 0 is commonly referred to as "Region Free", especially when talking about DVD and Blu-ray Disc players. |
| Region 1 | United States, Canada, Bermuda, U.S. territories |
| Region 2 | Europe, Middle East, Egypt, Japan, South Africa, Swaziland, Lesotho, Greenland, French Overseas departments and territories |
| Region 3 | Southeast Asia, South Korea, Taiwan, Hong Kong, Macau |
| Region 4 | South America, Central America, Caribbean, Mexico, New Zealand, Australia, Papua New Guinea and much of Oceania |
| Region 5 | Bangladesh, India, Nepal, Afghanistan, Sri Lanka, Ukraine, Belarus, Russia, Kazakhstan, Pakistan, Africa (except Egypt, South Africa, Swaziland, and Lesotho), Central and South Asia, Mongolia, North Korea |
| Region 6 | China |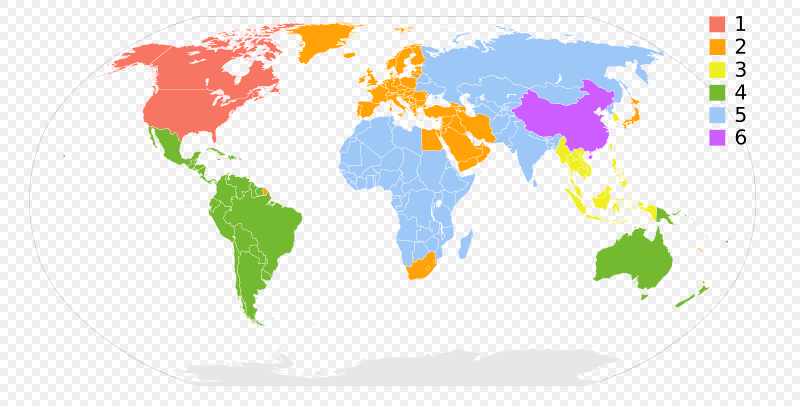 There are also region codes "7" and "8", which have special purposes. For a more detailed breakdown of where these region codes are used, see the Wikipedia article DVD region code.
There are some foreign DVDs sold in North America which have a region code of "1", including films produced in the UK that are intended for sale in North America. The reason why is that the North American market is large enough to justify a separate North American release of very popular films. For example, in the USA I can purchase a DVD of Das Boot (Bavaria Film, 1981) with region code "1". However, there may never be a North American release of less popular films, for example Das letzte U-Boot (DEFA, 1993), and if such DVDs are purchased from countries in other regions they will not play on North American video equipment.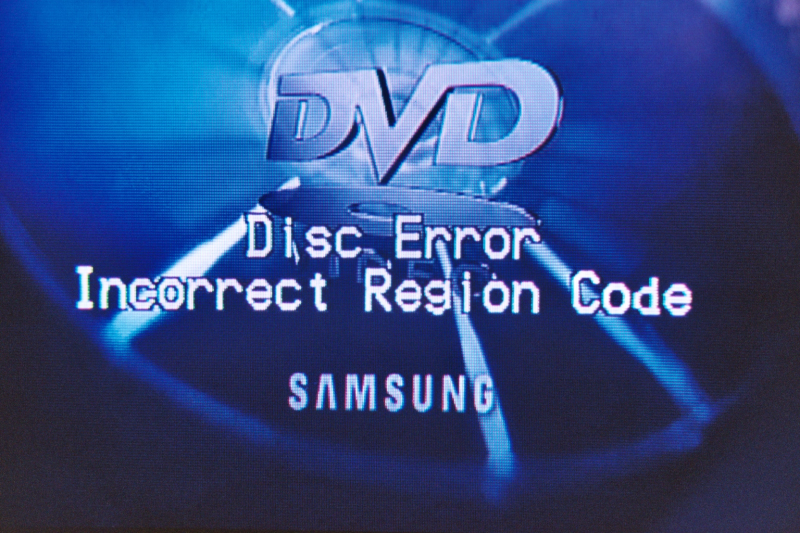 There is some discussion on the Internet about codes for "unlocking" DVD players so that they can play DVDs having other region codes. I tried this with my DVD player (a Samsung DVD-V1000 purchased in 2002), but was unable to get it to work. However, you might be able to unlock your DVD player, so before going any farther you might want to look into this.
Part 3: What Is the Reason for DVD Region Codes?
The official reason why the system of region codes was established was to make it possible to release a film in one region, for example North America, before it was released in another region, for example Europe, and prevent people in the region where the film has not yet been released (in this case Europe) from buying DVDs from the region where the film was first released (in this case North America); that is, to prevent Europeans from buying the North American version. The rationale was that if too many Europeans bought the North American version, this would cut into sales of the European versions. However, since DVDs of even very old films such as Casablanca (Warner Bros., 1942) have region codes, many people suspect that the real reason for them is to enforce price differentials in different markets (see SPEECH/01/275 of Mario Monti, European Commissioner for Competition Policy, entitled Content, Competition and Consumers: Innovation and Choice), similar to how pharmaceutical companies enforce price differentials between the USA and Canada for the same drugs. For example, as of this writing the film Syriana (Warner Bros., 2005) costs from US$5.99 (Amazon.com) to US$14.99 (Barnes & Noble) in North America, whereas in Germany I paid 15.99 Euros for it (purchased at the Saturn store in the PEP shopping center at Hanns-Seidel-Platz in Neuperlach Zentrum in the summer of 2007).
Whatever the real reason for the introduction of region codes, there is no technical reason why they are necessary: From the perspective of people who want to watch DVDs from other parts of the world, region codes are merely an artificial obstacle that needs to be overcome.
Part 4: How to Play Region Locked DVD
Sometimes, if the DVD disc are borrowed from your friends or purchased from overseas, you have three ways:
Method 1: Purchase a DVD player that can play DVDs having any region code
These are hard to find in retail stores, but can be found on eBay. For example, I purchased the Pioneer DV-393-s DVD player. Notice that it has a North American power plug, so it is not even necessary to get a plug adapter: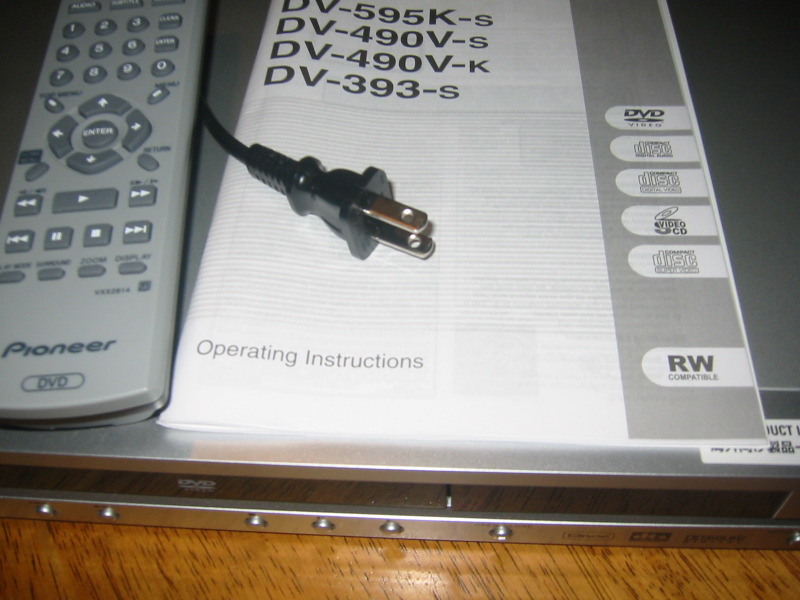 I do not know how the features and price of this DVD player compare with those of comparable players, nor am I certain that every DVD player bearing this model number is region-free, so I am not recommending this one over other brands. If you choose to purchase such a piece of equipment, you yourself should check the different models that are available, what features they offer, how much they cost, etc. However, apart from the question of brand, price, etc., this type of equipment is definitely more versatile, since it can play DVDs having ANY region code, not merely those having the region code where it was purchased. It is also more straightforward to use, since it can definitely use North American electrical current and does not even require a plug adapter. Moreover, such players typically can also output signals encoded using different video encoding standards (see below). Some such players are supposed to be able to recognize what video encoding is expected and automatically switch over; however, whether this is switch-over is automatic or needs to be done manually is not very important, because it only needs to be done when the player is first connected to the display equipment (television set), which is usually only done once.
Method 2: Get a special program to assist you to remove DVD region code
Ripping and copying regional DVDs is the best way to avoid resetting pc's DVD drive's counter and free from worrying about the remaining changing times. And EaseFab DVD Ripper (available for Windows and Mac users) makes all DVD Region Codes free. In the respect of DVD region code, it works in the following ways:
● Unlock region codes on DVD: EaseFab DVD Ripper gets around country code blocks and makes any built-in region codes unlocked and convertible. It can decrypt regional-playback control (RPC) encryption, Region-code Enhanced (RCE) or any other region locks.
Remove region codes on DVD: When backed up using EaseFab DVD Ripper, all DVDs become region free in the output files. After copying DVD into different regions, users can further edit them, convert them or move them without worrying about the compatibility with the region-locked DVD players.
● Convert regional DVDs: not only a region code remover, EaseFab DVD Ripper is also a region coded DVD converter. It can convert region encrypted DVDs to AVI, MP4, H.264, MPEG, WMV, MOV, M2TS and FLV. After conversion, DVD owners are enabled to transfer collection of DVD's some region 1 onto memory stick, hard drive, USB flash drive, MicroSD Memory Card and so on or even play back the DVD videos on Android (Samsung, HTC, Google, Amazon, Xiaomi, Aquos, Fujitsu), iPad, iPhone, Apple TV, WP8, Surface Pro, PSP and more.
● Copy regional DVDs: EaseFab DVD Ripper can be also used an exciting all-region DVD copy software. It will help you easily back up any commercial DVD movies without any troubles. Two different copy modes: Title Mode and Full Disc Mode are provided to let you copy the exact movie part you want. With it, you can effortlessly keep your DVD discs from scratched, damaged, or manage your movies in more convenient way!
How to Copy and Convert a Region Code DVD by the All-region DVD Ripper
Warm up: Get the DVD ripper downloaded and installed on your PC or Mac.
Step 1: Insert a region 1/2/3/4/5/6 DVD into your DVD-ROM, launch the software and click DVD Disc button. Alternatively, you can input an ISO image or DVD folder instead of a disc itself. After that, the main movie title will be checked automatically.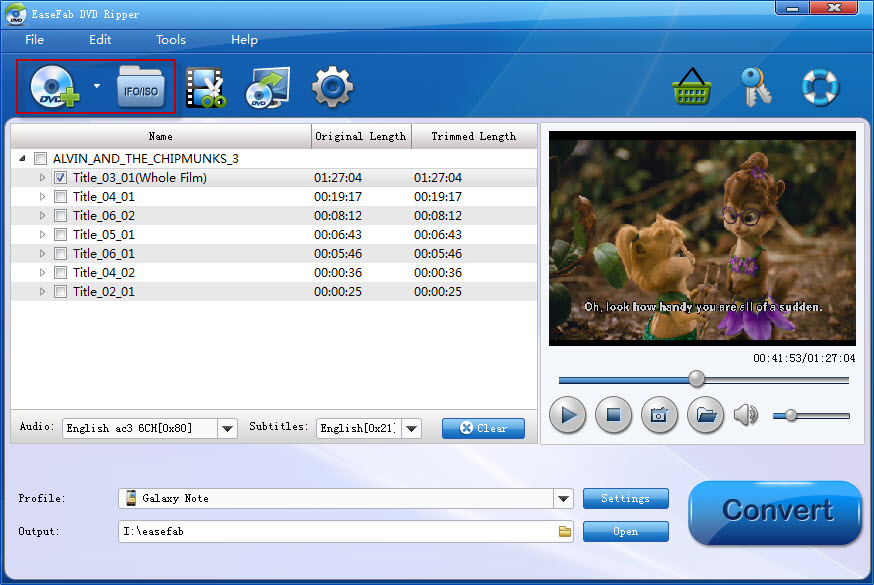 Step 2: Click Profile (located below where your DVD files are displayed) and select the format you want from the drop-down list. Just below Profile is Output, here you can browse your computer for a better destination folder for DVD Ripper to save your converted movies. As you see, all regular video and audio formats like MP4, MOV, MKV, WMV, AVI, FLV, MP3, WMA, WAV, M4A, etc. are provided.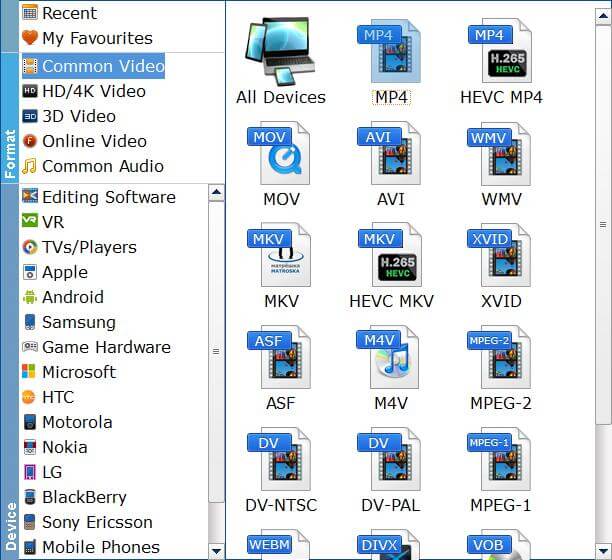 If you want to convert your DVD movies for play on portable devices, including iPhone, iPad, iPod, HTC, Samsung, Nokia, Samsung, Sony, PSP, Xbox 360 and more, you can simply browse to find the icon of your device and select it as the output format to get videos with optimized settings. All Idevices output files can be synced to iTunes automatically.
Step 3: Once you've selected the output file format you want, you're ready to rip. Simply click the Convert button to start removing DVD Region Code and ripping DVD on your Mac computer. after a fraction of seconds, you can play your DVD movie on Mac without taking along DVD player.
Method 3: Change DVD Region Code on Windows/Mac
For window users, 5 times are allowed to change DVD region code as below:
1. Click the Start menu and then Control Panel;
2. Double-click the Device Manger
3. Click on the + near DVD/CD-ROM drives and double-click on the entry below the DVD/CD-ROM drives.
4. Click the DVD Region tab after the window opens.
5. Select the Region in which you'd like to change to and hit OK.
Note: the Region Code cannot be changed, even though the OS is reinstalled or the DVD Drive is moved to another PC.
For Mac users, 4 more chances too to rip DVD from region to region:
1. A dialog box that urges you to choose a region for your DVD drive is opened once you insert the DVD into the optical drive on your Mac.
2. Consult the DVD package to verify the region code.
3. Click Change Drive Region to and click the region code.
4. Click Set Drive Region
5. Click on the Lock icon to save your settings.