Netflix has been one of the biggest streaming services in the world and currently it is still one of the best online DVD rental stores in the USA. And nowdadys million Americans still get Netflix DVDs in the mail. Netflix adopts monthly flat-fee DVD rental plans empowering subscribers to rent 1-3 discs at a time. Though Netflix has no due dates or late fees, if you lost or damaged disc, or don't return them, you will be charged for $14 or $20 for DVDs and Blu-ray discs respectively. What's plus, you still need to maintain the flat monthly fee plus applicable taxes. For those who keep a high volumes of rentals, they easily forget or break the discs, especially if they have kids. The effective way to avoid such money-consuming case is - rip Netflix DVD to digital formats like MP4 for later playback and return the discs when they are in good condition.
If you hope to digitize Netflix DVDs without quantity limits, you're being in the right place. This article will guide you to rip and copy Netflix DVDs to MP4, AVI, MOV etc, on Windows (10) PC/Mac. A brief introduction of Netflix DVD, like rental plans, terms will be shown here as well.
How to Rip and Copy Netflix DVDs on PC/Mac
Generally speaking, the DVD movies rented from Netflix are encrypted by copy protection. Most free DVD rippers in the market (like HandBrake, DVD Shrink) cannot settle DVD copy protection removal. Therefore, you need to find a more powerful program to copy/rip Netflix DVD movies without errors.
EaseFab DVD Ripper is an expert in converting/ripping Netflix DVD movies with removal of all encryptions of DVD movies, covering CSS, region code, UOPs, RCE, Sony ArccOS, Disney X-project DRM. Built-in 320+ output formats and 350+ preloaded profiles, it can rip Netflix DVD movies to MP4, AVI, WMV, MOV, MEPG, FLV, 3GP, MP3, iPhone, iPad, Android, Windows Phone, Xbox, PS3/4 etc. and deliver hi-fi images/audios. In addition, this Netflix DVD movies ripper distributes the fastest DVD ripping speed to convert a feature-length Netflix DVD movie in a matter of minutes.
Simple Steps to Rip/Copy Netflix DVDs to MP4, AVI, MOV etc, on PC/Mac
To begin with, you need to download and install EaseFab DVD Ripper Windows or Mac version on your computer. The guide below takes the Windows version for example. The Netflix DVD conversion process is the same on Mac.
Step 1. Import Netflix DVD
Put target Netflix DVD disc into the DVD drive of your computer and click Load disc button at the top left corner of EaseFab DVD Ripper to load the source DVD disc. EaseFab DVD Ripper can auto detect the right DVD movie title for you. At the bottom, you can select your desired subtitle and audio track.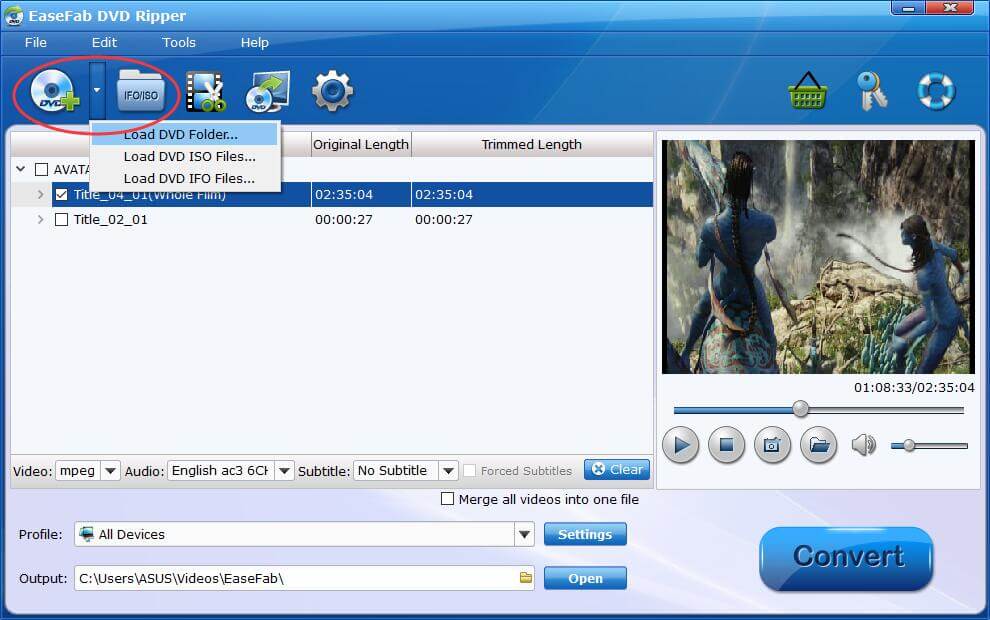 Step 2. Select Output Format
Click Profile bar and then choose a desired output format profile. MP4, HEVC, H.264, WMV, MOV, MKV or devices iPhone/XS, iPad, Samsung and many more are all accessible. You can also choose to backup DVD to Video_TS folder or a single MPEG2 file at 1:1 ratio. For general uses, MP4 (h.264+aac) in Common Video is recommended, as it's widely supported by many devices and media players.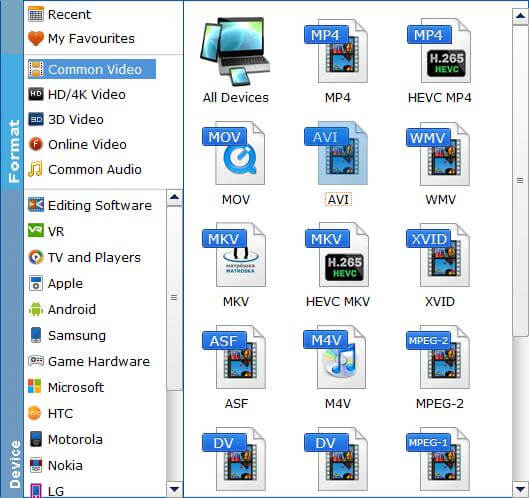 Tips: If need to get a good balance between file size and output quality, flexible options are offered to further reduce the size of the ripped Netflix DVD video. Click Settings button beside the profile and enter into the parameter settings page. A slew of other variables such the video/audio codecs, pixel dimensions, frame rate, bit rate, audio sampel rate, etc. will help convert a DVD at 7.5GB to a smaller MP4 file to make more room for your cloud, USB or external hard drive.
Recommended video size settings:
◆ You're not suggested to adjust the frame rate and aspect ratio, if not necessary.
◆ Lower the bitrate to a lower level. Adjusting the original Normal quality to bitrates of around 1800-2000 is acceptable and can make your ripped MP4 movie around 1-1.6GB in size, 80% smaller than the original Netflix DVD movie, and to the naked eyes, it's highly unlikely to distinguish the difference between the original movie and the re-encoded video.
◆ Lower the resolution. Typical DVD videos are 720×480 (NTSC) and 720×540 (PAL). Adjust the resolution to 640×480 won't make any quality difference.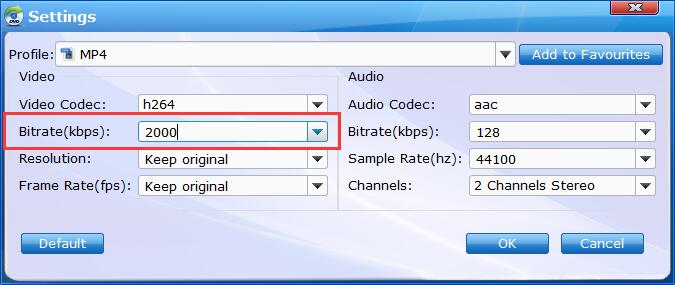 Step 3. Start Ripping Netflix DVD Movie
Tap the small Folder button in the Output bar to save the ripped video to destination folder (hard drive or device) and click the big Convert button to start Netflix DVD movies ripping progress.
Everything You Need to Know about Netflix DVD
Netflix involves users to sign up an account to access to DVD plans. Two memberships are provided, $7.99 a month for 1 DVD disc rental at a time and $11.99 a month for 2 discs. After subscribing one plan, browse and add the DVD movies/TV shows you want to rent to the queue. Netflix will send the DVD(s) according to priority in the queue via the United States Postal Service in about 1 business day. Once you return the watched DVD back in prepaid envelope, the next available one will be delivered to you.
Netflix has no due dates or late fees. Netflix allows you to cancel DVD plans at any time and claims you to return DVDs within 7 days upon cancellation. But if you lost or damaged disc, or don't return them, you will be charged for $14 or $20 for DVDs and Blu-ray discs respectively.
Why are so many people still using this old-school service in the age of streaming? There are a number of reasons.
1. Rural America struggles with broadband access.
2. Streaming offers a limited selection compared with DVDs.
3. There is no one-stop shop for streaming.
4. Movie buffs need multiple streaming subscriptions.
5. Some Oscar nominees are not available on streaming.
6. Subscription fatigue may be kicking in.
Final Words:
For those who want to avoid accident scratches or damages that may cause the DVD returned damaged and additional fees charged, ripping and copying Netflix DVDs is a good idea. According to Netflix, you will be subject to a fee of $14 for DVDs or $20 for Blu-ray discs (plus any applicable tax) if you damage the rented DVD. If you want to avoid the cases where you will be charged for extra fees, use EaseFab DVD Ripper to convert the Netflix DVDs to video files immediately.