"I would like to stream a dvd I put in my xbmc-PC's drive to my DLNA compliant television over ethernet/WLAN. I'm already able to play regular video files by browsing the video library over DLNA. However, if I mount a DVD, I'm unable to play the VIDEO_TS files on the disc (as they are encrypted, not understood by the TV). So I would like to somehow have an entry in the video library that allows access to the DVD as unencrypted mpeg2 video files (which the TV supports), without having to rip them manually."
Many devices including smartphones, tablets, PCs, TV sets and storage servers offer DLNA ("Digital Living Network Alliance") streaming support. And you can easily stream digital movies and TV shows over the network from your PC, storage servers - as long as you set up a DLNA server first. If you have a DVD collection, you may want to stream these DVDs to your DLNA-certified player — a TV or game console. However, DLNA doesn't support DVD file format and disc image files like ISO, Video_TS folder, etc. To do this, you may have to rip DVD to DLNA-friendly format first.
Actually, the process is pretty simple along with some help from a third-party DVD ripping program. Check below to learn how to fast digitize and rip DVDs to DLNA supported digital files with best quality in a smaller file size so that you can stream your DVD movies over DLNA without any hassle.

What Is the Best Format for Ripping DVDs for Streaming Over DLNA
The DLNA specification only allows for a few common audio and video formats like Windows Media Audio, MP3, MP4. FLAC, AVI, MKV files, and many others, aren't supported. To make it more complicated, different implementations of DLNA support different codecs. And even supported formats may not work if the container, bitrate, or other details don't comply with the DLNA spec. Some DLNA server software will try to make up for this shortfall by transcoding files from a non-compliant format to a compliant one on the fly, but results vary. However, currently, there is no such a software that can transcode DVD files to stream over DLNA. And that's why you need a DVD ripping tool to rip and digitize your DVD collection to MP4 since MP4 is compatible with DLNA and almost all devices, including computers and HD/4K TVs, phones, tablets, and game consoles from Apple, Samsung, Google, Microsoft, Sony, etc.
Getting An Easy-to-use Program to Rip DVDs for Streaming Over DLNA
When it comes to ripping DVD, HandBrake is always the first to recommend. The program is free and available for Windows, Mac and for Windows, Mac, and Linux and it can rip DVDs to DLNA compatible MP4 within a few steps. However, if you try to use HandBrake to rip read-only DVDs, you will probably end in failure. Only with the help of libdvdcss, HandBrake can rip some read-only discs. But the annoying thing is that libdvdcss doesn't always work.
If don't want to be held back by slow processing, poor output quality and various types of DVD copy-protections, EaseFab DVD Ripper will be your best choice. This software tool is able to cope with both home-made and all store-bought DVD discs without hassle. With it, you can fast rip DVDs to compatible MP4 format with fast encoding speed and excellent output quality.
EaseFab DVD Ripper - Best Tool to Convert DVDs to DLNA-Friendly MP4 with Best Balance in Speed, Quality & Size
◆ Digitize and rip DVD to MP4 with best quality-size tradeoff for streaming to DLNA-certified Home Network Devices (PCs, TVs, AV receivers, game consoles), Mobile Handheld Devices (smartphones, tablets, digital cameras), and Home Infrastructure Devices (routers and hubs).
◆ Convert homemade discs, burned DVDs, and bought DVDs with almost all DVD encryptions like Disney X-project DRM, CSS, region code, RCE, APS, Sony ArccOS, UOPs, etc., support navigation algorithms used in DVDs from paramount, Disney, Sony, etc.
◆ Minimize DVD file size (up to 80% smaller) with high quality to reduce the bandwidth consumption for streaming ripped DVD movies over DLNA. ◆ Blazing fast speed to accomplish DVD ripping. It won't take you too much time to digitize a heap of DVDs.
◆ Offer a library of preprogrammed optimization profiles for specific devices such as iPhone, iPad, Android, HDTV, PC, tablets, game consoles, etc.
How to Convert DVDs to DLNA-compatible MP4 with Best Quality-Size Tradeoff
To begin with, you need to download and install EaseFab DVD Ripper Windows or Mac version on your computer. The guide below takes the Windows version for an example. Mac version has the same process.
Step 1. Load source DVD
Insert the DVD disc into your computer's DVD drive (or an external DVD drive) and run EaseFab DVD Ripper. Click the Load DVD button to load the DVD movie to the program. DVD ISO/IFO, VIDEO_TS folder are supported also.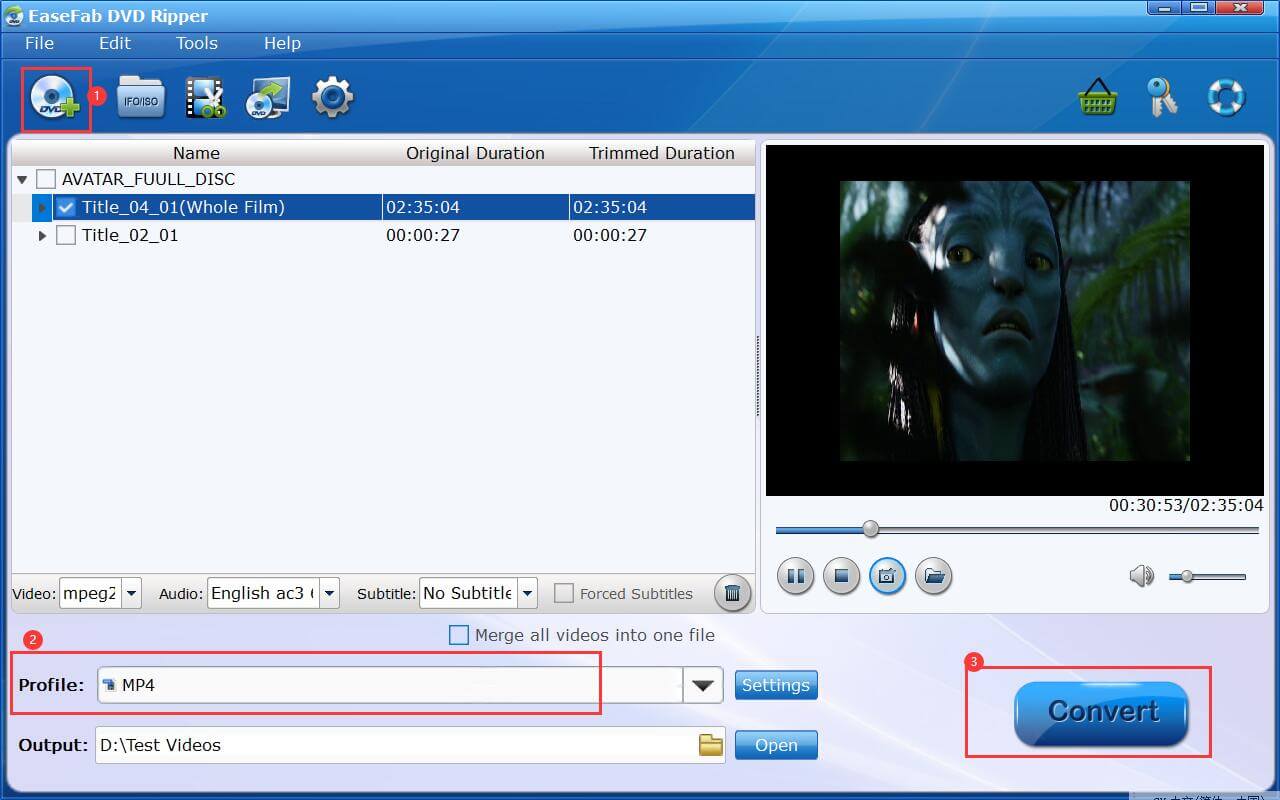 Step 2. Choose MP4 as output file
Click Profile bar and move mouse cursor to Common Video category, click to select MP4 as the output format. Optionally choose preferred audio track, subtitle, output folder according to your needs.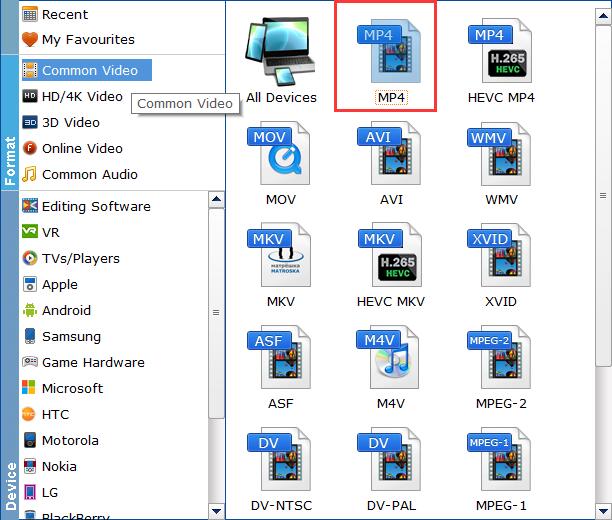 Tips: If you want to get a good balance between file size and output quality, flexible options are offered to further reduce the size of the ripped video. Click Settings button below the profile and enter into the parameter settings page. A slew of other variables such the video/audio codecs, pixel dimensions, frame rate, bit rate, audio sampel rate, etc. will help convert a DVD at 7.5GB to a smaller MP4 file to make more room and stream quicker over DLNA.
Recommended video size settings:
① You're not suggested to adjust the frame rate and aspect ratio, if not necessary.
② Lower the bitrate to a lower level for smaller files. Adjusting the original Normal quality to bitrates of around 1800-2000 is acceptable and can make your ripped MP4 movie around 1-1.6GB in size, 80% smaller than the original DVD movie, and to the naked eyes, it's highly unlikely to distinguish the difference between the original movie and the re-encoded video.
③ Lower the resolution. Typical DVD videos are 720×480 (NTSC) and 720×540 (PAL). Adjust the resolution to 640×480 won't make any quality difference.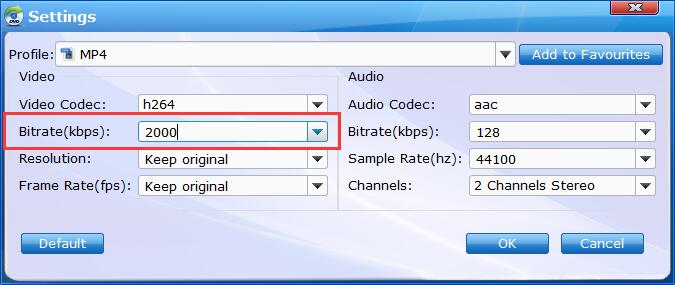 Step 3. Get ripping started
Hit the Convert button to rip DVD to DLNA at lightning speed with best quality.
After the conversion, you can easily stream the ripped DVD movies from your PC, storage servers, cloud to your DLNA compliant devices over internet or WLAN for home entertainment.
Something You Gotta Known About DLNA:
DLNA stands for Digital Living Network Alliance, the trade group founded by Sony in 2003 to define the interoperability guidelines that make this communication possible. DLNA simplified the process by establishing a single protocol that ensured DLNA-certified multimedia devices from different manufacturers would work together.
If you own a recent model PC, NAS, smartphone, or tablet, it probably came with bundled DLNA-certified software that will allow any media on it to be recognized by your networked components. If you have an older model, however, you can still turn it into a media server by adding a program like Plex, Twonky, TVersity, or Windows Media Player.