Home
>
Resources
> DVD Tips >
Upload DVD to Google Drive
Posted by Matthew Watt - Sep 08, 2021 | Contact Author

How to Rip and Upload DVDs to Google Drive Easily and Quickly
By storing DVD movies to Google Drive, you can not only save up on your local storage space, but also be able to
access DVD movies on smartphone, tablet, or others via Google Drive.
Google Drive allows you to not only upload files for easy access from wherever you're signed into your Google account, but you can also upload and share photos, documents, and videos in a few simple steps. Once you upload files to Google Drive you can also share them with others so that they can view, edit, or download them at anytime. If you have a big collection of old home videos, movies, and TV series on DVDs being stored on shelves, in boxes, or somewhere else in house, wouldn't it be great to upload those DVDs to Google Drive for saving up on your local storage space and easier access?
Many people may wonder how they can store DVD movies to Google Drive since Google Drive only accepts digital video contents. In fact, it's easy to copy your DVD movies to Google Drive as long as you got a DVD ripping tool in hand. With such a third-party tool, you can easily convert DVD to Google Drive-friendly format and save digital copies to Google Drive.

There are many free and paid programs out there that allow you to make copies of your DVDs and let you watch them the way you want to view them. When it comes to ripping DVD, HandBrake is always the first to recommend. However, it you try to use Handbrake to rip read-only DVDs, you will probably end in failure. Only with the help of libdvdcss, HandBrake can rip some read-only discs. But the annoying thing is that libdvdcss doesn't always work. Even with libdvdcss being installed, HandBrake only decrypts and rips some certain DVDs with CSS. To rip any copy protected DVD to Google Drive freely, you need a more powerful alternative.
Get an Easy-to-use Tool for Ripping DVD to Google Drive Friendly Formats
If you're interested in backing up and ripping your DVD collection to Google Drive and don't want to be held back by slow processing and poor output quality, EaseFab DVD Ripper will best your best choice. It's very straightforward to navigate, making it suitable for beginners and advanced users. It isn't free, but you get a lot for your money, and it can handle discs that are encrypted, new released, region-locked or unplayable. EaseFab DVD Ripper is highly recommended for the following features.
● It circumvents most copy protection schemes such as region code, CSS, UOPs, Disney X-Project DRM, and others. So you can transfer protected DVDs freely to Amazon Cloud.
● The tool supports various types of DVDs, covering TV shows on DVDs, new releases, classic movies, 99-title DVDs, Japanese DVDs, etc.
● It is available to digitize DVDs to MP4, MOV, WMV, and other Google Drive supported video formats with proper file size for fast uploading.
● 1:1 backup DVD to Folder/MPEG-2 file with original quality for storing DVD collection on media server like NAS.
Simple Steps to Digitize DVD collection for uploading to Google Drive
To begin with, you need to download and install EaseFab DVD Ripper Windows or Mac version on your computer. After this, you can move to the following steps to rip your old or new DVDs for Google Drive. The guide below takes the Windows version for example.
Step 1. Add DVD movies.
After downloading, install and launch the program. Insert your DVD disc into your DVD-Rom and click Load DVD button to upload DVD files. As you see, you can also load ISO, Video_TS folder to the program.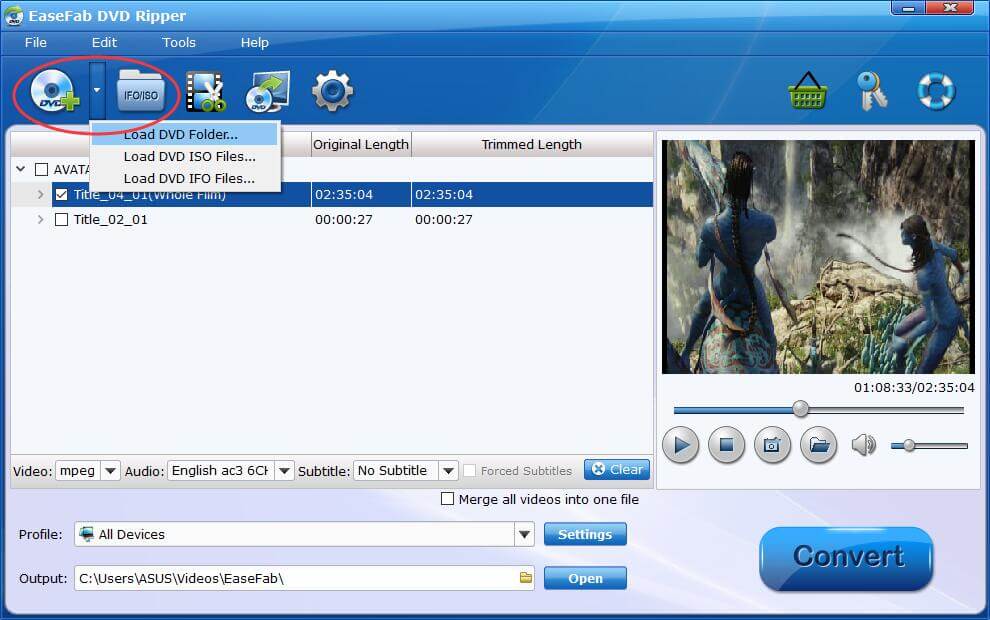 Step 2. Choose a proper output format for Google Drive.
The selection of output format depends on your specific need:
1. If you only need to store DVD digitally and put the movie library to the Google Drive, you don't need to consider about the format matter. Generally, almost all the mainstream video and audio formats are supported by the Google Drive. If you are still unsure of the media format, check the table below.
Supported Video Formats: WebM, .MPEG4, .3GPP, .MOV, .AVI, .MPEGPS, .WMV, .FLV, .ogg
Supported Audio Formats: MP3, MPEG, WAV, .ogg, .opus
2. If the quantity of DVD movies to be saved is large, try to choose the output format with comparatively low quality (for small output size), and oppositely, choose the high quality.
3. If you desire to play the converted DVDs on Apple TV, iPad, iPhone Samsung table, PS4, Xbox One and any of other portable device, you can choose directly from the device profile listed on corresponding device category.
4. For general uses, MP4 in Common Video is recommended, as it is widely supported by many devices and media players. If need to get a good balance between file size and output quality, flexible options are offered to further reduce the size of the ripped video. Click Settings button below the profile and enter into the parameter settings page. A slew of other variables such the video/audio codecs, pixel dimensions, frame rate, bit rate, audio sampel rate, etc. will help convert a DVD at 7.5GB to a smaller MP4 file to make more room for your Google Drive.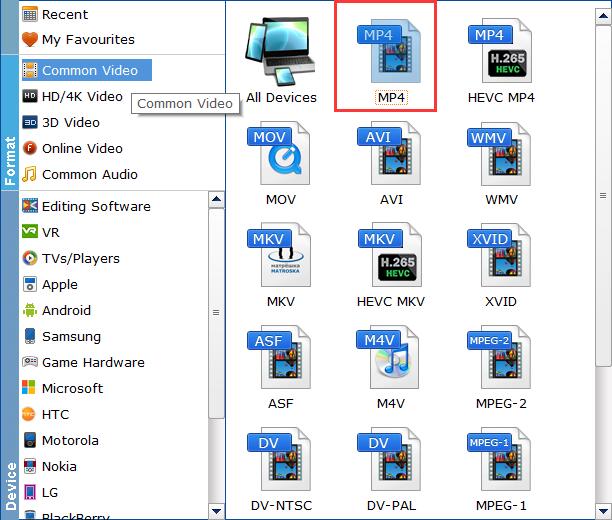 Recommended video size settings:
◆ You're not suggested to adjust the frame rate and aspect ratio, if not necessary.
◆ Lower the bitrate to a lower level. Adjusting the original Normal quality to bitrates of around 1800-2000 is acceptable and can make your ripped MP4 movie around 1-1.6GB in size, 80% smaller than the original DVD movie, and to the naked eyes, it's highly unlikely to distinguish the difference between the original movie and the re-encoded video.
◆ Lower the resolution. Typical DVD videos are 720×480 (NTSC) and 720×540 (PAL). Adjust the resolution to 640×480 won't make any quality difference.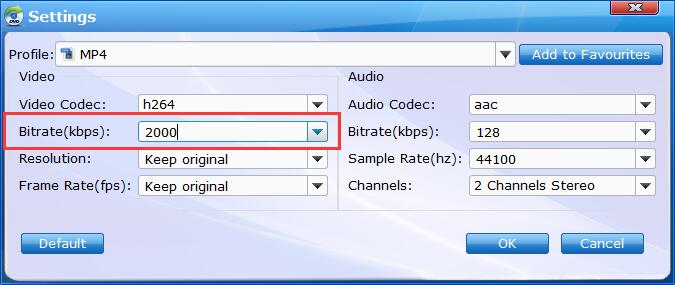 Step 3. Start processing the DVD.
When all these settings are ready, you can click the Convert button to begin the DVD to Google Drive conversion.
When the ripping is done, you can click on Open button to locate the ripped videos. Now, things become much easier. Use steps below to put DVDs to Google Drive.
How to Upload DVD Copies to Google Drive
There're three methods to add DVD movies on your computer to Google Drive for DVD backup and easy access.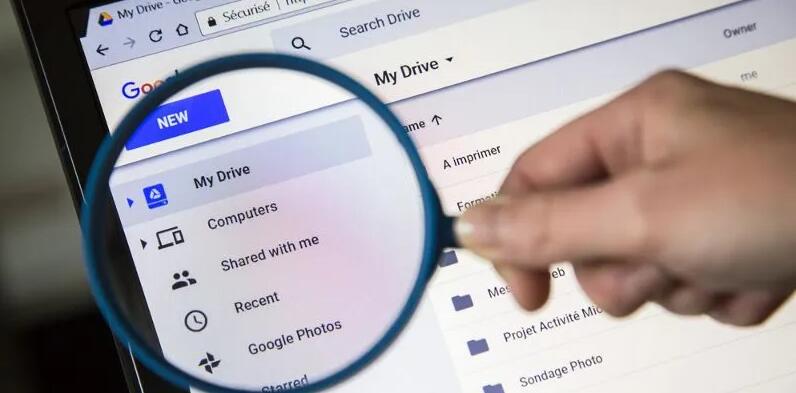 Method 1:
1. Go to drive.google.com.
2. Click + New button at the top left corner and click File Upload.
3. Browse and open the DVD movie to upload to Google Drive.
Method 2:
1. Go to drive.google.com.
2. Drag the DVD movie to a folder of your Google Drive. If you don't have a folder yet, create a folder now: click + New -> Folder -> give it a name and click CREATE.
Method 3:
1. Install Google Drive application on computer. And then you'll see a folder called Google Drive on your computer.
2. Drag the DVD movie to the Google Drive folder. The movie will be uploaded to Drive and shown on drive.google.com.
Other Useful How-to Guides & Tips
This articles shows you the simple step-by-step guide on how to extract subtitles from DVD to a SRT file format. Read on for details.
DVDs look bad or blurry on HDTVs or stretched on a widescreen? You can upscale DVD to 1080P to make 480p/576p DVDs look good on modern HDTV.
Learn how to easily and fast convert DVD to lossless MKV file while maintaining full video, all audio and subtitle tracks, and original DVD video quality.
Follow this article to learn how to rip and transfer DVD to USB drive so you can play your DVD content anywhere anytime without carrying DVD drive or space-consuming DVD discs around.
Copyright © 2022 EaseFab Software Corporation. All Rights Reserved.