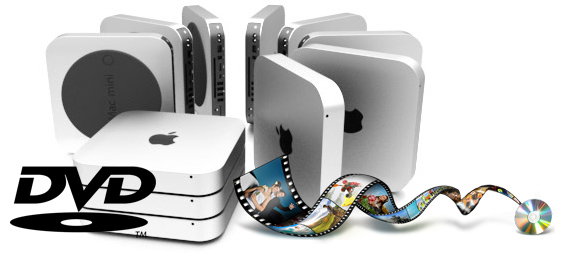 As we all know, the Mac mini comes with no disc drive and that means you cannot play DVDs on Mac mini. Luckily, there are always solutions to solve the problem. If you're interested in enjoying DVD discs on Mac mini, read on for details. This article lists 3 ways for you to get DVD and Mac mini to play nicely.
Method I: Buy an Optical DVD Drive for Mac mini
In order to play DVD on Mac mini without optical drive, you can buy an external disc drive. Apple USB SuperDrive is specially designed to burn/play DVD on Mac without drive and fully compatible with Mac mini (late 2009) and later. It's slight and simple to use. It connects to Mac mini with USB cable included into SuperDrive and then you can watch DVDs on Mac mini. The Apple USB SuperDrive is $79.00 at its official site. There're many other good disc drives like Apple USB SuperDrive for DVD playback on Mac mini, such as LG Electronics 8X, Liteon EBAU108, Dell DW 316, Transcend Portable 8x, to name a few. It has some advantages and disadvantages to buy an optical DVD drive to play DVD on Mac mini, compared with other two ways.
Pros:
Ability to burn DVDs, simple to operate.
Cons:
Only work on Macs, cannot play/burn Blu-ray discs, users have to carry the drive around in order to play DVD on Mac mini.
Method II: Share Optical Drive on Another Mac or Windows Computer
You can play DVD on Mac mini by using Remote Disc feature that is designed to share a CD/DVD drive between Macs. To fix DVD won't play on Mac without disc drive, Mac mini users need another Mac with optical drive or a Windows PC that has installed DVD sharing setup, and connect them into the same network.
How to Sett up a DVD Drive to Mac Mini
1. On the Mac Mini that has an optical drive, choose System Preferences from the Apple menu.
2. Click the Sharing icon in the System Preferences window.
3. Make sure you've entered a name that you can easily recognize in the Computer Name field.
4. Enable the checkbox for DVD or CD Sharing.
5. You can also restrict who has access to your optical drive by selecting "Ask me before allowing others to use my DVD drive."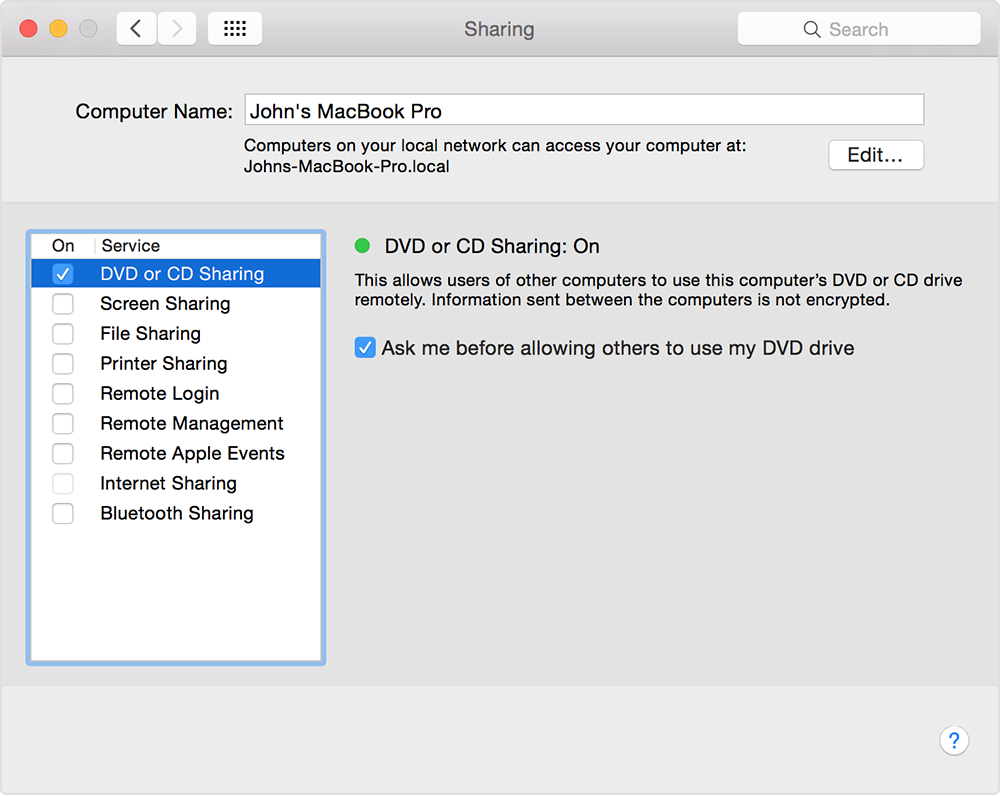 Pros:
Users don't need to buy external disc drive to play DVD on Mac mini.
Cons:
Require another computer that equipped with optical drive. Remote disc can be very slow over a network. Not all types of DVDs are supported.
Method III: Copy and Digitize DVDs to Mac mini
No one wants to carry a hard drive around to play DVD on Mac mini, and it can be a headache when your DVD player won't play DVD on Mac mini, for example, damaged DVD not playing, no disc found/blank disc error messages and other playback error, locked different region DVDs. You can rip DVDs to Mac mini for smooth and easy playback. EaseFab DVD Ripper for Mac is a great option for the job. It can copy and digitize DVDs to MOV, MP4, M4V etc. supported format for DVD Player for Mac mini, like QuickTime, VLC with untouched quality in mins. With the best DVD ripper for MACos Catalina, you can play any DVDs on Mac mini, including new releases, damaged DVDs, workout DVDs, Japanese DVDs that cannot play correctly before on Mac mini without disc drive.
Step 1. Load DVD movies
Insert the DVD disc into your computer's DVD drive and click the "Load DVD" button on the top left to select and load the DVD movies. ISO and IFO files are also supported. After the movies are loaded, you can preview them on the right viewing window and adjust volume or take snapshots freely.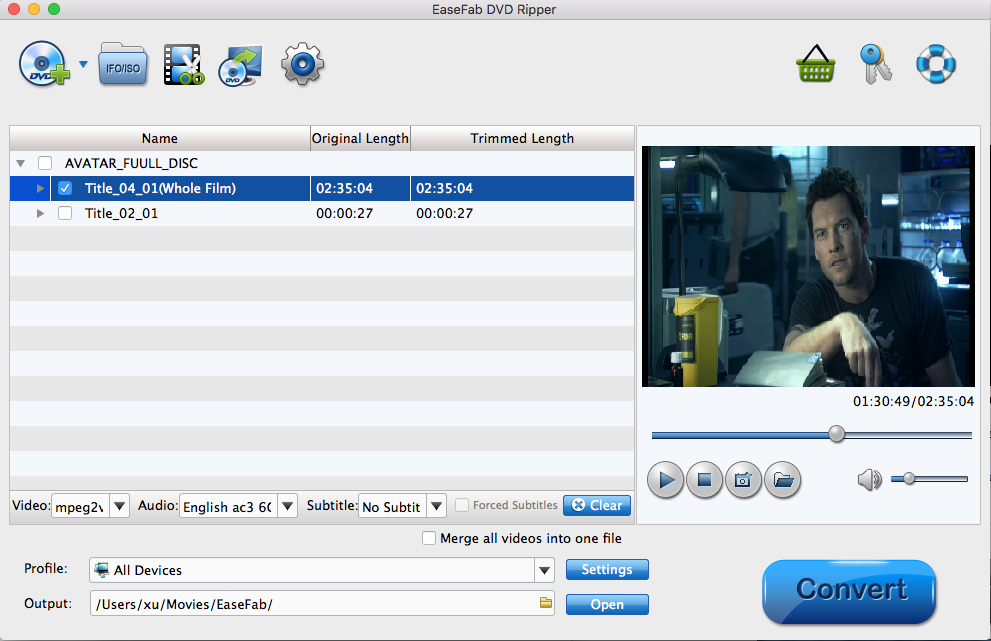 Step 2. Choose MP4, MKV or MOV as the output format
Now you should choose MP4, MKV, MOV as the output video format.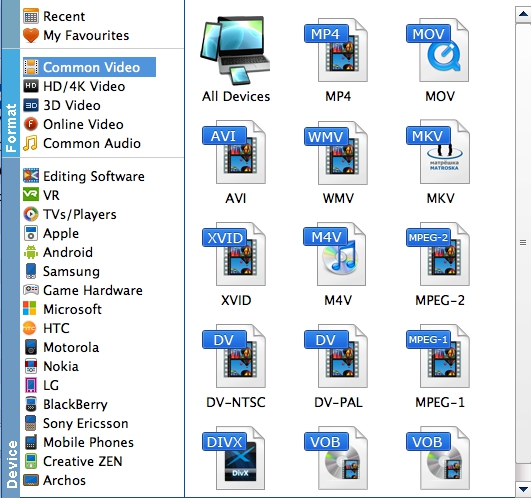 If you want to watch these output videos on your devices, you can choose the corresponding device name as the output format.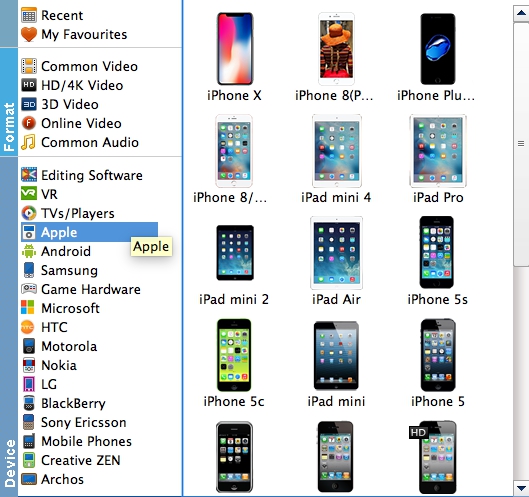 Step 3. Start the DVD to H.264 conversion
Now all you need is pressing the "Convert" button to get the entire process accomplished.
It's worth mentioning that the Intel QSV, HT tech, Multi-core CPU support makes the program the fastest DVD ripper - rip a DVD in 5 mins. Now, you can play DVD on Mac mini anytime anywhere without worries about DVDs not playing on Mac mini.
Pros:
need no disc drive any more to play DVDs on Mac mini, play every and any DVDs without hassle, including damaged/unplayable DVDs, TV series/new movies on DVDs, workout/AV discs, perfectly get rid of Mac mini won't play DVD issue.
Cons:
have to download the software and rip DVDs to Mac mini first.
Tips for Solving Mac mini Won't Play DVDs Properly
Mac mini won't play some DVDs (workout/Japanese DVDs)
QuickTime, VLC won't play DVDs on Mac mini. For example, when playing some DVDs, like workout/exercise DVDs, Japanese DVDs, AV DVDs etc. with VLC in Mac min, DVD can't load, or it shows unplayable blank DVD disc folder. The Mac mini won't play DVD error can be solved with the help of best DVD ripper that comes with DVD analysis tech and right title check mechanism, and can rip these unplayable DVDs to MP4, AVI, MOV, etc. supported format by VLC on Mac mini.
Mac mini optical drive ejects all DVDs/disc not recognized
Case: When I insert a movie DVD, it checks if for 5-10 seconds then ejects the disc which is a problem since I use my Mac to watch movies. I recently updated my OS X via Apple. Is this a common problem recently and what steps can I take to troubleshoot it and watch DVDs on Mac mini properly. - from apple discussion
Check if your DVDs are damaged (if yes, copy damaged DVDs to solve not playing problem on Mac mini), clean both your DVD and disc drive. Reset the SMC (System Management Controller) on your Mac mini if you encounter DVD not playing on Mac mini after updating to a new mac OS.
Mac mini not playing DVDs correctly/stuttering playback
Case: Why haven't Apple fixed the DVD playback issue yet? Every time I put a DVD in and try to watch it it's stuttering like mad! Any ideas? - from mac rumors
The Mac mini cannot play DVDs smoothly is properly caused by smudged DVD disc and dirty laser lens. Take a cleaning cloth and gently wipe the disc and drive and play the DVD on Mac mini to try again. It's also possible that your optical drive on Mac mini is just worn out and stops working.