DVD, also known as Digital Video Disc or Digital Versatile Disc, is an optical disc storage media format, and was invented and developed by Philips, Sony, Toshiba and Panasonic. It is essentially a bigger and faster CD that can hold movies, audio files which are better than CD quality and computer data.

There are multiple formats of DVDs and this is actually based on the standard the manufacturer adheres to. Different manufacturer supports different standards and the situation is similar to the VHS tape wars. This is also known as the format war and the industry is eagerly waiting to see which format emerges as the industry standard. It is important to note that the different variations of the term DVD simply denote that manner in which the date is written on the disc itself. DVD-ROM was the first DVD standard that hit the market and it is a read-only format.
The video or the game is burned onto the DVD and the disc will run on any device which is equipped with DVD-ROM. The DVD-ROMs and CDs are very similar in nature. To play the DVD videos on computer or tablets without DVD-ROM, you can use EaseFab DVD Ripper to convert DVD movies or games to streaming video format like WMV, MOV, FLV and so forth. If you want to burn videos to DVD but don't know which kind of DVD discs can be used to store your files, you can have a look at the table below. It compares the differences between DVD discs:
Differences between DVD5, DVD9, DVD10 and DVD18
| | | | | | |
| --- | --- | --- | --- | --- | --- |
| Disc Types | DVD 5 | DVD 9 | DVD 10 | DVD 18 | DL DVDs |
| Basic nature | It is a single sided single layer disk. | It is a single sided dual-layer DVD disc. | It is a double sided single layer DVD. | It is a 2 sided disc that holds DVD-9 on both sides. | Here two layers of standard DVD-5 are joined together with a transparent spacer. |
| Capacity | It can store 4.7 GB. | It can contain up to 8.5 GB or 7.95 computer GB. | It can store up to 9.4 GB or 8.7 computer GB | It can contain up to 17 GB or 15.9 computer GB. | It holds 8.5 GB. |
| DVD formats | It is supported by DVD+R/RW & DVD-R/RW formats. | Supported by DVD+R & DVD-R formats. | Supported by DVD+R/RW &DVD-R/RW formats. | DVD+R format. | DVD+R & DVD-RW. |
| Play features | Can be used on DVD-ROMs & DVD burners. | Can be used on DVD-ROMs & DVD burners. | | | Can be used on DVD-ROMs & DVD burners. |
| Price | Cheap | Costly | Expensive | Expensive | Moderate |
| Reusable (Y/N) | Yes | No | Yes | Yes | Yes |
DVD+R & DVD+RW
These formats are supported by big brands like Philips, Yamaha, Ricoh, Dell & Hewlett-Packard. DVD+R is similar to CD-R as it is a recordable format. It can record the data only once and then the data becomes permanent on the disc. These cannot be recorded for the second time.
DVD+RW is a re-recordable format which is very similar to CD-RW. The data can be erased and recorded many time without causing any damage to the medium. It is important to not that DVDs which are made with the help of a +R/+RW device can be easily read by most of the commercial DVD players.
DVD 5 or DVD 9: When do you use each?
It goes without saying that DVD 5 and DVD 9 are the two most popular formats of DVD. But the choice of format is very much dependant on the source movie. If the source has a high bitrate then a high amount of compression will give much better results than a movie with a low bitrate.
The DVD 5 format is mainly used for movie titles and to reduce the amount of compression, one can easily remove the end credits. DVD 9 is generally used for those movies which use a lot of interactive menu and the TV series which normally has around 7 episodes per disc.
As you read this, you may have already received a comprehensive understanding about the differences between DVD disc like DVD5, DVD9, DVD10 and DVD18. If not, check them from the infographic below one more time: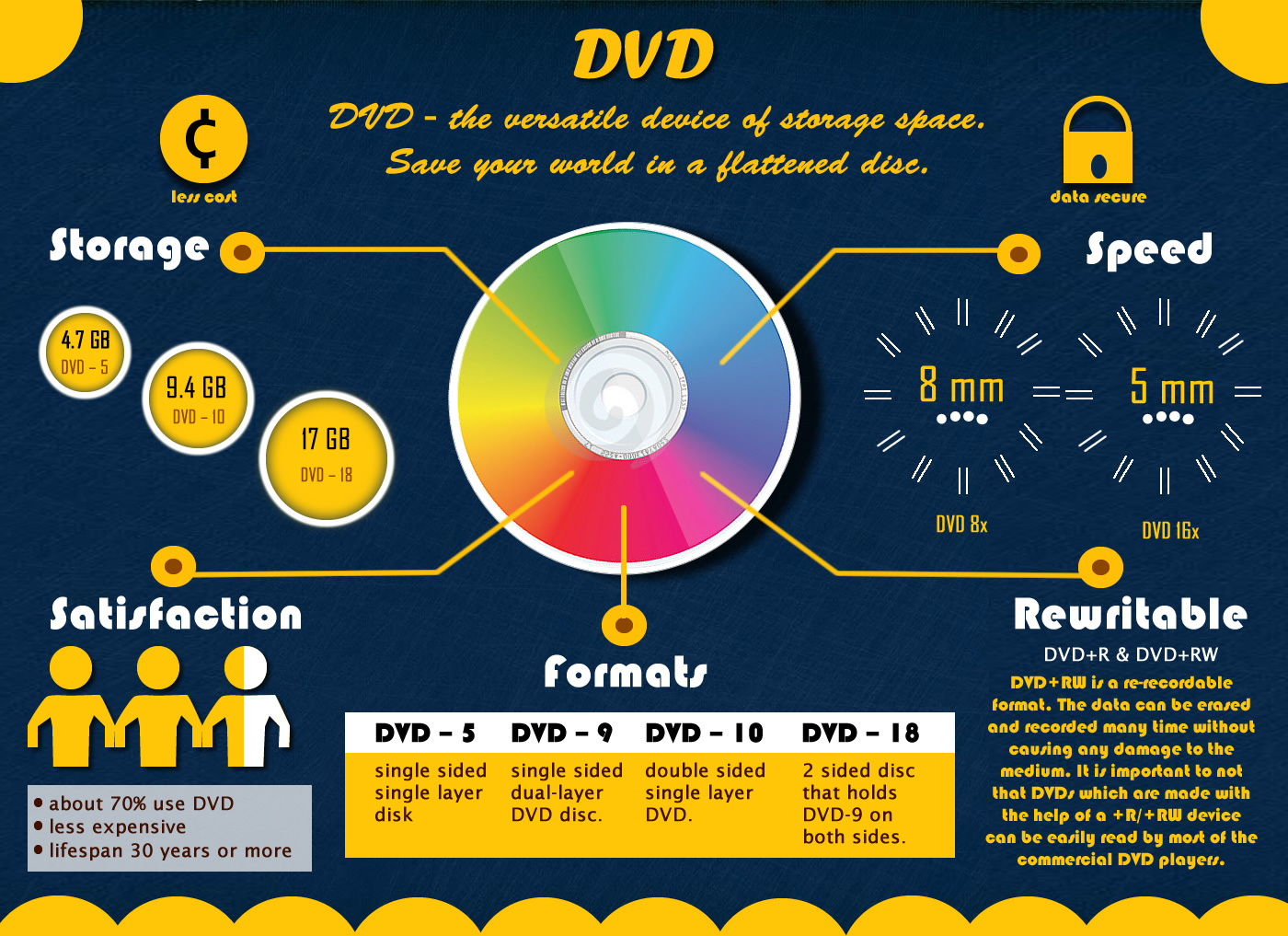 Recommended DVD Ripping and Copying Software
Among the more than 200 optimization profiles, there are also options that can format your videos to play on gaming systems, smart televisions and almost any other device you own. These profiles customize the conversion for optimal playback on specific devices, including iPhones, Galaxy tablets, Sony PlayStations and more. You can also convert your DVD movies into plain-Jane video files like MOV and MP4. And the process of ripping DVDs is as simple as can be - all you do is load the DVD you want to rip into the program, select a preprogrammed optimization profile and press start. In our tests, it took EaseFab LosslessCopy less than half an hour to rip and convert a full DVD movie into a digital format that can be used by any media player. Also, when our video experts reviewed the results, they found that the ripped file was nearly identical to the source material. There was no compression artifact, motion blur or interlacing, which are common problems with lesser DVD rippers.
Key Features:
* Backup BD/DVD to MKV with preservation of all audio tracks, subtitles and chapter markers
* Convert and rip latest Blu-ray/DVD movies for Android/iOS/Windows devices
* Create 3D movie from 2D/3D Blu-ray and standard DVD
* Remove unwanted subs streams and audio tracks at will