"As a Brit, I often want DVDs that I just can't find in the U.S. It's usually U.K. comedy shows, most of which don't take off over here for some reason. And DVD regions used to be a problem for me."
There are many occasions that we buy a DVD disc, but its region code doesn't match where we buy our DVD player and where we live. So what's are DVD region codes? Is there any way to make them region-free? Just read on to learn details.
Part 1: What are DVD region codes?
DVD region codes are a digital rights management technique created to enable motion picture studios to control the worldwide release of their movies, including content, release date and price, based upon the region. As always, DVDs that are sold have region codes, which restrict the DVDs to be played on DVD players in other regions. For instance, if you got a DVD sold in France and a DVD player sold in America, you'll probably fail in playing it as your DVD has a region code of "2" while the DVD player comes with a region code of "1", which are of different region codes. Generally, DVDs are embedded with six major region codes, along with two additional regions reserved for other purposes. Below are the detailed geographical regions:
| | |
| --- | --- |
| DVD Region Code | Geographic Region(s) Used |
| Region 0 | Discs that bear the region 0 symbol either have no flag set or have regions 1–6 flags set. Region 0 is commonly referred to as "Region Free", especially when talking about DVD and Blu-ray Disc players. |
| Region 1 | United States, Canada, Bermuda, U.S. territories |
| Region 2 | Europe, Middle East, Egypt, Japan, South Africa, Swaziland, Lesotho, Greenland, French Overseas departments and territories |
| Region 3 | Southeast Asia, South Korea, Taiwan, Hong Kong, Macau |
| Region 4 | South America, Central America, Caribbean, Mexico, New Zealand, Australia, Papua New Guinea and much of Oceania |
| Region 5 | Bangladesh, India, Nepal, Afghanistan, Sri Lanka, Ukraine, Belarus, Russia, Kazakhstan, Pakistan, Africa (except Egypt, South Africa, Swaziland, and Lesotho), Central and South Asia, Mongolia, North Korea |
| Region 6 | China |
| Region 7 | Reserved for future use, MPAA-related DVDs and "media copies" of pre-releases in Asia |
| Region 8 | International venues such as aircraft, cruise ships, etc. |
| Region ALL | Region ALL discs have all eight flags set, allowing the disc to be played in any location, on any player. |
DVD Region Code Map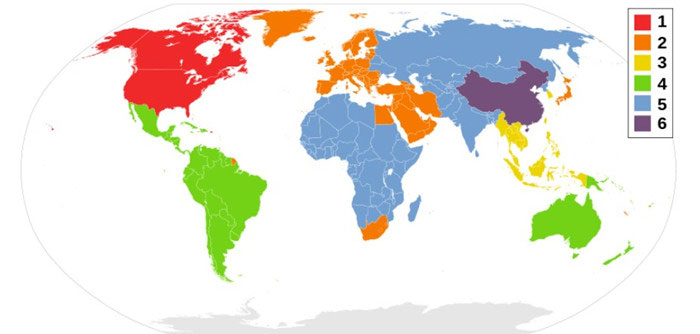 Part 2: How to Remove DVD Region Code Easily and Fast
It has been highlighted that DVD region-coding has been a major inconvenience for travelers who wish to legally purchase DVDs abroad and return with them to their countries of origin, students of foreign languages, immigrants who want to watch films from their homeland and foreign film enthusiasts according to The Washington Post.
But now with a professional DVD ripper software, such incontinence will no longer happen as such DVD copy protection removal helps to disable region code from DVD to make the DVD region free, back up protected DVD to computer and rip DVD movie for iPhone, iPad, PSP, etc.
EaseFab DVD Ripper is just the one standing out from other similar DVD region free software . This program allows you to rip regional DVDs and make all DVDs region codes free instead of resetting DVD drive. It helps to decrypt regional-playback control encryption, remove Region-code enhanced (RCE) or other copy protection measures, like CSS, Sony ARccOS, Disney X-project DRM, and more. The function is not limited to the region code remover, it is an all-region DVD copy/ripper software that helps to backup DVD with region codes to MPEG2, MKV, ISO image and rip DVD freely on Mac from region 1 to region 2, or DVD to MP4, MOV, AVI, WMV, MPEG4, H264 etc. Whether you have region 1 DVD or region 2 DVD, you can play them on your iPhone, iPad, Android, even you are abroad.
Steps of Getting Rid of DVD Region code by ripping DVD to Videos
1. Download and run the DVD region code removal program on your , click "DVD Disc"button to import the DVD files.
\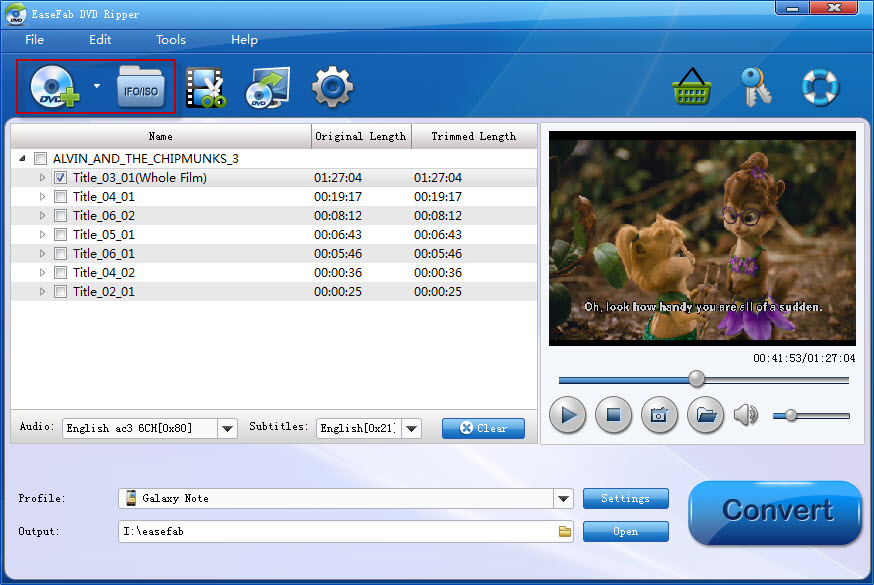 2. Click Profile (located below where your DVD files are displayed) and select the format you want from the drop-down list. Just below Profile is Output, here you can browse your computer for a better destination folder for DVD Ripper to save your converted movies. As you see, all regular video and audio formats like MP4, MOV, MKV, WMV, AVI, FLV, MP3, WMA, WAV, M4A, etc. are provided.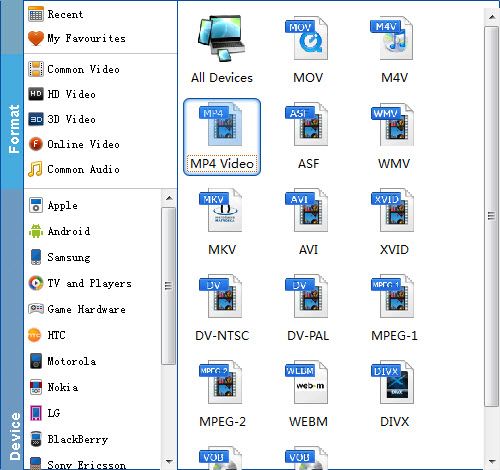 If you want to convert your DVD movies for play on portable devices, including iPhone, iPad, iPod, HTC, Samsung, Nokia, Samsung, Sony, PSP, Xbox 360 and more, you can simply browse to find the icon of your device and select it as the output format to get videos with optimized settings. All Idevices output files can be synced to iTunes automatically.
3. Once you've selected the output file format you want, you're ready to rip. Simply click the Convert button to start removing DVD Region Code and ripping DVD on your Mac computer. after a fraction of seconds, you can play your DVD movie on Mac without taking along DVD player.
Part 3: Other Ways to Play DVD in Other Regions
Method 1: Change DVD Region Code on Windows/Mac
For window users, 5 times are allowed to change DVD region code as below:
1. Click the Start menu and then Control Panel;
2. Double-click the Device Manger
3. Click on the + near DVD/CD-ROM drives and double-click on the entry below the DVD/CD-ROM drives.
4. Click the DVD Region tab after the window opens.
5. Select the Region in which you'd like to change to and hit OK.
Note: the Region Code cannot be changed, even though the OS is reinstalled or the DVD Drive is moved to another PC.
For Mac users, 4 more chances too to rip DVD from region to region:
1. A dialog box that urges you to choose a region for your DVD drive is opened once you insert the DVD into the optical drive on your Mac.
2. Consult the DVD package to verify the region code.
3. Click Change Drive Region to and click the region code.
4. Click Set Drive Region
5. Click on the Lock icon to save your settings.
Method 2: Use Freeware and Open Source DVD Players
There're many open source software DVD players. You must have heard or downloaded VLC. Yes, it's one of the most favorable media players at present. VLC ignores region coding that it doesn't attempt to enforce region coding. However, it requires access to the DVD's raw data to decrypt CSS. And such access may not be available on some drives with RPC-2 firmware when playing a disc from a different region than the region to which the drive is locked.
Method 3: Buy a Region Free DVD Player
You can buy an all region player or multi-region DVD player. It lets you play any DVD without any quality loss. But the price of such a model will be a little high.