Home
>
Resources
> DVD Tips >
Store DVD on Synology NAS
Posted by Matthew Watt - Sep 09, 2021 | Contact Author

How to Digitize and Store Your DVDs on Synology NAS
Here is a simple guide on ripping DVDs to digital video files so that you can save your favorite DVD movies to Synology NAS and enjoy them with DLNA/UPnP-compliant DMAs.
Video streaming subscription has surpassed physical media as a more popular choice for home entertainment. Nowadays, many of us may still own a big collection of old home videos, movies, and TV series on DVDs being stored on shelves, in boxes, or somewhere else in house. You can certainly watch these DVDs the usual way, with a DVD player, but wouldn't it be great to transfer the DVD contents to your Synology NAS for streaming and enjoying on your home devices?
There are lot of free and paid programs out there that allow us to rip and convert DVD to Synology NAS friendly digital files so that you can save digital copies to Synology NAS. This way, you can not only save up your local storage space, but also be able to stream your favorite DVD movies from your Synology NAS to DMA devices such as TVs/stereo systems and Sony PlayStation3/PlayStation4/Xbox 360/Xbox One for playback.

Getting a Software Tool to Digitize DVD Collection for Synology NAS
Physical DVD discs can't be directly copied to Synology NAS due to the copy-protection and format incompatibility issues, but they can be digitized with a software tool like open source HandBrake or more powerful EaseFab DVD Ripper.
HandBrake is free to download and use on Windows, Mac, and Linux. It can rip DVDs to MP4 and MKV within a few steps. However if you try to use HandBrake to rip read-only DVDs, you will probably end in failure. Only with the help of libdvdcss, HandBrake can rip some read-only discs. But the annoying thing is that libdvdcss doesn't always work.
If you're interested in backing up your DVD collection and don't want to be held back by slow processing and copy-protection problem, EaseFab DVD Ripper is there for you. It isn't free, but you get a lot for your money. This software is available to cope with both home-made and store-bought DVD discs without hassle. And only with three simple steps, you can easily transfer your DVDs to Synology NAS.
EaseFab DVD Ripper can rip your DVD collection to a wide range of file formats, far more than HandBrake offers. You can choose to digitize DVD to DVD folder to preserve intact DVD data or convert DVD main title/movie only to MP4, AVI, WMV, 3GP, FLV or other mainstream video formats. Moreover, this program adopts multiple advanced technologies to boost ripping speed.
Overall, EaseFab DVD Ripper have the advantages not only in wide range of supported DVDs, but also in more well-configured output presets, more output file formats, super fast speed, high output quality, intuitive interface and more. This software also comes in a Mac version.
Tutorial: How to Rip and Transfer DVDs to Synology NAS in 3 Simple Steps
Step 1. Load DVD movies
Add your DVD files by clicking the Load DVD button and selecting the DVD files you want to rip from your computer's hard drive. ISO image files and IFO files are also supported. After the DVD files are loaded, you can preview them on the right viewing window and take snapshots of your favorite movie scene.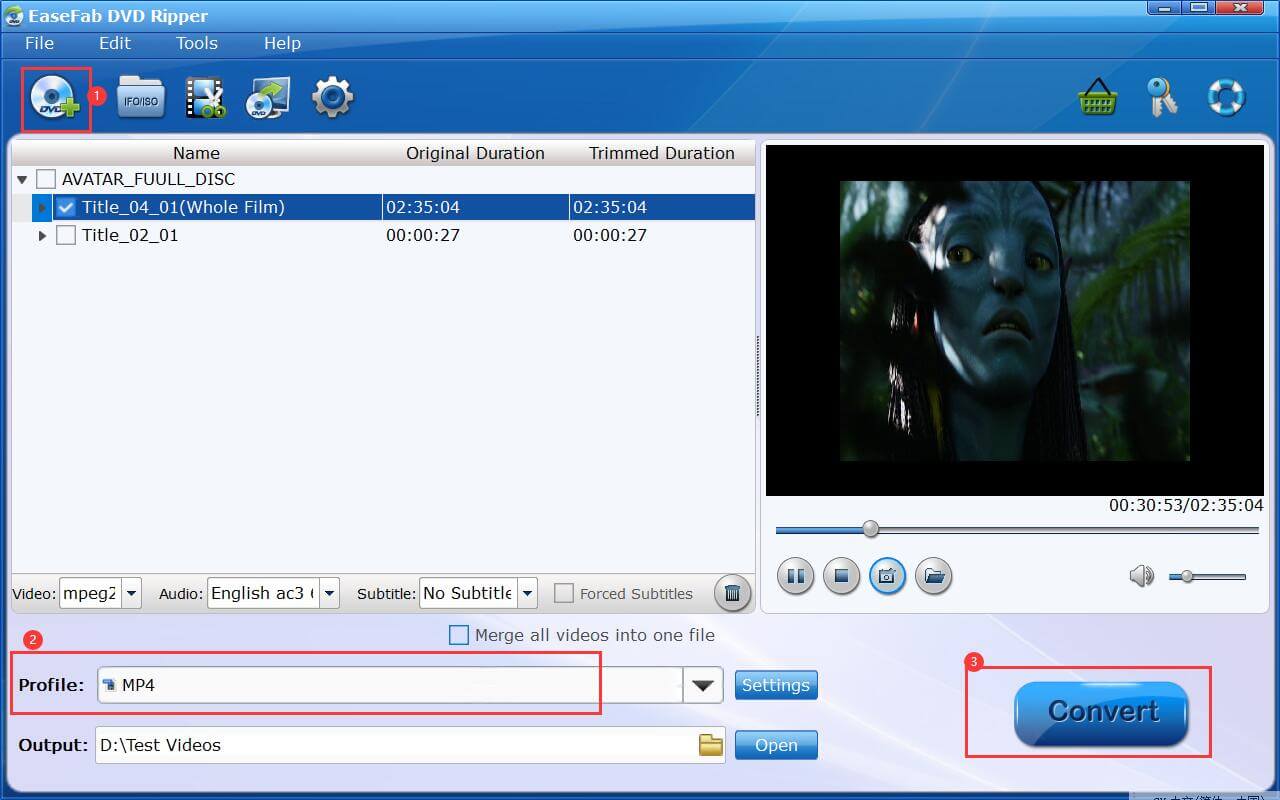 Step 2. Specify output format
Click Profile box and move mouse cursor to Common Video category, then select MP4 Video as the output format. MKV is also a good choice; as a container format it takes whatever you give it. If you want to store DVDs on Synology NAS for enjoyment on devices like iPhone, iPad, Android, game console, TV, etc., you can browse to find any video preset from the correspoding category as the output format.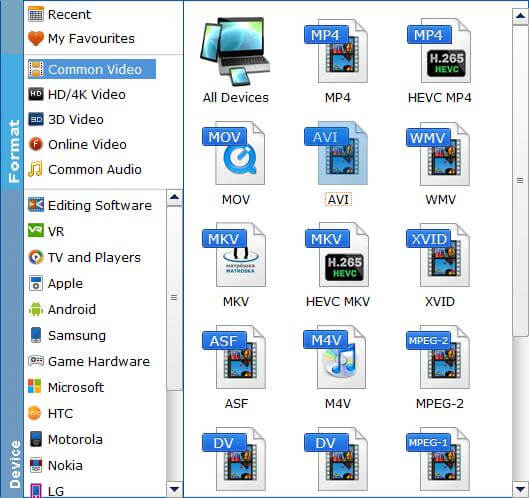 Tip: With the right settings you can retain the quality of the original DVD while also saving space. This is particularly helpful when streaming over your network, depending on your network quality. Simply click Settings button and you can tweak the settings to your satisfaction and even save it as preset.
1. You're not suggested to adjust the frame rate and aspect ratio, if not necessary.
2. Lower the bitrate to a lower level. For example, adjusting the bitrates from default Normal quality to 1800-2000 is acceptable without noticeable pixellation.
3. Lower the resolution. Typical DVD videos are 720×480 (NTSC) and 720×540 (PAL). Adjust the resolution to 640×480 won't make any quality difference.
Please note: Adjusting these variables have some effect on the re-encoded video quality. Remember the file size and video quality is based more on bitrate than resolution which means bitrate higher results in big file size, and lower visible quality loss.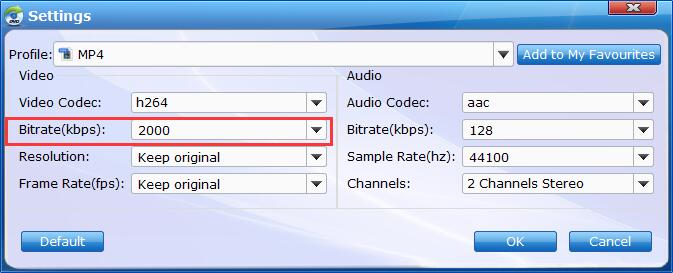 Step 3. Start ripping DVD to Synology NAS
Finally, hit the Convert button at the bottom of the main interface to start the conversion. It will automatically convert DVD to Synology NAS compatible video files.
Once the conversion is finished, click Open to quickly find the converted movies. Then, Synology NAS will recognize, catalog, play and stream these DVD rips at ease.
Note: To stream multimedia contents from your Synology NAS to DMA devices for playback, you need to configure media playback settings, including adjusting the basic settings of DMA devices, managing browsing settings of media files, and enhancing the compatibility of the files. For more info, you can head over to this article: How to enjoy multimedia contents stored on Synology NAS with DLNA/UPnP-compliant DMAs.
Other Useful How-to Guides & Tips
This articles shows you the simple step-by-step guide on how to extract subtitles from DVD to a SRT file format. Read on for details.
DVDs look bad or blurry on HDTVs or stretched on a widescreen? You can upscale DVD to 1080P to make 480p/576p DVDs look good on modern HDTV.
Learn how to easily and fast convert DVD to lossless MKV file while maintaining full video, all audio and subtitle tracks, and original DVD video quality.
This article introduces two easy solutions to add subtitles to DVD movies or videos so that you can better understand the movie plot.
Copyright © 2023 EaseFab Software Corporation. All Rights Reserved.