MP4 is a popular container format that is widely used for videos, while WebM (VP8/VP9 video + Vorbis/Opus audio) is an open, royalty-free, container format designed for delivering videos on webpage using the HTML5 video tag. MP4 is also used for sharing content over the Internet. But if you want to embed your videos on the HTML5 page, WebM will prove to be a better option than MP4 format. And there some reasons that why people choose to convert MP4 to Webm:
· WebM is an open source and royalty free format while MP4 is non-free and is also patented.
· WebM has a better compression ratio as compared to MP4. An HD video downloaded from YouTube will be 47% smaller in size as compared to MP4 file.
· Moreover WebM has high bandwidth and is also supported by a number of browsers.
· Videos in WebM format can be played directly without any need for plug-ins.
Therefore, if you wish to upload or embed MP4 videos to the HTML5 web pages, converting from MP4 to WebM is a better option as the file size is small andit offers better quality. And this article introduces tips on how to convert MP4 to WebM on Mac easily. Read on for details.
If you want to convert WebM to MP4 for free, please refer to Top 5 free WebM to MP4 converters.
Part 1: The Differences Between WebM and MP4
MP4 and WebM, being two popular formats, it is important to know the differences between the two so that you know which format to use in different situations. The table below shows differences between MP4 and WebM.
Features/File Format

MP4

WebM

Developer

Moving Pictures Expert Group (MPEG)

Google

File Extension

.mp4

.webm

Introduction

It is a container format that consists of videos, audio, images, subtitles, and chapter in a single file. The format is used for streaming content over the net.

The format is designed for Web and supports HTML5. The file format consists of video streams that are compressed using VP8 or VP9 video codec along with Vorbis or Opus audio codecs. The structure of the file is based on Matroska container.

Portable Device supported

Almost all types of portable devices including Apple, Sony, Microsoft, and Android

At times, mobile devices are not supported by the format

Programs Associated

Apple iTunes, Microsoft windows Media player, Apple Quick Time player, VideoLAN, VLC Media player

VLC Media Player, Google Chrome, Mozilla Firefox

MIME Type

Audio/mpeg

Video/webm and audio/webm

Codecs Supported

VAVC MPEG-4 and H.264 video codecs

Vorbis/Opus audio codecs, AVC MPEG-4, and WebVTT text tracks

Supported Streaming

Easy to upload on websites and move and copy files


Best for internet streaming

Pros

Easy to compress with lossless quality.
High quality videos as compared to WebM.

It is free to use application.
Better playback with high quality video.
Streams on video sharing sites like YouTube.

Cons

Due to pre-buffering, online file streaming is a time consuming process.

Compatibility issues with a number of portable devices and players.
Part 2: Best WebM Converters on Mac to Convert MP4 to WebM
There are a decent list of converters available, but if you are seeking for ease of use, lossless quality conversion, fastest video conversion speed, and the most formats supported on your Mac, then EaseFab Video Converter for Mac will be your best choice. This WebM converter Mac ensures that all your conversion needs are taken care in the best possible manner. The software supports more than 1000 formats for conversion. Moreover, it has many other amazing features that impress you.
· Allows batch conversion of MP4 to WebM format and Vice Versa without quality loss.
· User-friendly and simple interface to convert MP4 to WebM, MOV, AVI, M4V, etc. formats.
· Support customizing your videos using in-program editing tools like cropping, trimming, adding subtitles, and others.
· Optimized conversion presets for iDVD, iMovie, Final Cut Pro.
· Supported OS: Windows 11/10/8/7/XP/Vista, macOS 12 Monterey, 11 Big Sur, 10.15 (Catalina), 10.14, 10.13, 10.12, 10.11, 10.10, 10.9, 10.8, 10.7.
Simple Steps to Convert MP4 to Webm on Mac using EaseFab Video Converter for Mac
Step 1. Add MP4 files.
Open the program and drag your MP4 video files from your computer to the program. You can also click the Add Video button to load your source media files.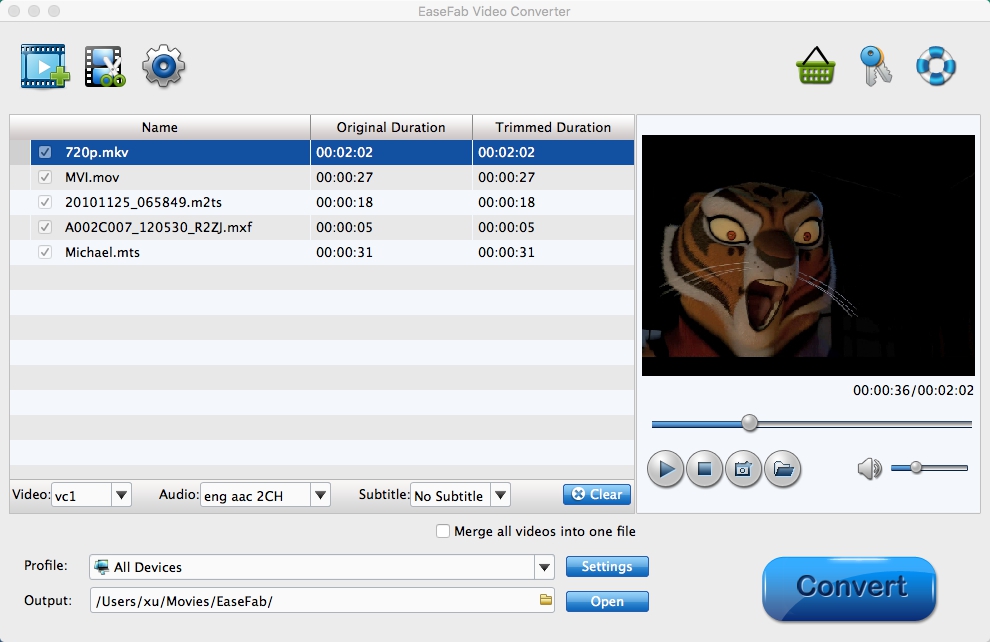 Step 2. Select WebM as output format.
Click the "Profile" drop down list to select "WebM" from "Common Video" catelog as the output format.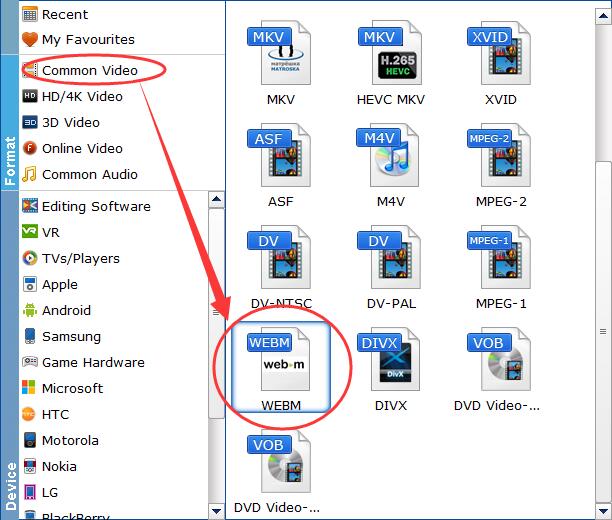 Tips: The default setting works well. Of course, if you want to customize video and audio encoding settings, just click the Settings button to customize these settings. You can adjust the output video/audio resolution, frame rate, bit rate, etc. to customize the output files to get the best quality you want.
Step 3. Start converting MP4 to WebM.
Click Convert icon to initiate the MP4 to WebM conversion process. After a while, the desired MP4 file will be successfully converted to WebM format. You can click the Open icon at the bottom of the main interface to find the converted file.
Part 3: Free Online WebM Converter to Convert MP4 to WebM
There are a good number of online converters available which allows free conversion from MP4 to WebM in addition to other formats. One such popular converter is Online Convert. The program allows adding local Mac files, its URL or MP4 files from Dropbox as well as Google Drive. With optional settings options, screen size, video bitrate, audio codec, frame rate and other file parameters can be changed. The converted file can be downloaded from the link at the program interface.
Steps to convert MP4 to WebM using Online Convert:
Step 1: Open https://video.online-convert.com/convert-to-webm on your Mac browser.
Step 2: Click "Choose File" and add the desired file from system, link or cloud storage.
Step 3: Edit and customize video through Option settings tab.
Step 4: Click "Convert file" to start the conversion process.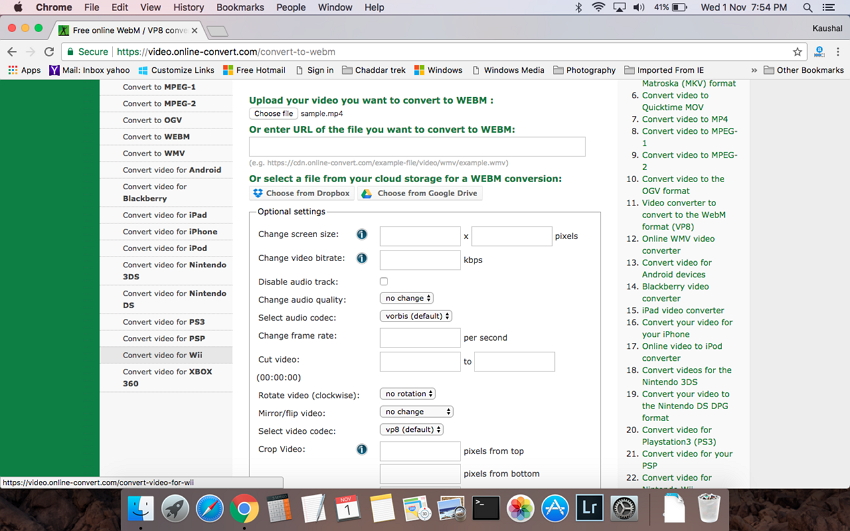 Conclusion: Pros and Cons of Different MP4 to WebM Converters
Pros:
There are many online converters that are available to use, so it can be confusing to choose. However, EaseFab Video Converter allows you to have a better quality of files and nuch faster conversion speed.
Cons:
Some issues are that you will need to have Internet access and some converters can take time to download. You may also experience some issues with the video quality in some cases and size limitations. EaseFab Video Converter package should offer you a better package overall.
You may decide to opt to pay for a converter although this will not necessarily mean that you will gain more. The main difference is that you will not have so many adverts.
The difference between a paid converter and the one that is free is that you would hope to achieve more. This is partly true as some paid converters do offer more options such as additional functions with regular updates.
The speed can generally be faster and you can receive some additional support. Overall, it can save you time.
Obviously, it will cost you some money. Some free converters are really good as they can offer you some quality, although not as good as the paid ones. You will have to accept a lower operating speed for a free one. You could try a free converter first and then opt for a paid one at a later date.