Home
>
Resources
>
Vizio TV Won't Play MP4 Files
Posted by George Shelley - Nov 24, 2021 | Contact Author

[Solved] Why & How to Fix Vizio TV Not Playing MP4 Files thru USB
Nowadays it is convenient to put movies on USB flash drive and play on Vizio Smart TV via USB port. However, many people are confused that their Vizio TV even can't recognize your USB storage devices or you can play certain MP4 files from USB on Vizio TV but fail to play other MP4 files due to the unknown reasons. So what's the matter? How can we solve the MP4 and Vizio TV incompatible issues? Read on for details.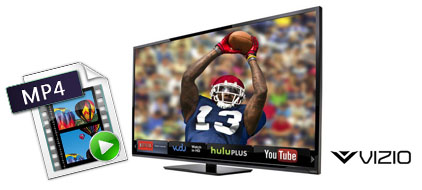 Why Vizio TV not recognize your USB storage devices?
The usage for the USB port(s) on your Vizio television will depend upon the model. Check the manual or technical specifications online to determine if the USB port(s) that is on your television is for use by a service technician only or can be used for multi-media purposes. If the USB port on your Vizio TV is capable of reading the multimedia file type, to let the MP4 file work properly on Vizio TV from USB, please follow the suggestions below:
- Make sure the drive is formatted to FAT32
- Use a USB drive that is 8GB or less
- Make sure that the file is Vizio TV USB port readable file format
- Reduce the number of files on the drive being used
- Reduce the size of the file (if possible)
- Try multiple files of the same format to verify that the initial file was not corrupted
Why Vizio TV doesn't Play MP4 files from USB?
Vizio TV can allow its users to transfer video files from their computer, hard drive or other sources to Vizio TV for playback via the built-in HDMI cable and HDMI ports, but the transferred video files must be in the video formats supported by Vizio TV. The video formats supported by each model of Vizio TV differ from other models, but most of models of Vizio TV prefer H.264 video and AAC audio. Besides Vizio TV also prefer video resolution in 1920 x 1080 (1080p). The preferred video format and video resolution will fully help you to understand why sometimes your Vizio TV can not play your video file or you only get audio no video or you always encounter black screen even though the video file is in the supported list.
For your information, MP4 is a format container with different codecs. The video and audio files in different MP4 files can be encoded with different codecs. And MP4 file with DTS audio can't be rendered on Vizio Smart TV.
How to Fix MP4 Files Not Playing on Vizio TV Error?
The Key: Convert MP4 to MP4 with H.264/AAC codec or any formats that Vizio TV can recognize.
Broadly speaking, MP4 format/codec incompatibity lies in the major cause of Vizio TV not playing MP4 videos from USB drive. The easiest & most direct way comes to make MP4 videos compatible with Vizio TV. For that, converting MP4 files to Vizio TV could get everything done.
EaseFab Video Converter is an excellent MP4 converter, which can easily convert and compress problematic MP4, MKV, MOV, VOB, TiVo, WMV, etc. to Vizio TV compatible MP4 (codec: h.264+aac) video files with fast encoding speed and excellent output quality. Codec correction (or conversion) is just the tip of the iceberg that it can handle. In terms of the compute-intensive 4K MP4 files, it's also a decent performer, letting you downscale 4K to 1080p, lower 60FPS to 30FPS, adjust bit rate, etc. to better suit your computer hardware configurations and to ensure a flawless MP4 playback or streaming.
Tutorial: How to Convert and Compress MP4 to Vizio TV supported codec/format
The step-by-step guide is almost the same on PC and Mac. Here we will take EaseFab Video Converter Windows version as the example.
Step 1. After downloading, install and run EaseFab Video Converter on your PC or Mac, simply drag and drop your MP4 files to the program. You can also click Add Video button to load your source files. (Note: you can load multiple video files to convert at a time.)
Step 2. Click "Profile" bar and move mouse cursor to "Common Video" category and select MP4 (codec: h.264+aac) as the output format.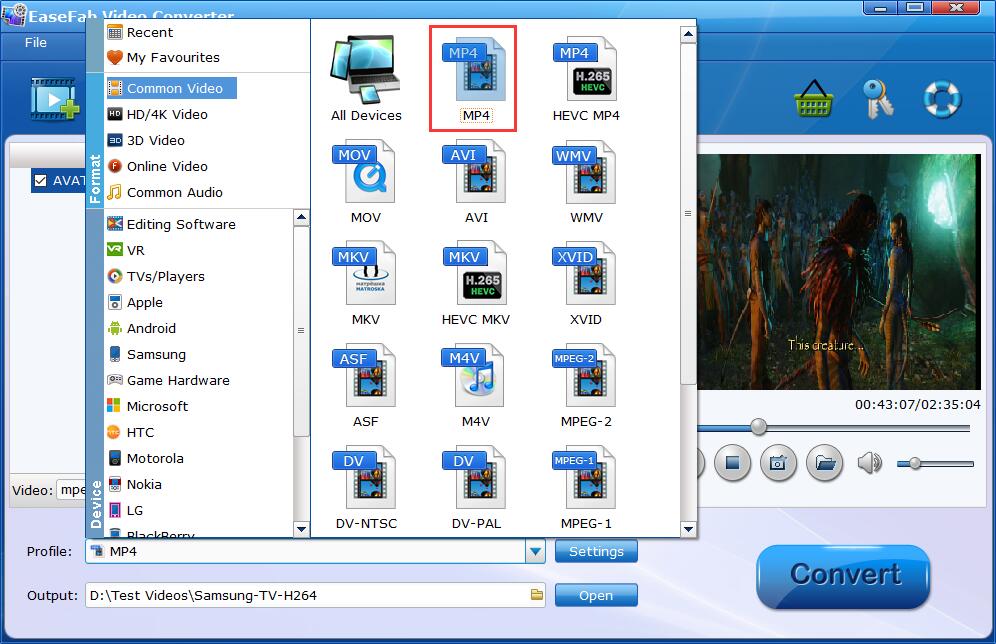 If your source MP4 not playing on your Vizio TV owing to higher specifications, you can make them playable with the following advanced settings:
● Click the Settings button beside the profile bar, and drop download the list of Resolution, where you can downscale 4K to 1080p/720p for smaller file size or upscale HD to 4K to fit bigger screens.
● Drop down the Frame Rate list, then you're able to change 1080p/4K 60fps to 30fps or lower, or vice versa.
● Drop down the Bitrate list, type or select a target bit rate for your MP4 videos.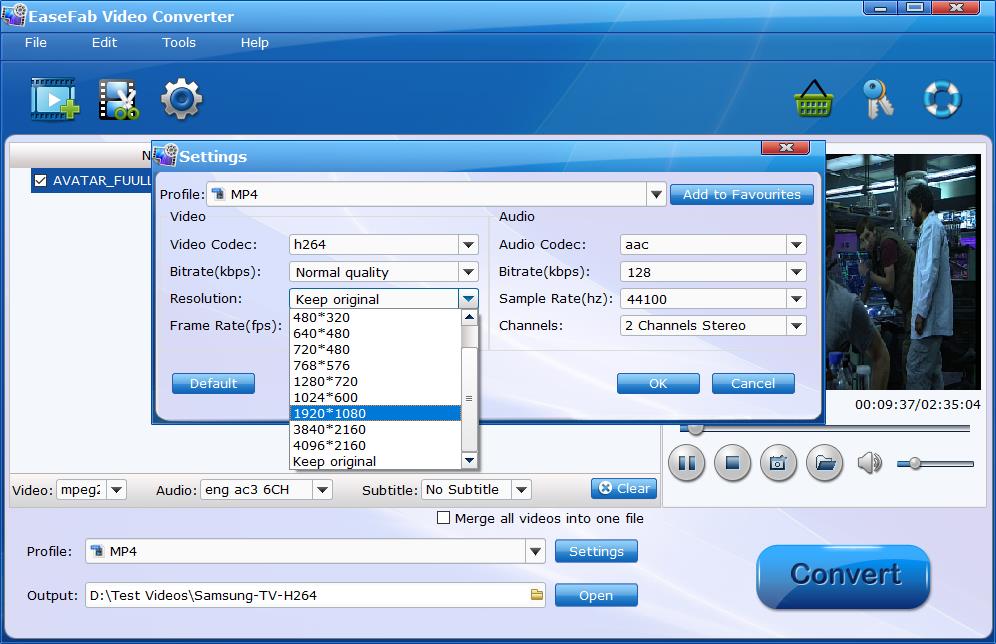 Step 3. Click the small Folder in the "Output" bar to set a destination folder if necessary. Finally, hit the big blue Convert button to finish MP4 to Vizio TV conversion.
After the conversion is over, you can freely enjoy the converted MP4 movies on your Vizio TV thru USB, media server like Plex, Jellyfin, Emby, DLNA, etc. without any trouble.
Other Useful How-to Guides & Tips
This article will figure out why Samsung TV not playing some MP4 files and how to fix this issue easily.
PS4 won't play MP4 files? This tutorial explains the reason and walks you through how to get MP4 files and Sony PlaySation 4 to play nicely.
This article introduces three ways to reduce the size of MP4 video files by reducing resolution, video and audio bitrate or converting MP4 to other formats as you like.
Why your DVD player failed to the widely-supported MP4 files? Follow this article to find out the possible reasons and an easy solution to fix it.
Copyright © 2023 EaseFab Software Corporation. All Rights Reserved.