Part 1. Why do we need 1080p to 4K upscaling?
"If you've got a full HD picture coming into the TV and if you didn't upscale it, it would take up just a quarter of the screen. It would be then surrounded by an empty screen. What the upscaling process does it to ensure that the picture fills the 4K resolution of the screen." -- Gavin McCarron
Nowadays 4K has taken over the mainstream of the world of digital videos and it is gradually supported by more and more TVs, computers, cameras, smartphones, UAV, car driving recorders, video-sharing sites like YouTube and Vimeo, and so on. However, there are still a lot of old movies, commercials, home videos, recorded videos, etc. are in Full HD with the resolution of 1920x1080. To watch the 1080p contents on a 4K displayer with best effects, 1080p to 4K upscaling is necessary. Otherwise, your contents may look small screen or you probably watch the same contents that you used to view with a just bigger picture.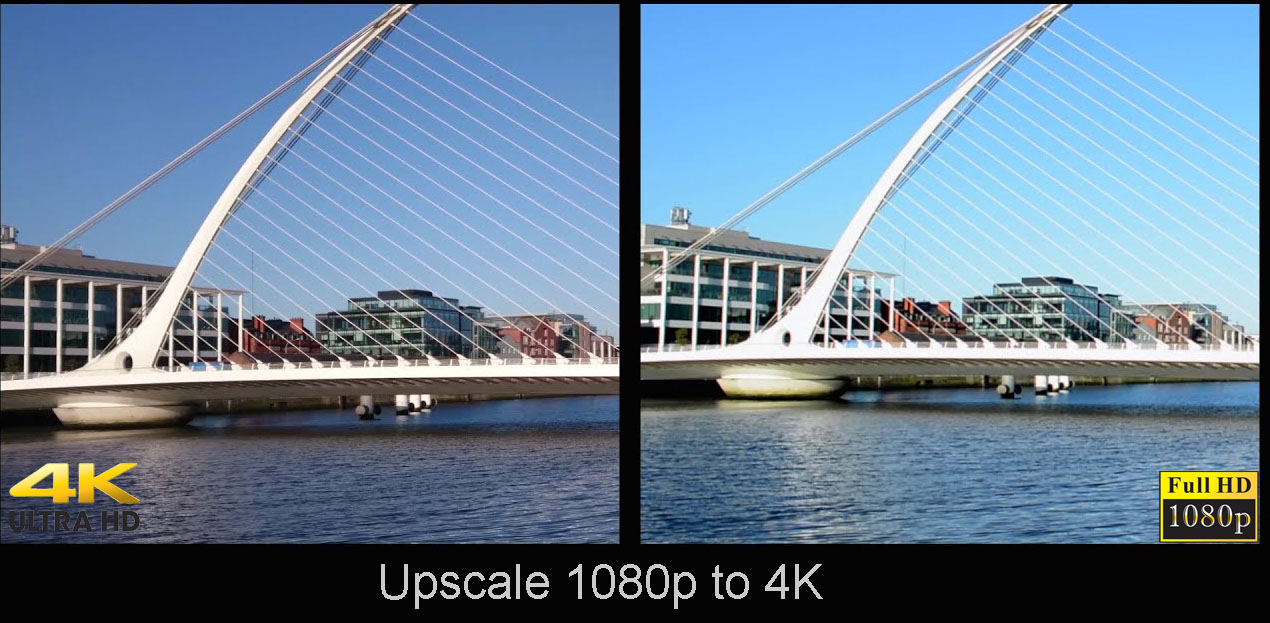 Part 2. What do 4K and 1080P mean?
4k and 1080p refer to the resolution. 4K refers to the horizontal resolution of the photos, the videos, or the displays 4000 pixels, more or less. And that is why we call it 4K. In most situations, it stands for 4096×2160 pixels, while there are some exceptions, like 4096×3112 (Full Aperture 4K), 3656×2664 (Academy 4K), 3840×2160 (UHDTV), and more.
1080p is the top level of HDTV standard proposed by SMPTE (The Society of Motion Picture and Television Engineers). 1080 is the number of pixels vertically displayed on the frame and the resolution of 1080p is 1920×1080, around 2 megapixels. P of 1080p represents progressive scanning, which differs from interlaced scanning. In the process of displaying an image, the TV receives and scans the image signal line by line.
Part 3. How does 4K upscaling work?
To present lower-resolution like 720p or 1080p material on a 4k displayer, the 4K displayer has to perform a process called upscaling. This process increases the pixel count of a lower-resolution image, allowing a picture meant for a screen with fewer pixels to fit a screen with many more.
For example, most 4K TVs are equiped with 4K upscaling technology, which can make us to watch 1080p videos on 4K TV without black area surrounding. However, not all the chips are qualified and the output quality varies with the inbuilt 4K upscaler. Cheaper 4K TVs usually come with sub-par scalers. So in this case, we possibly won't see any quality enhancement. Worse result is also possible. In such cases, employing video processing software to do the upscaling things can be a wise choice. In the following part, we will share you with how to upscale 1080p to 4K with a third-party 4K upscaling software.
Part 4. How to upscale 1080p to 4K with a video upconverting tool?
There is a long list of 4K video upconversion software on the market. Among them, EaseFab Video Converter is strongly recommended. It's a totally clean, fast and user-friendly video converting program that supports encoding/decoding videos in any resolution and in nearly any format. Different from other so-called 4K upscaling software requiring users to set 4K video resolution and other parameters manually, EaseFab Video converter offers well-configured 4K MP4 output profile (edcoded with H.264) to make 1080p to 4K conversion badly easy for users, and with ideal quality.
In addition, its hardware acceleration technology allows the converting process to be achieved faster by deploying GPU as far as possible to improve computational performance. Furthermore, you are allowed to adjust video parameters by yourself, which can ensure quality loss as little as possible. In addition to upscale 1080p to 4K, you are allowed to extra things like editing and codec converting.
To get started, you should download and install this 4K upscaling software on your computer. In the following guide, I will take EaseFab Video Converter Windows version to show the upconversion. The process on Mac (macOS Big Sur incl.) is the same.
Step 1. Load the 1080p content(s)
Launch EaseFab Video Converter, then click Add Video button to load source 1080p videos. You're allowed to insert multiple video clips for batch conversion.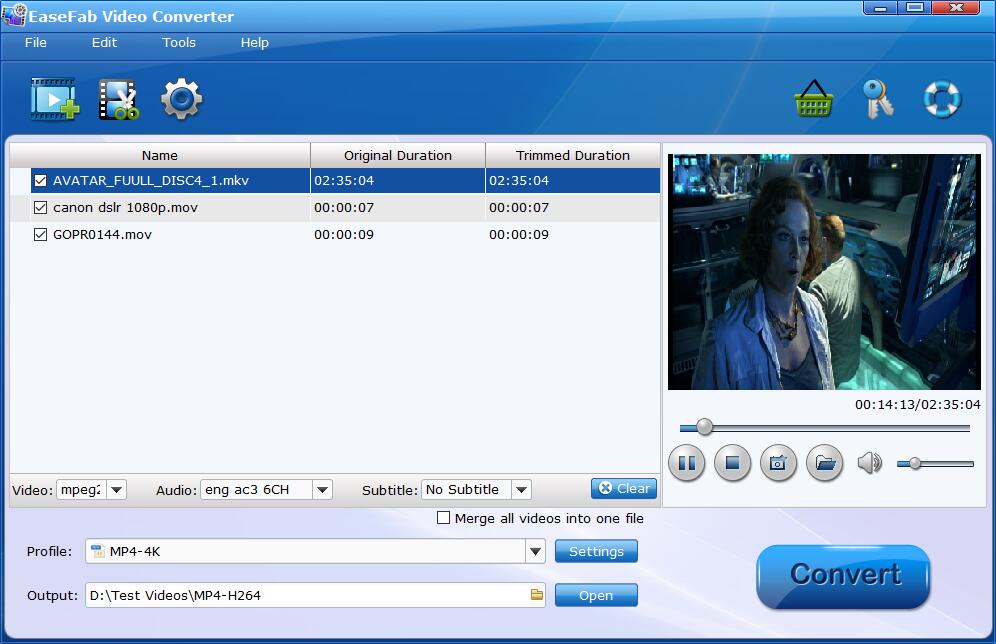 Step 2. Select 4K output profile
Click Profile bar and move mouse cursor to HD/4K Video category and select MP4-4K (codec: h.264+aac) as the target output file. As you see, MKV-4K, MOV-4K are also available, but MP4-4K is the most compatible format to fit for 4K TV, YouTube, etc.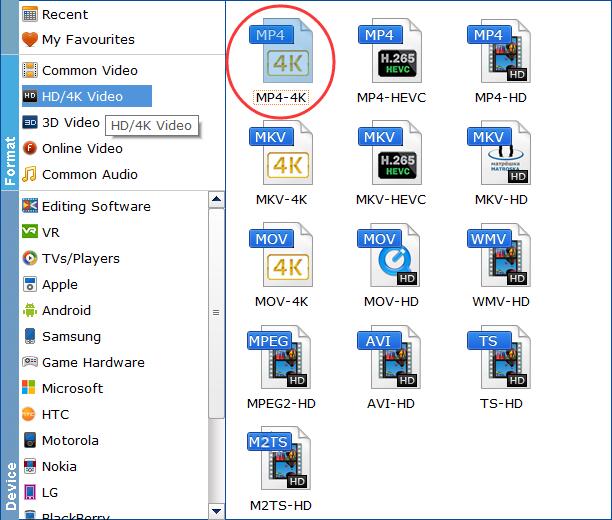 If you want to adjust the advanced parameter, such as video codecs, frame rate, aspect ratio and more, by your own, you can click Settings button beside the profile and enter into parameter settings page.
Step 3. Start the upconversion.
After everything is OK, you can hit Convert button to begin upconverting 1080p full HD to 4K HD videos. Once done, you can find it in the destination folder.
Conclusion
There are ways or technology to help us when we have 4K material but only 1080P needed, or hold 1080P files but only 4K ones needed. With the technology, we can change between 4K and 1080p, ie, upscaling 1080P to 4K for more details, or downscaling 4K to 1080P for better compatibility.