Summary: Here we've reviewed the top 3 4K video converter softwares for macOS on the market. All of them can help you downscale and convert 4K (HEVC/MP4/MKV and 4K HDR) to 1080p or 720p or even upscale HD video to 4K on Mac for further smooth playing, editing or sharing.
4K era has already come and has been widely used in many fields like PC, television, digital cameras/drones (Gopro, DJI, IP security cameras, etc.), digital cinema. Quadruple the resolution of Full-HD promises superb image quality, but also comes with large file size, even with the powerful compression H.265 codec. Limited by display devices, decode technology, bandwidth, 4K sources, and many factors, we are not yet able to race onto the 4K bandwagon.
The 4K video playback error message goes like "4K video lagging/stuttering", "video codec not supported", "high CPU usage", "overheated computer", etc. For example, recording a 60-second 4K@30fps video with GoPro HERO will occupy approximately 493MB of memory. Although GoPro HERO 8 Black uses more advanced HEVC format to encode 4K, the file still remains big. When we shoot a 1-minute 4K@60fps video, it eats about 529MB memory when ProTune is off, and 643MB with ProTune turned on. In addition to taking up too much space, big file will result in choppy playback and edit, uploading time to increase, and failure to send 4K video to WhatsApp, Snapchat, Email and other programs which have strict limitations on file size and length.
All in all, though each potential reason might result in 4K video playback or editing error on your Mac or Windows computer, the major culprit are underpowered hardware and incompatible codec. Upgrading your computer configurations to handle 4K videos is a pricey proposition. Sometimes even if you've upgraded your computer hardware, you may find that 4K video plays back choopy. This is due to the immense processing power required. The cost-effective way is to convert/compress 4K video to lower 1080p or 720p resolution to make it compatible on current hardware. And along with a third-party 4K video converter, you can easily get the job done.

There are many Mac 4K video converters in the market. Here we single out 3 powerful 4K video transcoders (one is free) that can help you convert or compress (HEVC) 4K to (H.264) 1080P/720P on macOS (Ventura included). Also we will share some other useful tips for you to well handl 4K videos.
Part 1: Top 3 4K Video Converters for Mac OS X (macOS Ventura Incl.)
EaseFab Video Converter for Mac is one of the best Mac 4K video converters that can convert & process all kinds of 4K UHD videos (4K HDR video included), no matter where they come from and what encoding format they use. Besides 4K contents, it can also handle 5K, 8K, HD 1080p and large video files encoded in HEVC MP4/MKV format or H.264 4K footage from GoPro, DJI, iPhone etc.
It enables you to convert 4K video to 1080p or 720p for virtually all devices without jerky/choppy issues, or upscale 1080p to 4K UHD to perfectly fit with bigger screens. Also it can transcode 4K UHD footage from mobiles, action cameras, camcorders to MP4 H.264 for better playback. And you can transcode 4K/HD footage to high-quality codecs like DNxHD, ProRes for easier editing and processing in DaVinci Resolve, Final Cut Pro, Adobe Premiere, Avid and other NLEs.
On top of that, this Mac 4K Video Converter makes timely update to support the latest macOS (macOS 12 Monterey and 64-bit OS supported), the newest devices, etc. It also comes with a Windows version that can control over 4K UHD videos on Windows 11, 10, 8.1, 8, 7, etc. Moreover, this Mac 4K video converting software adopts the GPU acceleration tech which can speed up the 4K video conversion to 3-5X times faster than using CPU (software) acceleration only. With the constantly updated conversion algorithm and the advanced High Quality Engine, it guarantees you the output video with 100% quality reserved.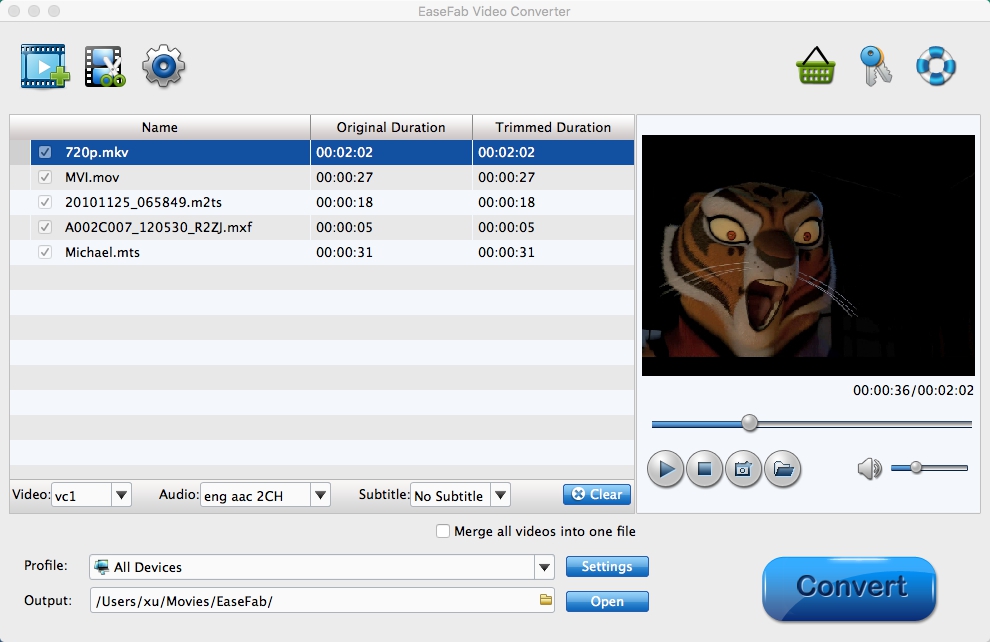 Powerful and highly approachable, HandBrake for Mac is a free 4K video transcoder that is capable of handling 4K video files from your hard drive.
Converting 4K video files in HandBrake is quite straightforward. It offers an excellent selection of ready-made profiles, all of which include universal profiles of standard quality or high-definition, profiles for uploading online, profiles optimized for different devices, and other options. After that, you will select a location and add the conversion to the queue.
Since it's open source and there is no pro version to upgrade to, you won't see any upsells or third-party ads. The trade-off here is you get a very basic interface and a less-than-beginner-friendly experience.
That being said, once you get over the dated look and find your way around, HandBrake can provide most of what you need for basic video conversion. Although conversion times are fairly slow, there's a decent selection of editing options and the quality of output video is very good.
As a 4K video converter for Mac, HandBrake can handle 4K resolution and supports over a dozen output formats, including M4V, MPEG, MOV, MP3, and MP4, and has a multitude of preset device profile options. As expected, there aren't as many as you'll find in a paid tool.
Any Video Converter for Mac is introduced with the ability to convert any video files, including 4K UHD videos. It boasts a fairly wider compatibility with 200+ formats embracing popular file formats. It allows users to convert 4K 60fps HEVC videos to H.264 or downscale the resolution from 4K to 1080P or 720P for playback on underpowered devices smoothly.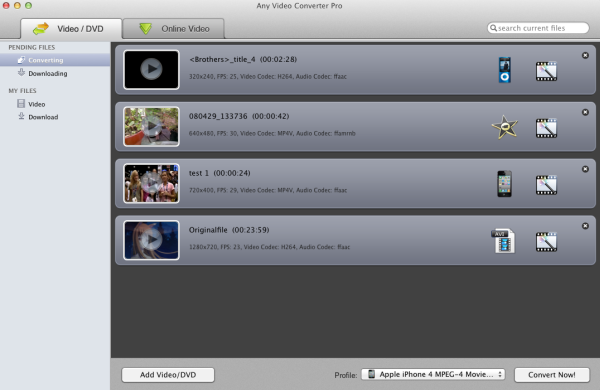 Personal experience tells that this user friendly 4K video converter does not work as fast as we imagine, it takes about 20 minutes to convert an hour of 4K video. What's more, because it only supports NVIDIA GPU-acceleration, you can't get a fast conversion if your computer doesn't have NVIDIA graphic cards.
Part 2: How to Convert 4K Videos Losslessly and Quickly
Though 4K television has gradually become mainstream in home theater, there are still not many videos distributed in 4K. However, the mismatch resolution problem can be simply solved by 480/720p/1080p upgrading using 4K video converters. Besides that, there are many occassions we need to downscale 4K HEVC to H.264, compress 4K UHD to 1080p for more easier playback and editing.
To get these job done, please download and install this best 4K video converter firstly. Once everything is ready, you can follow the steps below to start upscaling, convert or compress your 4K videos.
※ For macOS 10.14 or lower, you can also Download 32-bit installer here ↓
※ For Windows users, please click here to download EaseFab 4K Video Converter for Windows.
# 1: Compress 4K UHD to 1080p
Step 1: Launch the program and click Add Video button to load your to-be-converted 4K video on your Mac. You're allowed to insert multiple video clips for batch conversion.
Step 2: In the Profile bar, you can select an 4K format from "HD/4K Video" category to continue with your source 4K video format. Or choose "MP4 (codec: H.264+AAC)" from "Common Video" as output format for better compatibility.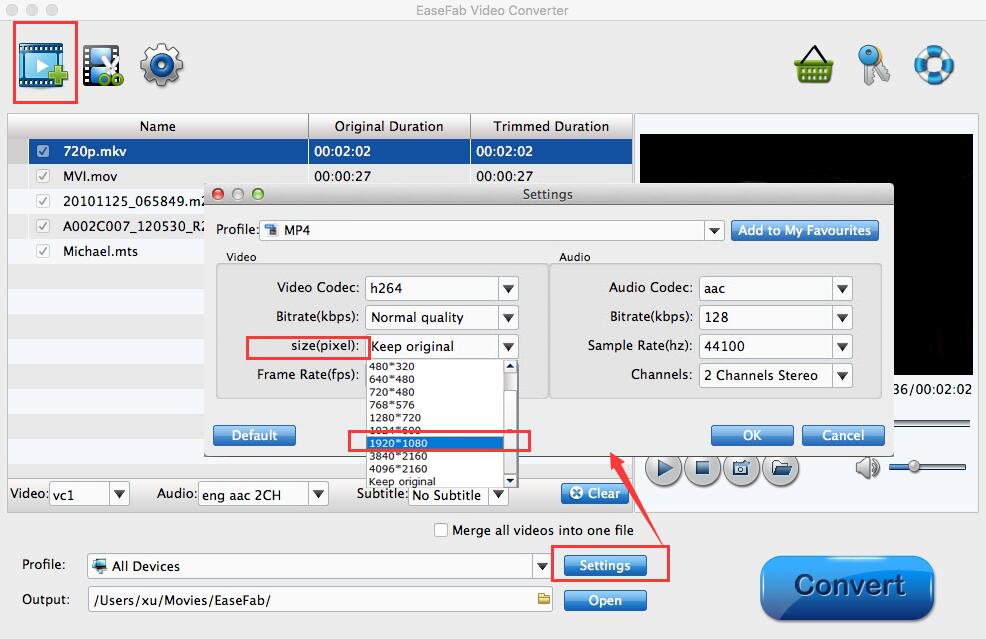 Step 3: Click the Settings button to enter the Settings window. Then click on size(pixel) to open the drop-down menu, where a wide range of resolutions are available for your choice. 1920 x 1080 is always recommended for great image quality on mobiles, game consoles, desktops and so on.
Optionally, you can also downscale the video bit rate, lower 4K 60fps frame rate to 30fps, change aspect ratio for widescreen display, or alter audio settings in this parameter setting window.
Step 4: Hit Convert button to start converting and compressing 4K videos.
# 2: Upscale 720p/1080p HD to 4K
Step 1: Click Add Video button to import the source 720p or 1080p video that you're going to upscale.
Step 2: Go to HD/4K Video category and select MP4-4K as the output format.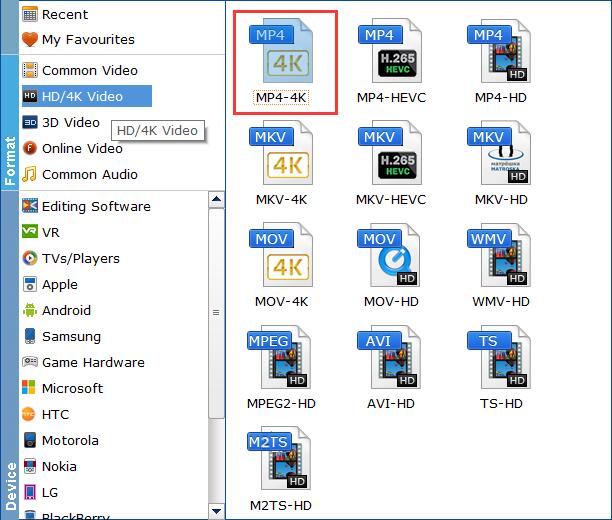 Step 3: Hit "Convert" button to accomplish HD to 4K upscaling. For the detailed steps, you can go to "How to Upscale Video From 1080p to 4K" to learn more.
Part 3: Requirements to Play 4K UHD videos on Mac
Lags, stuttering and crash are common things happening during 4K playback or editing on Mac and Windows computers. To well handle 4K UHD videos, make sure that a qualified computer is in use. Here goes the minimum system requirements for 4K playback.
Minimum System Requirements

4K

4K HEVC

Processor

4th generation Intel® Core™ processor family (Intel Haswell based CPUs)

Intel Kaby Lake (or equivalent) processor and newer

GPU

Intel® Iris™ Pro Graphics 5200
Intel® Iris™ Graphics 5100
Intel® HD Graphics 4200 or newer
Nvidia GeForce GTX 650 Ti or newer
AMD Radeon™ HD 7000 Series or better

Intel® Iris™ Pro Graphics 5200
Intel® Iris™ Graphics 5100
Intel® HD Graphics 4200 or newer
Nvidia GeForce GTX 650 Ti or newer
AMD Radeon™ HD 7000 Series or better

RAM

8GB

8GB

Operation System

The latest OS is the best choice

Windows 10/macOS High Sierra or later
But if you don't plan to update your computer workstation, or the computer is underpowered or unfortunately choppy performance still exists, it is highly suggested to convert or compress 4K videos with a 4K video converter to avoid 4K frames dropping and various 4K processing issues on Mac or Windows PC.