The 4K technology has become more and more popular. Nowadays, many cameras like GoPro HERO8/7 Black, Panasonic GH4, Blackmagic, Sony A7S, Sony FDR-AX10, etc. and even phones can shoot videos in 4K resolution. The key advantages of 4K technology is that it has greater resolution which gives better quality since the 4K video has four times the resolution of 1080p HD video.
4K video is really sharp, but the error message like 4K MKV stuttering, 4K HEVC frame drops/video lags, choppy 4K playback, or 4K video player hangs, even not loading, black screen, no sound, etc. still come from time to time due to the limitation by display devices, decode technology, bandwidth, 4K sources, and many factors. Therefore, in most cases, we need to downscale 4K stuff to 1080p. And this article mainly focus on how to get the job done with three best 4K to 1080p converters.

Before everything, we need to figure out whether it is necessary to lower the resolution. To make it clearly, we shortlisted several scenarios on when and why we should down-convert 4K to 1080p.
Reasons for Downscaling Video Content from 4K to 1080p
1. 4K displays are the trend but not yet in everyone's home.
To achieve best 4K video viewing experience, you need to make sure the video playing devices also support 4K resolution. Whether the resolution of device is higher or lower than 4K pixels, you'll not get the exact optimal 4K video playing effect. Some devices only support 1080p or lower resolution. The point is, though a TV or computer is equipped with a 4K display, it may lack the support of HDR10, backlight control, 4K 60fps decode technology. Morover, streaming 4K (HEVC/H.264) videos via network consumes much bandwidth. Low bandwidth cannot bear the 4K video streaming.
2. Storing 4K videos consumes much disk space.
1 minute 4K 30fps video recorded by iOS 11 iPhone is 170MB (iOS 10: 350MB). When we shoot a 1-minute 4K@60fps video with GoPro HERO 8 Black, it eats about 529MB memory when ProTune is off, and 643MB with ProTune turned on.
3. Decoding, playing and editing large 4K videos is a big workload.
It is still a big workload for most computers, editors and players to cope with the large date of 4K clips. For example, editing the film is necessary before uploading or sharing. But 4K makes the video editing a real nightmare. It is so much work on video editing programs and takes up so much space. Our PC has to be equipped with strong GPU, CPU, and large RAM or it will easily get crashed. Of those, the price of GPU remains high since skyrocketing in 2017. Expensive PC building makes editing 4K the sole preserve of expertise.
Therefore, though 4K image quality is superior to 1080p, you may sometimes still need to downscale 4K to 1080p to get a much compressed video size for easy video streaming, editing, playing and storing. The following paragraph will guide you through 4 practical methods to turn UHD 4K to 1080p which gives your images so much detail and makes your computer run faster during your edit/grading process.
The Best 3 Methods to Downscale 4K to 1080P to Make Video Shaper
There is a long list of conversion programs and tools available. In this article, we mainly shortlist the best three apps for converting 4K to 1080p. Each comes with unique features to target a specific purpose. You can choose the one according to demand.
Click the links below to jump to the part you are most interested in.
Method 1: How to Downscale 4K to 1080p Losslessly (Easiest and Fastest Solution)
There are a lot of software out there that purport to convert 4K to 1080P. But if you do not want to be held back by slow processing, poor output quality, or complex settings, EaseFab Video Converter will be your best choice. It can handle a wide of range videos you shot with GoPro, DJI, iPhone, Android, camcorder, or any other 4K cameras. The straightforward interface allows you to find all you need at first glance, barely need any time to learn it.
In a nod to beginners, there are lots of presets. No more confused about which formats should be applied on a video uploading to YouTube, Google. A robust built-in video editor allows you crop, trim, apply effects, add watermarks and more at ease. Morover, advanced compression kernel and higher coding-efficient codecs are tailor-made to reduce file size by up to 90% with quality unaffected visually. You can get access to any 8K/4K/1080p video, regardless of codec HEVC/H.264 or frame rate 60/120/240fps, and makes it smaller for more space and faster sharing.
Simple Steps to Downscale 4K to 1080p with EaseFab Video Converter
Step 1. Load source 4K videos
Install and launch EaseFab Video Converter, then drag and drop your 4K footage to it. You can also click "Add Video" button to load your 4K videos. Batch conversion is supported so that you can add multiple files to convert a time.
Step 2. Select output format
Now select a proper format as the output format from the drop-down-list of "Profile". There are MP4, MOV, AVI, WMV, etc. available for your choice. If you want to convert 4K footage to editing in Final Cut Pro, Premiere Pro, Avid or iMovie, there are professional encoders like ProRes, MPEG-2, DNxHD, Apple Intermediate Codec, etc. in the "Editing Software" category. Here we take "Common Video" > "MP4" as example. After selecting the output format, you can choose an output path as the destination folder to save the converted 1080p MP4 movie.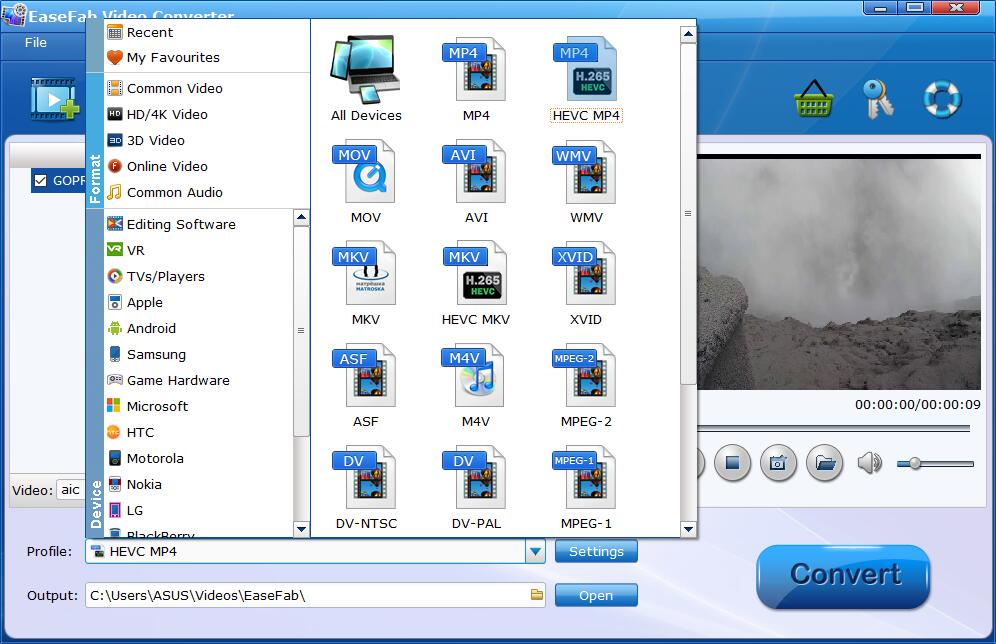 Step 3. Set 1080p resolution
Click "Settings" button to customize these settings. Please set the "Resolution" as 1920*1080. Meanwhile, other parameters can be adjusted according to your own requirements.
Please note: Adjusting these variables have some effect on the re-encoded video quality. Bit rate is an important factor that affects video quality and file size. In theory, the higher the bit rate, the better the video quality and the larger the file size. However, when the bit rate reaches a critical point, our eyes will no longer notice enhancement of quality, but only increase of file size. Therefore, we can choose a relatively low bit rate to reduce the file size of 4K video. By default, your bitrate is Keep original, you can set it to "High quality" mode to get smaller 1080p video with quality unaffected visually.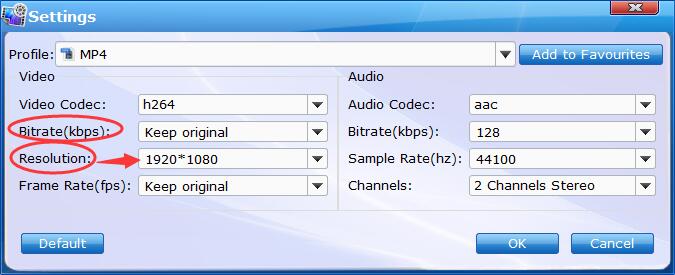 Step 4. Start to downscale 4K to 1080p
Once you're sure all the settings is OK, click the Convert button to start the conversion.
When the conversion completes, click "Open" button to locate the 1080p videos. Now yo can do a lot the image and retain detail for a beautiful 1080p finish.
Method 2: How to Transcode 4K to 1080p with VLC Media Player
VLC Media Player is not just a handy tool for playing 4K videos. You can also use VLC to reduce video size and downscale 4K footages to 1080P clips. As open-source software, it is totally free without any limitation or watermarks.
It works great for most videos as well as audios with a wide range of supported formats like MPEG-2, DivX, H.264, MKV, WebM, and WMV. A headache problem is that VLC Media Player lacks support for H265, also known as HEVC, and VP9 codec. But most 4K videos are compressed by H.265 or VP9. Besides, it doesn't support hardware acceleration, so it has weak performance in speed. Despite the cons, it is still an outstanding free converter.
Now let's take a look at how to lower the resolution of 4K video to 1080p using VLC Media Player.
Step 1: Click Media > Convert/Save > Add to import the video and Click Convert.
Step 2: Choose Video for MPEG4 1080p TV/device as the profile setting.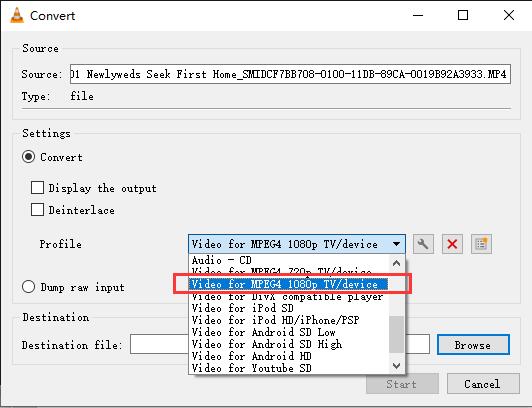 Step 3: Click Browse to choose the output folder position.
Step 4: Click Start to convert.
Method 3: How to Convert 4K to 1080p Free With Online Converter
To turn 4K to 1080p, try using this online converter called HDconvert.com. It is one of the top converters which can be used for free also within limits. Its primary interface is straightforward and assists with every feature on the dashboard itself. The program also claims 30 times faster conversion. You can upload any file size without limit and use their features to resize the video into different formats.
It is good enough to be the leader of the online converter, but far from being perfect. It only exports MP4, 1080P, H264, 6.0MBit/s, supports limited support import files. As an online tool, HDconvert relies high on network state.
Steps to Convert 4K videos to 1080p Online
Step 1: Click 1080P as the output file size.
Step 2: Click Browse to enter the source file. Wait for seconds or minutes.
• A stable and fast network is needed or we may fail to upload the footage. • We may need to wait for minutes or even longer if the source media is large in size.
Step 3: Click File to find the converted file which is also our target video. Click Download to save it on our PC.
I am not a premium member, so the output file is delivered with watermark. Overall, the converting speed is fast, but uploading, downloading speed me some time. Another annoying thing is that there are some ads for unknown apps, we may miss click it and enter the landing page of advertisements.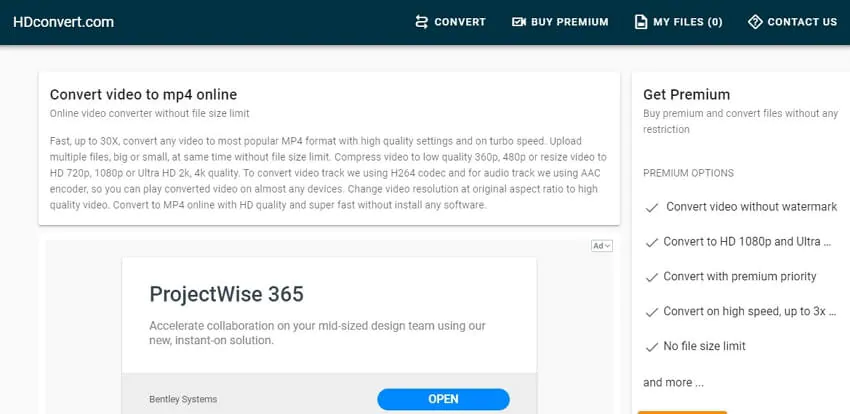 Final Words:
There is no exact answer about which one is better between 4K and 1080p, just choose the different resolutions for different devices and uses. Acquiring and delivering in 4K may take more time than many think to become ubiquitous. Before that, downscaling 4K to 1080P is the simplest way for us to get a similar to 4K visual experience. When it comes to choosing the 4K to 1080p converters, always keep in mind that the choice totally depends on your requirements.
Besides the VLC, Online tools and EaseFab Video COnverter, you can also use Handbrake and FFmpeg to compress 4K video to 1080p. But a great deal of users reported that Handbrake degrades their video quality after downsacling and compression. And for novice users, however, it's difficult to get started with FFmpeg.
Like if you are a newbie, and all you need is converting some HEVC or VP9 4K videos to 1080P with some basic edit. Then EaseFab Video Converter is a magnificent tool to try as it is fast, simple, stable and versatile.