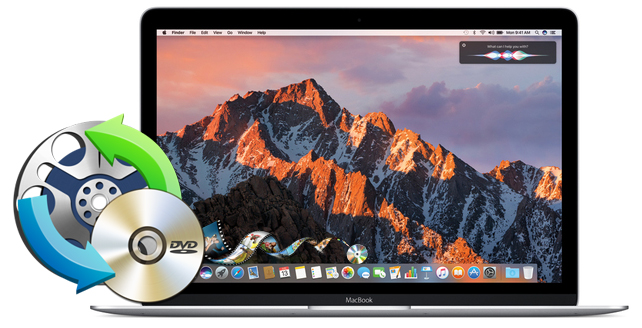 A number of occasions arise where you need to rip and convert DVDs to digital formats. Say you have a movie on DVD, but you want to watch it on your phone, tablet, somewhere else. Ripping a DVD movie to your hard drive on MacOS Sierra can seem complicated, but it's actually pretty simple. There are many programs out there that allow you to turn your DVD into a movie file on your computer - to play it wherever you want. Here we list three of the most popular free MacOS Sierra DVD Ripper software for you to choose the one which is the most suitable for you.
Top 3 Free DVD Ripper on MacOS Sierra
#1. HandBrake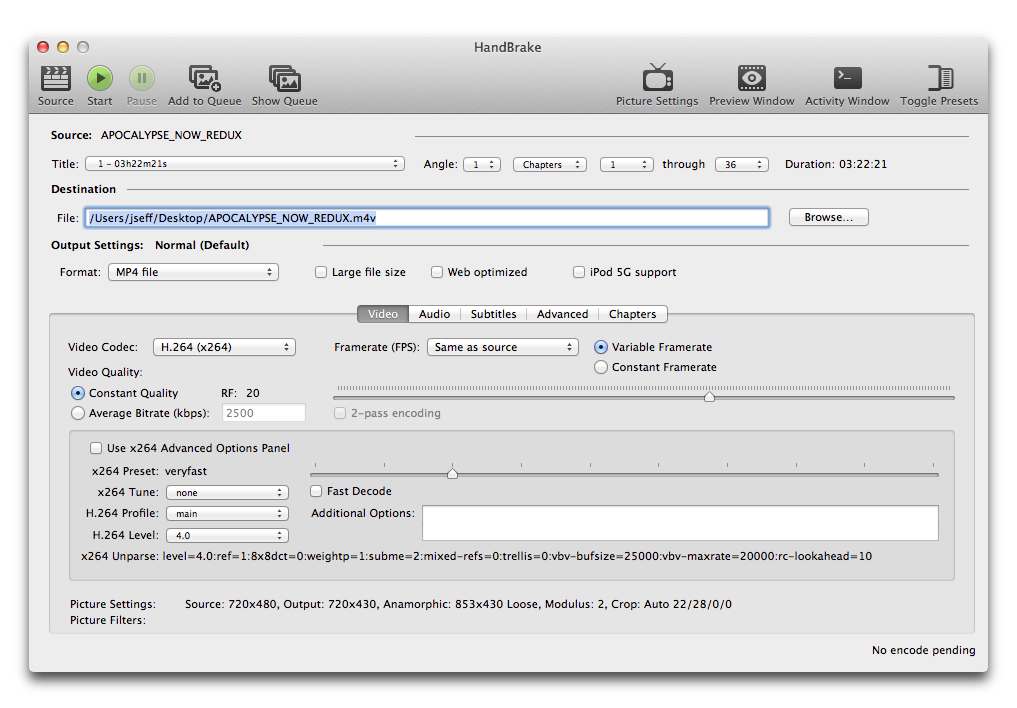 Handbrake is an free and popular open source software application that is been widely used to rip DVDs and convert videos. It has myriad options and settings, but the developers have made it easy to use by setting up profiles for commonly used devices. Select your target device and HandBrake will re-optimize video format and settings for that system.
With HandBrake running, insert a DVD and HandBrake will begin to analyze it. HandBrake will divide up the DVD by logical groups called Titles, each representing a different block of content on the DVD.
Commercial DVDs, as I said at the outset, are encrypted. And if you try to rip them using HandBrake the first time, you'll get an error message that will give you the option of installing libdvdcss.pkg.
Don't panic - there's no need to be alarmed. All HandBrake is trying to do is simplify the process of video conversion. Libdvdcss is a library developed by VideoLAN, the makers of VLC, a popular open-source video player.
Libdvdcss works on most commercial DVDs. In their efforts to stop video piracy some major content publishers have complicated their encryption schemes in ways that libdvdcss won't be able to handle, though, so just be aware that this software has its limits.
Handbrake Limitations and Errors that may irritate you:
| | |
| --- | --- |
| Handbrake can't rip copy-protected DVDs | Handbrake has limited output formats |
| Handbrake can't rip DVD with 99 titles | It is hard to create Handbrake preset for devices |
| Handbrake only rip half DVD | It is not easy to perform batch conversion with Handbrake |
| Handbrake 'no titles found' error | Handbrake always get crashed/stuck |
| Handbrake selects wrong title | Handbrake output is out of order or the video audio is out of sync |
| Handbrake does not support processing Blu-ray subs | Handbrake hard to converter blu-ray subs |
| Handbrake does not support seamless branching Blu-rays | Handbrake hard to converter quality lossless blu-ray |
#2. MacTheRipper
MacTheRipper is a free DVD ripper for Mac. With it, you can remove the DVD CSS encryption and rip DVD content. This free Mac DVD ripper is mainly used to convert commercial movies you have purchased for personal use to your hard drive. However, it only rips the DVD menu and all to your computer in VOB formats. If you want to get other video formats like MP4, AVI, FLV, MOV, WMV, etc., you need a third party Mac video converter to convert the ripped VOB files to the video format you want. Please note that any copyright-infringing activity you use to perpetrate with MacTheRipper is illegal and immoral.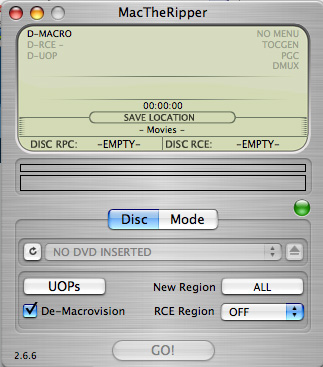 #3. MakeMKV For Mac
MakeMKV for Mac seems to be available as freeware, but its documentation states it is a beta version that will stop functioning after 90 days. it is your one-click solution to convert DVD that you own into free and patents-unencumbered MKV format that can be played everywhere..
1. Output Limits. The biggest limitation is that the output is only in MKV format. If you want to watch DVD movie on iPhone, iPad or iPod, you may be disappointed, you know. You require some third-party software to help you convert MKV to other formats that iPhone, iPad or iPod support, like M4V, MP4 and MOV. So, MakeMKV is not the one-stop solution for your DVD ripping as it claimed to be.
2. DVD Content Selection. The second step for DVD ripping in MakeMKV is selecting the DVD content. In the software interface, once the video source is opened you will see its contents as a tree structure. Normally, disc contains different titles (main movie and video clips). You need to select which titles you want to save and what tracks to keep in each title. For each item you will also see detailed information such as item type, size, length, codec, language and so on. This job presents many difficulties to the new recruit. Because beginners may not understand what these items mean and what are the consequences of their choices.
3. The Size of Output Text. I just had one test with MakeMKV software. I ripped a standard DVD and the size of output MKV movie file was up to 6GB. The subtitle of output movie was as big as you see.
4. Poor Picture Quality. As a 6GB large output file, the image quality was so bad, as shown above.
Commercial decryption and ripping software
So far I've tried to save you money by suggesting open source software to do your DVD decrypting and ripping. If you're not comfortable using open source software, there is paid commercial software that you can use instead.
EaseFab DVD Ripper for MacOS Sierra is one such application. This fabulous DVD converter lets you convert any kinds of DVD without any barriers. It will helps you to remove all the restrictions of DVD, like CSS, Region, RCE, Sony ARccOS and PuppetLock. With it, you can rip DVDs to MKV, MP4, AVI, MOV, M4V, MPEG, H.264, etc. 200+ video formats with excellent output video quality, delivering 10x faster ripping speed than general DVD rippers in the market. The MacOS Sierra DVD Ripper software also provides optimized presets for 150+ multimedia devices.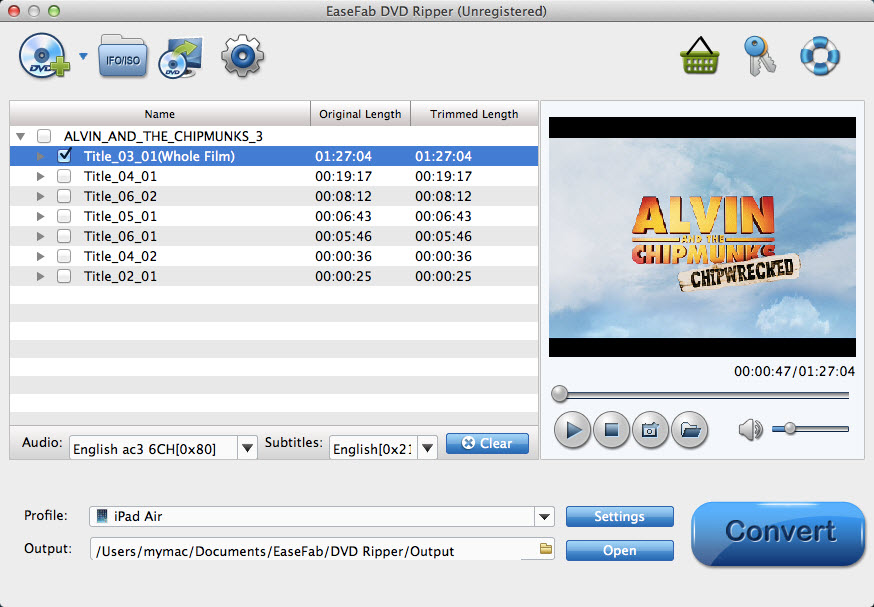 Besides ripping DVD video format (Video_TS folder, ISO, IFO, Disc), EaseFab DVD Ripper for Mac also offers enough freedom for all DVD movie lovers like you to back up your favorite DVD movies in a personalized way. Two different copy modes: Title Mode and Full Disc Mode are provided to let you copy the exact movie part you want. Just the selected your wanted one.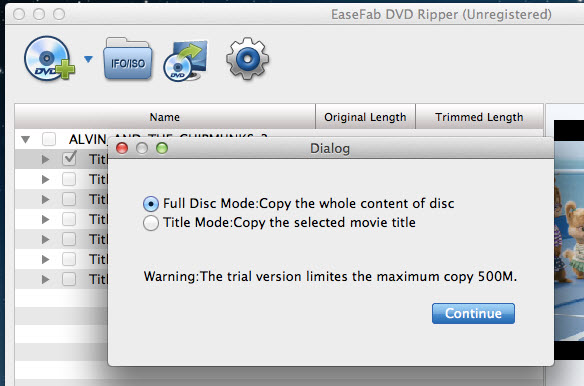 Key features of EaseFab DVD Ripper for Mac:
1. Rip and convert DVD to virtually any video/audio format lossless.
2. Convert DVD to optimized format for enjoy the videos on mobile devices like iPad (iPad Pro), iPhone (iPhone 7, iPhone 6S Plus), Blackberry, Samsung and more.
3. Support editing the video to gain better visual effects.
4. Back up any DVD with 1:1 original quality
The bottom line
While the movie and television industry doesn't make it easy for you to build a digital library of movies and television shows you already own on DVD, technology is available to make the process easier.
I wish it were a one-step process that was built into the OS, but alas, it isn't. Between HandBrake and the other options I've listed here, you'll be able to start importing DVD video into your Mac media library in no time.