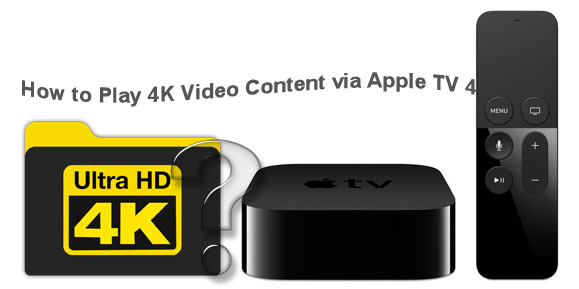 The new 4th generation Apple TV can do many things, including run apps and stream a TV service, however, it still doesn't support 4K content streaming. What if you want to play 4K content via Apple TV 4? Is there a workaround to enjoy 4K content via the new ATV 2015? The answer is surely yes. As we all know, Apple TV 4 does not support 4K video streaming from Netflix and Amazon, but your Mac and Windows PC do (also your iPhone/iPad)! You can stream 4K content on your PC/Mac and then AirPlay mirroring to your Apple TV 4. Also, you can even download 4K videos from online websites or extract the 4K content from a 4K disc and then AirPlay the 4K video to your Apple TV 4. Here is how to do it.
How to AirPlay 4K Content to Apple TV 4 from Windows/Mac with 5KPlayer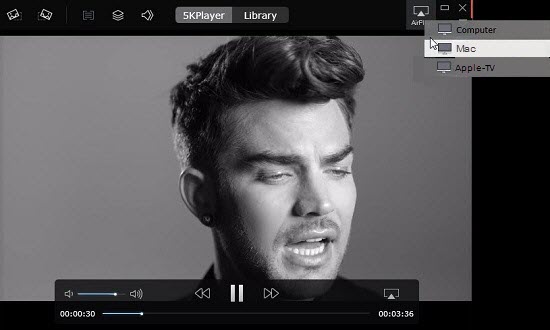 1. Free Download AirPlay Sender - 5KPlayer (Windows Ver.) on your PC, or Mac Ver. on your Mac.
2. Play the saved 4K content on your Mac/PC with 5KPlayer
3. Click the AirPlay button on the top right corner of the main interface to view AirPlay 4K video receivers.
Note: Check if your Mac/PC and Apple TV connect the same WIFI network.
4. Click Apple TV and you'll see the 4K video playing on the big HDTV.
The point here, AirPlay has limitations on file format, so make certain that the 4K contents are in MOV, M4V, MP4. To resolve the format incompatibility issues, you can adopt EaseFab Video Converter ( Video Converter for Mac ) for help. It's one of the best video encoding and decoding app for Apple TV 4. It enables you to convert 4K videos to any format MP4, MOV, M4V for AirPlay/Apple TV keeping the original quality. Plus, it also provides hundreds optimal presets for Apple TV, iPad, iPhone, Galaxy Tab, Amazon Fire TV, Samsung TV, Nook HD, Microsoft Surface tablet and more iOS/Android/Windows based media devices/players. Now let's see how to use it.
How to convert unsupported 4K for AirPlay to Apple TV 4
Step 1: After installation, run the 4K to Apple TV 4 converter. And click "Add Video" button to load your source files. You can either load your source videos one after another or directly load from a folder.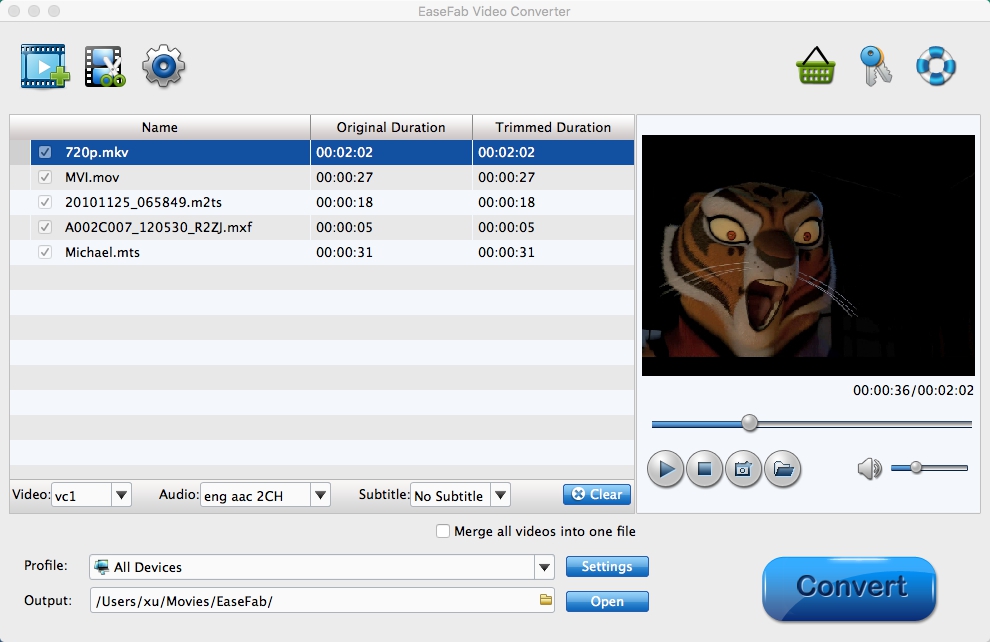 Step 2: Next, select a proper output video format. Luckily, this program provides the video profile for Apple TV so you don't need to be bothered by what format to set as the output file format. Click "Profile" box and move mouse cursor to "Apple" category, then choose "Apple TV" as the output format. For a higher quality, simply turn to "Apple TV HD".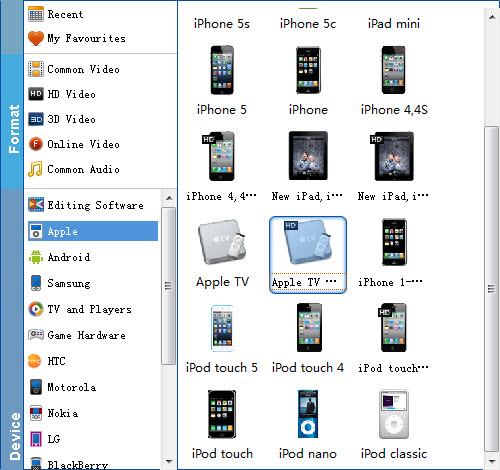 Tip: If the default video/parameters can't meet your needs, just click Settings icon to adjust the video codec, bitrate, frame rate, audio sample rate, etc to get a decent video as you want. In principle, the larger input values, the better output quality, but the corresponding larger file size.
Step 3: Hit the Convert button to start converting 4K video to Apple TV 4. Once the conversion is finished, you will be able to get the output files for Apple TV 4 via clicking on "Open" button effortlessly. Now you can airplay your 4K content to Apple TV 4 for playback with great fun.
Additional Tips: For those who are not familiar with AirPlay, but stick with iTunes to sync 4K content to Apple TV, things would be a little different. Besides converting 4K movie to Airplay/Apple TV 4 supported file type, you also need to downscale 4K to 1080p, then you can transfer 4K to Apple TV 4 locally without hassle. By the way, the above recommended 4K video converter for ATV can also help you a lot as it can convert and compress 4K files easily at your will.
Why doesn't Apple TV 4 support 4K video streaming from online streaming services?
Many have discussed the Apple TV 4K streaming issue by describing it as something that lacks internet support and content investment. But think about the new codecs like HEVC and H.265, and think about iPhone 6s supporting 4K video shooting and edit. Theoretically speaking, Apple is capable enough to boost the 4K ecosystem, but it anyhow stops at the threshold of Apple TV 4K streaming. Why? It is Apple's marketing strategy.
Reasons can be implied from this Apple TV 4 upgrade:
The coming of Apple TV 4 indicates that Apple unprecedentedly starts to pay attention to TV services:
1. Apple streaming video services
Apart from providing cross-app search within Apple TV and marrying internet-streaming-media companies like Netflix, HBO, ShowTime, ESPN etc, it is also reported that Apple is trying to provide its own authentic TV shows by hiring staffs from Hollywood. Bur remember, the quality of shows/films always requires high quality content with audiovisual effects going hand in hand. Thus, when brilliant films and TV shows are kind of saturated on the market, the niche 4K content (or even 8K) streaming will afterwards find its stage as an additional weight on conquering the "final territory" of the streaming market .
2. Apple TV Games
The design of touch remote and iOS 9 for Apple TV has paved the way for Apple TV gaming. As app developers are working hard on TV games, it might be expected soon that the touch remote becomes a gamepad and the Apple TV a game console. Then, 4K games online/offline for 4K TV display will surely hit shelves in no time for many demanding gamers playing VR golf.
Thus, no matter from the perspective of 4K video streaming or 4K gaming, it seems to be Apple alone who is not ready enough to grab a slice of the 4K market, and is trying to catch up with 4K service ahead of the full and real infiltration 4K content streaming. If it allowed 4K video streaming on Apple TV 4 before they set up their own "Apple Streaming Service" (following Apple Music), there would be little place for Apple to compete with those streaming service pioneers and tycoons like Netflix/Hulu/Amazon/HBO etc.