"4K videos" has come to our life and there's been a lot of talk and controversy about 4K televisions and cameras. As we all known, video quality is one of the most factors that many people concern. So the 4K video is more and more popular with many people. If you've got some 4K videos, you may want to import and edit the 4K videos with Final Cut Pro 7. The point here, you will find it a painful experience to get FCP 7 process the high resolution 4K footage. Though Final Cut Pro X support 4K resolution, hardware requirements come into play as well. So what's the available way to work with 4K videos with Final Cut Pro 7?
Since the majority of work is still being finished in 1080p, the easy workaround is to downscale the video from 4K to 1080p. Final Cut Pro works best with Apple ProRes codecs, so you just need to downscale the 4K footage to 1080p ProRes for using in FCP 7. Actually, it's not as difficult as you imagine. What's need is just a common video converter like EaseFab Video Converter for Mac. This program features high efficiency and seamless conversion. With it, you can easily downscale and convert 4K to 1080p ProRes encoded MOV files which ensures maximum editing quality and efficiency when working with Final Cut Pro 7 and FCP X. Here is how to do it.
Free download 4K to FCP 7 Converter free trial:
How to downscale 4K to 1080p ProRes for editing in FCP 7 smoothly
Step 1. Load source 4K videos
Launch the 4K to 1080p Converter on your Mac, and then click "Add Video" and load your 4K HD files. This program supports batch conversion, so you can add multiple files into it at a time.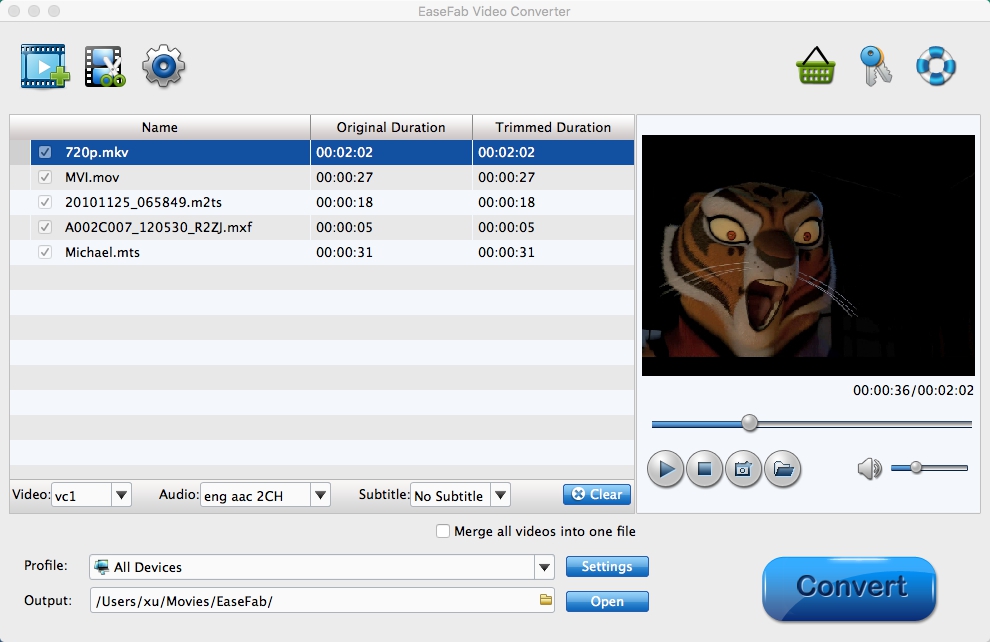 Step 2. Select ProRes as the output format
Click on the "Editing Software" and you will see options to convert your 4K video for certain video editing software. Since you will be importing the video to Final Cut Pro after the conversion, have "Final Cut Pro" or "ProRes" be your selected output format.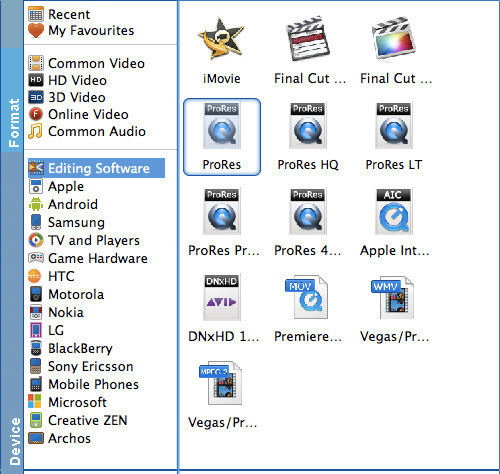 Tip: You can click the "Settings" button and customize proper video/audio parameters including Video size, bitrate and fame rate and mroe. Usually 1920*1080 video size and 30fps video frame rate are recommended for FCP 7 editing.
Step 3. Start the conversion
Finally, simply hit the big "Convert" button to start converting 4K videos to 1080p ProRes encoded MOV files. Once the conversion process shows in 100%, click "Open" button to get the output videos. Create a project and start editing your 4K Videos in Final Cut Pro 7 or FCP X with light speed.
What is 4K?
4K is a new resolution standard designed for digital cinema and computer graphics. It has following advantages: higher image definition quality, more detailed picture, better fast-action and larger projection surface visibility.
4K format was named because it has 4000 pixels horizontal resolution approximately. Meanwhile, standard 1080p and 720p resolutions were named because of its vertical resolution. The new standard renders more than four times higher image definition than 1080p resolutions for example.