Have you ever heard about HDR? Nowadays HDR has been popping up everywhere in our life and we may get HDR contents form mobile, camcorder, streaming services like YouTube, Netflix, or 4K UHD Blu-ray DVD. So, what is HDR exactly? How does it differ from SDR? Why does it matter to you? This article will answer all your questions.
Part 1: What is HDR and SDR?
SDR, or Standard Dynamic Range, is the current standard for video and cinema displays. SDR describes images or video using a conventional gamma curve signal. The conventional gamma curve was based on the limits of the cathode ray tube (CRT) which allows for a maximum luminance of 100 cd/m2.
HDR, standing for High Dynamic Range, is an imaging technique that captures, processes, and reproduces content in such a way that the detail of both the shadows and highlights of a scene are increased. While HDR was used in traditional photography in the past, it has recently made the jump to smartphones, TVs, monitors, and more.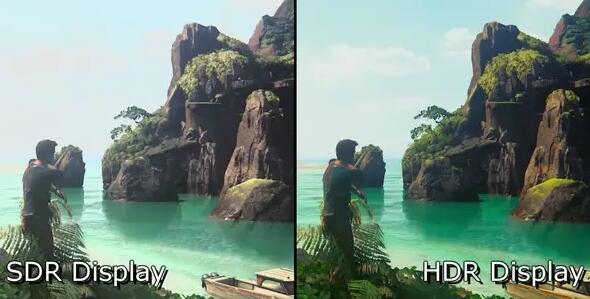 Part 2: HDR vs. SDR Compared: The Differences Between HDR and SDR
SDR is limited by its ability to only represent a fraction of the dynamic range that HDR is capable of. HDR preserves details in scenes where the contrast ratio of the monitor could otherwise be a hindrance. SDR, on the other hand, lacks this aptitude. The biggest discrepancy lies in the range of color gamut and brightness. You know, SDR allows the color gamut of sRGB and the brightness from 0 to 100nits. Whereas HDR has a wider color range up to DCI - P3, brighter upper limit of brightness and darker lower limit of brightness. At the same time, it improves the overall image quality in terms of contrast, grayscale resolution and other dimensions, bringing more immersive experience to the experiencer.
To put it simply, when comparing HDR vs. SDR, HDR allows you to see more of the detail and color in scenes with a high dynamic range. That means HDR is brighter than SDR. HDR allows you to see more of the details and colors in scenes. HDR is superior in these aspects:
◉ Brightness: HDR allows brightness upper to 1000 nits and lower to under 1 nit.
◉ Color gamut: HDR usually adopts P3, and even Rec.2020 colour gamut. SDR uses Rec.709 in general.
◉ Color depth: HDR can be in 8-bit, 10-bit and 12-bit color depth. While SDR is usually in 8-bit, and very few use 10-bit.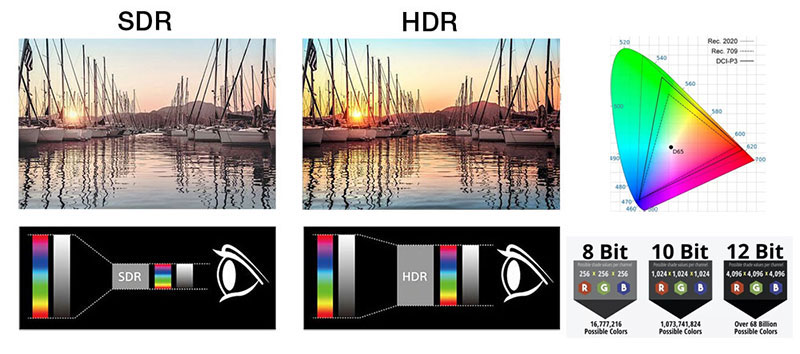 Part 3: Two Main HDR Standards: Dolby Vision, HDR10 and HDR10+
Actually, there is no final definition of HDR standards. There are two prominent standards used today, Dolby Vision and HDR10. Moreover, ther's a new HDR10+ format, which aims to introduce dynamic HDR to the HDR10 standard while remaining royalty-free. We'll go into the differences between each of the two main HDR formats below.
Dolby Vision
Dolby Vision is an HDR standard that requires monitors to have been specifically designed with a Dolby Vision hardware chip. There is a royalty fee of Dolby Vision, about $3 for each TV set. Like HDR10, Dolby Vision uses Rec.2020 wide color gamut, 1000 nits of brightness, but it adopts 12-bit color depth and supports dynamic data element structure.
HDR10
HDR10 is an open standard, and you don't have to pay any royalties to use it. The number "10" stands for 10bit color depth. In addition to this, HDR10 also recommends the use of wide gamut Rec.2020, 1000 nits of brightness, and static data processing mode.
HDR10 is the most common HDR standard that almost all the major TV manufacturers and streaming providers, such as Sony, Disney, 20th Century Fox, Warner Bros., Paramount, Universal, and Netflix adopt HDR10 to create 4K UHD Blu ray disks. Besides, devices like Xbox One, PS4, Apple TV also supports HDR10.
HDR10 vs Dolby Vision – What's The Difference?
HDR10 and Dolby Vision are two main HDR formats. The difference is that HDR10 is an open-standard and non-proprietary, whereas Dolby Vision requires license and fee from Dolby.
And while Dolby Vision is currently capable of producing a better image quality, there are no TVs that could take full advantage of what it provides as opposed to HDR10.
However, Dolby Vision does offer a better picture quality, mainly due to its dynamic metadata.
HDR10+
As metioned above, there is another HDR10+ format. HDR10+ is an HDR standard set by Samsung for Dolby Vision, which is equivalent to an evolutionary Vision of HDR10. Similar to Dolby Vision, HDR10+ supports dynamic data element structure, but HDR10+ is an open standard, aiming to get a better audio-visual experience at a lower price.

For now, HDR10 is a more cost-efficient and widespread format, while Dolby Vision is the premium option. At the time of this writing, DR10+ content is only available on a few streaming services (including Amazon) and discs, but more and more TVs are beginning to support HDR10+.
Part 4: Is Your Setup Capable of Playing HDR?
Once you've got your HDR content cued up, whether it be HDR video or and HDR game, you'll have to make sure your setup is capable of displaying that HDR content.
The first step is making sure that your graphics card supports HDR.
HDR can be displayed over an HDMI 2.0 and DisplayPort 1.3. If your GPU has either of these ports then it should be capable of displaying HDR content. As a rule of thumb, all Nvidia 9xx series GPU's and newer have an HDMI 2.0 port, as do all AMD cards from 2016 onward.
As far as your display goes, you'll have to make sure that it too is capable of supporting HDR content. HDR-compatible displays must have a minimum of Full HD 1080p resolution. Products like Asus ROG Swift PG27UQ, Acer Predator X27, Alienware AW5520QF are examples of 4K monitors with HDR10 content support. These monitors also factor color accuracy into the equation in an attempt to make sure that on-screen images look as true to life as possible.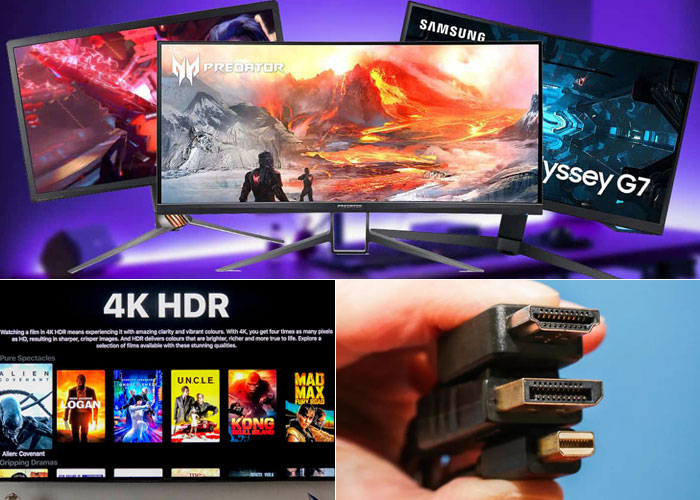 How to Get HDR Contents
In terms of streaming, Netflix and Amazon Prime support HDR on Windows 10. As for other HDR contents, Sony, Disney, 20th Century Fox, Warner Bros., Paramount, Universal, and Netflix all use HDR10 to create 4K UHD Blu ray contents in discs. Or you can record your own 4K HDR contents with mobile, GoPro, DJI, camcorder and more.
Part 5: Is it worth Upgrading to HDR?
If you're considering a leap to HDR, you may be wondering: Is HDR a good investment? Will High Dynamic Range technology actually take off?
While of course, nothing is ever 100% certain, HDR technology has fortune in its favor. Currently, its inherent technology is tied closely to that of ultra-high definition resolution, otherwise known as 4K.
Since 4K is being adopted by the general market with remarkable ease and speed, it stands to reason that HDR will follow the same course going forward. We can compare HDR vs. SDR all day but whether or not HDR is good for you will ultimately come down to your own personal experience. For now, feel free to explore ViewSonic's range of HDR-compatible ColorPro monitors and or dive deeper into the world of color correction and color grading.
Luckily for all of the early adopters out there, HDR products are not hard to come by. The benefits of HDR even extend into gaming by allowing you to see more detail in your games for a more realistic feel.
What If 4K HDR Looks Dull and Washed Out When Playing?
Compared with SDR (standard dynamic range), HDR can make your video more vivid and lifelike thanks to a wider range of colors and depth. Yet, nothing is perfect. Though the 4K HDR video device sales volumes are booming, innumerable SDR TVs, monitors, projectors, desktop and phones are still in use.
So here comes the question: when you view 4K HEVC HDR 10-bit video on HDR unsupported display, the HDR video will lose its original color range and degrade color brightness & saturation. The whole video image would become grey. That's what we usually call washed-out color.
In a bid to playback HDR 10-bit video on SDR devices, you ought to convert HDR to SDR first so as to eliminate the washed-out color issue. And EaseFab Video Converter is one of the top ways to convert any 4K HDR videos to SDR in 4K/1080p, HEVC to H.264 without visually quality loss on brightness, color, contrast and more. Learn more about its key features:
◉ Accept all kinds of 4K HDR videos, no matter where they come from and what encoding format they use.
◉ Convert 4K HDR videos to MP4, H.264, HEVC, MOV, AVI, FLV, iPhone, iPad, HDTV, Xbox, PS4 and 420+ preset profiles.
◉ Compress 4K resolution to 1080p /720p or upscale HD to 4K smoothly without visually quality loss.
◉ Super-fast video converting speed & 100% quality reserved with the support of hardware acceleration and high-quality engine.