"Is there any way to use .mkv files in Premiere without converting? The thing is, I want to use TV show clips, and those are only available to me in a .mkv format in HD. I don't really wanna convert ~12hrs of 1080p footage, so is there any sort of plugin that enables directly importing it?"
MKV is a distribution container format which can contain various video, audio codecs and subtitle tracks. It's not a licensing issue since it's open source, but being open source means that it's format could drastically change without warning. It is not a format supported or produced by any camera manufacturer or distribution platform that is not piracy. In short, it's really a good codec but not a professional codec for editing in the major NLEs. And till now, MKV has not been added to the official supported format list of Adobe. And that's why MKV "File Import Failure" error message in Premiere Pro still comes or happens every now and then.
If you're interested in how to edit with an MKV file, there's a simple answer. The trick for how to import MKV files into Adobe Premiere Pro, is to convert the MKV file to an editing-friendly codec first.
To do this, you can adopt EaseFab Video Converter (available for both Windows and Mac users) for help. This program makes an easy work of converting Adobe Premiere incompatible media files including but not limited to MKV, VOB, FLV, MOV, etc. to a format such as MP4, H264 or high-quality codecs like DNxHD and Apple ProRes. These formats can be well compatible with Adobe Premiere Pro, DaVinci Resolve and any other NLE.
Codec correction (or conversion) is just the tip of the iceberg that it can handle. In terms of the compute-intensive 4K MKV files, it's also a decent performer, letting you downscale 4K to 1080p, lower 60FPS to 30FPS, adjust bit rate, etc. to better suit your computer hardware configurations and to ensure a smooth file importing and later editing with any NLE. What's more, you can do some simple cutting, trimming and merging before converting MKV files. This is very convenient for those who just want to import a tiny snippet of a .mkv file into Premiere Pro and avoid converting the whole file.
[Tutorial] How to Convert MKV to Adobe Premiere Pro Friendly Format
PS: The process is almost the same on PC and Mac. Here we will take EaseFab Video Converter for Windows as the example to show the MKV to Premiere conversion process.
Step 1. Load the MKV files.
After downloading, install and run EaseFab Video Converter on your PC or Mac, simply drag and drop your MKV files to the program. You can also click Add Video button to load your source files. (Note: batch conversion is supported, so you can load more than one file to save time.)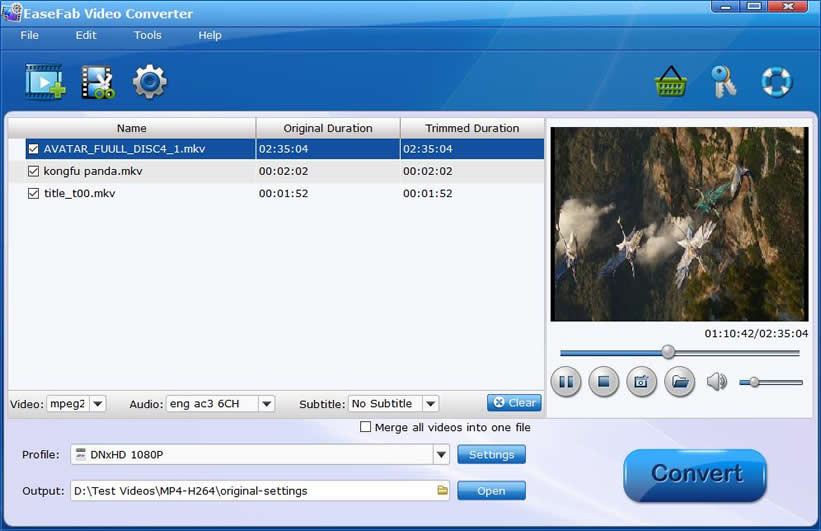 Step 2. Choose an Adobe editing-friendly format.
Based on our test, VC-1 is not supported by Premiere Pro. So here we take converting MKV VC-1 to MP4 H.264 as an example. Click "Profile" bar and move mouse cursor to "Common Video" and then select "MP4 (codec: h.264+aac)". MP4 is not the only option that can import to Premiere Pro. Converting MKV to ProRes, DNxHD, MOV, etc works too. There is a long list of output video formats available for you to choose.
Kindly Note: The high-quality codecs DNxHD and ProRes profiles can be found in Editing Software category. If you're short on drive space, it's recommended to convert MKV to DNxHD for Premiere Pro on Windows, or ProRes on Mac.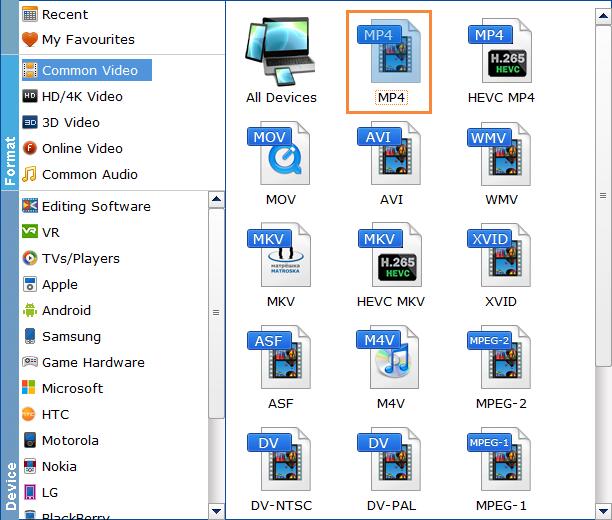 Tips: You can cut, crop, merge, rotate to make some easy video edits before conversion with EaseFab Video Converter.
Step 3. Start the conversion.
Hit "Convert" button and it will begin fast video decoding, conversion and processing your MKV video at one go. Hardware acceleration can be enabled to speed up the processing, only if your computer has supported graphics cards.
Once done, you can easily import the encoded MKV file to Adobe Premiere Pro, Premiere Elements, DaVinci Resolve and any other NLE without any trouble.
Possible Solution: Rename the File Extension to Fix Premiere MKV File Import Failure Error.
Maybe we don't have to make things so complex. To fix MKV file import errors, sometimes we just need to rename the file extension from .mkv to .mp4, .m4v, .avi, .mpg, or other format. This trick does get some users out of trouble. However, it isn't guaranteed to work. Some people still can't load files to Premiere Pro successfully. Some people even are not allowed to rename the file extension for some reason.
Final Words
You should know that codec format decides whether you can load a video or audio file successfully or not, while MKV is just a container format. So even though you are importing an .mkv video, the encoded file wrapped in the MKV box might not be supported, which leads to file import failure. Therefore, transocding MKV file using EaseFab Video Convreter or any other conversion app is the the most effective yet easiest solution recommended by us.