Home
>
Resources
>
Import iPhone Video to Adobe Premiere Pro
Posted by Matthew Watt - Sep 08, 2021 | Contact Author

[Solved] Adobe Premiere Won't Import iPhone (HEVC) Footage
While our iPhones can take some amazing still photos, you can also use them for great video footage too! With your iPhone, you can record standard video at a smooth 60 fps, and newer models can even do 4K quality at up to 30 fps. It stands to reason that you might want to occasionally edit that video to make it more stylish before sharing with others. But the weird thing is that Adobe Premiere Pro will reject to import your iPhone footage. And you may encounter simliar problems like these:
"If anyone has any recommendations/advice of how I can import some iPhone X video files (HEVC codec) into Adobe Premiere, I would greatly appreciate it. My friend filmed some videos on his iPhone and shared the files on Drive, but now I'm seeing that Premiere won't accept the file codecs from iPhone X."
"I've spent a solid 3-4 hours trying to convert some .MOV iPhone video to .MP4 to edit in Premiere. I put the video in Media Encoder, changed the settings to .MP4, and it took 3 hours to change a 24 minute video—once it finished it just looped a 5 second section of it with the audio playing as normal. Youtube tutorials have all failed me. I'm really struggling here. Thank you."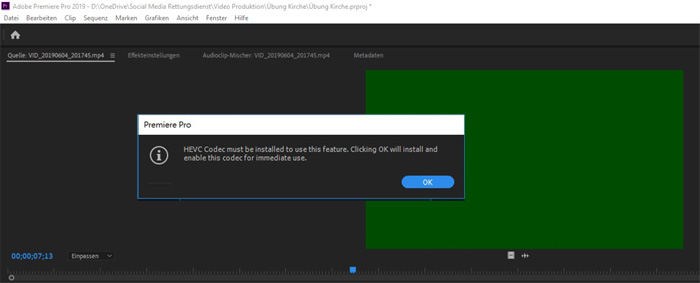 Why iPhone recorded videos cannot be imported into Adobe Premiere Pro?
How about the iPhone recording video format? The default recording format for iPhone is H.264 QuickTime files in MOV format. But, if you have changed your iPhone recording setting into the "High Efficiency" option, your iPhone will capture media in HEVC format, also known as H.265. If you're using a recent iPhone model which is running on iOS 11 or later, your camera captures MOV videos that are encoded with the new HEVC codec by default. Although the newer HEVC standard compresses the video file more efficiently, some older devices may not directly open an HEVC file.
Currently, Adobe Premiere Pro can work with iPhone recoded H.264 files without any trouble. However, when it comes to the H.265 files, you will find it a painful experience to get H.264 MOV iPhone videos into Premiere (including the latest Premiere Pro 2020) for further editing. The major cause is that your iPhone shoots the HEVC MOV footage in Variable Frame Rate (VFR). Although Premiere Pro had an update to support VFR, it still can't deal with most of VFR videos. Unfortunately, there is no way to set up your iPhone to record with Constant Frame Rate.
On the other hand, the HEVC codec, a highly compressed format, were designed to deliver video. They weren't ever meant to capture or edit it. HEVC was first added to the supported native video formats with the release of Adobe Premiere Pro CC 2015.1 update. Nevertheless, importing iPhone HEVC files into Premiere Pro is still a headache problem. Let's not to say some 10-bit HEVC videos shot in DLOG-M. Then, transcoding HEVC files becomes a highly recommended method, especially if your files are in 4K HEVC and you don't have a high-end computer.
100% Working Solution to Fix "Can't Import iPhone Video to Premiere" Error:
- Convert iPhone HEVC MOV to Premiere supported MP4 H264, ProRes, AVI...
HEVC is a non-performant format that is difficult to edit with and requires much computing power to process. So, it isn't a bad idea to convert iPhone HEVC files to a lossless codec like ProRes or a more popular format like H.264 MP4. If you have Adobe Media Encoder, you can use it for video conversion. If you don't have that tool or can't manage to convert iPhone videos to desired format with Media Encoder, you can turn to an easier-to-use yet powerful video converter and decoder - EaseFab Video Converter, which is available for both Windows and Mac users.
Apart from changing file format, EaseFab Video Converter can also convert your VFR videos to constant frame rate. This converter works fast while keeping high quality. Free download and install this program on your PC or Mac and you'll be able to convert iPhone HEVC footage to Adobe Premiere Pro accepted format with constant framerate in 3 simple steps.
EaseFab Video Converter - The One-Click Way to Convert iPhone HEVC to Adobe Premiere Pro Supported Format.
● Accept HEVC videos from GoPro, DJI, iPhone, Canon camera, etc.
● Output media in file formats natively supported by Adobe Premiere Pro.
● Convert video in 3 simple steps. Level-3 hardware acceleration makes it super fast.
● Easy editing experience: cut, crop, merge, add effects, watermark...
Tutorial: How to Decode iPhone Video to Premiere Supported Codec/Format?
PS: The step-by-step guide is almost the same on PC and Mac. Here we will take EaseFab Video Converter for Windows as the example.
Step 1. Download and launch EaseFab Video Converter on Windows PC or Mac. Click Add Video button to import your iPhone HEVC videos. Dragging and droppping works too. (Note: batch conversion is supported, so you can several mov videos to the program to convert at a time.)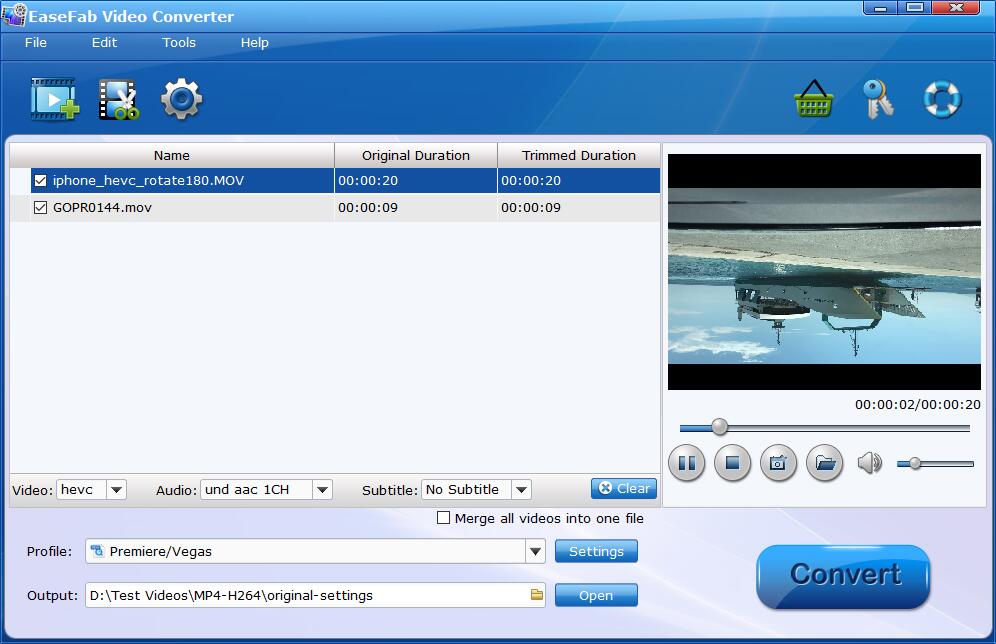 Step 2. Click Profile pull down list, move mouse cursor to Editing Software and then select MOV (encoded by H.264 codec) or Final Cut Pro X (encoded by ProRes codec) for Adobe Premiere Pro. MPEG-2, WMV are good choices as well.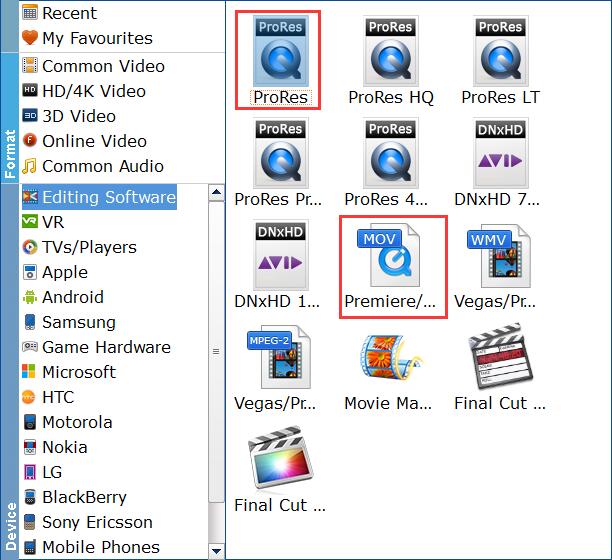 Important Note: The H.264 MOV can preserve image quality with the smallest file size. The ProRes files can preserve the best image quality and provide better performance when editing in Premiere. Please not that ProRes files typically need ten times as much storage of H.264-based files.
Step3. Hit Convert and it will begin fast video decoding, conversion and processing your iPhone HEVC video at one go.
After the conversion is complete, get the resulted files via clicking the Open button and then you can import the converted iPhone video to Adobe Premiere Pro CC 2020 or lower version without any trouble.
2 Possible Solutions to Fix iPhone Video Not Working in Premiere Pro
1. Install QuickTime or Required Codec to Fix Can't Import iPhone HEVC MOV to Adobe Premiere Error.
QuickTime comes with many popular and general-purpose codecs, so installing QuickTime may be able to resolve import error caused by missing codec. After installing QuickTime, restart your Adobe Premiere Pro and check if it can import your iPhone footage now.
2. Upgrade Premiere Pro to Fix iPhone VFR Video Not Working in Premiere Pro
Your Adobe Premiere Pro version is too old to support the iPhone HEVC files. The new iPhones shoots in variable frame rate video, which Premiere Pro cannot process correctly. Adobe Premiere Pro had an update to support VFR since 12.0.1 update in early 2018. So, if you are using an old version, please to the newest version.
Other Useful How-to Guides & Tips
Can't view or open iPhone HEVC or VFR footage in Sony Vegas Pro? Simply follow this tutorial to find the reason and the solution to fix the problem.
You can easily import video you've taken with iPhone into Windows Movie Maker for further editing. Read on to learn the details.
Facing problems when importing iPhone shooted footage into DaVinci Resolve 10/11/12 for further editing? Fortunately, there is an easy way to fix the issue.
This article explains what variable frame rate (VFR) is and how to convert video from VFR to constant frame rate so that you can smoothly edit or playback the recorded VFR footage.
Copyright © 2023 EaseFab Software Corporation. All Rights Reserved.