Home
>
Resources
>
Plex Won't Play AVI Files
Posted by George Shelley - Sep 06, 2021 | Contact Author

[Solved] Why and How to Fix Plex Can't See/Play AVI Files Error
AVI files not see or won't play via Plex Media Server? Follow this article to find the possible reasons and solutions to fix Plex AVI playback error.
"Right now when I try to play the .avi formatted videos with either the plex server app on my NAS or the plex client on a Roku, the video's won't play. It appears as though it's buffering, get's to about 33% after quite a while, then exits. I can play the videos with vlc or quicktime, so they aren't corrupt as far as I can see."
More and more people are using Plex Media Server to take control over their digital media library. Generally, it does organize all of your files and let you view them from virtually laptops/desktops to phones to HDTVs. While problems rise when you're trying to play AVI files, for example, Plex doesn't see your AVI files, or your AVI video absolutely not showing in the library while Plex is scanning files, or AVI loads and loads forever when you tried play them via Plex.
Actually, Plex AVI playback issue has been asked frequently, but there are still many people feel confused about it. Why would this happen and how to make it right? Follow this article to learn why Plex not working with AVI and find the quick fixes to troubleshoot Plex AVI not showing/playback error.

Click the links below to jump to the part you are most interested in.
Plex Won't Recognize or Play AVI Files - Possible Reasons
Why your AVI files not showing in Plex library or Plex can't play them at all? It can be caused by various reasons. Maybe it's an issue of your file names, AVI video format compatibility, or the AVI file type etc. To be specific, there's a number of potential scenarios how Plex not working with AVI:
Reason 1: AVI is a container format, which can contain varied types of video codecs, subtitle tracks, audio tracks, etc. Though the most common used codecs like DivX, XviD are supported by Plex, some minor factors such as AVI bit rate, frame rate, resolution, audio codec also matter a lot when it comes to AVI playback on Plex.
Reason 2: Plex TV show naming will be ignored in movie libraries. That's to say, if you have some TV shows AVI files, they won't show in Plex library.
Reason 3: Poor named AVI movies might have been matched as a different movie. If random named AVI video not showing in Plex, you may find it in "rencently_added" column.
Reason 4: AVI files following the naming convention for multi-file movies end up as a single record in your library (e.g. Movie Name-part 1.ext and Movie Name-part 2.ext will result in an entry called Movie Name which will play both entries in sequence).
Reason 5: Depending on your library settings, movies might be automatically associated with a collection and only display inside that collection.
Possbile Solutions to Fix AVI Files Not Playing on Plex
Solution 1: Transcode AVI and Adjust Parameters - 100% Working
You can count on Plex built-in video transcoder to deal with AVI parameter issues via transcoding. As for large-sized AVI files like 1GB or 10GB, you'll suffer seemingly forever Plex buffering or freezing during transcoding. To transcode AVI files as fast as possible, you can adopt EaseFab Video Converter for help. This software tool can help you batch convert AVI files to Plex best settings (MP4 H264 or HEVC codec, 1920×1080, 8Mbps, 30FPS, audio codec AAC, AC3 or EAC3) at GPU hardware accelerated speed without subscription fee.
It can also downgrade resolution 4K to 2K/1080p/720p, lower 120/60FPS to 30FPS, tweak bit rate, convert any video to MP4, MKV, AVI, MOV, WMV, iPhone, iPad, Android, Microsoft devices, Xbox, PS5/4, etc. for movies/TV shows playback on any Plex client device without Plex buffering/freezing issue caused by 4 or 5 "simultaneous video transcode".
How to decode AVI and adjust parameters to Plex recommendations?
Step 1. After downloading, install and run EaseFab Video Converter, simply drag and drop your AVI files to the program. You can also click Add Video button to load your source files. Batch conversion is supported, so you can load multiple files to convert at a time.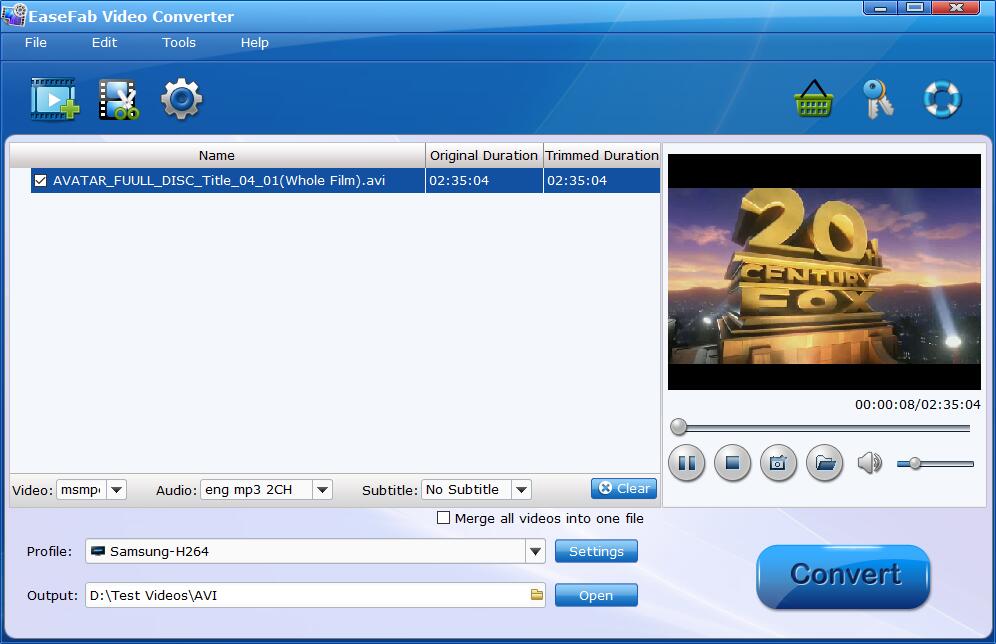 Step 2. Click Profile bar and select MP4 (codec: h.264+aac) from Common Video category as the output profile. More options are here for your Plex client devices including iPhone, iPad, PS5, Xbox One, etc.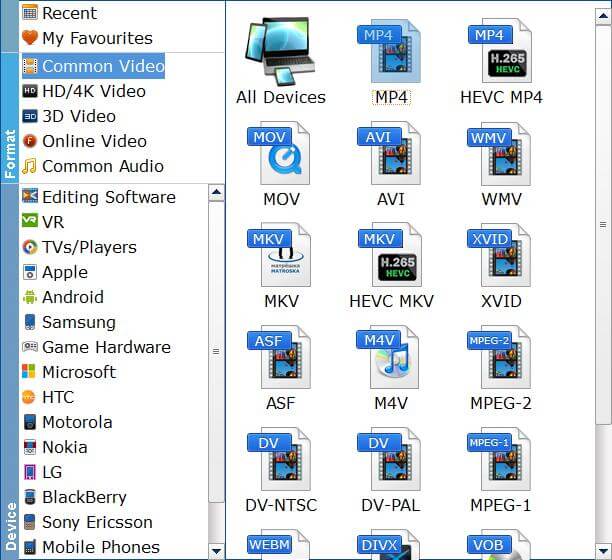 Step 3. Click Settings button to specify resolution, bit rate, frame rate, audio codec, etc.
Note: to ensure a smooth playback for your Plex client device, you'd better set up resolution as 1080p or lower, frame rate as 30FPS, bit rate less than 8000 Kbps, audio codec as AAC.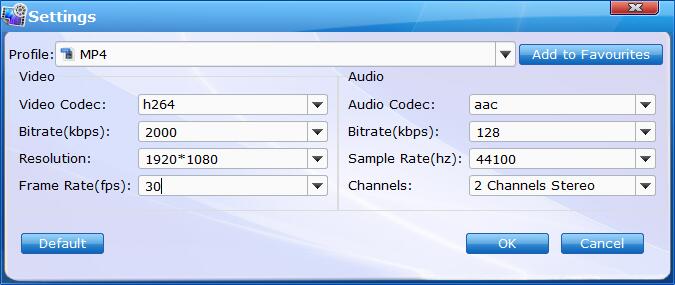 Step 4. After everything is OK, hit the Convert button on the main interface to start converting AVI to MP4 for Plex.
Once finished, you can add the new file to Plex for Direct Play on as many devices as possible without repeated transcoding nor network traffic jam.
Solution 2: Re-name AVI Movie or TV Show File
You can use the normative way to name your AVI movie or show files. You can follow this official guide to rename your AVI movie for a try. And for AVI TV show files, you can refer to this article from support.plex.tv.
After re-naming is done, decouple AVI movie files and TV show files into different folders. Then do the Plex Dance.
Solution 3: Downgrade PMS
Downgrade Plex media server version. Old installs are located in AppData\Local\Plex Media Server\Updates, uninstall the current server first and then get older or downgraded version installed on your NAS, Windows, macOS computer, etc.
Solution 4: Change Plex Scanner
This approach is tested effective by users from forums.plex.tv. Head to folder and edit the folder preferences. Hit "Show advanced options" > change the default scanner from "Plex Movie Scanner" to "Plex Video Files Scanner".
Solution 5: Empty Trash
Access to Settings on Plex media server and find Library. Enable the option "Empty trash automatically after every scan" and do a deep scanning 1 or 2 times. It aims to gurantee the database hasn't secluded some of your AVI movie/TV show files somewhere unreachable.
Other Useful How-to Guides & Tips
Some certain AVI files cannot be played on Samsung TV? Read on to find the possible reasons and solutions to fix the issue.
This article will introduce you how to convert AVI to QuickTime MOV, so that you can smoothly play or edit your AVI video on Mac computer, iPhone or iPad without problems.
Copyright © 2023 EaseFab Software Corporation. All Rights Reserved.