If your television set has a USB port, you may be able to use it to watch movies that you have downloaded or copied from your computer. You have probably tried to play AVI files on your Samsung TV this at some time. But strangely, some AVI files work and some just don't seem to be playable on the Samsung TV. So what's the matter? Does Samsung TV support AVI file format from USB? What if Samsung TV failed to play an AVI file? Keep on reading to find the reason and an easy solution to fix the error.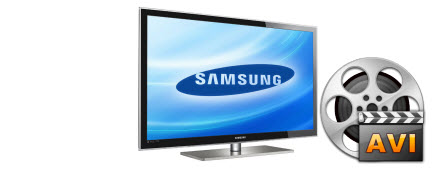 Why Some Certain AVI Files Not Playing on Samsung TV
If your Samsung TV does support video playback from USB, the main factor that affects your ability to watch a particular video is the file format. You will need to consult the user manual or promotional material for the particular set to see which formats it supports. Formats which are supported on many sets include MPG, MP4, DIVX, XVID, WMA and AVI, though it's common for a particular set to support only some of this list.
Though Samsung Smart TV claims to support a wide range of video and audio formats, AVI not playing error on Samsung TV also comes up from time to time. Actually, it can be caused by various reasons as below.
1. It might be an issue of USB or digital camera devices, which are not compatible with your Samsung TV.
2. Your AVI files contains some codecs that is not supported by Samsung TV.
3. Some Samsung TV sets will only play an AVI video if it is at a specific resolution or within a particular range of resolutions.
4. Even if you are using the correct formats, you may still run into problems with watching videos from a particular USB drive. For example, you may have to format the drive to a particular file system such as FAT, FAT32 or NTFS.
100% Working Solution to Fix AVI Files Not Playing on Samsung TV Error
- Convert AVI to MP4 or any formats that Samsung TV can recognize
All these limitations for the AVI video format for Samsung TV USB port playback mean you may need to convert or re-encode some video files to watch them on your Samsung TV. And broadly speaking, AVI format/codec incompatibity lies in the major cause of Samsung TV not playing AVI videos. For that, converting AVI files to Samsung TV could get everything done.
To finish the AVI to Samsung TV task, you can adopt EaseFab Video Converter for help. This program spells simplicity, efficiency and quality. With it, you can easily do batch conversion from AVI, MKV, VOB, TiVo, MOV, and more mainstream video formats to Samsung TV supported file formats. As for the video quality, don't worry too much. With the constantly updated conversion algorithm and the advanced High Quality Engine, it guarantees you the output video with up to 98% quality reserved, wrinkles or freckles in image still clear enough to count.
Tutorial: How to Decode AVI to Samsung TV supported codec/format
The step-by-step guide is almost the same on PC and Mac. Here we will take EaseFab Video Converter for Windows as the example.
Step 1. After downloading, install and run EaseFab Video Converter on your PC or Mac, simply drag and drop your AVI files to the program. You can also click Add Video button to load your source files. (Note: batch conversion is supported, so you can load more than one AVI file to save time.)
Step 2. Click "Profile" bar and move mouse cursor to "Common Video" category and select MP4 (codec: h.264+aac) as the output format.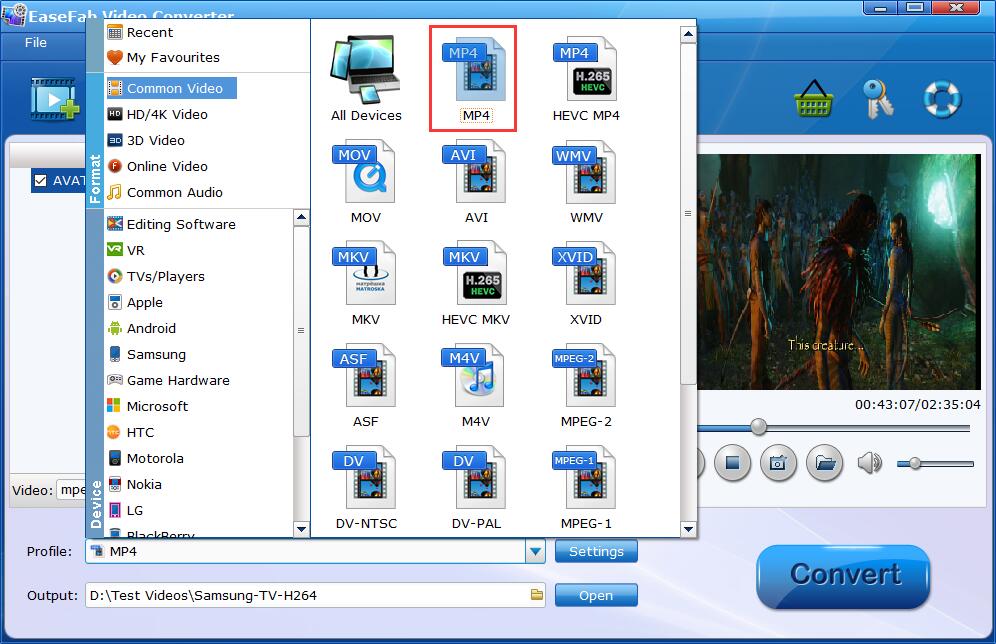 If your source AVI video not playing on Samsung TV owing to higher specifications, you can make them playable with the following advanced settings:
● Click the Settings button beside the profile bar, and drop download the list of Resolution, where you can downscale 4K to 1080p/720p for smaller file size or upscale HD to 4K to fit bigger screens.
● Drop down the Frame Rate list, then you're able to change 1080p/4K 60fps to 30fps or lower, or vice versa.
● Drop down the Bitrate list, type or select a target bit rate for your AVI videos.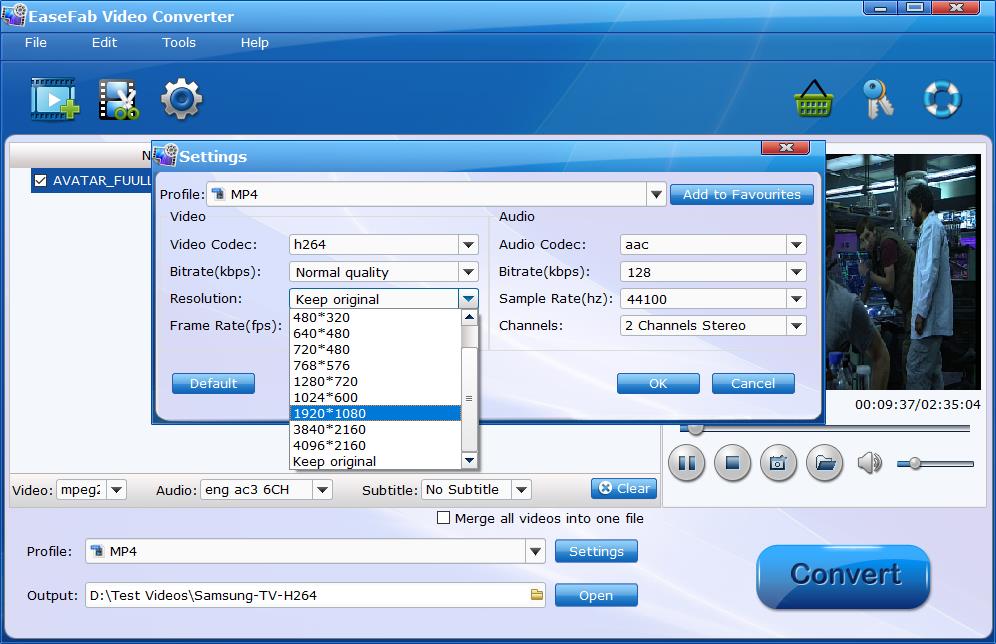 Step 3. Click the small Folder in the "Output" bar to set a destination folder if necessary. Finally, hit the big blue Convert button to finish AVI to Samsung TV conversion.
After the conversion is over, you can freely enjoy your AVI videos or movies on your Samsung TV thru USB, media server like Plex, Jellyfin, Emby, DLNA, etc. without any trouble.