According to Adobe's official website, Premiere Elements does import AVI files. However, in some cases, you can't import an AVI file to Premiere Elements (even the latest Premiere Elements 2020) successfully. The error message goes like, "File Import Error", "This type of file is not supported, or the required codec is not installed.", "Unsupported format or damaged file" and "The file has no audio or video streams". Or Premiere Elements only import audio from AVI files fro you. You can only add AVI video to the timeline of Premiere Elements 2020/2019/2018 as an audio track, instead of a video track. Just sound, no video.

Why can't your AVI video be imported into Adobe Premiere Elements (as a normal video file)?
Generally speaking, there are two possible reasons that lead to AVI import failure:
Possible reason 1: your AVI files are corrupted.
You can check whether your AVI file can be recognized and played properly using other programs. If not, repair it using a professional video repair tool.
Possible reason 2: some required codec is missing.
This the the major cause for "can't import avi video file into Premiere Elements" or import with audio/video only. You could import AVI files successfully previously , but after you upgraded Premiere Elements to new version or you upgraded your computer, some codec may be missing. AVI is a multimedia container format which contains various types of data encoded using one of several different codecs. An AVI file can use DivX, XviD, NewTek SHQ3 (4:2:2:4) codec, MPEG-4 AVC, MPEG-2, DV, VP8, VP9, or other video codec for compression. To import AVI files successfully, Premiere Elements needs to be compatible with the specific codecs used in the AVI files. If not, you'll experience AVI importing error.
In this case, you can search and find the AVI codec for Premiere Elements download it. If you cannot find a suitable codec, transocding AVI file is the the most effective yet easiest solution recommended by us and it always works. Below are the two workable solutions to fix "can't import AVI to Adobe Premiere Elements" problem caused by incompatible codec.
Solution 1: Install a required codec to fix Premiere Elements AVI Import issue
Some AVI video files are encoded with codecs (DivX, Xvid, 3ivx, and so on) that are not installed by default with Windows or Apple QuickTime. You can download and install additional codecs on your computer. For example, to play DivX-encoded AVI files, download and install the DivX codec.
Installing a required codec usually enables you to use media-player applications, such as sWindows Media Player, to play files that were created with that codec. Further, installing a required codec sometimes enables correct playback of those files in Adobe Premiere Elements.
Installing a codec doesn't necessarily resolve problems in Adobe Premiere Elements that occur when you import or play files created with that codec. The technical requirements for editing video files are more stringent than the requirements for playing video files. You sometimes have to transcode (convert) problematic files.
Important Note: Only download codecs from established, verifiable software publishers. Avoid downloading "codec pack" software. Installing a new codec typically causes some video or audio files to become unreadable. Back up all your files before you begin.
Solution 2: Convert AVI to Adobe Premiere Elements compatible format
- The easiest solution to fix 'Codec missing or unavailable' error recommended by us
Transcoding should be a very helpful method. If you have Adobe Media Encoder, you can use it to conduct video conversion. If you don't have that tool or can't manage to convert problematic AVI files to desired format with Media Encoder, you might as well try an easier-to-use yet powerful video converter and decoder - EaseFab Video Converter. It is able to work with various AVI files, no matter what codecs are wrapped in and no matter what devices record. To solve the AVI or other incompatible issues, you're suggested to download and install EaseFab Video Converter on your PC or Mac computer first.
EaseFab Video Converter - The One-click Way to Convert Videos for Adobe Premiere Elements/Pro and more.
• Accepts nearly all types of videos, regardless of video formats, codecs and resolutions.
• Transode or pass-through media files to that supported by Adobe Premiere Pro/Elements.
• Easy editing experience: cut, crop, merge, add effects/watermark, add subtitles...
• Completes video conversion and processing in three steps.
Simple Steps to Transcode AVI to a Fully Premiere Elements Compatible Format
This quick start guide takes Video Converter Windows version screenshots as an example. The method to encode AVI to Premiere Elements on Mac is the same. All that you should take care is to download the right version according to your situation.
Step 1. Import AVI files to the program
After the program installed you will come to an impressive interface. Now add your AVI video files. Two options:
1. Drag and drop the AVI file to left item tray directly.
2. Click "Add Video" to add AVI files.
Batch conversion is available here, so you are allowed to import several files at one time.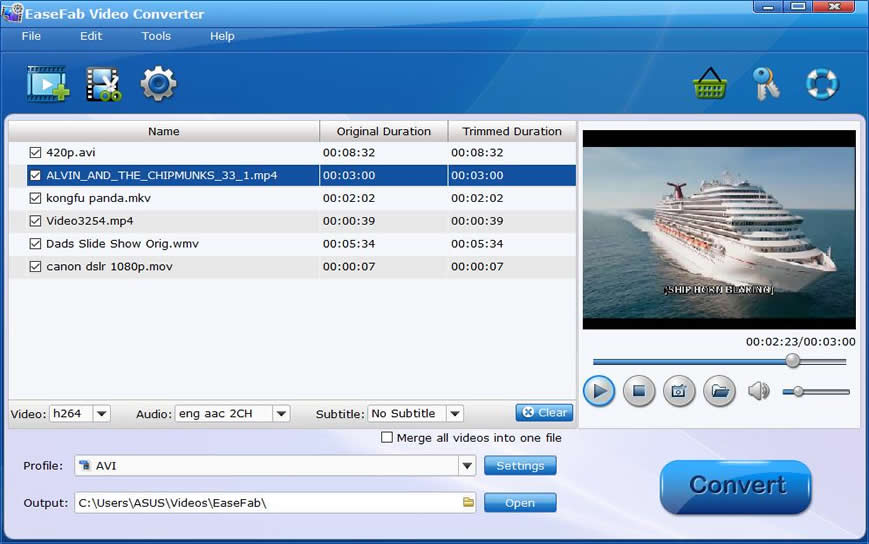 Step 2. Choose the output format
For the next step, you'll have to choose an output format for your .avi video file. The program has three already optimized the video settings for Adobe Premiere Elements. You can select MOV, WMV or MPEG-2 from Editing Software as the output format. Here we recommend you choose MPEG-2 which can help you keep the original quality of AVI video and seamlessly fit Adobe Premiere Elements 2020/2019/2018 and older version.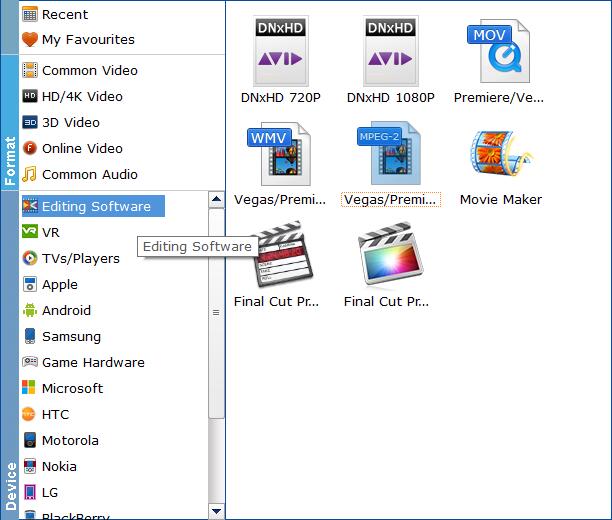 Step 3. Start converting AVI to Premiere Elements
You should be ready to start conversion at this point. Just click on the Convert button that can be found on the menu. Wait for a while and the video converter will do the trick. You will soon have your .avi video into a format that's recognizable and editable by Adobe Premiere Elements - the .MPG format.
Final Words:
The major cause that Adobe Premiere Elements/Pro fails to import AVI files is that some required codec is missing and the file format is not supported. Therefore, transocding AVI file using EaseFab Video Converter is the the most effective yet easiest solution recommended by us.
Besides converting videos, EaseFab Video Converter is also able to perform some video editing tasks, including cutting, trimming, merging, adding special effects, and more. The operation is really beginner-friendly.