A smart LG TV is a big entertainment in our daily life. Nowadays it is convenient to stream and play our local stored movies on HDTVs via a media server or USB flash. MKV file format seems one of LG TV supported native video format for playback. But the weird thing is that your LG TV will reject to play some .mkv videos or movies downloaded from online, or get a copy from DVD/Blu-ray discs. For example, as you're trying to play an 1080p MKV file, it'll say "invalid format", "format not recognized", or there was so much shutter that it was unwatchable. Or even your LG TV won't recognize the audio from MKV files.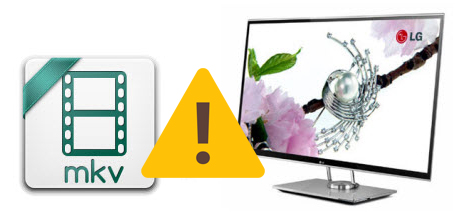 Why Some Certain MKV Files Not Playing on LG TV?
Though LG TVs including LG LED, LCD, 3D or Ultra HD 4K TV and more claim to support a wide range of video and audio formats, MKV not playing error also comes up from time to time. Actually, it can be caused by various reasons as below.
1. MKV format/codec is not supported. MKV is just a video container, which can be encoded with a wide range of codecs, like HEVC, H.264, MPEG-4, VP9, DTS audio etc. While LG TV has poor compatibility with some of the codecs, such as Dolby True Audio and DTS Audio, which will make MKV not playing on LG TV.
2. Media with higher bit or frame rate than specifications. LG TV only supports MKV files in specific bitrate and frame rate, for example, 4K H.264 at 30fps/60fps, 4K/8K HEVC at 60fps, 1080p VP8 WebM at 60fps etc. If your MKV video is in higher bit rate or frame rate, MKV will goes unplayable, stuttering, dropping frames and so on.
3. MKV file is corrupted. MKV won't play if your MKV file is corrupted or the information in the container is wrong.
4. Incompatible USB and digital camera devices. Many users play MKV videos via USB or digital camera devices. If none of the above is true, it might be an issue of USB or digital camera devices, which are not compatible with your LG TV.
Easiest Solution to Fix MKV Files Not Playing on LG TV Error
- Convert MKV to MP4 or any format that LG TV can recognize.
Broadly speaking, MKV format/codec incompatibity lies in the major cause of LG TV not playing MKV videos. Therefore, converting MKV files to LG TV could get everything done. There is a long list of free and paid conversion programs and tools available. But if you do not want to be held back by slow processing and poor output quality, EaseFab Video Converter is there for you. Available for both Windows and Mac PCs, this smart program allows converting MKV to the format that has all the codecs compatible with all model of LG TVs.
As an excellent all-in-one video converter, EaseFab Video Converter can convert MKV to MP4, MOV, AVI, WebM, and 420+ profiles, transcodes HEVC MKV to H.264, DTS to MP3/AAC, and changes MKV video specifications like resolution (eg. 4K to 1080p), bit rate, frame rate etc. As for the video quality, don't worry too much. With the constantly updated conversion algorithm and the advanced high quality engine, it guarantees you the MKV file size will be compressed greatly without quality loss. Moreover, the mbedded hardware acceleration tech will invoke GPU encoding/decoding built in graphic cards, achieving up 30X faster video conversion speed.
Tutorial: How to encode/re-encode MKV to LG TV accepted codec/format
The step-by-step guide is almost the same on PC and Mac. Here we will take EaseFab Video Converter for Windows as the example.
Step 1. After downloading, install and run EaseFab Video Converter on your PC or Mac, simply drag and drop your MKV files to the program. You can also click Add Video button to load your source files. (Note: you can load multiple video files to convert at a time.)
Step 2. Click "Profile" bar and move mouse cursor to "Common Video" category and select MP4 (codec: h.264+aac) as the output format. Of course, if you're clear which codec is the culprit, for example, mkv file audio not supported on LG TV, you can transcode the embedded codec without changing video container, for example, go to "Profile" > "Common Video" > MKV (h.264+aac) to transocde MKV HEVC to H.264, and DTS to AAC.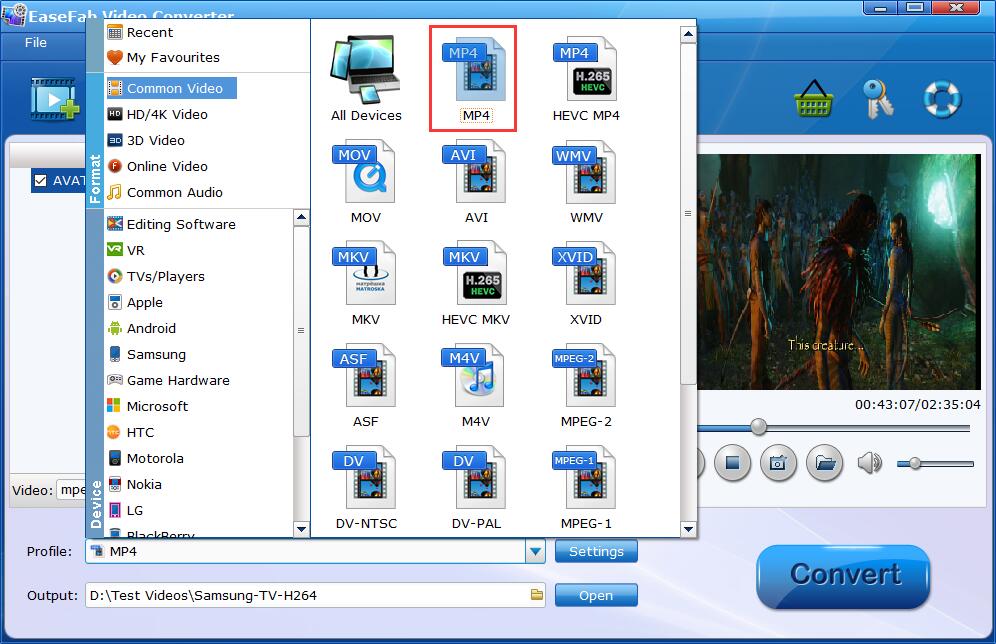 If your source MKV not playing on LG TV owing to higher specifications, you can make them playable with the following advanced settings:
● Click the Settings button beside the profile bar, and drop download the list of Resolution, where you can downscale 4K to 1080p/720p for smaller file size or upscale HD to 4K to fit bigger screens.
● Drop down the Frame Rate list, then you're able to change 1080p/4K 60fps to 30fps or lower, or vice versa.
● Drop down the Bitrate list, type or select a target bit rate for your MKV videos.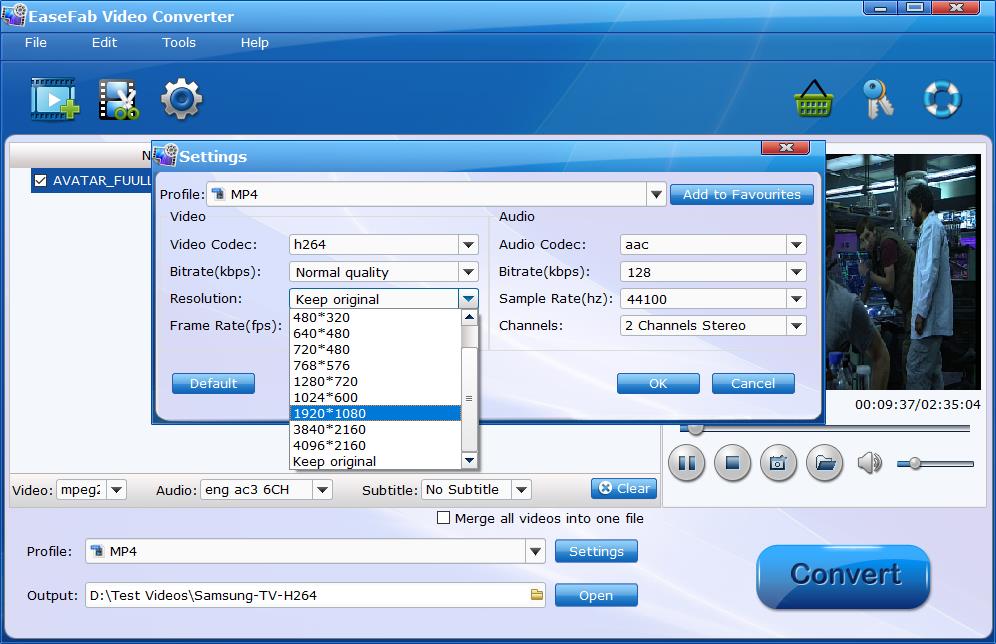 Step 3. Click the small Folder in the "Output" bar to set a destination folder if necessary. Finally, hit the big blue Convert button to finish MKV to LG TV conversion.
After the conversion is over, you can freely enjoy the converted MKV movies on your LG TV thru USB, media server like Plex, Jellyfin, Emby, DLNA, etc. without any trouble.