"Is there a way to make .mkv movie files run on DVD player? I've had a look around, and this doesn't look easy. There seem to be many steps required. Plus, there are subtitles involved."
Most high-end DVD player models (and all Blu-ray disc players) feature USB inputs that can be used house USB flash drives filled with digital movies. You can then access the files through your DVD player's main menu and watch them on your TV screen. And no matter you download your favorite videos from online, or get a copy from DVD/Blu-ray discs, you're in a great chance to meet MKV videos, which saves multiple audio, subtitle, chapter tracks at high-definition. However, many users find their MKV files not playing on DVD player.

Actually, DVD players only support limited file formats and most won't support MKV files. You can look in the instruction manual for your DVD player to see what type of video files it supports. To make MKV files playable on your DVD player, you can burn MKV movies to DVD disc to watch them on your television. If you don't want to do this, transcoding MKV files is a much easier and more efficient solution. In this article, we will focus on how to convert a MKV file to play on DVD Player.
What Formats Can a DVD Player Commonly Support
Before the conversion process, you should be sure to look in the "Technical Specifications" listing in your DVD player's instruction manual to see what formats it will support before potentially wasting your time.
1. Majority of DVD players only accept MPEG-2 in a standard VOB format, and very few of them are compatible with MPEG-4 videos.
2. All standard DVD accept videos that conform to a certain resolution and BVOP settings. For instance, a majority of DVD players limit import to a resolution of 720 by 756 or 720 by 480. While, MKV files usually comes with 1080p, 4K or even higher solution than this, your DVD players will not have the capacity to play it.
3. Newer models of DVD players can be able to play AVI files on one and only one condition, the AVI file has to be further encoded with another codec such as Xvid, Divx, WMV and MPEG-1 just to name a few.
How to Convert MKV Files to Play on DVD Player
To finish the task, you can adopt EaseFab Video Converter for help. This program can help you convert MKV to DVD player compatible USB file formats such as DivX, AVI, MPEG-2, MP4, etc. files with fast encoding speed and excellent output quality. Moreover, you can easily changes MKV video specifications like resolution (eg. 4K to 1080p), bit rate, frame rate etc. Still, you don't have to worry about video converting speed, the embedded hardware acceleration tech will invoke GPU encoding/decoding built in graphic cards, achieving up to 30x real-time faster speed.
Below is the simple guide on how to encode/re-encode MKV files to DVD player compatible USB file format. To begin with, you need to download and install EaseFab Video Converter Windows or Mac version on your computer. The guide below take Windows version for an example. Mac version has the same process.
Step 1. Launch EaseFab Video Converter on Mac or Windows PC. Click Add Video to import your MKV video. Dragging and droppping works too. (Note: batch conversion is supported, so you can several mov videos to the program to convert at a time.)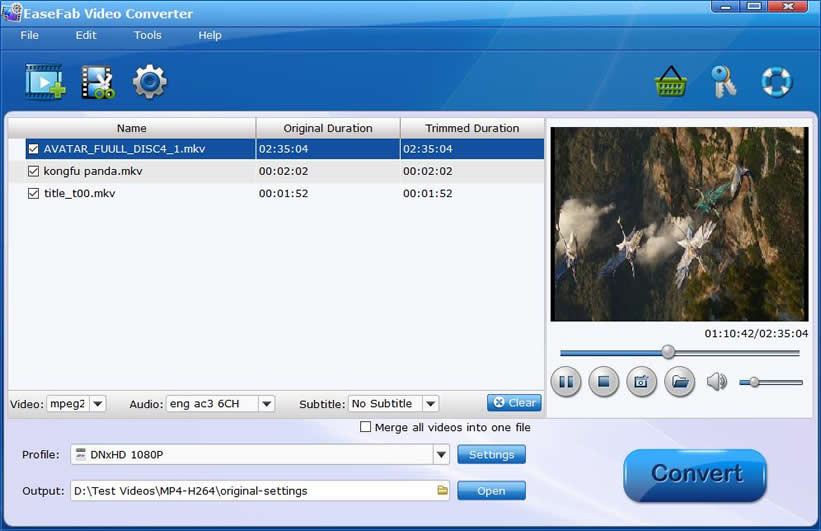 Step 2. Select a DVD player compatible file format from Profile lists. You'd better look in the instruction manual for your DVD player to see what type of video files it supports. For most common DVD players, MPEG-2 from Common Video category is recommended. You can also choose "DIVX" as the output format.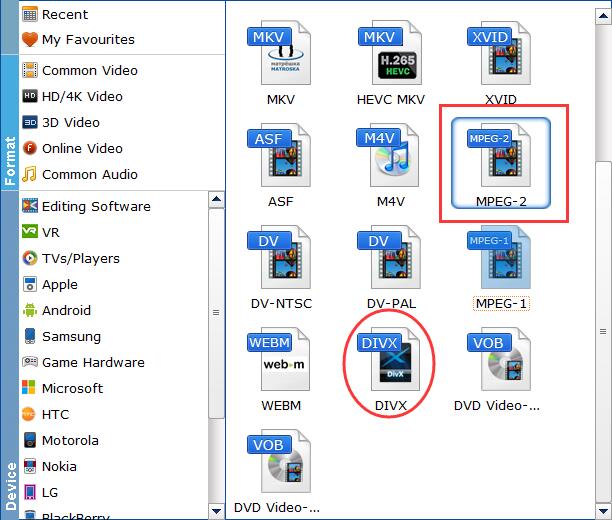 Tips: You can also click Settings to customize output video parameters such as video size, video bitrate, audio channels and so on depending on your needs. Here you're recommended to adjust the resolution from default Original to 720*480 or 720*756.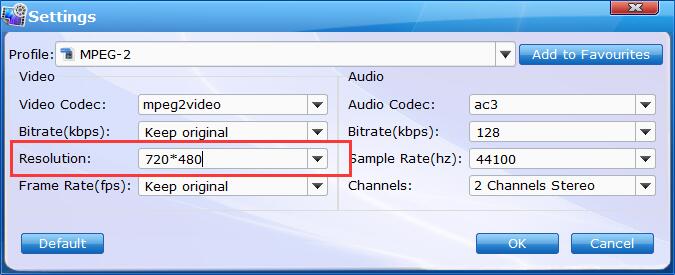 Step 3. You can select a destination folder for the output file by clicking Folder icon in the Output bar, you can also let it be the default one. After every step presented above has been performed, press the Convert button and wait until the conversion process has been completed.
Once the conversion completes, you can click Open to find the result video files. Copy them to your flash drive and then you're able to access the converted MKV files through your DVD player's main menu and watch them on your TV screen.
How to Watch Video From a Flash Drive on a DVD Player
Step 1. Put your USB flash drive into an open USB port on your DVD player.
Step 2. Use your DVD player's remote control to navigate to the "play storage device" or "USB Flash Drive" menu (the specific machine name is different, some are called "play memory card" or "play USB" or something else.). Select the file you want to play from the list by highlighting it and pressing the "Enter" or "Play" buttons on the remote. The file will now play on your TV screen.