"KODI and Blu Ray playback? Is there anyone with a HTPC that can recommend a way to set up Kodi formally (XMBC) to play back Blu Ray I have tried numerous codec packs plus installed other players but Kodi or even WMP for that matter don't pick up the codecs."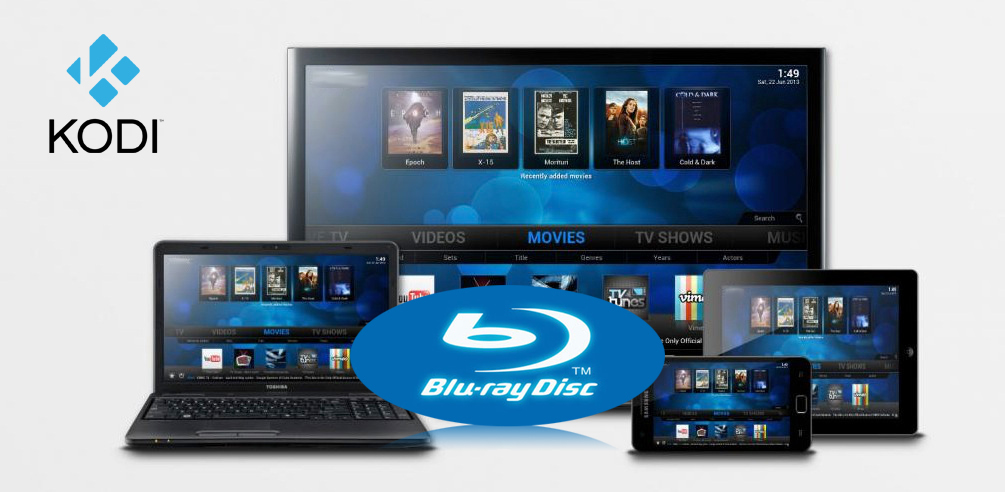 If you own a Kodi (XBMC) media sever, it is easy to get your movies free on Kodi Media Sever to play with your iPad, Android tablet/phone and your laptop. If you own tons of Blu-ray discs and want to get these movies off of Blu-ray discs and onto Kodi Media Sever for streaming with ease, you're definitely being in the right place. This article offers a brief instruction about how to backup and rip Blu-ray to hard drive for playing with Kodi (XBMC) for streaming and sharing.
First, a quick note: we know that there is still a lot of legal ambiguity around ripping content that you have legally purchased. At Audioholics, we believe that you should be able to watch purchased media on your system regardless of whether it's coming from a standalone Blu-ray player or a media center frontend. Actually, it's not as difficult as you imagine. To enable Blu-ray playback Kodi/XBMC, you'll need a third-party Blu-ray ripping software.
Most of you are likely familiar with the excellent Handbrake for ripping standard Def DVDs, but while the latest version of the software has added SOME support for reading Blu-Ray folder structures, it cannot yet decrypt the Blu-Ray discs the way it can with regular DVDs, so you'll need to add a Handbrake alternative for ripping encrypted Blu-ray discs. The best program I can recommend for ripping Blu-ray for Kodi/XBMC is called EaseFab Blu-ray Ripper.
The program is an all-in-one Blu-ray & DVD backuping/coping/ripping application to help you out. Acted as the best Blu-ray to Kodi converting tool, it's a breeze to get around the protection on Blu-ray and make digital backups of all of the movie contents on your hard drive to free up the disc, or just convert to video files of your choosing, including popular formats such as MP4, AVI and MKV, so that you can then access and watch the video of Blu-ray on the XBMC Kodi with ease.
If you're using a Mac, you can turn to Blu-ray Ripper for Mac, which has the same function as the Windows version. Now download the program and follow the guide below to convert Blu-ray discs to play in Kodi/XBMC.
How to rip a Blu-ray for playback with Kodi/XBMC
Step 1. Load Blu-ray Movies
Insert your Blu-ray disc into your BD drive (necessary for ripping Blu-ray discs). Launch the Blu-ray to Kodi Converter and click "Disc" button to import your Blu-ray movies. DVD, DVD folders, ISO files and IFO files are also supported.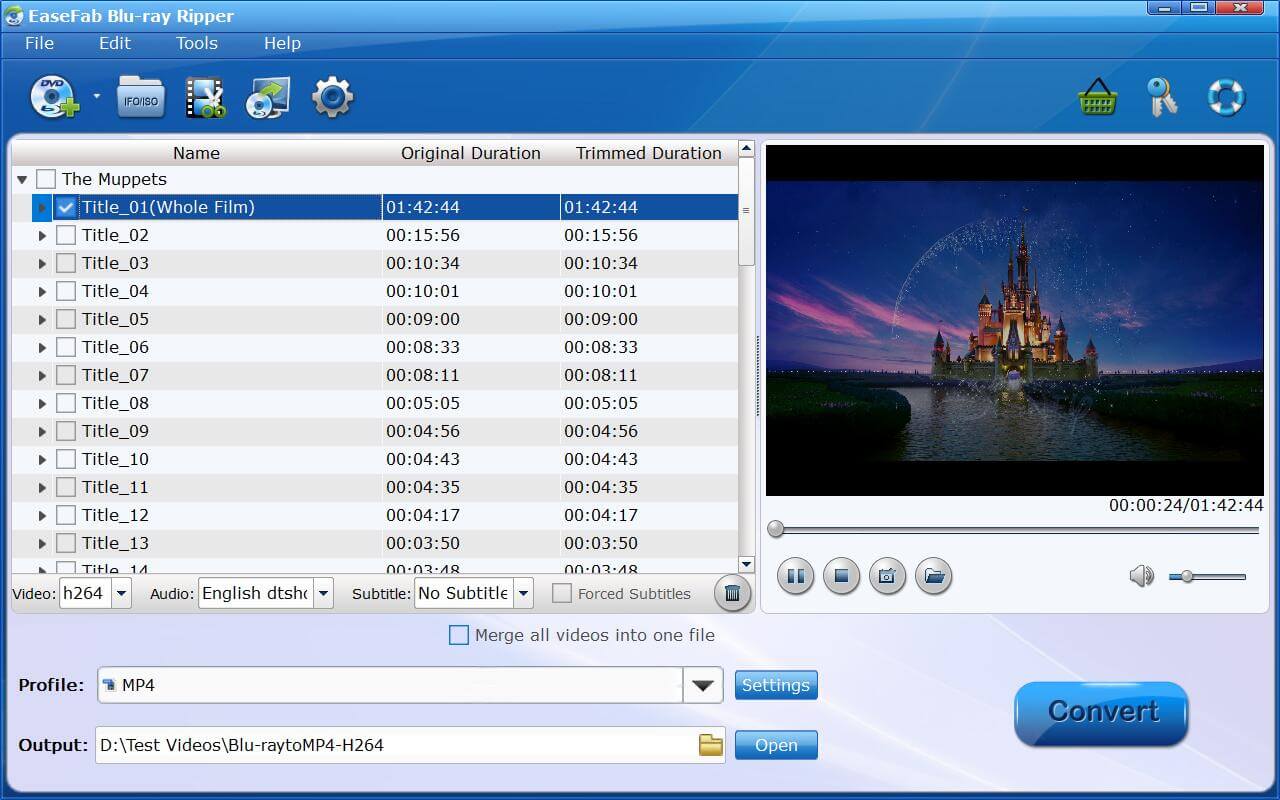 Step 2. Choose output format
Clicking the "Profile" box, you can choose MP4, MKV, AVI from "Common Video" category. If you want to keep 1080p resolution as source movie, you can choose HD Video > MP4-HD for Kodi.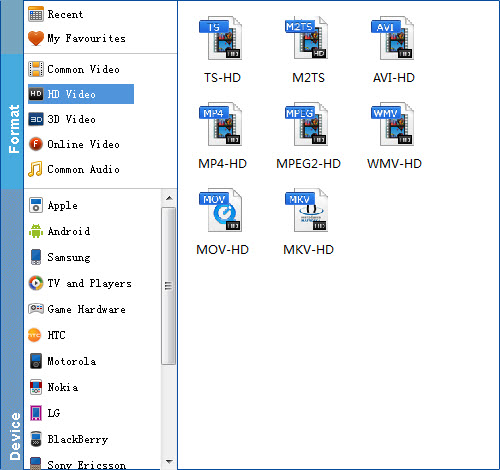 Tip: EaseFab Blu-ray Ripper come with preset formats for more than 150 devices, such as Apple TV, iPhone 6, iPhone 6 Plus, Samsung, iPad Air, iPad Mini, HTC, iPod touch 5, Creative Zen, Sony, Sandisk, Motorola, Archos, Nokia, Zune, BlackBerry, iRiver, PSP, Xbox 360, PS3 and more.
Step 3: Set advanced settings
If you like, you can click "Settings" to change the video encoder, resolution, frame rate, etc. as you wish. Keep in mind the file size and video quality is based more on bitrate than resolution which means bitrate higher results in big file size, and lower visible quality loss, and vice versa.
Step 4: Start ripping
The last thing you need to do is hit the "Convert" button to copy Blu-ray to Kodi compatible MP4, MKV, AVI format. Just wait a moment and then you can output videos. Then you can copy the result files onto Kodi with the best quality. Have a fun of it!
For new users, who just start to use this multimedia player, how to stream your videos to Kodi can be learned here.
XBMC Supported formats:
Video formats: MPEG-1, MPEG-2, H.263, MPEG-4 SP and ASP, MPEG-4 AVC (H.264), HuffYUV, Indeo, MJPEG, RealVideo, RMVB, Sorenson, WMV, Cinepak.
Audio formats: MIDI, AIFF, WAV/WAVE, AIFF, MP2, MP3, AAC, AACplus (AAC+), Vorbis, AC3, DTS, ALAC, AMR, FLAC, Monkey's Audio (APE), RealAudio, SHN, WavPack, MPC/Musepack/Mpeg+, Shorten, Speex, WMA, IT, S3M, MOD (Amiga Module), XM, NSF (NES Sound Format), SPC (SNES), GYM (Genesis), SID (Commodore 64), Adlib, YM (Atari ST), ADPCM (Nintendo GameCube), and CD-DA.