As we all know, even if you have your purchased Blu-ray movies, and a BD burner and blank discs, you are unable to make Blu-ray backup at will. Blu-Ray may be majestic, but it also has more copy protection than any other format around, and playing it on your computer can be difficult to impossible. But isn't there a way to make digital copies of your Blu-ray movies at all? Absolutely not. We believe that the movie manufacturers have the right to keep their intellectual property, but we also believe that consumers have the right to enjoy or backupk Blu-ray movies they purchase, especially when they just wanna keep Blu-ray discs from scratching, or manage their movies in a more convenient way. Then, which is the best way for lossless Blu-ray rip? That's what this post is going to talk about.
Lossless Blu-ray rip means that you can grab the raw data off Blu-ray without transcoding, encoding or compressing at all. This page will describe three simple and reliable methods to rip and backup Blu-rays with 100% original quality preserved to hard drive in both Mac and Windows (Windows 10 included). Just check them out!
Why does Blu-ray Transcoding Produce Quality Loss?
To address the large file size of videos which contain a lot of data, we use codecs to compress them. The most common codec is H.264, along with many others like MPEG-2, H.265, AV1, XVid, etc. When you transcode a Blu-ray, it refers to a process of taking the M2TS video out of the Blu-ray and re-encoding it with a different codec or different settings.
There are three types of transcoding: lossy-to-lossy, lossless-to-lossless, and lossless-to-lossy. Once the quality loss happens, you cannot get back the original quality again. So there is no loss-to-lossless transcoding. As Blu-rays are encoded in the inefficient M2TS codec (lossy codec), you're left with no choice but lossy-to-lossy transcoding, which will decrease the quality to degrade even further.
Get An Easy-to-use Tool to Rip Blu-rays without Losing Quality
To rip Blu-ray with original quality, you'll need a proper tool to get the job done. There are many programs out there that can get the job done. If you're looking for a tool with fastest speed and lossless quality, the battle-tested Blu-ray Ripper - EaseFab LosslessCopy will be your best choice. It's available for Windows 10, 8.1, 8, 7, etc. And it has a Mac version compatible with macOS Big Sur and lower. LosslessCopy offers three modes to rip and backup Blu-rays in 100% original quality and all the three modes can help you losslessly backup your Blu-ray discs within 5 minutes.
1. Full Disc Copy: Copy the entire Blu-ray disc and holds all the Blu-ray structure files and you have more flexibility to manipulate it, e.g., you can remove the unwanted trailers, extra menus, comments, or cutting it right down to the main film.
2. Blu-ray Full Title/Main Title to M2TS: This mode can help you save 100% Main Title or Full Title to M2TS video, including all the lossless audio tracks.
3. Blu-ray to Lossless MKV: Rip Blu-rays to a set of MKV files which can store all the video/audio tracks and subtitle streams with meta-information and preserve chapters.
Extra benefits: In addition to lossless Blu-ray rip, EaseFab LosslessCopy also rips Blu-rays/DVDs in the best quality-size to MP4, HEVC, H.264, MOV, AVI, WMV, more formats and devices. Any protected, new, and old Blu-rays and DVDs are supported.
[Tutorial] How to Backup & Rip Blu-ray without Quality Loss?
Now, download the program, install and run it and then follow the below steps to start to rip your Blu-rays with lossless video and audio quality.
Kindly Note: If you choose lossless Blu-ray rip, please make sure the storage place is around or above 30GB.
Step 1: Load the source Blu-ray movie
Insert the Blu-ray disc to the BD drive. Then launch EaseFab LosslessCopy, and then and click the Load Blu-ray button to have movies uploaded to EaseFab LosslessCopy. Here you can also import BD/DVD folders, DVD discs, ISO files and IFO files to convert.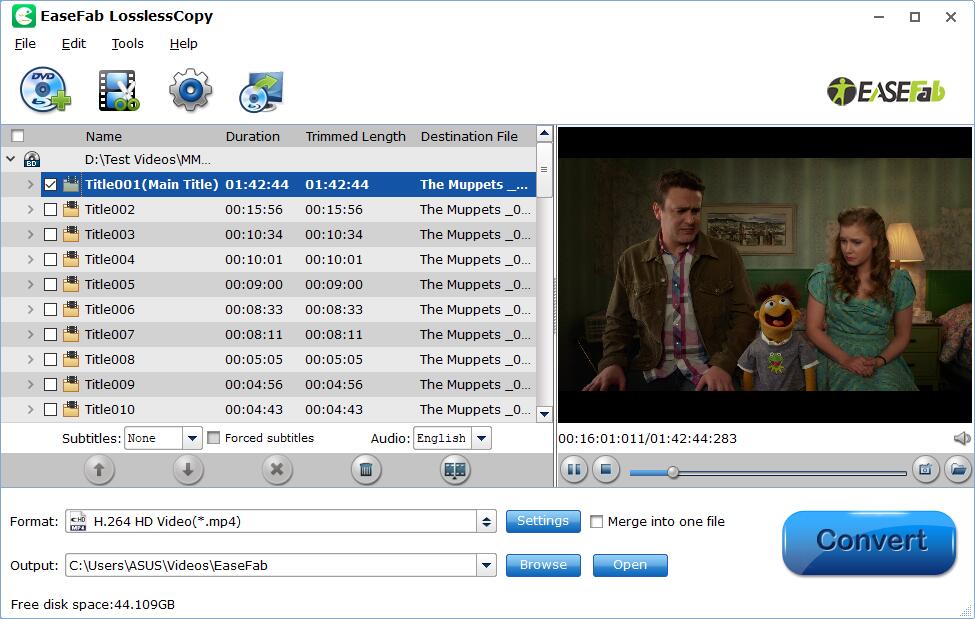 Step 2: Select one method to rip Blu-ray losslessly
Method 1: Lossless Blu-ray Rip - Full Disc Copy
Simply click the Copy the entire disc button and LosslessCopy will directly start to backup the whole content of a Blu-ray or a DVD without losing anything.

Method 2: Lossless Blu-ray Rip - Blu-ray Full Title/Main Title to M2TS
Click on the Format bar and choose Copy > Directly Copy format from drop-down list. By default, this will allow you to copy main title from Blu-ray to a M2TS video and leave out extras. If you want to copy the full title to M2TS, just check all the titles.
Then click Convert button to start the process of copying full/main titile from Blu-ray to a single M2TS movie.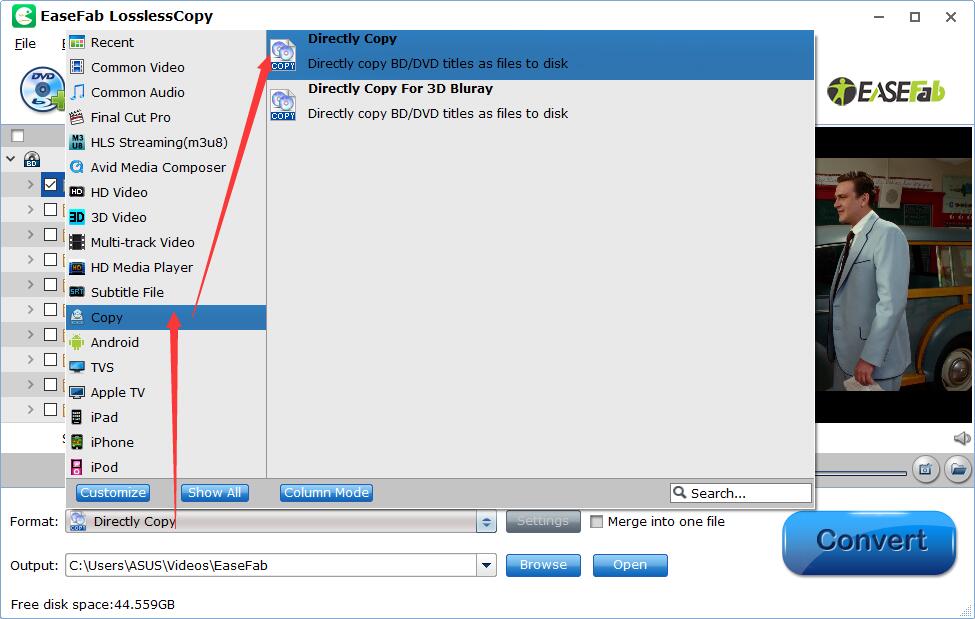 Method 3: Lossless Blu-ray Rip - MKV
EaseFab LosslessCopy transfers video from Blu-ray to MKV container in two ways, lossless output and encoded output. Both the two ways enable users to preserve wanted audio tracks and subtitles streams in the source movie. For losssless Blu-ray to MKV rip, you don't need to adjust anything
After everything is ready, just click Convert button to start ripping Blu-ray to lossless MKV file.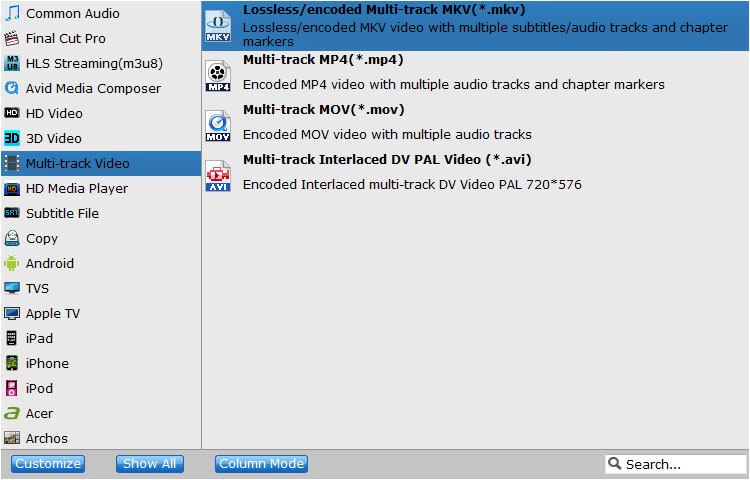 Tips: If there are some tracks you don't like, you can click Settings button and go to Multi-task Settings window to uncheck and remove them under Audio tab and Subtitle tab.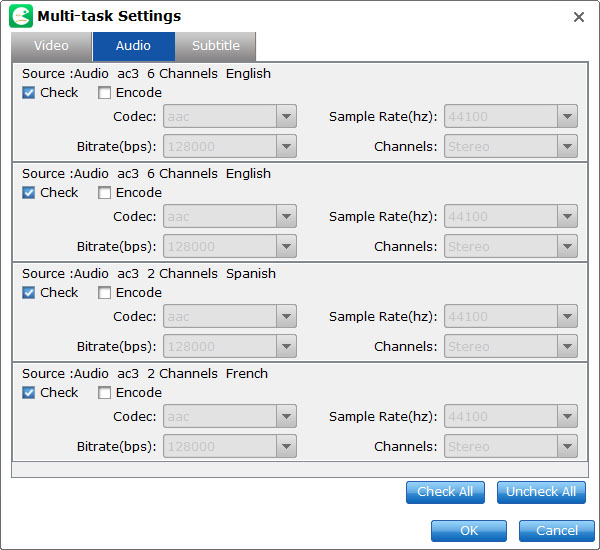 Is it available to rip Blu-ray with optimal quality & small size?
All the three methods can help you backup your Blu-ray without losing quality. However, the file size of the ripped movies will be huge (almost as the same as the original discs). What if you want to rip your discs into a format with good balance between image quality and file size? Don't worry! Besides lossless Blu-ray rip & backup, LosslessCopy also comes with other features below:
◉ Convert Blu-ray to MP4, MKV, HEVC, H264, AVI, MOV, M4V, MPG, FLV, etc. video with good quality-size balance;
◉ Support coping with both homemade Blu-rays/DVDs, and store-bought Blu-ray and DVD discs with almost all copy-protections;
◉ Transcode Blu-ray/DVD to MP4 for iPhone, iPad, Android, Windows Phone, and other devices with optimized presets;
◉ Finish conversion at fast speed, owing to the support for the world's advanced Intel QSV, Nvidia CUDA/NVENC, and AMD 3DNow! Tech;
◉ Edit videos by trimming, merging, cropping, adding subtitle, etc. Aadjust resolution, bit rate, codec, etc to produce optimal file size.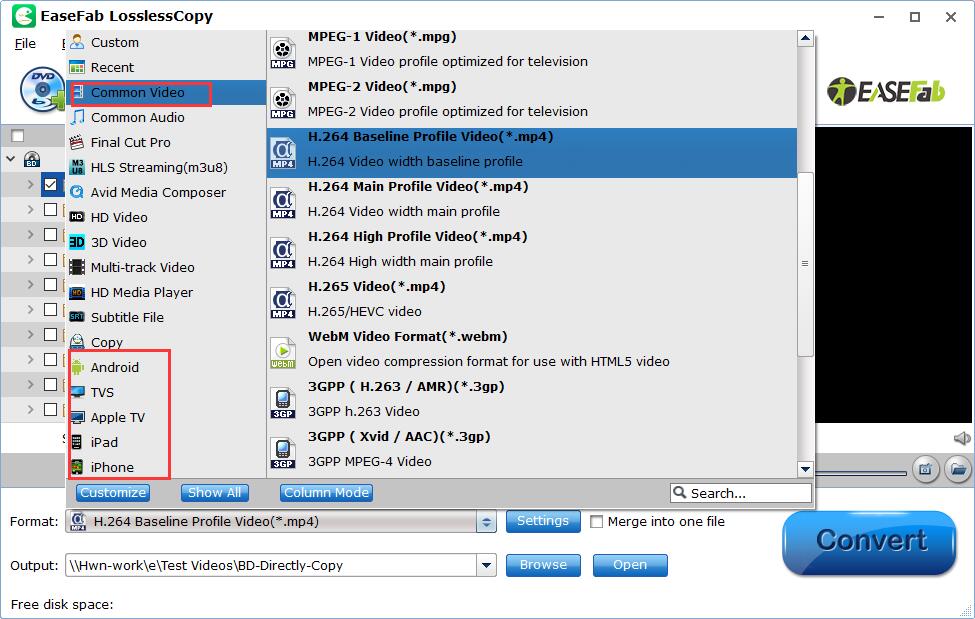 Disclaimer: EaseFab Software does not advocate copying and ripping copy-protected Blu-rays for any commercial purpose and suggests referring to the Blu-ray or DVD copyright laws in your countries before doing so. Blu-ray copy protections (Blu-ray region code not included) only have an effect on illegal Blu-ray copying, but not on Blu-ray playback.