It is well known that the discs are difficult to manage and vulnerable. Therefore, many Blu-ray owners choose to backup and rip Blu-rays to MKV, MP4, MOV or other digital files. This way, you can prevent your Blu-rays from degrading over time, save physical space, archive and categorize Blu-ray collections, and make digital copies for editing and sharing.
When it comes to selecting the best quality format for ripping Blu-ray, MKV is always the top choice since it can encompass audio, video, pictures, and subtitle tracks in one single file while keeping the original quality of a Blu-ray. In this post, we will show you 3 best Blu-ray to MKV converters and step-by-step tutorials on how to rip Blu-ray to MKV without quality loss on Mac and Windows. Check them now.
2023 Best Ways to Freely Rip Blu-rays to MKV on Windows 10/11 & Mac
Why Convert Blu-ray to MKV Videos?
When it comes to encoding Blu-ray movies into digital files, MP4 may be the most widely-used format since MP4 is fully supported by Android mobiles, iPhone iPads, TVs, game consoles, to name a few. If you want to keep all the content of the Blu-ray and maintain the full quality, then MKV is the format that will contain all the video, audio, subtitle tracks, chapters, and menus of a Blu-ray without quality loss.
Moreover, ripping Blu-ray to MKV video can also help you remove Blu-ray copy protections and protect your discs from scratching. And MKV is quite efficient for storage and streaming and it's widely used on video transmitting.
Way 1: Convert Blu-ray to MKV Losslessly with EaseFab LosslessCopy
EaseFab LosslessCopy is the best Blu-ray to MKV converter for Windows and Mac. It can backup and rip a full Blu-ray (DVD) movie to a lossless MKV file in 5 minutes with all/selected video, audio and subtitles tracks. Besides lossless MKV, LosslessCopy can also help you convert Blu-ray/DVD discs, ISO image files and BDMV folder/Video_TS folder to regular MKV, MP4, H.264, H.265, MOV, AVI, etc. with the best balance in quality & size. Below are the specific features that add a ton of value:
● Convert Blu-ray to MKV video, M2TS, BDMV folder and rip DVD to MKV, VOB and Video_TS folder with original quality;
● Convert DVD to H.264, H.265, MP4, AVI, WMV, MOV, FLV, iPhone, iPad, Android and 500+ output profiles;
● Rip any protected Blu-rays/DVDs to MKV without problem as it supports almost all encryptions on Blu-rays & DVDs, incl. Region Codes, APS, CSS, ARccOS, CPRM, AACS, BD+, CSS, RCE, Disney X-project DRM, etc.;
● Flexibily select the subtitle/audio tracks, add subtitles, crop, trim, and edit the MKV video;
● Freely adjust resolution, bitrate, codec, etc to produce optimal file size and quality balance.
[Tutorial] How to Rip Blu-ray to Lossless MKV File with LosslessCopy
Step 1: Load the source Blu-ray movie
Insert the Blu-ray disc to the BD drive. Then launch EaseFab LosslessCopy, and then and click the Load Blu-ray button to have movies uploaded to EaseFab LosslessCopy. Here you can also import BD/DVD folders, DVD discs, ISO files and IFO files to convert.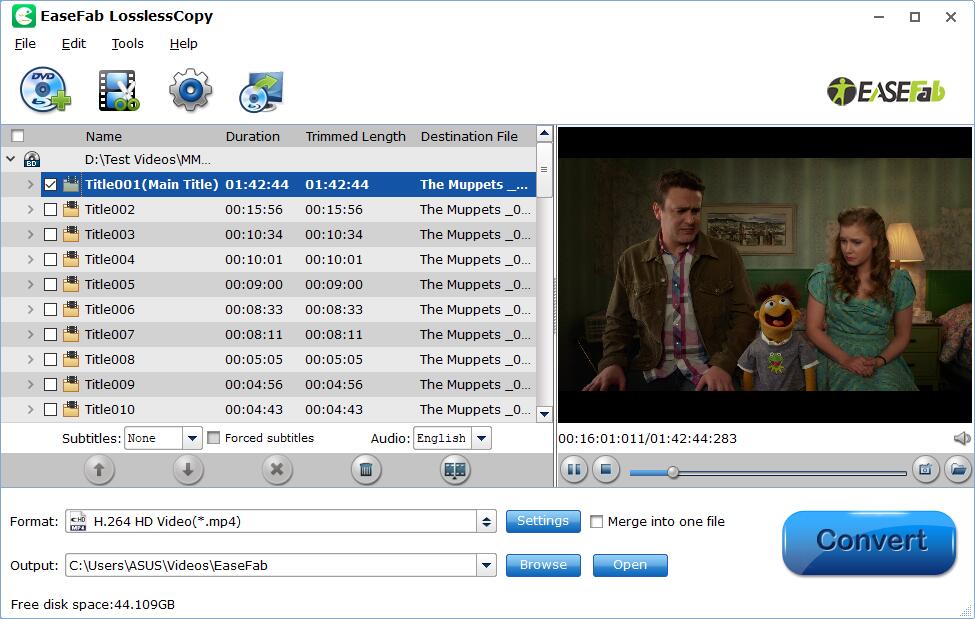 Step 2: Rip Blu-ray to lossless MKV
EaseFab LosslessCopy transfers video from Blu-ray to MKV container in two ways, lossless output and encoded output. Both the two ways enable users to preserve wanted audio tracks and subtitles streams in the source movie. For losssless Blu-ray to MKV rip, you don't need to adjust anything
After everything is ready, just click Convert button to start ripping Blu-ray to lossless MKV file.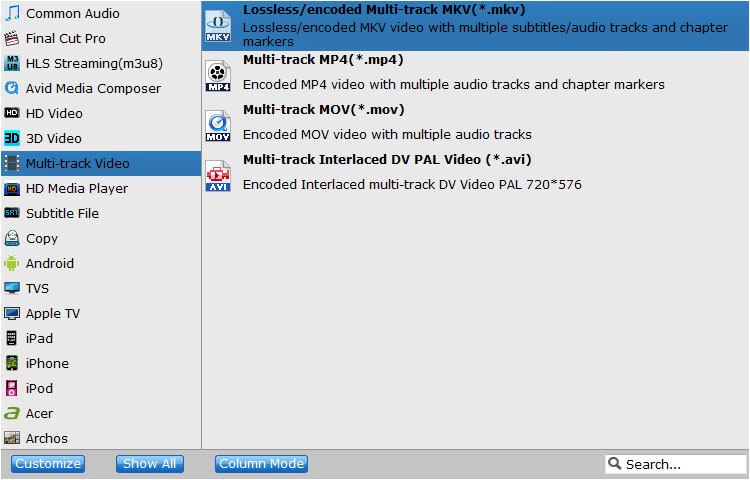 Tips: If there are some tracks you don't like, you can click Settings button and go to Multi-task Settings window to uncheck and remove them under Audio tab and Subtitle tab.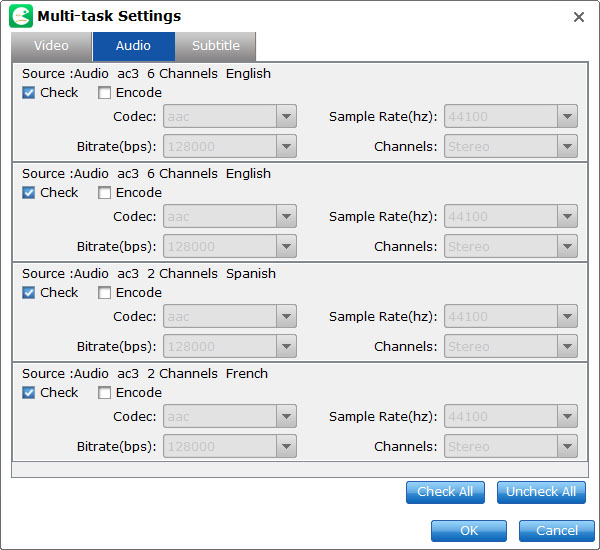 Way 2: Free Remux & Rip Blu-ray to MKV Free with MakeMKV
MakeMKV is another top choice when it comes to remuxing Blu-ray to MKV without quality loss. Just like LosslessCopy, yo can also use it to rip Blu-ray to MKV with all video and audio tracks, chapters information, and all meta information. It works fast because it doesn't transcode video, just extract. So it's the best solution to free extact MKV videos losslessly from a Blu-ray or DVD discs.
The disadvantage is that it only supports exporting a super large MKV file and cannot help you encode or transcode Blu-ray to any other digital files. If just want to rip protected Blu-rays to MKV losslessly, just download MakeMKV and learn how to get the job done below.
[Tutorial] How to Convert Blu-ray to MKV with MakeMKV
Step 1. Launch MakeMKV, insert your Blu-ray disc in your BD drive, then click the big button that looks like an optical drive. MakeMKV will read the Blu-ray disc, then display its contents.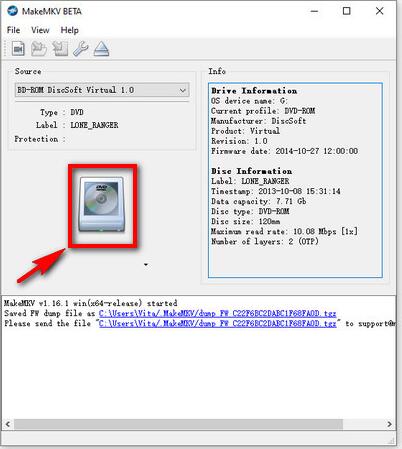 Step 2. When the scanning process finishes, it will list all chapters in the disc in the left side panel. MakeMKV selects all titles by default. But if you only want to rip the movie, it is most likely to be the title at the largest size. Select desired titles based upon your needs. If your movie is with multiple audio tracks and subtitles, double click on the movie title to extend more items. Then, you should see that there are multiple audio and subtitle tracks listed. You decide whether to rip them all or save specific tracks.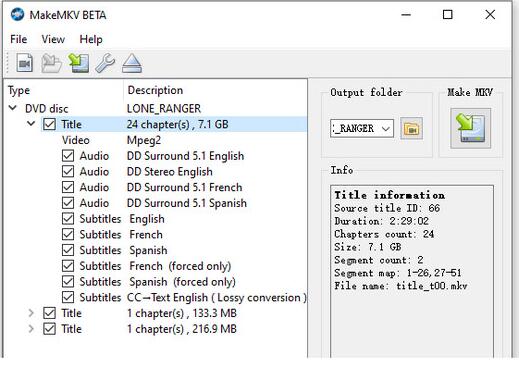 Step 3. When you are good to go, click the yellow folder icon on the right side to designate a place to save the exported file. Make sure that the destination you choose have enough free space because the movie file will be quite large. Then click Make MKV to initiate the Blu-ray to MKV ripping process.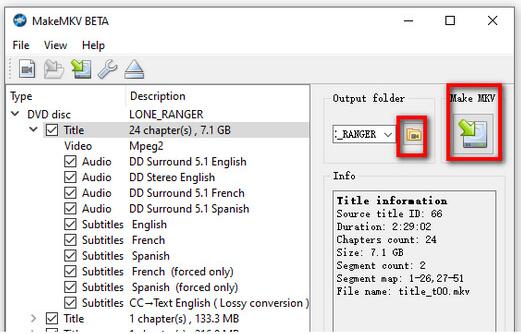 Step 4. It will take about 20~30 minutes to finish the process on the basis of the Blu-ray disc type, the tracks you select, and the movie you rip. When the whole process ends, you can see a dialog telling copy complete, xx titles saved.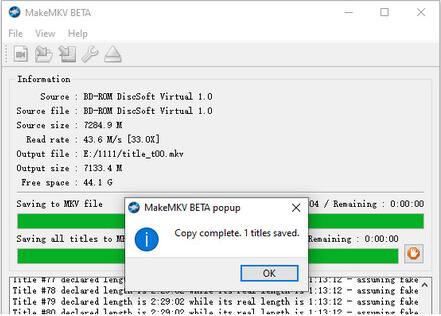 Way 3: Convert Blu-ray to MKV Free with Handbrake
HandBrake is an open-source video and DVD transcoder and it can also be used a Blu-ray to MKV converter on Windows, Mac, and Linux. However, Handbrake can't handle any encryption on commercial Blu-rays. That means HandBrake converts neither encrypted physical Blu-ray Disc nor decrypted commercial Blu-ray movies in BDMV file structure. Handbrake is not the best Blu-ray to MKV converting solution, but it still work if you have only a few of homemade/burned Blu-rays to rip. Below are the step-by-step guide.
[Tutorial] How to Rip Blu-ray to MKV Free with Handbrake
Step 1. Download, install and open Handbrake on your PC or Mac.
Step 2. Insert the unportected Blu-ray disc to your BD drive that connected to your computer.
Step 3. Click Open Source to load the Blu-ray content. Handbrake will take some time to scan the title.
HandBrake will scan all chapters in the Blu-ray and choose a main title by default. However, you can change this by typing in a new title.
Step 4. Click the quality presets drop-down menu, ranging from General, Web, Matroska, Hardware, etc. You can preferably choose Fast480p30 for the US or Fast576p25 for Europe. You can also choose HQ and Super HQ for better image quality, which may also result in slow Blu-ray encoding speed.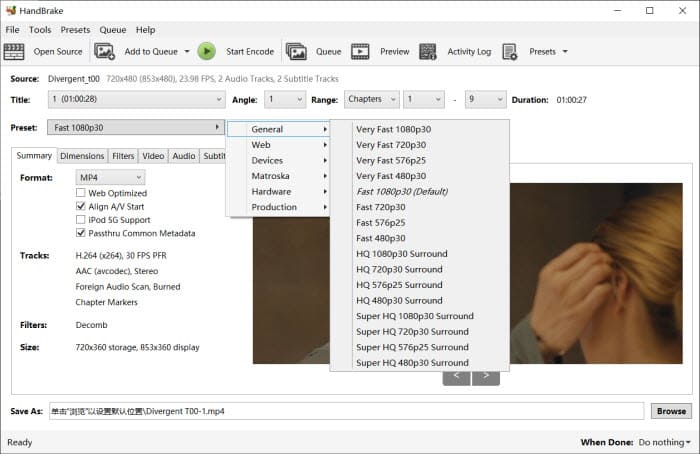 Step 5. Choose the format MKV from the drop-down list in the Summary.
Step 6. Adjust the quality settings as per your needs. You can use the Picture, Video, Audio, Subtitles, and Chapters tabs further. Preferably, you can choose H.264 for MP4 video, set RF 18-22 for your Blu-ray movies, enable 2-pass encoding for better image quality, and more.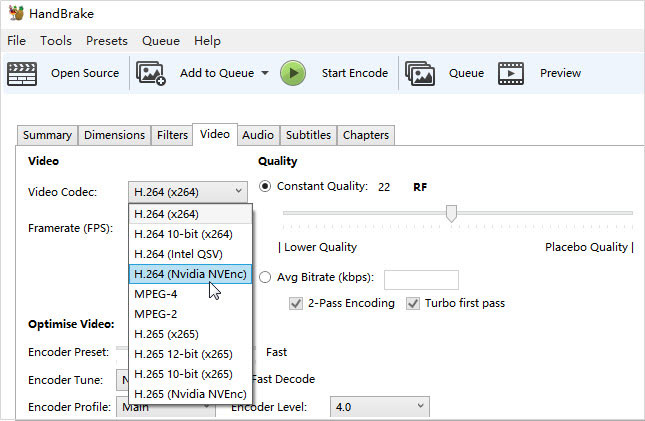 Step 7. Click the Browse button at the lower part and select a destination folder to save the resulting MKV file. You can also use an external drive and store your Blu-ray movie on your HDD or SDD, a USB drive, a NAS, or in the cloud.
Step 8. Then click Start Encode on the above toolbar to begin to free convert Blu-ray to MKV on Windows or Mac You can watch the conversion process. After the ripping, you can add the MKV movie to your library in a movie library problem like Plex.
Sum up: Hope the above-mentioned Blu-ray to MKV ocnverter software can be helpful for you in Blu-ray to MKV conversion. You're warmly welcomed to share with us your user experience if you've used other applications like mkvtoolnix, VLC, etc.