This article shows you how to fast rip Blu-rays to Plex with best quality in a smaller file size on Windows/Mac. Then you can store Blu-ray movies in Plex media server and stream Blu-rays to any Plex devices on the move.
Plex is a nifty streaming media server that can organize and store user's movies, TV shows, videos, music, photos on a central server and allows users to access media content they want to watch on any device anytime and anywhere. If you're using Plex and want to add your collection of Blu-rays to Plex, you've come to the right place. This article below shows you an easy and quick way to rip Blu-ray discs to high-quality video files, which can be directly streamed and played with Plex server.
Once you add your Blu-ray movies to your Plex libraries, you can then stream them to your other devices, you don't need to swap discs and put away the discs for safe keeping. You can even add your old Blu-ray collection. If you want to rip your DVDs for Plex, this process will work as well, but we'll focus on Blu-rays - our recommened process for ripping DVDs to Plex is a little different.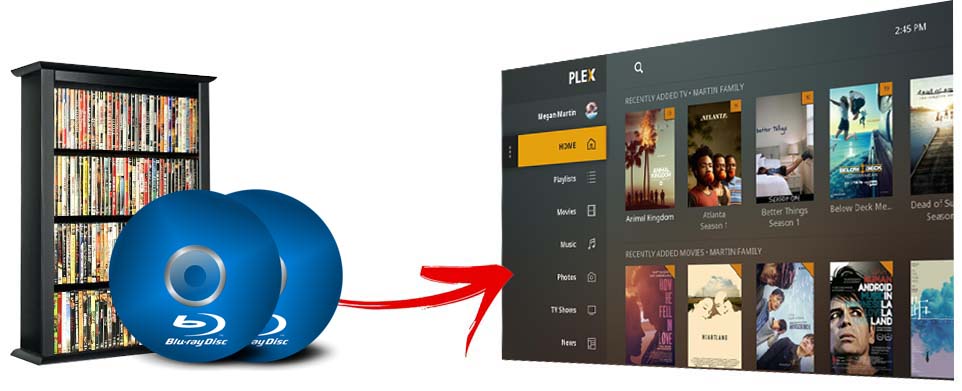 Part 1. What Is the Best Software for Ripping Blu-ray to Plex?
MakeMKV, HandBrake, and EaseFab Bu-ray Ripper, which one to choose?
When it comes to ripping encrypted Blu-rays, MakeMKV is always the top choice. However, MakeMKV just extracts the video and audio from Blu-ray to a huge MKV file, that explains why it is fast and why the output file is very large and hardly to playback via Plex.
Handbrake is excellent for ripping standard Def DVDs, but it cannot decrypt any commercial Blu-ray discs. You can also use MakeMKV to make MKV from your Blu-ray discs and then use Handbrake to transcode MKV to MP4. But the process is too slow. Worse still, it runs sluggish and often crashes in the middle of process.
EaseFab Blu-ray Ripper is an easy-to-use yet powerful Blu-ray to Plex converter for Windows 11, 10, 8.1, 8, 7, etc. And it has a Mac version compatible with macOS Ventura and lower. With it, you can easily and fast rip any 2D/3D/UHD Blu-ray discs to Plex format with excellent quality in a smaller file size. Its features include but are not limited to:
● Rip Blu-ray/DVD discs to MP4 (best format for Plex Direct Play), MKV, MOV, WMV, MPEG, AVI, and other digital formats.
● Convert disk image files like BD/DVD ISO, BDMV folder, Video_TS to Plex supported video files.
● Freely select desired subtitle and audio track before the Blu-ray to Plex ripping process.
● Allow adjust output video/audio parameters (resolution, codec, bit rate, aspect ratio, etc.) to generate digital movie more manageable.
● Finish Blu-ray & DVD ripping and encoding at ultra-fast speed using hardware acceleration.
Now let's download EaseFab Blu-ray Ripper - the best Blu-ray ripper for Plex to have a try!
Part 2. What Is the Best Format & Settings for Ripping Blu-rays to Plex?
Before getting into the guide of ripping Blu-rays for Plex, let's first make clear what media formats Plex can Direct Play. The fact is Plex's media compatibility and video quality limitations vary by device. Native video support is typically limited to the MP4 container, H.264 video encoding, and AAC audio. Content that is not natively supported will automatically be Direct Streamed or transcoded as needed by the Plex Media Server.
Videos satisfying the following standards can usually be directly played with Plex:
■ Container: MP4
■ Video codec: H.264
■ Resolution: 1920×1080 or smaller
■ Audio Codec: Stereo AAC
■ Video Framerate: 30fps
Can I rip 3D Blu-ray to 3D videos for playback via Plex?
Yes. However, note that there is nothing special that the Plex app can do to instruct the television that a specific video is 3D. You will need to enable the appropriate 3D viewing mode on the television yourself.
Can I rip UHD 4K Blu-ray to 4K videos for playback on Plex?
When possible. Plex currently supports 4K on the TiVo Roamio & Bolt (Series 6) devices, supported 2016 or newer Tizen-based Samsung models, as well as VIZIO televisions. And 4K/UHD content matching the following will Direct Play on supported devices:
■ Container: MP4
■ Video codec: HEVC (H.265)
■ Resolution: 3840×2160 or smaller
■ Audio track: Stereo AAC
■ Video Framerate: 30fps
4K content not matching the above properties will be transcoded to 1080p. Transcoding 4K content is a very intensive process and will require a powerful computer running Plex Media Server.
Part 3. How to Rip Blu-ray to Plex in 3 Simple Steps
Free download and install EaseFab Blu-ray Ripper on your desktop, then follow the step-by-step instruction below.
Note: You'll need a Blu-ray reader (external Blu-ray drive which you can get online) to rip your Blu-ray discs. Moreover, if you're going to rip 4K Blu-ray discs for Plex, an UHD Blu-ray drive is necessary.
Step 1. Load the Blu-ray source.
Insert the Blu-ray disc to the Blu-ray drive that connected to your computer. Launch EaseFab Blu-ray Ripper, then click Load Disc button to import the Blu-ray for ripping. You can also load DVD discs and disk image files for encoding.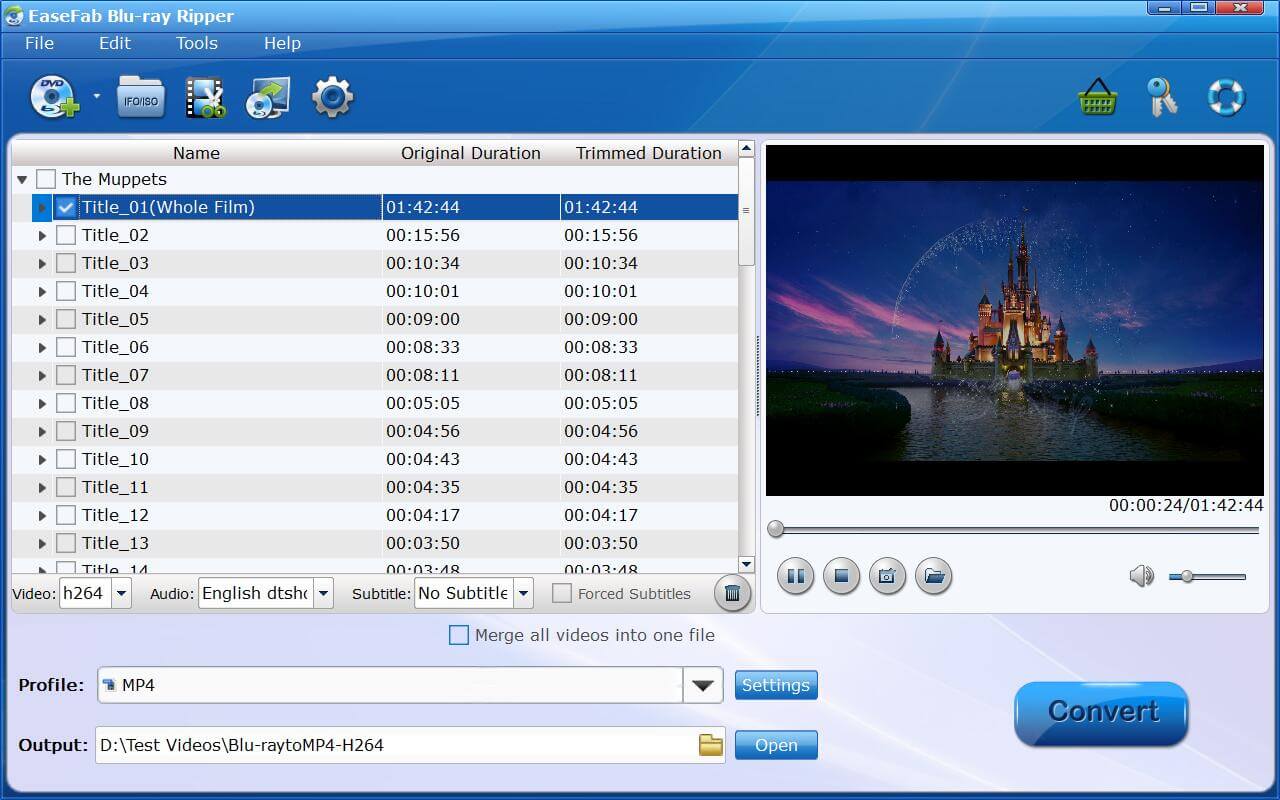 Step 2. Choose an output format that Plex supports.
Click Profile and move move cursor to Common Video category, then click and select MP4 (codec: h.264+aac) as the output format. The end result is a high-quality video file that can be directly streamed by Plex server.
If you want to rip 4K UHD discs to 4K videos for playing on your 4K device via Plex server, you can choose HEVC MP4 as the output file. But please make sure your 4K device can decode and playback 4K HEVC videos. If not, please turn to select MP4.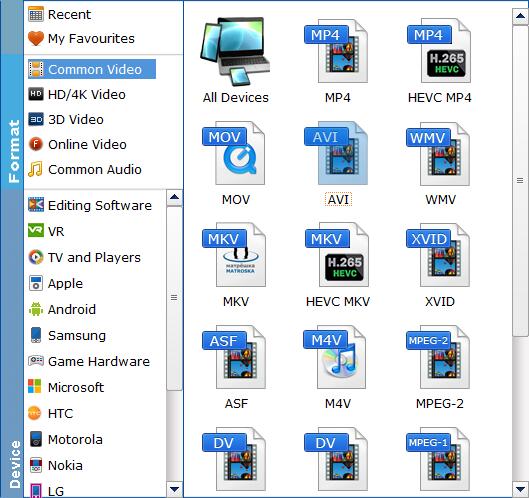 Optionally, you can choose preferred audio track, subtitle, output folder, and adjust video audio settings according to your needs. Moreover, you can click the Settings button to adjust video audio parameters such the video/audio codecs, pixel dimensions, frame rate, bit rate, audio sampel rate, etc.. But if you don't know parameters very well, just keep the default settings.
Step 3. Start Blu-ray ripping for Plex.
Hit the Convert button at the bottom of the main interface to start ripping Blu-ray for Plex at lightning speed with best quality.
Once the conversion completes, you can run Plex and click "Add Selection" and "Movies" to add the ripped Blu-ray digital MP4 video to Plex.
Tips: In the Plex server you can set Plex to scan your library automatically when Plex detects changes in the directory. This way, when you save new Blu-ray rip files in the source location, Plex library will be automatically scanned and updated.
And there you have it. Now you can install Plex app on any of your devices to stream and view your favorite Blu-ray movies via Plex anytime and anywhere you want.
If you have any questions about ripping Blu-ray for Plex or any other related topic, please email us at [email protected]. Thanks!