Home
>
Resources
>
Rip 3D Blu-ray to SBS MP4
Posted by Matthew Watt - Sep 08, 2021 | Contact Author

How to Easily Rip 3D Blu-ray to SBS 3D MP4 Videos
3D Blu-rays are a part of digital life. Maybe most 3D movie fans would ask the same question to either backup their 3D movies free from physical disks or prepare for future usage such as watching copied 3D movies on 3D player. If you'd like to make Blu-ray 3D to MP4 SBS backups, you've come to the right place. This is an instructional article on showing how to rip a 3D Blu-ray disc into side-by-side 3D MP4.
First, the most important piece of the equation is that you have a external Blu-Ray drive hooked to your PC and Mac. Second, you'll need a powerful 3D Blu-ray ripping tool. The best program I can recommend for handling 3D Blu-ray discs is EaseFab Blu-ray Ripper. With it, you can effortlessly rip 3D Blu-ray to Side-by-side 3D MP4 easily and quickly. Excellent video quality and fast conversion speed make it surpass other similar apps in the market.
Plus, with it, you can freely select your desired subtitles or show the forced subtitles only as you need for your favorite Blu-ray movies. Moreover, besides SBS 3D, you can also rip any 2D/3D Blu-ray to 3D MKV or MP4 videos with Anaglyph formats. If you're using a Mac(including 10.11 EL Capitan), try EaseFab Blu-ray Ripper for Mac. Now download the right program and follow the steps to start ripping Blu-ray 3D to SBS MP4 videos.
Free download the 3D Blu-ray Ripper:
How to rip and convert 3D Blu-ray to SBS MP4
Step 1. Import 3D Blu-ray movie
Launch the professional 3D Blu-ray to SBS MP4 converter. Click the button on top left corner to add 3D Blu-ray movie to it. Double click the video, you can preview the movie in the right side.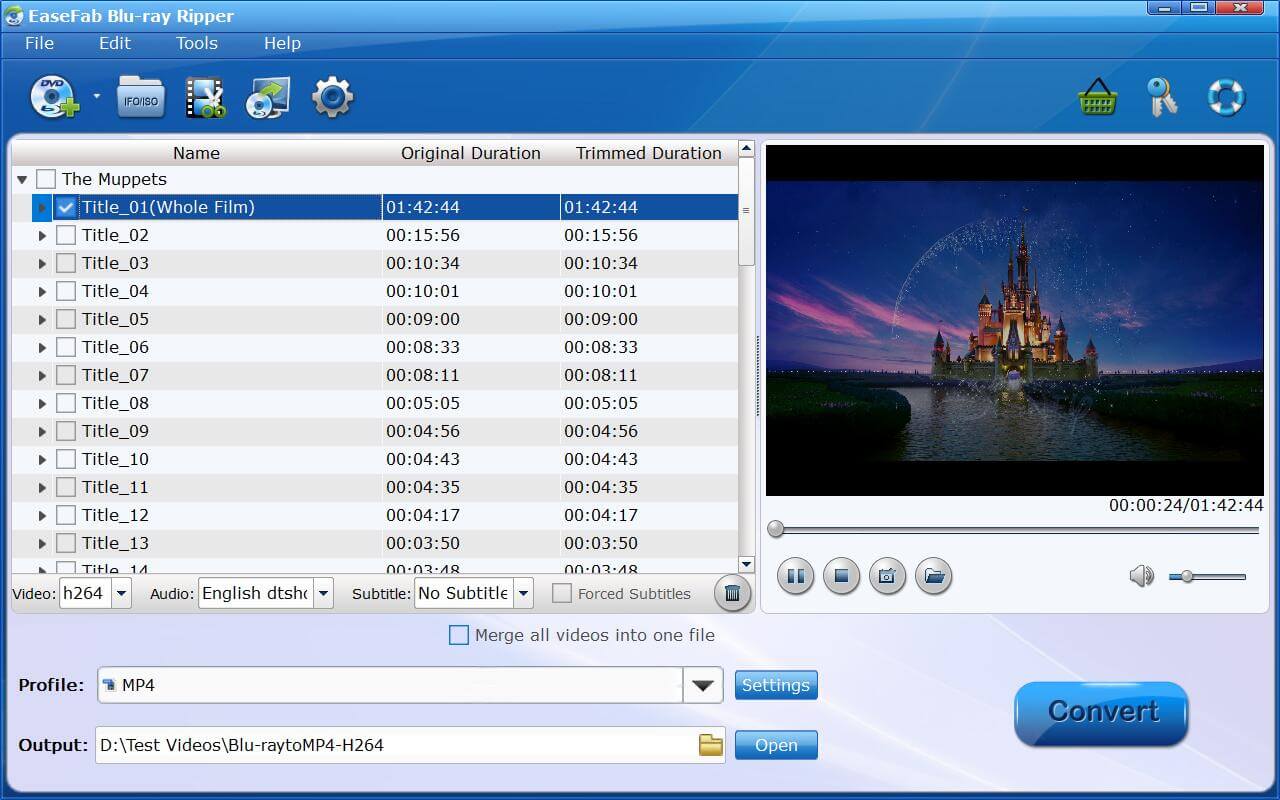 Step 2. Select MP4-3D SBS as the output format
Click "Profile" and find "3D Video". there are a lot of format options for you. To rip 3D Blu-ray to SBS MP4, select MP4-3D (following the image below) as the output format.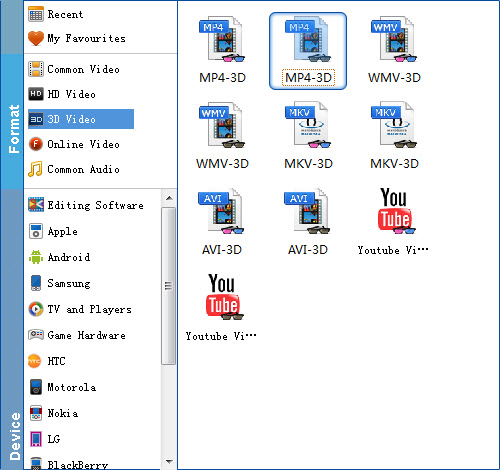 Tip: If you like, you can click "Settings" which is next to "Format", free change your target video size, bitrate, frame rate and 3D depth. If you want to get best video quality, pls switch them to "original".
Step 3. Start ripping your 3D Blu-ray movies
Simply click the convert button under the preview window, and the Blu-ray ripper will start the conversion from 3D Blu-ray movies to SBS MP4.
After conversion, open output file destination, locate the created SBS 3D MP4 video and you could watch it on your 3D player as you want.
How to Play Side-by-Side 3D video
When playing a Side-by-Side 3D video, a 3D PC or 3D TV will play the file with different 3D display technologies, mainly active shutter or polarization. That depends on your 3D hardware.
The visual effect of a Side-by-Side 3D videos is much better when compared to that of Anaglyph Red/Cyan 3D video (See the Difference Between SBS 3D, Anaglyph 3D and Top/Bottom 3D), but more specialized hardware is needed to play Side-by-Side 3D videos, including a 3D PC or 3D TV as well as a pair of assorted glasses. To learn more about it, please click http://www.best-3dtvs.com/what-is-side-by-side-3d/
Other Useful How-to Guides & Tips
This post introduces the best solution to extract subtitles from Blu-ray as a separate SRT file. Enter to check the step-by-step guide.
Search for the most efficient and easiest way to rip any movie Blu-ray to MP4 video with good quality-size tradeoff with fast speed. Here is just the best way to go.
This post walks you through why and how to easily and fast convert Blu-ray to HEVC/H.265 MP4, which can deliver the same quality with half the size or higher quality in same size compared to H.264.
Learn how to convert Blu-ray to MKV (H.264/HEVC) with high quality and fast encoding speed. Optimal Blu-ray to MKV settings are also provided for you to get best balance in quality and size.
Copyright © 2022 EaseFab Software Corporation. All Rights Reserved.