"I want to extract subtitles from Blu-ray to srt.file. I plan to add extracted srt subtitles in English to my downloaded movie for private use such as learning English. I have evaluated several programs but sadly find that in the test version the subtitle extractor is not included. What a pity. Could you do me a favor and recommend something to me?"

It's common to extract video or audio from Blu-ray, but rare to extract subtitles from Blu-ray. However, this doesn't mean that we don't need it. There are some circumstances we have the need of SRT subtitles extraction from Blu-ray. When we can't download subtitles online, ripping Blu-ray subtitles is a way to go. When the subtitles downloaded online can't sync with the video ripped from a Blu-ray correctly, we need to get the subtitles off Blu-ray. When some media players cannot support Blu-ray PGS subtitles, we need to extract subtitles from Blu-ray to SRT subtitles.
However, it isn't an easy task to get the job done. Almost all Blu-ray rippers lack of the option of subtitles ripping. So, we need to pick out a special Blu-ray subtitle extractor and then perform further operations, but both seem difficult for the ordinary. Fortunately, EaseFab LosslessCopy offers us a simple way to extract srt subtitles from Blu-ray discs, BDMV folders and ISO files equipped with complicated copy and region protection. For foreign movies requiring subtitles, the .srt subtitles could be easily extracted in 10 minutes, and separated all multi-language subtitle files from Blu-ray, which would then play in most all computers and media players.
Now just download the program according to your computer OS and follow the step-by-step guide below to learn how to simply extract subtitles from a Blu-ray to SRT subtitles.
Simple Steps to Extract SRT Subtitiles from A Blu-ray Movie
Step 1: Load Blu-ray disc.
Connect your Blu-ray drive into your computer, then insert your Blu-ray disc into the Blu-ray drive. Launch the program, click "Load from disc" to add the Blu-ray movies to the program. You can also import DVD, DVD ISO files, IFO files or Blu-ray/DVD folder for conversion.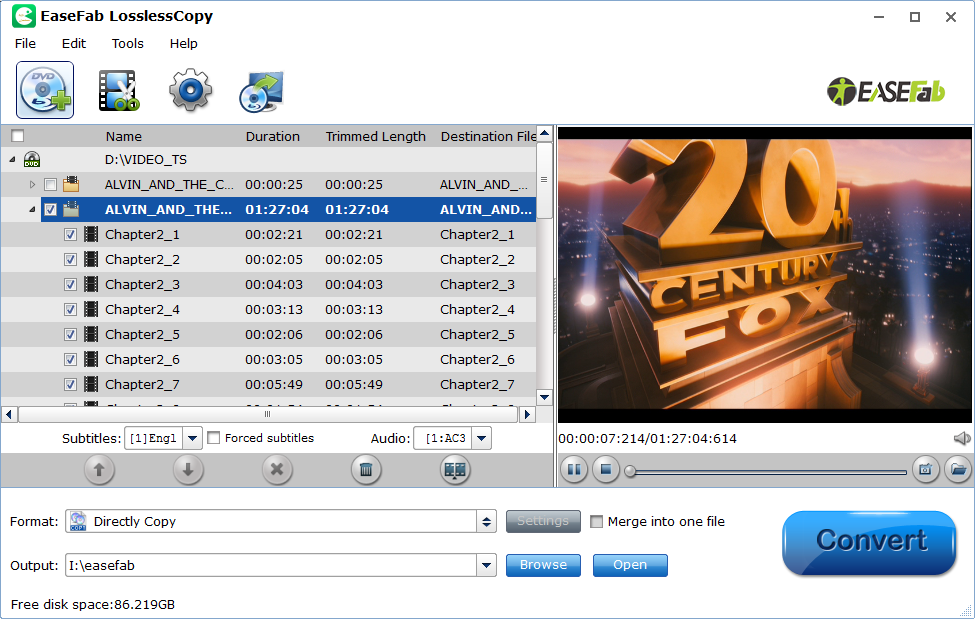 Step 2: Select output file format.
From the "Format" drop-down list, select "Subtitle File" > "SRT Subtitle(*.srt)" as the desired output file format.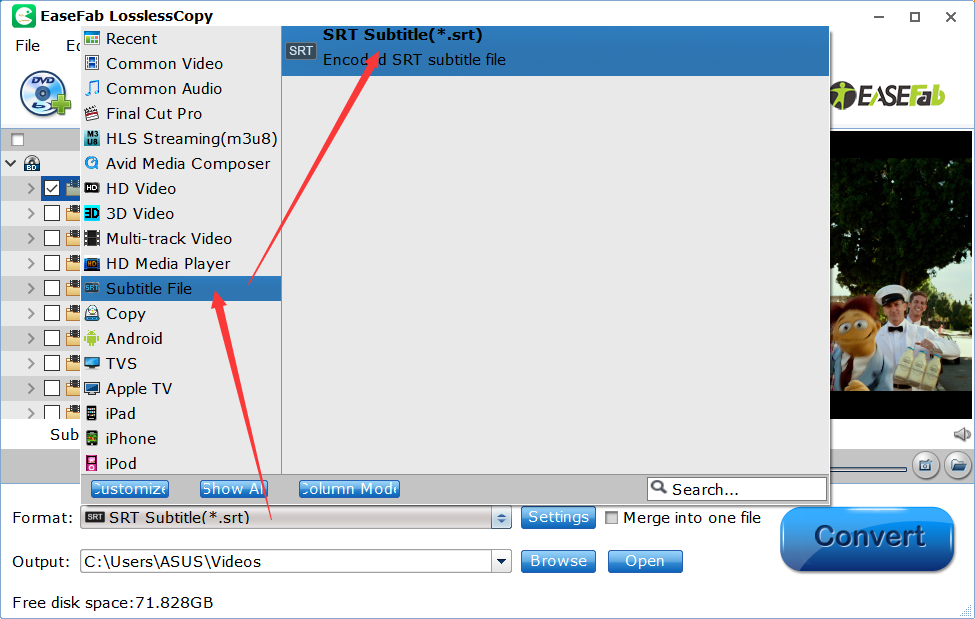 Step 3: Select subtitles by languages.
Click "Settings" to open "Multi-task Settings" window to select subtitles by language. Check any language you'd like to keep. You can either keep native-language subtitles only or multiple subtitles in different languages.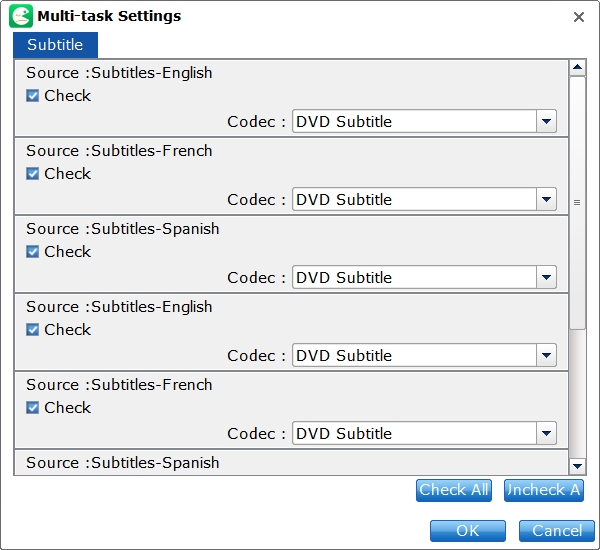 Step 4. Extract SRT subtitles from Blu-ray movies
Press the right-bottom red "Convert" and start extracting subtitles from Blu-ray to SRT subtitles.
When the SRT extracting process is finished, click "Open output folder" to locate the generated files, you will get all the subtitles in English, Italian, Spanish... Which is exactly the same as in your original disc. For this situation, you need choose the English subtitle for study.
Sometimes, the extracted SRT subtitles may not what you desire to get, you can still use our program to add additional SRT/ASS/SSA subtitles to movie files. Just open the "Edit" window, switch to "Subtitles", check "enable", you will be able to add your desired subtitles to your converted files.
Related Topics:
How to Add/Embed Subtitles to MKV Video Permanently
How to Easily Merge Subtitles into MP4 File
How to Easily Merge Subtitles into MP4 File
How to Add External Subtitles to DVD Quickly and Easily