[Updated] Besides ripping Blu-ray discs for importing to iTunes library, this article is updated to show you how to redeem a digital copies of Blu-rays in iTunes to add the same movie in the physical Blu-ray discs.

iTunes is used to manage the digital music and video files on Apple's devices. People would like to play Blu-ray with iTunes. Because it is easy to play your Blu-ray movies on devices that support iTunes such as iPad, iPhone or iPod Touch without ever needing to use the Blu-ray again. However, it is important to acknowledge the fact that iTunes cannot rip Blu-ray to iTunes or directly stream the movie on the physical discs. That should not be a reason to worry you, since there are some of the best Blu-ray to iTunes rippers which can aid in converting Blu-ray to iTunes supported format.
Heads Up: iTunes has gone since macOS Catalina released. It has been split into three separate applications: Apple TV, Apple Music, and Apple Podcasts. The function to backup iPhone and iPad is assigned to the Finder. After connecting to the iOS device, it will appear in the Finder sidebar just like any other external drive, and it's very convenient to directly back up, restore and synchronize. If you want to digitize your old DVD collection for adding to iTunes library, this process will work as well. But we'll focus on Blu-rays.
Method One: How to Rip Blu-rays and Add Them to iTunes Library
There are many programs out there that allow you to make copies of your Blu-rays and let you watch them the way you want to view them. But if you do not want to be held back by slow processing, poor output quality and to look for the best option to extract iTunes compatible videos from Blu-rays, EaseFab Blu-ray Ripper is there for you. With it, you can easily rip and convert any protected Blu-ray and DVD, including old and new titles, homemade/burned Blu-ray/DVD discs. to iTunes/iOS compatible video formats with good quality-size balance.
Moreover, the program offers a library of optimized presets for almost all models of iPad, iPhone, iPod, Apple TV and other devices. The process of digitizing Blu-ray/DVDs to iTunes is straightforward. Pop in your disc, choose an iTunes output profile (H.264, MP4 or iPad, iPhone preset), and click the Convert button to start the conversion. The program also comes with a Mac version which allows you to transfer Blu-ray movies to iTunes library on Mac (macOS Catalina included). Just make sure you download the right program according your computer operation system.
Simple steps to Rip and Import Blu-ray movies to iTunes
Note: A BD drive is necessary for ripping Blu-ray discs on both Mac and Windows computers. Converting Blu-ray to iTunes-friendly format is simple as ABC. After downloading, follow the wizard to install and run the program. Then follow the steps below to rip Blu-ray to iTunes playable videos in a few clicks! The below guide takes EaseFab Blu-rayRipper for Windows (Windows 10 compatible) screenshots for example.
Step 1. Load Blu-ray movies
Insert the Blu-ray disc to the Blu-ray Disc drive or DVD to the DVD-ROM and click the "Load Disc" button to have movies uploaded to the Blu-ray Ripper. Here you can also import DVD folders, ISO files and IFO files to convert.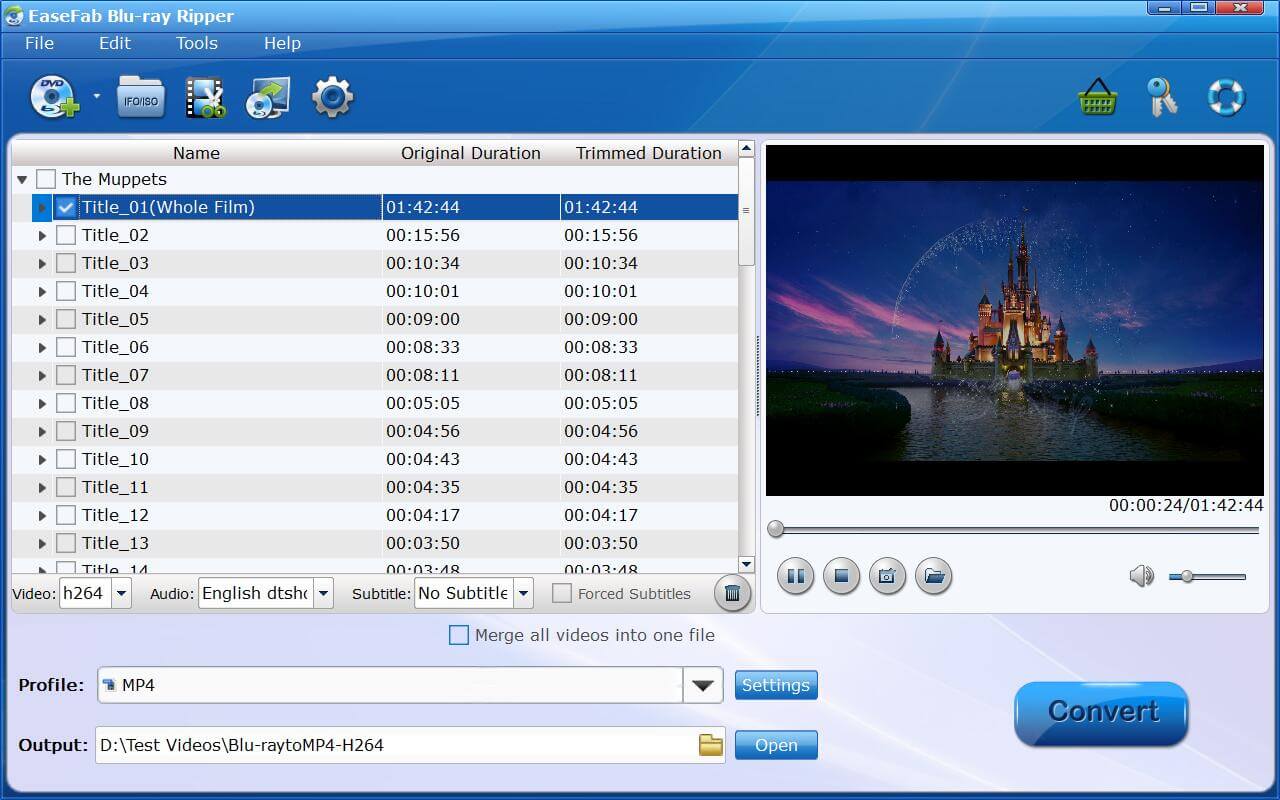 Step 2. Select iTunes/iOS supported format
Click Profile and move mouse cursor to Apple catelog and then select the desired device model on which you want to play the Blu-ray files. Of course, you can also choose an iTunes compatible format like MP4, M4V, MOV from the Common Video catelog.
Tips: To rip Blu-ray with the subtitles you like, simply click Subtitles and select the one you prefer. You can also choose preferred audio track from the Audio drop-down lists.

Step 3. Start to rip
After selecting your desired format and the destination file you can opt to make changes or settings and if you are OK with the way the format is click the Convert button to initiate the Blu-ray to iTunes conversion. This might take some time; however, it is important to note that the conversion time depends on the size of the Blu-ray movies.
When the conversion is done, you can decide to edit your movie, watch it or share it with friends on iTunes or iPod Touch, iPad, iPhone4 among other portable devices.
Ways to import and play the converted Blu-ray videos with iTunes
Once you ascertain that the conversion is successfully completed, you can import the file anywhere you wish to even in the media player as long as the file is iTunes friendly. First, locate the output file where you have saved the videos. Then open the iTunes app so that you can import the output videos to it. This can be done by dragging and dropping the media file. The process is simple all you need is:
Step 1. Click "File" menu on the left side of iTunes toolbar
Step 2. Choose the "Add File to Library" option
Step 3. Open the output folder that contains the videos
Step 4. Select the file and click "Open".
After opening the file the will go to your iTunes and you can verify if the transfer has been successful by going to the iTunes library and typing the name of the file. If it is successfully transferred, A thumbnail of the video file will appear in your screen. If the transfer is successful you can further transfer the file to your iPod Touch, iPad Pro, the new iPad Air, iPad Mini, iPad 2, iPhone 7 (Plus), iPhone 6s (Plus), iPhone 6 (Plus), iPhone 5S, iPhone 4S, Apple TV 4/3/2 and other portable devices and you can easily enjoy them everywhere you wish to.
Method Two: Redeem digital copies of Blu-rays in iTunes
Some Blu-ray and 4K titles might include an iTunes Digital Copy of your movie in addition to the physical disc. iTunes Digital Copy is a high-definition (HD) digital version of a movie that can be watched on your iPhone, iPad, iPod touch, Mac, PC, and Apple TV. To download your Digital Copy to your iTunes account, you will need to redeem the code directly on your portable device (iPad, iTouch, iPhone).
Redeem titles with just a redemption code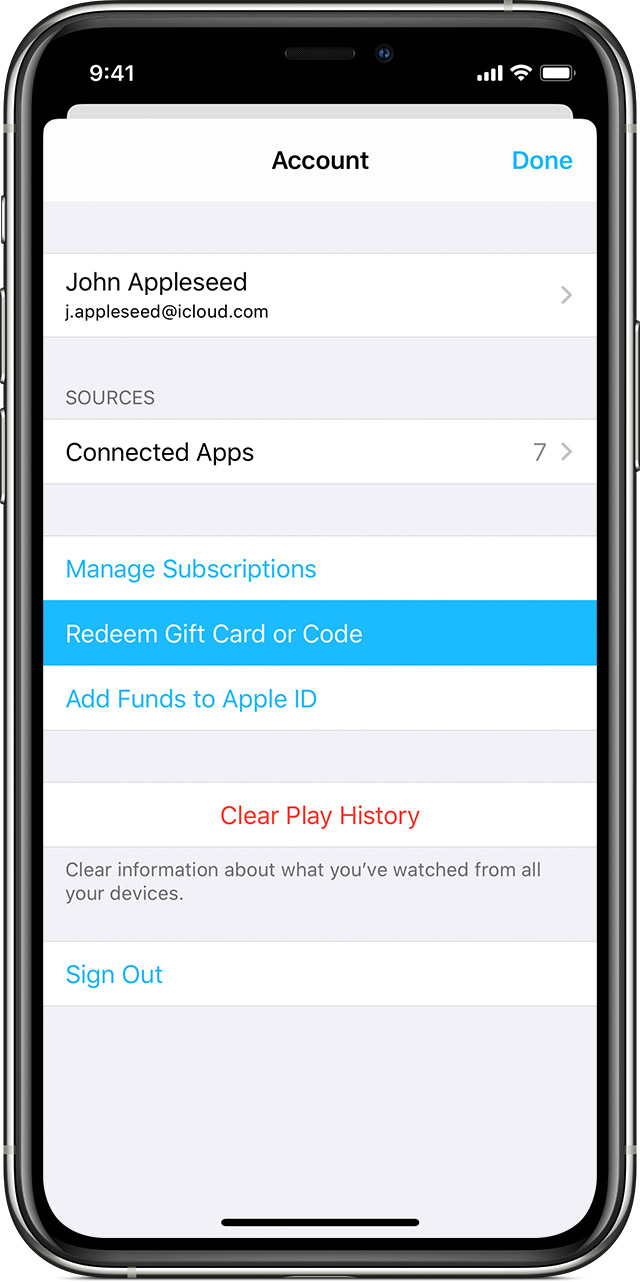 ✔ On your iPhone, iPad, or iPod touch
1. Open the Apple TV app.
2. At the bottom of the screen, tap Watch Now.
3. In the upper-right corner, tap the profile icon x.
4. Tap Redeem Gift Card or Code. If asked, sign in with your Apple ID and password.
5. Tap You can also enter your code manually, then enter the 12-digit code printed on the insert included with your disc.
6. Tap Redeem.
Learn what to do if you can't redeem your content code.
✔ On your Mac or PC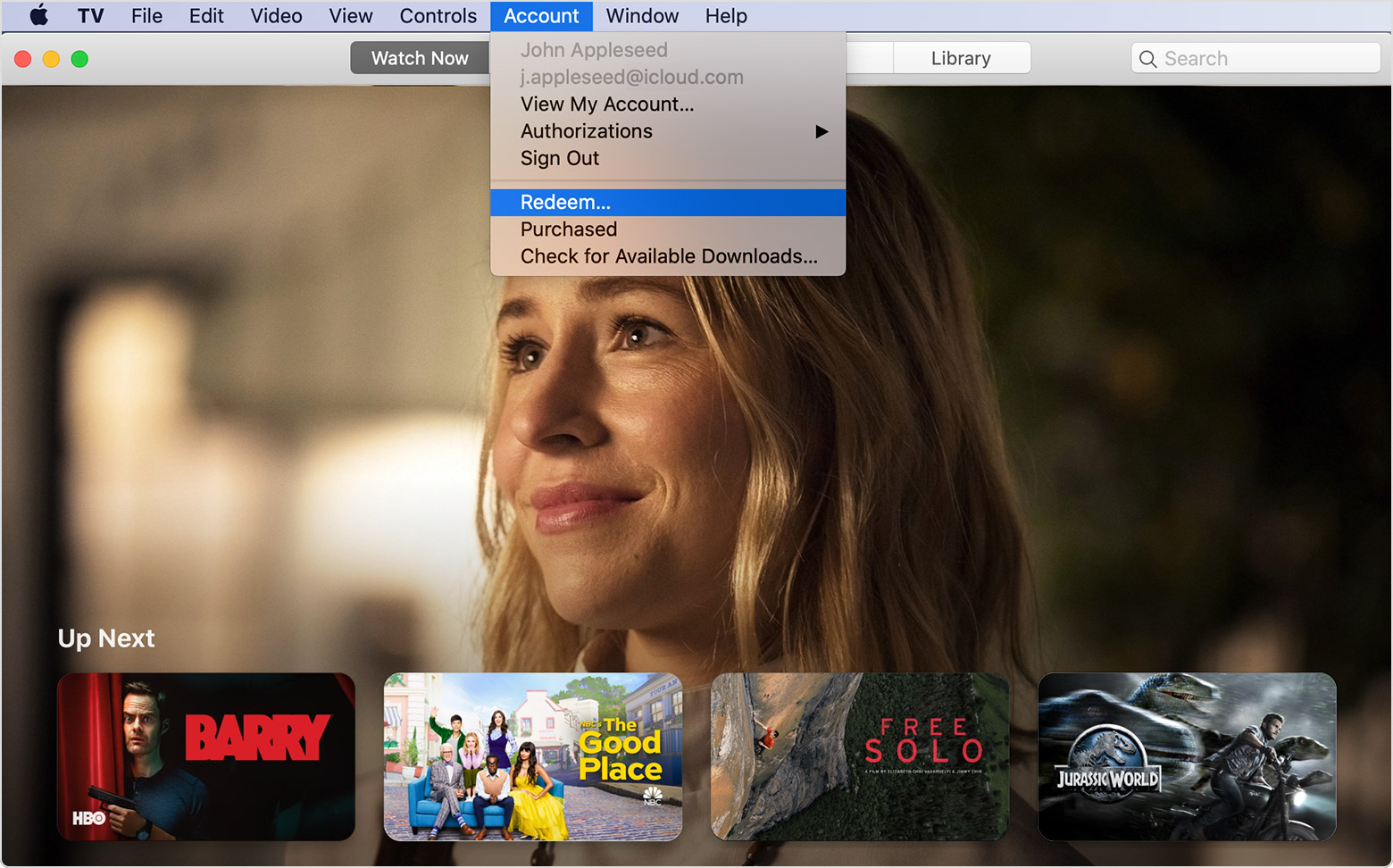 1. On your Mac, open the Apple TV app. On your PC, open iTunes for Windows. If you're not signed in, sign in with your Apple ID.
2. From the menu bar, choose Account > Redeem.
3. Enter your Apple ID and password, then click Sign In.
4. Enter the 12-digit code printed on the insert included with your disc. You might be able to use the camera on your Mac to redeem your code.
5. You can choose to download the digital copy of your movie now or download it later. Learn how to redownload purchases.
On Apple Support Community, Apple has made a very detailed guide on How to redeem digital copies of DVDs or Blu-rays in iTunes.