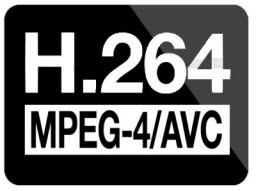 What is H.264
The H.264, also known as AVC (Advanced Video Coding, MPEG-4 Part 10), is a video coding format that is currently one of the most commonly used formats for the recording, compression, and distribution of video content. It can achieve high quality video in relatively low bitrates. H.264 is actually defined in an identical pair of standards maintained by different organizations, together known as the Joint Video Team (JVT). While MPEG-4 Part 10 is an ISO/IEC standard, it was developed in cooperation with the ITU, an organization heavily involved in broadcast television standards. Since the ITU designation for the standard is H.264, you may see MPEG-4 Part 10 video referred to as either AVC or H.264. Both are valid, and refer to the same standard.
H.265 vs H.264: Comparison between H.265 (HEVC) and H.264 (AVC)
In general, H.265 has several big advantages over H.264, including better compression, delicate image and bandwidth saving. For more detailed differences, please read H.265 vs H.264 comparison table.
H.265/HEVC
H.264/AVC
Names
MPEG-H, HEVC, Part 2
MPEG 4 Part 10, AVC
Approved date
2013
2003
Progression
Successor to H.264/AVC
Successor to MPEG-2 Part
Key improvement
* 40-50% bit rate reduction compared with H.264 at the same visual quality
* It is likely to implement Ultra HD, 2K, 4K for Broadcast and Online (OTT)
* 40-50% bit rate reduction compared with MPEG-2 Part
* Available to deliver HD sources for Broadcast and Online
Support up to 8K
Yes
No. Support up to 4K.
Support up to 300 fps
Yes
No. support up to 59.94 fps only.
H.264 Compatibility
Currently, it is the codec standard for Blu-ray discs. Having said that, all Blu-ray DVD players can directly play all the files created using this standard. The many websites that offer video streams prefer this codec as well, such as YouTube, Vimeo, and iTunes. As a standard in audio video compression, it is the primary file format of choice for DVDs and streaming media.
How to Play H.264 Encoded Video File
Since the H.264 codecs can be regarded as an industry standard, it only has a few notable instances of compatibility problems. H.264 files can be played very easily by both the Windows Media Player and QuickTime, and are readily recognized by Windows and Macintosh computers. Even the editing software released by these two software giants can handle H.264 files quite easily. For the few systems that don't recognize the H.264 file formats, a simple file conversion is necessary. In some rare cases, the installation of a different media player may also be recommended.