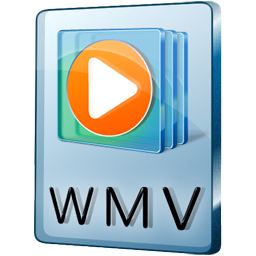 What is WMV
Windows Media Video (WMV) is a compressed video compression format for several proprietary codecs developed by Microsoft (like MOV for Macintosh). The original video format, known as WMV, was originally designed for Internet streaming applications. The other formats, such as WMV Screen and WMV Image, cater for specialized content. Through standardization from the Society of Motion Picture and Television Engineers(SMPTE), WMV 9 has gained adoption for physical-delivery formats such as HD DVD and Blu-ray Disc.
The WMV file type is primarily associated with 'Windows Media File' by Microsoft Corporation.It requires version 8+ of the Windows Media Player. Now you can easily watch WMV video on several media players, such as VLC, The KMPlayer, Mplayer, and with Microsoft Flip4Mac software, you are able to play WMV files on your QuickTime Player.
How to Play WMV Files
To successfully play WMV on a computer, certain codecs are required. More particularly, users have to download the WMV 9 codecs first in order for the WMV videos to play properly. These codecs are required by users running Windows Media Player 7.1 and below, Windows Media Player for Windows XP, and Versions 9 and 10 of the Windows Media Player. Downloading and installing the codecs resolves most playback issues encountered on the computer.
The WMV file is playable by Blu-ray players and HD DVD players. However, WMV is played by Windows Media Player version 8. All the other versions may require the separate installation of the required codecs for the WMV video file to play properly.
Why you need to convert WMV files
Since WMV is a Microsoft-based video format, it is not very popular among Apple users. Many errors and compatibility issues are expected to arise when working with WMV on a Macintosh machine or any of the portable Apple devices. However, there are workarounds to the problem, such as using an entirely different media player other than QuickTime. Converting the file into a more compatible file format is recommended as well. Linux users and those who are using other platforms may not be able to play WMV files at all.
Why choose EaseFab WMV converter
EaseFab WMV converter is an all-in-one video converting tool that enjoys the ability to convert Windows Media Video files to various popular formats in Windows (Windows 8). The supported format list includes AVI, MOV, MP4, MP3, YouTube FLV, 3GP, VOB and more. This video converter can also convert WMV to iPad 4, iPhone 5, Samsung Galaxy, Motorola, HTC, Nokia, Blackberry and more. It is featured by fast conversion speed and high output quality.