What is AVCHD file or format?

AVCHD stands for Advanced Video Codec High Definition and as the name suggests it is one of those formats which make sure that the camcorders work in a proper manner making sure that the related pictures and the snapshots are state of the art. Developed jointly by Sony and Panasonic, the format was introduced in 2006 primarily for use in high definition consumer camcorders. In 2007, both Panasonic and Sony released the first consumer AVCHD camcorders. Panasonic released the first AVCHD camcorder aimed at the professional market in 2008. In 2011, the AVCHD specification was amended to include two new modes - 1080-line 50-frames/s and 60-frames/s. The newly declared modes require double the data rate than previous modes.
Part 1: What's in the avchd file
For video compression, AVCHD uses the MPEG-4 AVC/H.264 standard, supporting a variety of standard, high definition, and stereoscopic (3D) video resolutions. For audio compression, it supports both Dolby AC-3 (Dolby Digital) and uncompressed linear PCM audio. Stereo and multichannel surround (5.1) are both supported.
Aside from recorded audio and video, AVCHD includes many user-friendly features to improve media presentation: menu navigation, simple slide shows and subtitles. The menu navigation system is similar to DVD-video, allowing access to individual videos from a common intro screen. Slide shows are prepared from a sequence of AVC still frames, and can be accompanied by a background audio track. Subtitles are used in some camcorders to timestamp the recordings.
Apart from some differences, the file system of AVCHD is derived from the Blu-ray disc specification. For example it utilizes legacy 8.3 file naming system while Blu-ray disc uses long filenames.
Video Formats
AVCHD supports a variety of video resolution and scanning methods but most of the camcorders support only a handful of the video and audio formats allowed in the AVCHD standard.
Interlaced Video: AVCHD supports both AVCHD-SD or Standard Definition and AVCHD 1080i or High Definition interlaced video while AVCHD 1080i is available with most AVCHD camcorders.
Progressive-scan video: AVCHD supports 720-line progressive recording mode at frame rates of 24 and 60 frames/s for 60 Hz models and 50 frames/s for 50 Hz models.
Audio formats
Most AVCHD camcorders record audio using Dolby Digital (AC-3) compression scheme. Stereo and multichannel audio is supported. Audio data rate can range from 64 kbit/s to 640 kbit/s. In practice, data rates of 256 kbit/s and 384 kbit/s have been observed.
Some professional models allow recording uncompressed linear PCM audio.
AVCHD Format Overview: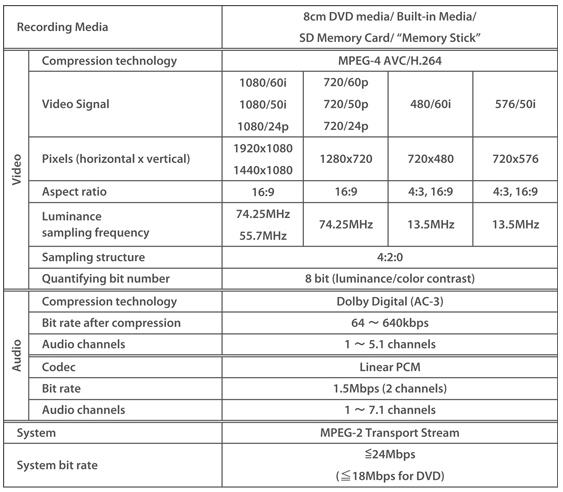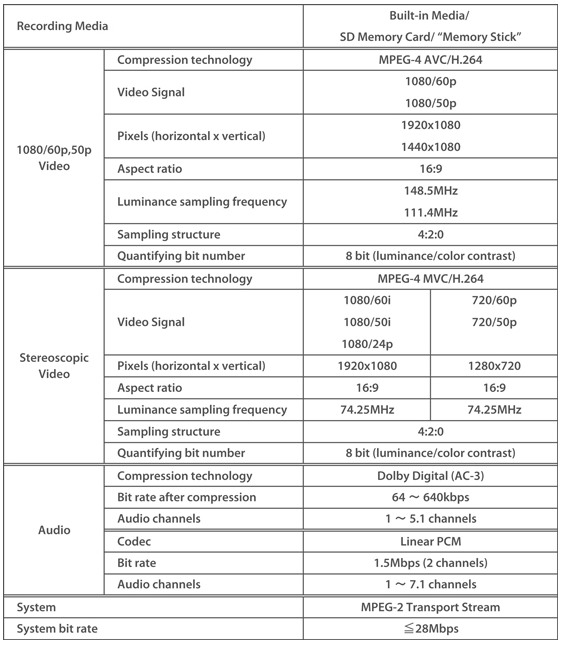 Part 2: Available Codec for AVCHD
FFmpeg
It includes an AVCHD decoder in its libavcodec library that is used by ffdshow, a free and open source collection of codecs for Windows.
CoreAVC
It is actually an H.264 decoder but can also decode AVCHD as well as some other H.264 formats.
Gstreamer
It uses libavcodec to decode AVCHD on Linux, BSD, OS X, Windows and Solaris.
Part 3: Playing back AVCHD video
Recorded AVCHD video can be played back in a variety of ways:
1. Direct playback -- video can be played on a television set from a camcorder through HDMI or component-video cable. Please follow the below steps:
1) Turn off the camcorder and the TV when making the connections
2) Use the supplied high definition HDMI cable to connect your camcorder with the TV.
3) Turn on the TV. Change the video input on your TV to the same terminal on which you connected the cable.
4) Turn on the camcorder and set it to movie playback if required.
2. AVCHD Disc -- AVCHD video, recorded onto DVD can be played on most Blu-ray Disc players or on a PlayStation 3 gaming console.
3. Blu-ray disc -- AVCHD video, recorded onto Blu-ray disc can be played on most Blu-ray Disc players.
4. AVCHD memory card -- AVCHD video, recorded on an SDHC or Memory Stick card can be played on select Blu-ray Disc players, HDTV sets, on a PlayStation 3 gaming console and on some other set-top media players.
5. Computer playback -- any media and target format that is supported by a particular computer hardware and software can be watched on a computer monitor or TV set. Presently, the open-source VLC media player plays AVCHD video files and a wide variety of additional formats, and is freely available for most modern operating systems (including Linux, macOS, MS Windows) and some mobile platforms. Since Mountain Lion, macOS does support native AVCHD playback via the default media player, QuickTime. Some Windows 7 editions can import and play AVCHD video natively, having files with extensions M2TS, MTS and M2T pre-registered in the system. (Windows 7 starter edition does not support AVCHD files out of the box, and so requires a third-party player.) In editions of Windows 7 that do support AVCHD files, Windows Media Player can index content in these files, and Windows Explorer can create thumbnails for each clip. Windows 7 does not support importing of AVCHD video metadata such as thumbnail images, playlists, and clip index files. Joining AVCHD video files during the import is not supported either.
Part 4: AVCHD video editing softwares
There are many of these avchd video editing software in the market today. I'm going to show you the top 5 avchd video editing software commonly used by many people.
1. Wondershare Filmora (Originally Wondershare Video editor)
This is a powerful easy and quick to use video editing software that can help you make professional videos from avchd videos recorded by your camcorder in minutes.
This is free software that can help you edit your camcorder avchd video formats or Blu-Ray video.
3. WinX avchd editing software
WinX AVCHD editing software is excellent video editing software that can help you edit your camcorder AVCHD recorded videos within a short time. WinX AVCHD not only can help you edit avchd Video, but also have a built in avchd video converter and an online downloader.
With the help of ArcSoft ShowBiz video editing software, you can make professional videos from your camcorder avchd videos. This video editing software offers two video editing modes depending on your needs and preferences.
The Vegas Pro 8 Video Editing Software for Windows can help you convert your avchd video files into professional videos. It is powerful software that was developed by Sony.
Part 5: How to convert AVCHD files for easier editing or playing back?
For easier editing or playing back AVCHD files on Mac or your Android/iOS smartphones, you will need an AVCHD converter. There are many programs out there that allow you to encode-recode AVCHD files to other format. Developed by EaseFab Studio, the powerful AVCHD Video Converter makes sure that the best is delivered to the user. With it, you can effortlessly transcode/rewrap 2D/3D AVCHD/AVCHD Lite footage in MTS/M2TS/M2T format to various professinal encoders - Apple Intermediate Codec, ProRes and DNxHD, DVCPRO, HDV, MPEG-2 - ensuring maximum editing quality and efficiency when working with iMovie, Final Cut Pro, Avid Media Composer, Adobe Premiere and more. Besides, this great utility can also help you do accurate trim, crop, merge, and edit your MTS/M2TS/M2T files before conversion.
Pros
* Support handling any AVCHD footage from Sony, Canon, Panasonic, JVC, etc. camcorders
* Support input AVCHD/ AVCHD Lite footage (*.mts, *.m2ts) at 1080i, 1080p, 720i, and 720ps
* Export Apple ProRes/Avid DNxHD/AIC/MPEG-2 Codecs for FCP, Avid, iMovie, Adobe, etc. NLEs
* Convert to Over 150 Formats Including avchd/4K/3D
* Accurate trim, crop, merge, and edit your MTS/M2TS/M2T files before conversion.
* Support batch conversion with fast speed and excellent quality
Cons
The trial version have a lot of restrictions, if you want to use all functions, you need buy the full version.
Let's see step by step procedure to convert an AVCHD files to other format. Here I will take the Mac version for example.
Step 1. Import AVCHD files
Download, install and lauch the AVCHD converter and then click "Add Video" button to import your source AVCHD files to the program. You are allowed to add multiple AVCHD videos into the program at a time, and all files are checked by default once loaded.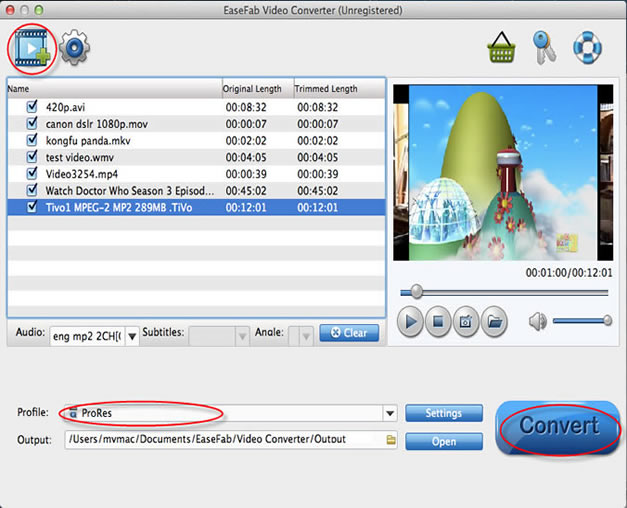 Step 2. Choose the output format
Click Profile (located below where your files are displayed) and select the format you want from the drop-down list. Just below Profile is Output, here you can browse your computer for a better destination folder to save your converted movies. As you see, all regular video and audio formats like MP4, MOV, MKV, WMV, AVI, FLV, MP3, WMA, WAV, M4A, etc. are provided.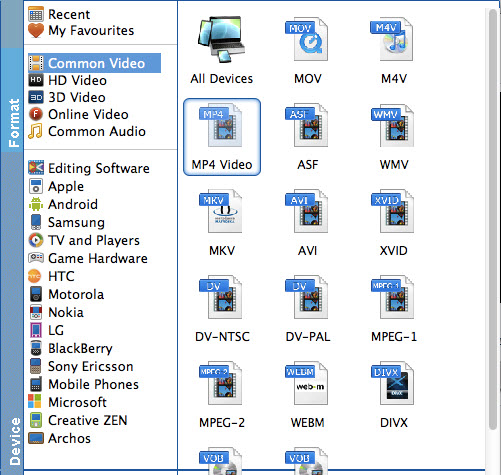 EaseFab Video Converter for Mac adds some advanced encoders like Apple Intermediate Codec, ProRes and DNxHD, allowing you to convert video to seamlessly fit iMovie, iDVD, Final Cut Pro, etc.
If you want to convert your movies for play on portable devices, including iPhone, iPad, iPod, HTC, Samsung Galaxy Tab S, Galaxy S5, S4, Nokia, SSony, PSP, Xbox 360 and more, you can simply browse to find the icon of your device and select it as the output format to get videos with optimized settings.
Step 3. Convert the File
Now you will just have to click on the Convert button at the bottom-right corner of the screen. Wait until the conversion is complete. Time to complete the conversion will always depend on the size and number of files that you are converting.
Once the conversion is complete you can find the location of the converted files by clicking on the Open Folder button at the bottom of the screen. You can also change the location from there before the conversion.