Format Factory is an incredible tool which is trusted by many users thanks to its features. It supports all video/audio in any popular format in the world. It can even rip and convert DVD to digital files for personal use. However, many people are still looking for an ideal alternative to Format Factory. Why? Read on for details. This article will show you the reason and introduce a great Format Factory alternative that does all what Format Factory do and more.
The limitations of Format Factory:
First of all, it's unfortunately that such a powerful and useful tool doesn't support Mac. It's worse that there isn't a scheduled plan to develop Format Factory for Mac.
Sencodly, many users report that the output options of the software are too complicated for the average person. ormat Factory only provides the output selections of resolution and video coding but not the defined device. For example, iPad 720P, AVC; iPhone & iPad 360P, MPEG4. You don't know that if the higher the resolutions, the better, and which video coding you should go for. Moreover, Format Factory does not have the advanced ability to download online video and decorate video.
Thirdly, even though Format Factory is free and multifunctional, it is limited to convert video files and uncrypted Blu-ray and DVD.
Is there an alternative to Format Factory that does all this and more? The answer is surely yes. Naturally, we recommend you to have a try on the EaseFab Video Converter Ultimate, which is available for Windows and Mac users. It's considered as the best Format Factory alternative. It supports almost all the features that Format Factory provided, including converting video/audio files to any format, converting videos to iPhone/iPad, Samsung, PSP, BlackBerry, etc, editing video, adding watermark, and so on. Besides, this program can also rip, convert and backup encrypted Blu-ray and DVD files.
What This Format Factory Alternative Excels
1. Convert Files to Any Format
Indeed, EaseFab Video Converter Ultimate will convert media files including DVD/Blu-ray to more formats like MOV, AVI, FLV, etc. It also supports 3D videos and high definition videos conversions. You can convert your video files to HD MOV, HD MP4, 3D MP4, 3D MKV, 3D YouTube, etc.
2. Higher Conversion Speed

With the NVIDIA CUDA technology, the conversion is processed on NVIDIA's GPU instead of your computer's CPU, leaving more of your CPU available to handle other applications. That means EaseFab Video Converter Ultimate has six-time-faster standard and high-definition video conversion, higher quality, and smoother playback for all video.
3. Support encrypted Blu-ray and DVD files

The program can do with all kinds of BD/DVD sources: protected and unprotected Blu-ray Disc, BDMV folder, BD ISO, physical DVD, VIDEO_TS folder, DVD ISO and IFO file. With it, you can rip, convert and backup your Blu-ray and DVD discs in one place.
4. Professional parameter settings for target devices
To meet target devices or players more, video and audio parameters in output files are adjustable, including: video codec, audio codec, video size, bit rate, sample rate, aspect ratio, frame rate, etc.
5. Edit videos for personal customizations
Practical video editing features provided for video customizations, including: trim video length, crop video size, adjust video effects, add watermark.
6. Easy to Use Interface
This section refers to how intuitive and user-friendly the application is. EaseFab pays particular attention to navigation, design interface, cleanliness and overall simplicity. EaseFab scores highly in this catergory cause it is really instinctual, straightforward and uncomplicated.
How to Convert Videos with This Format Factory Alternative
You can just finish the conversion process with EasweFab Video Converter Ultimate in just 3 steps.
Step 1: You can drag and drop your video into this application. Please note that this application supports batch conversion, so you can convert many more files at the same time.
Step 2: Set a proper video format in the format pane at the bottom of the interface.
Step 3: Start to convert videos by hitting the convert button.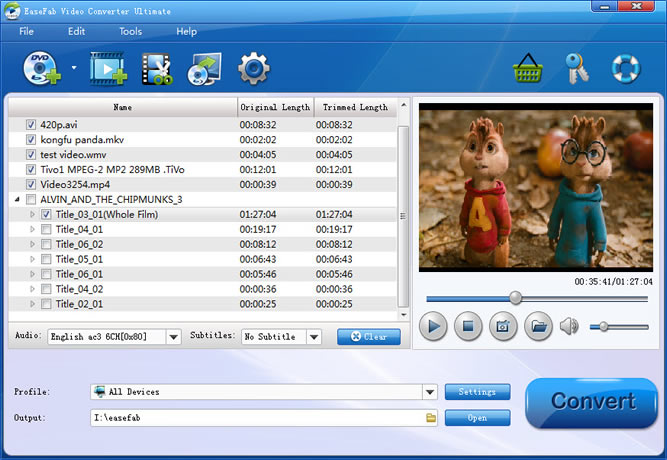 If you are looking for a more versatile and more advanced video conversion tool than Format Factory, just try this ideal Format Factory alternative. With its fast speed, easy to use interface and various format supported, you surely will like it.