Home
>
Resources
>
Import WebM to Final Cut Pro X
Posted by Matthew Watt - Sep 10, 2021 | Contact Author

Transcoding WebM Files for Editing in Final Cut Pro X
"I have a client who is supplying me with raw files in .webm format. I've played around with a few conversion programs and settings and getting huge, really huge, files, and long, long conversion times. Ideally, I'd like to import these webm files to Final Cut 7, edit, then export as H.264, but I'm open to suggestions."

Offering high definition video quality, WebM files save much space with the smaller file size than other web video files including FLV. But the WebM format is only for HTML 5 websites to stream videos online and few portable devices and players currently support playing this kind of files. That's to say, if you have downloaded some WebM videos on your Mac OS X, you can neither transfer WebM to iPhone, iPad or other devices for playing on the move, nor import WebM video into Final Cut Pro X, iMovie etc. for further editing.
Luckily, it's quite simple to use WebM files in Final Cut Pro X. Convert WebM video with the easy-to-use yet powerful program, EaseFab Video Converter for Mac, by transcoding it into a format that natively within your Final Cut Pro X or lower version. This process works to convert WebM video for use in any non-linear video editing application (Premiere, Avid, DaVinci Resolve, Final Cut Pro X), but in the example, we'll optimize for Final Cut Pro X.
Before the conversion, please download and install EaseFab Video Converter for Mac on your computer. With it, you can easily transcode WebM to to a format such as ProRes, MOV H.264, MP4. These formats can be well compatible with Final Cut Pro X. The H.264 files can preserve image quality with the smallest file size. ProRes preserves the best image quality and provides better performance when editing in iMovie, but creates much larger files that use more storage space than H.264 files use.
Tutorial: How to Decode WebM to FCP X Supported Codec/Format?
Step 1. Add WebM files.
Drag and drop WebM videos to the application. Or you can click Add Video button to browse and locate your source video files. The app supports batch conversion, so you can add more than one file at one time.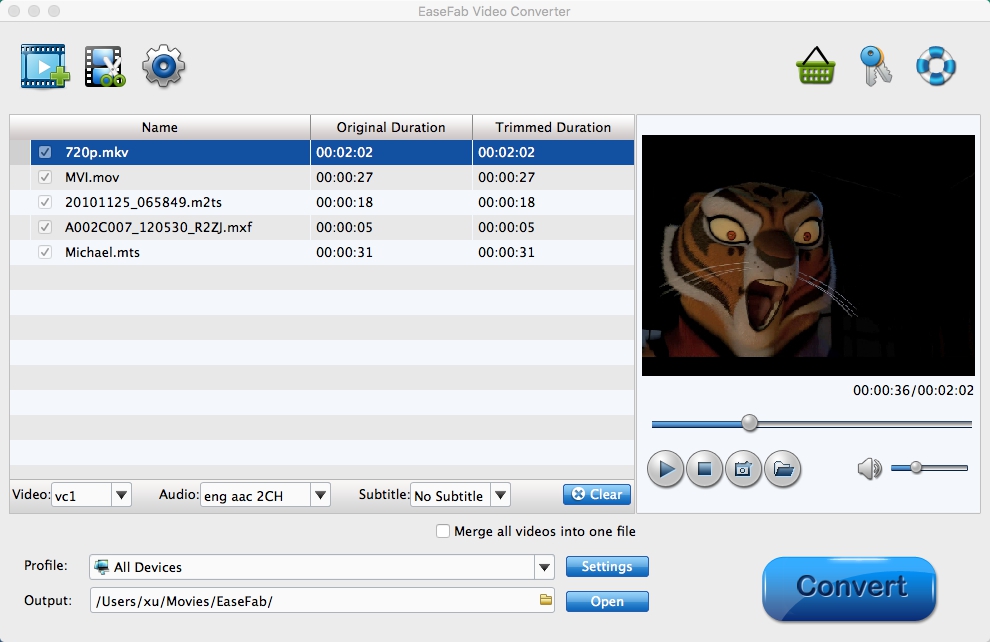 Step 2. Select ProRes or MOV H264 as the output file
Click the Profile bar at the bottom to select a target format that Final Cut Pro supports. To make your editing process simpler and less resource-intensive, you're recommended to select ProRes from Editing Software category. If you want to preserve image quality with the smallest file size, then MOV (encoded by H264 codec) from Common Video category is recommended.
Please note that ProRes files typically need ten times as much storage of H.264-based files.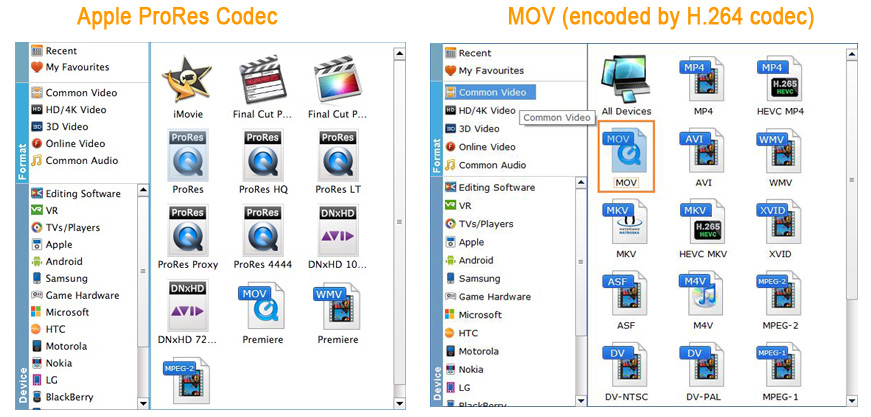 H.264 vs ProRes: Which One You Should Use for Your Edits?
H.264 is really optimized to be a delivery codec while ProRes is optimized to be an editing codec. That said, if you just need to do a simple edit and your Mac has the power to edit H.264 you can get away with it no problem, but if you plan to do a heavy edit with lots of transitions and effects and color grading you will be best served by ProRes.
Overall, you can work with H.264 - based MOV video in Final Cut Pro, if you stuff your computer with RAM and it has enough processing power, but this is always going to be second-best to working with a codec (e.g. Apple ProRes, Avid DNxHD codec) that is designed for editing.
Step 3. Start encoding WebM to FCP on Mac
At this point, you can change the output filename or output path if you wish. If you feel satisfied with your options, Just hit the Convert button to activate WebM file to ProRes conversion.
When all conversions completed, you'll get a pop-up notice. Just click Open button, you can fast find where your converted Apple ProRes files are saved. Now the ProRes or H.264 encoded MOV file from WebM is ready for being imported to Final Cut Pro for editing. All FCP versions are supported, including Final Cut Pro X, Final Cut Pro 7 and Final Cut Pro 6.

Other Useful How-to Guides & Tips
This guide shows you how to convert WebM to Windows Movie Maker supported formats so that you can edit WebM files in Windows Movie Maker without troubles.
You cannot easily import and edit WebM files in iMovie. You can achieve your goal smoothly via transcoding WebM to iMovie fully compatible video formats.
Copyright © 2014 - 2021 EaseFab Software Corporation. All Rights Reserved.