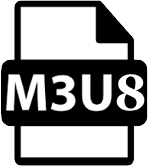 What's "M3U8"?
A .M3U8 file is an 'extensible playlist' file format. It is basically a playlist containing UTF-8 encoded text that points at video files. One M3U8 file may give you references to online files for an internet radio station. Another might be created on your computer to build a playlist for your own personal music or a series of videos. An M3U8 file can use absolute paths, relative paths, and URLs to refer to specific media files and/or entire folders of media files. Other text information in an M3U8 file may be comments that describe the contents.. Files with the .m3u8 extension are a unicode version of the M3U file format.
How to Open an M3U8 File
M3U8 files can be edited and read by most text editors, including Notepad in Windows. However, as you can see below, opening this M3U8 file in Notepad only lets you read the file references. You can't actually play any of these music files like this because text editors are not the same as media player or media management software programs.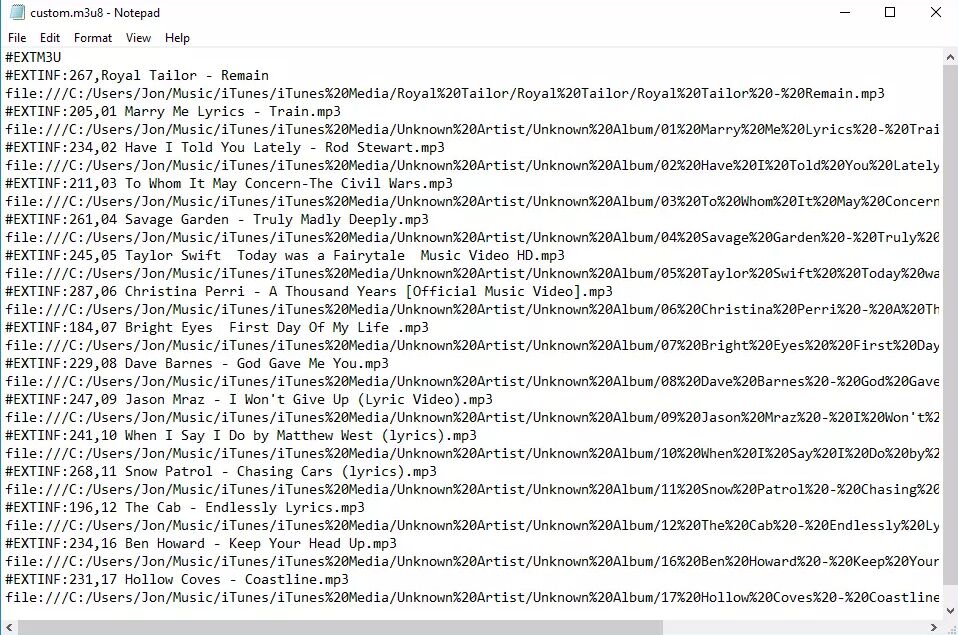 VLC, Apple's iTunes, QuickTime, Safari, Windows Media Player, and Songbird are just a few examples of programs that can open and use M3U8 files. Another way to open M3U8 files on Linux is with XMMS.
Here's an example of the same M3U8 file from above but open in VLC, which will gather all the music files referenced in the text file and load them into the media player for playback.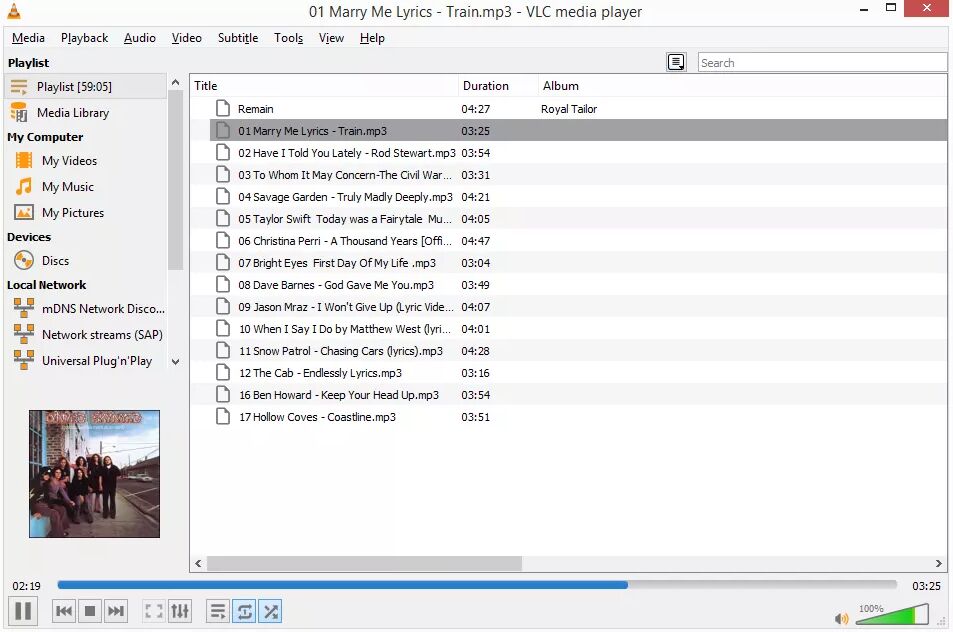 One quick way you can open an M3U8 file online is through HSLPlayer.net. However, this website will not work if you have an M3U8 file stored on your computer or some other device. You can only use HSLPlayer.net if you have a URL to the .M3U8 file and the files it references are also online.
Some of these programs also let you create an M3U8 file. For example, if you load a bunch of files into VLC, you can use the Media > Save Playlist to File... option to create an M3U8 file.
How to Convert an M3U8 File
If you're looking to convert M3U8 to MP4, or to MP3, or to any other media format, you first need to understand that an M3U8 file is a plain text file -- nothing more and nothing less. This means it just contains text, nothing that can actually "play" like how an MP4 or MP3 file can play in a media player.
What you're probably after is a file converter that can convert the audio or video files that the M3U8 refers to, to and from other audio/video file formats, like an MP4 to AVI converter or a WAV to MP3 converter (or any other variation of these types of files). For that, see our list of Free File Converter Softwares.
The only problem with doing this is that sometimes an M3U8 file points to media files that are in several different locations at once. This may include various folders on one or more internal hard drives, flash drives, and/or an external drives.
If this is the case, I don't recommend manually searching through all of them to find your files. Instead, just use the free program M3UExportTool. It uses the M3U8 or M3U file to identify where all the media files are located and then copies them to a single location. From there, you can easily convert them with a video or audio converter.
We don't have any download links to dedicated playlist converters that do conversions like M3U8 to M3U, but some M3U8 openers like VLC can re-save an open M3U8 playlist to another format like M3U, XSPF, or HTML, which is essentially the same thing as a conversion.
Reference: https://www.lifewire.com/m3u8-file-2621956