"So I have a pretty decent library of movies and shows(2tb) but I want to conserve some space and convert h264 media to h265 without quality loss, also it would be good if conversion software would be able to queue files and I wouldn't say no to Nvidia GPU acceleration also :)"
"Hi, can I convert a h264 video to h265 without changing or losing anything in terms of video/audio quality (same bitrate, same resolution etc etc.. I want only reduce file size without losing quality)?"
H.265, also known as High-Efficiency Video Coding (HEVC), is the latest generation video compression standard as a successor for H.264. HEVC's main advantage over H.264 is that it offers roughly double the compression ratio for the same quality. And that's the main reason why more and more people are looking for a way to convert media files with H.264 codec to H.265 encoded MP4 or MKV. If you have no idea about the process, you've come to the right place. In this article, we will show you an easy and fast solution on how to encode H.264 to H.265 without loss of quality. Keep on reading for more details.
Part 1: H.264 Versus HEVC: Understanding the Differences
The H.264 algorithm can substantially lower bit rates better than previous standards and is widely used by streaming internet sources, such as videos from Vimeo, YouTube, iTunes, and more. H.265 is more advanced than H.264 in several ways. The main difference is that HEVC allows for further reduced file size, and therefore reduced required bandwidth, of your live video streams.
Unlike H.264 macroblocks, H.265 processes information in what's called Coding Tree Units (CTUs). Whereas macroblocks can span 4x4 to 16x16 block sizes, CTUs can process as many as 64x64 blocks, giving it the ability to compress information more efficiently.
| Type | H.264 | H.265 |
| --- | --- | --- |
| Name | MPEG- 4 AVC (Advanced Video Coding) | HEVC (High Efficiency Video Coding) |
| Successor | Successor to MPEG-2 Part | Successor to MPEG-4 AVC/ H.264 |
| Improvement | Bit rate reduction compared to MPEG-2 is 40-50% | Bit rate reduction at the same level of visual quality compared to H.264 is 40-50% |
| Resolution | Supports up to 4K (4,096x2,304) | Supports up to 8K (8,192x4,320) |
| Frame rate | Supports up to 59.94 fps | Supports up to 300 fps |
| Profiles | 21 approved profiles | 3 approved profiles, draft for additional 5 |
| Entropy Coding | Entropy coding is CABAC and CAVLC | Entropy coding is only CABAC |
| Compression Model | Hybrid spatial-temporal prediction model | Enhanced Hybrid spatial-temporal prediction model |
| Industry Adoption | Dominant and accepted video codec for cable, terrestrial, satellite and IPTV broadcast. Widely used across Blu-Ray, security systems, video conference, mobile video, media players, video chat etc. | Implementation demonstration across NAB, IBC, and other events starting 2012 companies e.g. ATEME, Broadcom, Thomson, Harmonic, Ericsson, Qualcomm etc. Increased RD across encoder/decoder vendors for software and hardware based solutions. |
| Year of Approval | Approved in 2004 | Approved in 2013 |
| Drawbacks | Transmission of UHD content is unrealistic as the bit rate requirement is very high. | Approx. 300% more computational expensive due to larger prediction units and expensive Motion Estimation. |
Part 2: How to Convert H.264 to H.265 / HEVC With Zero Quality Loss
To encode H.264 or other formats to H.265 files, you will need a powerful and reliable H.265 converter. For an easy and fast H.265 decoding and encoding, you can adopt EaseFab Video Converter (available for Windows and Mac OS X) for help. No matter you are looking for converting video to HEVC/H.265(HD/1080P/4K) or decoding H.265 to H.264 or other formats, the professional H.265 conver ter will fulfill your task fast and easily. There are only 3 steps needed for H.264 to H.265 encoding without any loss of quality. Now download the program according to your computer OS and follow the steps below to begin the conversion from H.264 media to H.265 encoded files.
Simple steps to convert H.264 to H.265/HEVC coded video
Step 1: Import H.264 videos
Install the best H.265 encoder and run it. Drag the h.264 or other non-H.265 video files to the software. Or you can also click "Add" button on the top of the main interface to import video to the program. (Note: batch conversion is supported, so you can load more than one file to save time.)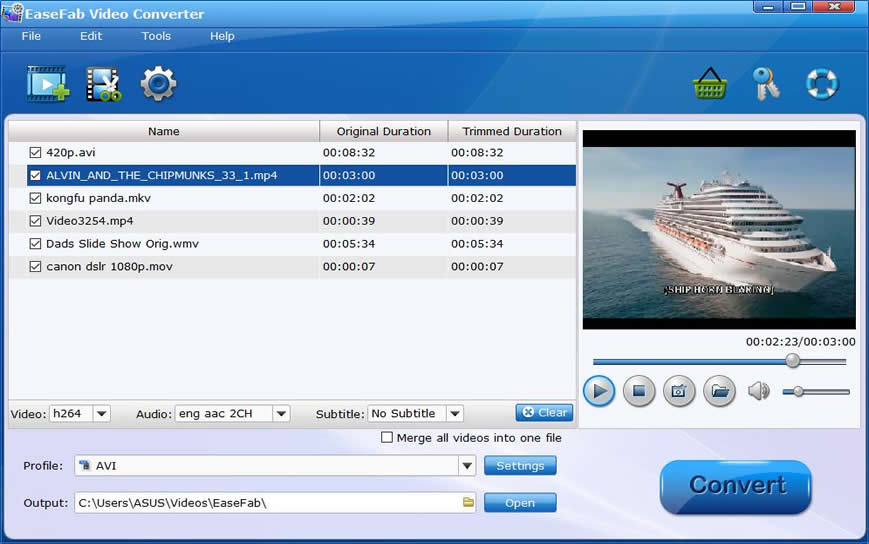 Step 2: Select H.265 MP4 or H.265 MKV as output
From the drop-down list of "Profile" you can select "HEVC MP4" or "HEVC MKV" as the output format from the "Common Video" category or you can select the same preset from "HD/4K" category for higher quality.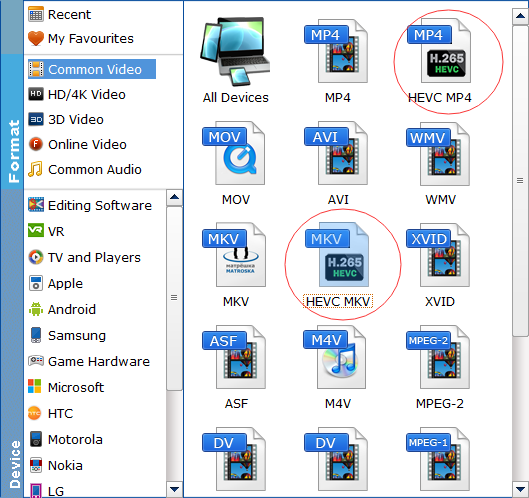 Tips 1: Enable GPU Encode Acceleration
Click "Tools" > "Options", in the opened "Options" window, check "Enable NVIDIA GPU Acceleration" otpion so that the program will accelerate converion speed when encoding videos from/to H.265/HEVC files.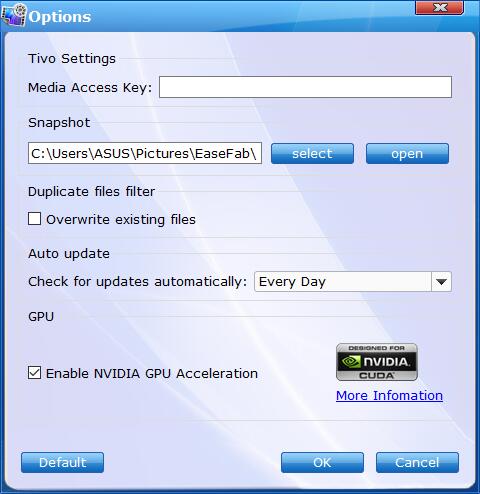 Tips 2: If you wanna some advanced settings, you can click "Settings" icon to adjust the video, audio parameters bitare, frame rate, sample rate, audio channel, etc.
Step 3: Start H.264 to H.265/HEVC conversion
Simply click "Convert" button in the bottom part of the video converter software window and the conversion will then begin. Wait until it's done, the speed of completion always depends on how big or how many your files are.
You can easily find the output files in the output folders once the conversion is done. This video converter software also provides good editing features like merge videos, split, crop, and adding effects, and a lot more.
Part 3: Top 3 Free HEVC/H.265-Compatible Media Players
1. VLC
From version 3.0 and above, you can play H.265 codec without any extra support packs. Therefore, if you simply download the latest version of VLC, you can play H.265 videos without any trouble. You can download VLC 3.0 for Windows, macOS, iOS, Apple TV, GNU/Linux, Android and Chrome OS.
2. KM Player
Just as with VLC, KM Player is extremely advanced and runs H.265 straight off the bat. KM Player supports 4K, 8K and 60FPS, and there are no advertisements unlike in the past. With the latest version for Windows, macOS, iOS and Android, you can play H.265 videos without any trouble.
3. Potplayer
Potplayer also serves as a free HEVC player for HEVC/H.265 encoded videos playing as well as any other multimedia formats or codecs like H.264, MP4, FLV, MKV, AVI, MOV etc. Besides, other than the powerful ability of playing HEVC codec videos, you can also download 3D and blu-ray movies/videos for playing on this marvelous video player, which makes it unique among the best HEVC players. But sadly it's only available on Windows.
Conclusion
With H.265 you get the best visual quality whether you're watching a movie, playing a game or doing a multicast. Compared with H.264, It serves you better in transferring the small screen experience to the big screen. Currently, very few cameras support 8K, which means that for the time being, H.265 will remain the gold standard for video compression.
Hope the H.264 to H.265 conversion guide could give you some help.