HEVC is the next generation compression standard that offers a number of enhancements over H.264. HEVC compression is 50% more efficient than H.264, which translates into maintaining the same video quality at half the bitrate or double the video quality at the same bitrate. Furthermore, H.265 (HEVC) does even better than H.264, supporting video resolution up to 8K 4320p (H264 up to 2160p). What's better, H.265 will save much bandwidth when compressing and streaming 4K/8K videos online. However, HEVC is still not widely supported as H.264. Therefore, sometimes we need to convert H.265 to H.264 for smooth playback, editing or other purpose.
There are many HEVC to H264 converters in the market. Here we single out the best 3 transcoders (free and online included) and illustrate how to transcode GoPro/YouTube/Apple H.265/HEVC video to H.264 without losing any quality. Also we will explain some circumstances under which you should convert HEVC to H264.

Method 1. Convert H.265 to H.264 with EaseFab Video Converter
EaseFab Video Converter is the top choice for H.265 to H.264 conversion. This powerful program can process footage in virtually any format, incl. hevc, h.264, mp4, mkv, avi, wmv, m2ts, avchd, in whatever format, resolution and codec. With it, you can easily and fast convert HEVC (8/10/12 bit) to H.264 without quality loss. To be specific, it's able to:
● Convert all 8K/4K/1080p HEVC/H.265 videos to H.264, MP4, AVI, WMV, MPEG, MOV, FLV, ProRes, DNxHD, etc. The constantly updated conversion algorithm ensures smooth decoding and encoding, no video load error or software crash issue.
● Guarantee to output video with 100% quality reserved, wrinkles or freckles in image still clear enough to count.
● Support 420+ output device profiles incl. iPhone, iPad, Android, Xbox, PS4, Xbox, Apple TV, Chromecast and so on.
● Edit, trim, crop, merge, add subtitles and more before encoding H265 to H264. Flexible parameter settings are accessible.
● Finish conversion at fast speed, owing to the support for the world's advanced Intel, Nvidia CUDA/NVENC and AMD technology.
Pros: Intuitive interface, ultra user-friendly, totally clean and safe, stable and superfast.
How to Convert H.265 to H.264 Fast in Clicks
To begin with, download, install and launch EaseFab Video Converter Windows or Mac version on your computer. The guide below takes the Windows version for an example. Mac version has the same process.
Step 1. You can simply drag and drop source H.265 videos into the main screen of the video converter or click "Add Video" button at the top left corner to browse and select target files.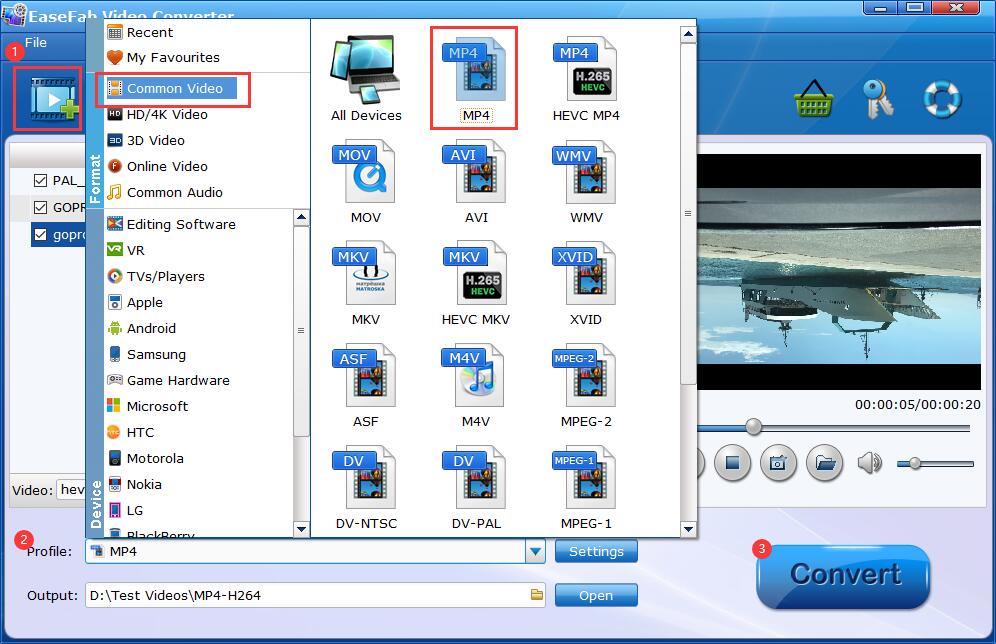 Step 2. Click "Profile" bar and move muse cursor to "Common Video" category, then select MP4 (codec: h.264) as the output format. This program provides many other output video formats encoded H.264 codec, such as MOV, MKV, M4V, etc, you can feel free to choose according to your own needs.
Optional operations: Click Edit button to trim video clips, crop videos, adding external subtitles, etc.; Click Settings button next to Profile icon to adjust video/audio parameters to achieve desired output results before changing HEVC/H.265 to H.264.
Step 3. Click the small Folder icon to specify a destination folder to save the converted video file. Hit Convert button to start to convert HEVC/H.265 to H.264/AVC for free on Windows (11/10) or Mac (macOS Ventura incl.) with this high-class H.265/HEVC decoder at lightning speed.
Method 2. Convert H.265 to H.264 Free with Handbrake
Handbrake is a completely free piece of video conversion software. It's open source and available for download on Windows, MacOS, and Linux. Handbrake mainly focuses on ripping regular DVDs or converting videos to MP4 or MKV container in H.264/H.265 codec, and to some iPhone iPad preset profiles. People who have used this software figure out that it has complex interface and settings which are more suitable for experienced users.
Pros: Free and open source. Versatile advanced settings.
Cons: - Handbrake always outputs poor video quality.
- It takes quite a long time to load source video and convert video.
- It sometimes crashes in the middle before finishing the conversion process.
- Besides, Handbrake is not updated often and lacks technical support.
- The interface and settings of Handbrake are complex and it is not suitable for new beginners.

[Guide] How to convert H.265/HEVC to H.264 for free with Handbrake.
Step 1: Download Handbrake (latest version 1.3.3) from its official website. Install and open it.
Step 2: Click Open Source button to load folder with one or more H.265/HEVC video files, or choose a single H.265/HEVC video file.
Step 3: Next click Browse button to set a target folder to store the converted H.264 video.
Step 4: Choose MP4 or MKV as the output video container.
Step 5: Then hit Video tab to select H.264 (x264) video codec as the output and adjust other video settings like frame rate, bit rate, etc.
Step 6: Hit Start button on the top left to start converting H.265/HEVC to H.264 for free with Handbrake on Windows 10/8/7 or Mac.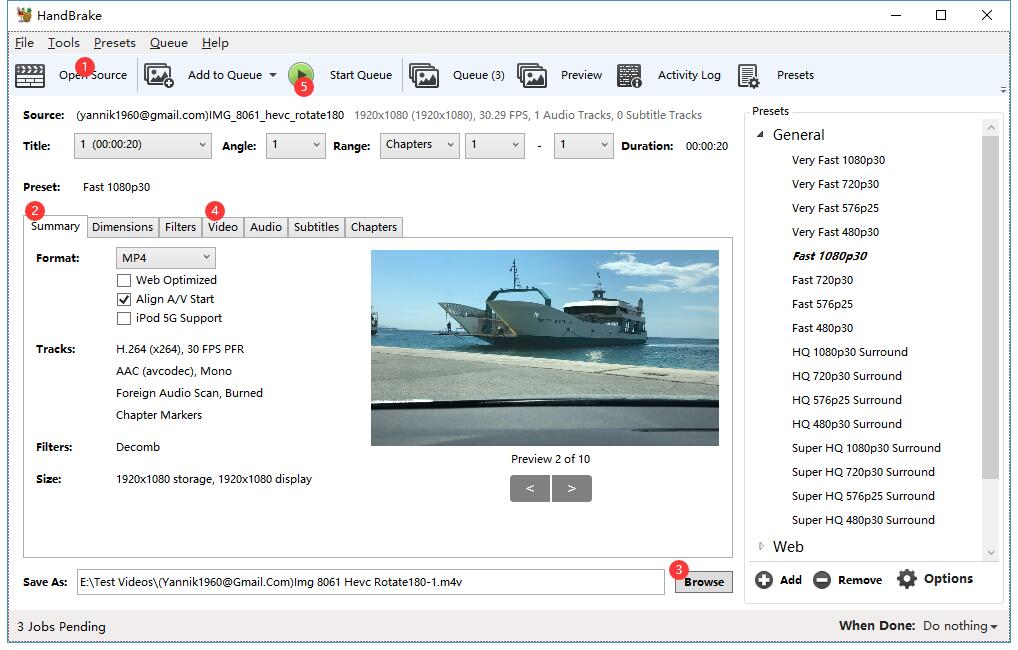 Method 3. Convert HEVC to H.264 with Online Converters
The third option to convert HEVC to H.264 is to use an online converter like Convertio. Convertio.co is not only capable of converting HEVC files from local but also Dropbox, Google Drive and video link. While it has strict limits about the file size. Guest visitors are only allowed to upload a HEVC video maximumly 100MB, approximately 30 seconds for 4K HEVC @30fps shot by iPhone. If you want to convert large HEVC files, you have to upgrade your account from 3 options: $9.9/month (max size: 500MB), $14.99/month (max size: 1GB) and $25.99/month (no limits on file size).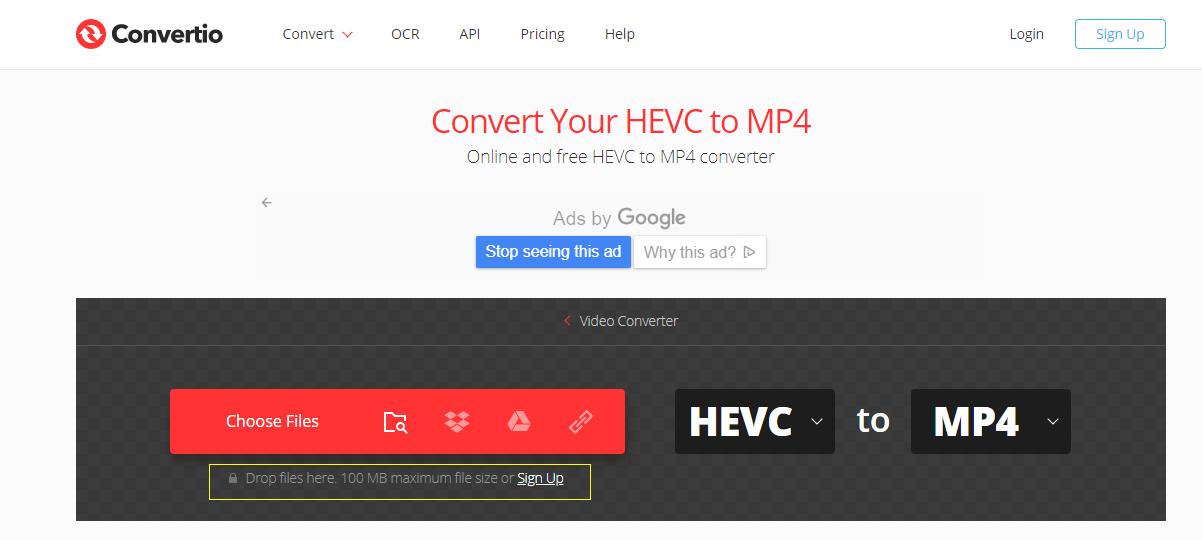 It is not recommended to use free online video converters to decode H.265/HEVC to H.264 MP4. Most online video converters only support small video files conversion, e.g, lower than 100MB. Besides, The online conversion speed is always like snail speed and the process is not stable, together with poor output video quality and sometimes malware/virus saved along to computer.
Certain Circumstances and Why You Should Convert H.265 to H.264
The reason varies. Sometimes, your device's screen does not support 4K resolution, your hardware configurations fail to support the high-demanding HEVC decoding, the player won't play HEVC videos with 60fps, high bit rates, 4K and higher resolutions, or HEVC is not widely welcomed by most of your devices. Taking compatibility into account, H.265 is far less compatible than H.264 and MP4. For instance, GoPro 4K HEVC videos are not friendly to many editor apps, Adobe Premiere Pro won't import iPhone taken HEVC properly.
Despite H.265 doubled the encoding efficiency, H.264 wins back by its wide compatibility and gains 83% adoptions according to Bitmovin video codec survey in 2021. Here comes many circumstances under which we need H.264 AVC rather than H.265 HEVC codec.
1. Can't play H.265 videos on old devices.
H.265 was standardized in 2013 and the stable version of its encoder x.265 was released in 2016. Before that, TVs, smartphones, and computers were shipped without HEVC support. Aged devices cannot HEVC videos, so you have to transcode them to H.264 which came into being 10 years earlier than HEVC.
2. Can't upload H.265 videos to popular platforms.
Still, many social media platforms do not support videos encoded with H.265. Some of them stop you from uploading H.265 files, and some take it upon themselves to transcode H.264 to H.265 with visible quality loss. If you ever run into the trouble with apps below, convert H.265 to H.264 by yourself in advance.

3. HEVC codec is unfriendly to video editing.
Editing videos in HEVC codec would drive many users crazy with severe lagging or crashing, esp. when rendering the timeline in real time and exporting. That's because HEVC was not born for post editing. It needs 10x computing power than its predecessor H.264/AVC. To solve HEVC codec issues in DaVinci Resolve, Premiere Pro and other video editing software, transcode HEVC to ProRes (for original image quality) or H.264 (for smooth performance).
4. HEVC codec is missing in some players or OS.
Though the media player or the operating system you are using is up to date, there are chances the HEVC codec is missing. For example, HEVC is not natively supported by Windows 11 and Windows 10. Typically, you'll be asked to install an HEVC codec either paid or free. If you don't want to put your PC at risk by installing a code pack, converting it to H.264/AVC is necessary.
Conclusions:
HEVC is highly acclaimed esp. in the era of 4K 8K Ultra HD while H.264 still dominates now, which makes sense to convert H.265 to H.264. Online video converters may be an option, but not the best one owing to the strict size limit (<20MB), instability, poor output quality, and even malware/adware. Thus you need a solid clean and easy-to-use HEVC converter, EaseFab Video Converter will your best pick.