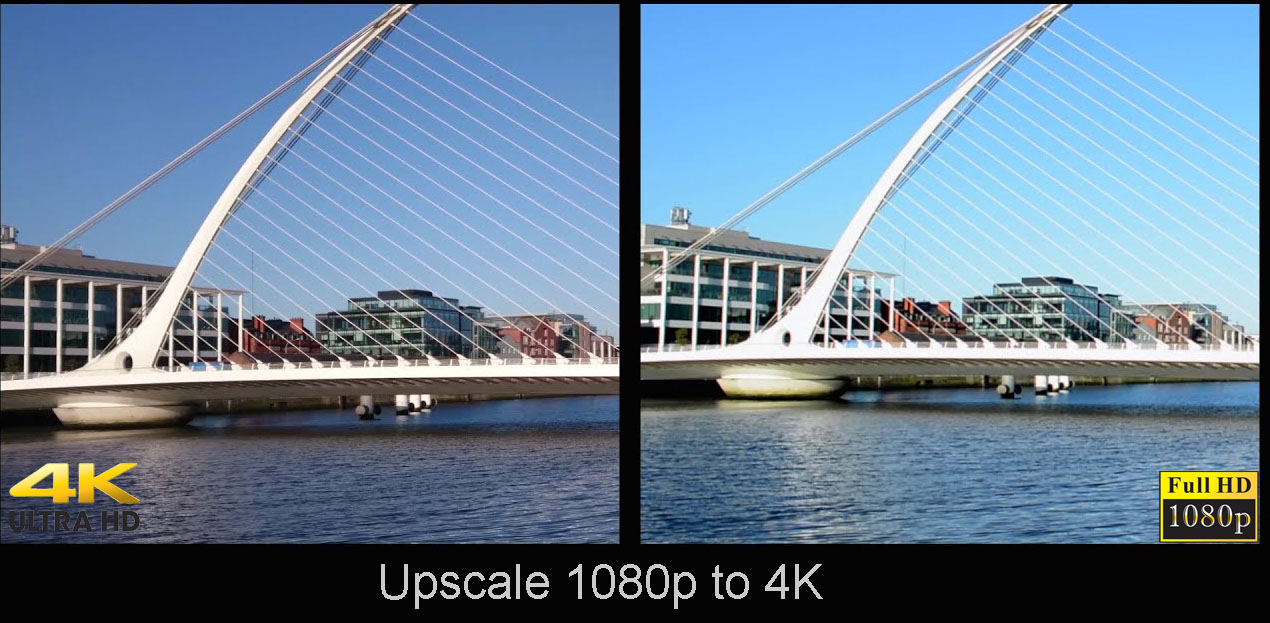 Nowadays 4K (also known as Ultra High Definition (UHD) has taken over the mainstream of the world of digital videos, including TV display screen, computer monitors, cameras, and home theatres, etc. And there are a number of reasons why 4K has pulled clearly ahead of 1080P in terms of picture quality. These reasons focus mainly on factors surrounding the way it is able to resolve extra fine detail, being able to see this detail when seated closer than ever to the screen, and from a production point of view, the ability to scale down the recording to regular HD and other formats while retaining the high contrast, highly detailed quality of the original. If you've some 1080p videos and intend to upscale the videos from 1080p reasolution to 4K resolution, you can follow the simple tutorial to get the job done. Read on for details.
Part 1: How to Upscale 1080P to 4K
To upscale 1080p to 4K quickly and easily, you can adopt EaseFab Video Converter (available for Windows and Mac users) for help. Its interface is very easy to understand. And the layout of its features are very user friendly. With it, you can effortlessly convert any video from 1080p to 4K resolution without quality loss. It even lets you set the resolution manually. What's more, the program also supports downscale 4K to 1080p, 720p, etc.
Now download the right version of the program and follow the step-by-step guide below to upscale video from 1080p to 4K. The below guides takes Video Converter for Windows screenshots as example.
Simple Steps to convert 1080p to 4K
Step 1: Add Full HD 1080p video files
Drag and drop 1080p video files to the app. Or you can click "Add Video" button to locate the video files you want to add. The app supports batch conversion, so you can add more than one file at a time.
Step 2: Edit the video (Optional)
Click "Edit" button enter the Video Editor Window. As you see, you can trim, crop or adjust the video with the built-in video editor to get the very part and effect of the movie you want. If you have no need to edit the videos, just skip the step.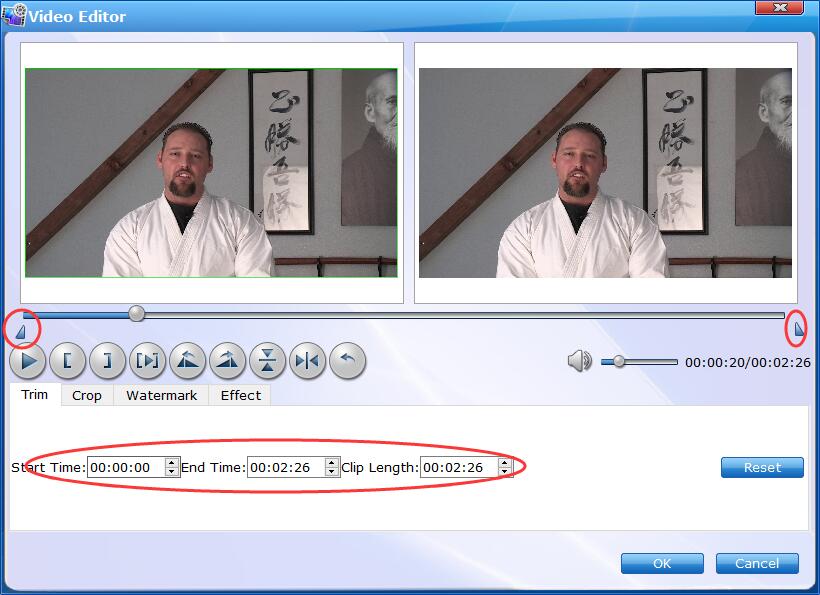 Step 3: Select 4K as the output format
Click "Profile" box and move mouse cursor to "HD/4K Video" category, simply select MP4-4K, MKV-4K, or MOV-4K that you need as the output format.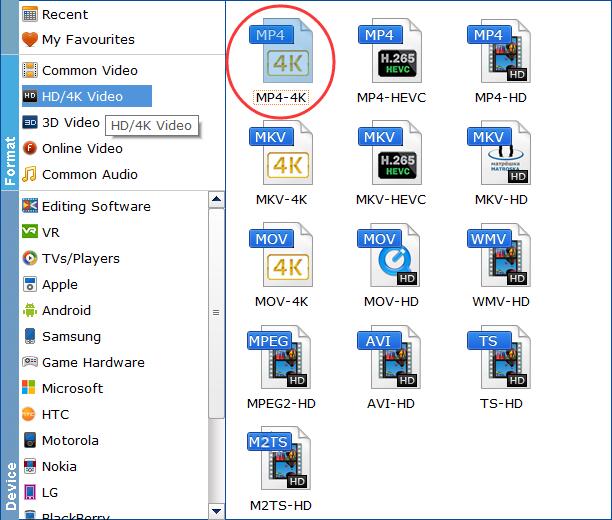 Tips: The default setting works well. Of course, if you want to customize video and audio encoding settings, just click the Settings button to customize these settings. You can adjust the output video/audio resolution, frame rate, bit rate, etc. to customize the output files to get the best quality you want.
Step 4: Select 4K as the output format
After everything is OK, simply click the big "Convert" button and start to convert and upscale your video from 1080p to 4K. Just wait a minute and the conversion will be done and click Open to get the generated 4K video files.
Something You Gotta Known: Most 4K television set you bought can automatically upscale all the content you play on it. Obviously, full HD will continue to look better on it as compared to standard definition content. However, only a good scaling can make 1080p content look good on 4K TV. A better 4K TV with good upscaling technology will make 1080p Blu-ray upconverted to the 4K screens looks great, although not appreciably better than 1080p on a 1080p TV. Just because a TV is 4K doesn't mean it has a good scaler built-in. On cheaper 4K TVs, for instance, you probably save money because of a sub-par scaler. So in these cases, 1080p content probably won't look any better (and possibly worse). Converting video from 1080p to 4K means you can scale up the video image to fill a 4K format. Video quality is based on video codec and video bitrate. More often than not, the higher bitrate means the larger file, also the better quality.
Part 2: Simple Comparison of 1080P vs 4K - Resolution
Let's look at the most important difference between 4K and 1080p. This is, of course, the issue of resolution.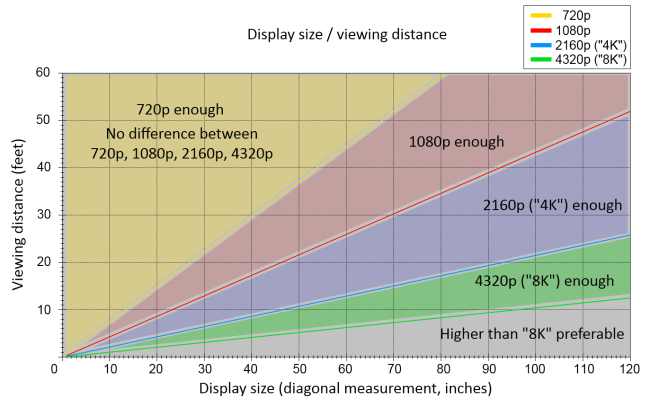 4K is known as Ultra High Definition (UHD), whilst 1080P is simply labelled High Definition. As their names imply, 4K UHD has a considerably higher resolution than 1080P HD video. 4K resolution is exactly 3840 x 2160 pixels, whilst 1080P consists of 1920 x 1080 pixels.
The 4K designation refers to the close to 4000 horizontal pixels. Traditionally, resolution had been labelled according to vertical pixels and in the case of 1080P, 1080 vertical lines make up that high definition resolution. By comparison, 4K features 2160 pixels vertically; a considerable increase.
At an aspect ratio of 16:9, 4K contains almost four times the number of pixels on a screen compared with 1080P technology - more than eight million pixels for 4K and just two million pixels for 1080P. This massive difference brings about some important advantages for 4K when one compares it to the quality of a 1080P video.