It's really a big boost that Adobe After Effects CS6, CC offers much better native MXF support than its predecessor. However, different source files work differently in After Effects. Many MXF to After Effects issues still exist there and troubled the users. And there are some frequently asked questions quoted below:
Q1: After Effects CS6 and mxf files
Was playing around with the Demo for CS6 and discovered to my dismay that I can't import xdcam .mxf files that I am able to import with CS5.5. What is up with that?
Q2: MXF plays fine in every Adobe product but After Effects
I'm using some F5 4K footage in Premiere CC and when I send to After Effects CC, AE reports an error saying it can't be read. While I know this is pretty new stuff, the 4K that is, if Premiere and Media Encoder can read it fine, shouldn't AE? Here's the real rub. The 2K MXF footage plays fine in AE. It's only the 4K that it's reporting an error for.
Q3: RAW MXF files in After Effects CS6
Hi. I have to do some compositing on some raw files from a Sony FS700 and just realized i can't import them into AE. I found a free plugin that allowed me to import them in Premiere but can't find anything to AE. I know i could convert them in Premiere but i don't want to lose the raw attributes until final render. They are in a MXF format.
MXF (Material eXchange Format) is a container format for professional digital video and audio media defined by a set of SMPTE standards. The video format is created specifically for HD digital camcorders like Canon C300, Canon XF100, Canon XF105, Sony XDCAM series and Panasonic P2 series. Although Adobe claims it can work with MXF format, it still can not natively or directly support it. The best way to let After Effects work with MXF clips is to transcode these MXF files to a more editing-friendly format, such an AE's MPEG-2.
To process format shifting, what you need is just a common MXF to MPEG-2 converter like EaseFab Video Converter for Mac, which is a professional yet easy-to-use video converter, player and editor on Mac OS X (El Capitan included). The program is capable of converting Canon XF as well as Sony XDCAM and Panasonic P2 MXF to MPEG-2, DNxHD, Apple ProRes, AIC, etc on Mac OS X for smoothly importing and editing in various non-linear editing systems (NLE), including Adobe After Effects, Adobe Premiere Pro, Avid Media Composer 5.5/6.0/6.5/7, Final Cut Pro, iMovie and more. If you're using a Windows PC, please turn to its equivalent Windows version - MXF to After Effects Converter. Now take a look at the brief guide below.
How to convert MXF files to MPEG-2 for After Effects
Step 1: Install and run the MXF to AE Converter for Mac, and then click the "Add Files" button to load .mxf videos for converting.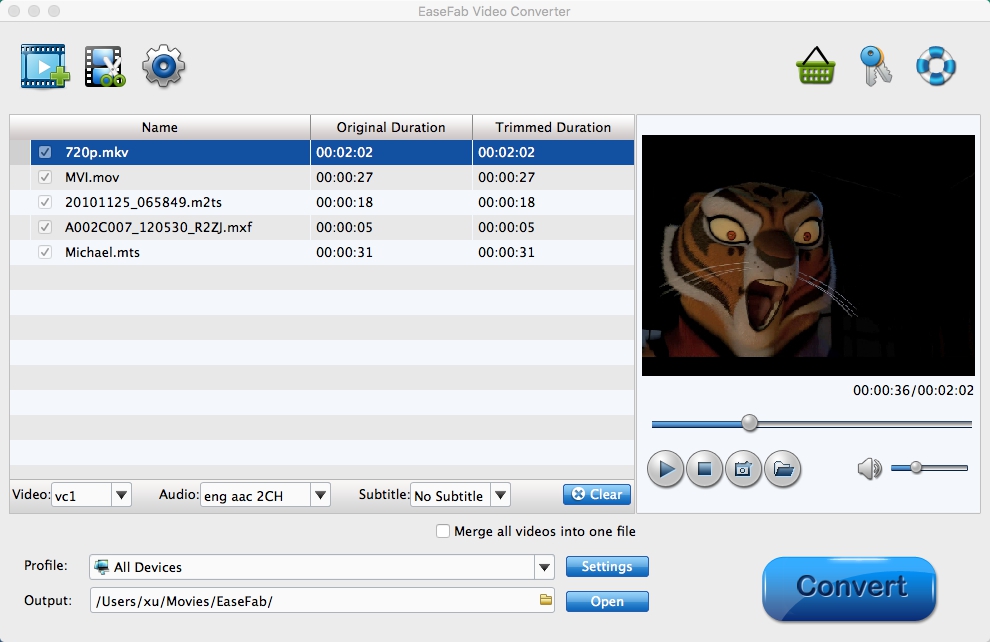 Step 2: Select MPEG-2 from "Editing Software" as the output format. The output video keep the original quality of MXF videos and seamlessly fit After Effects CC, CS6, CS5.5, CS5, CS4.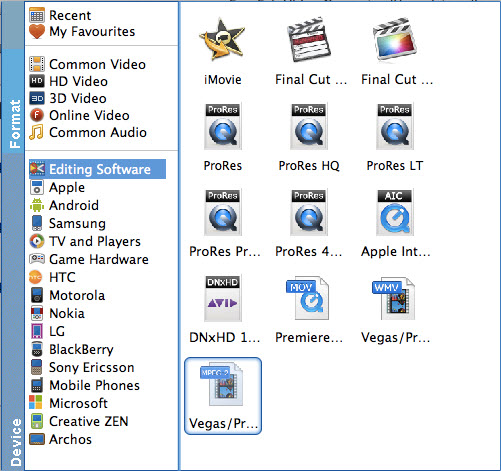 Tips: The default setting works well. Of course, if you want to customize video and audio encoding settings, just click the "Settings" button to customize these settings. You can adjust the output video/audio resolution, frame rate, bit rate, etc. to customize the output files to get the best quality you want.
Step 3: As soon as all things are finished, please click "Convert" button to start the MXF to After Effects conversion on Mac OS X.
Once the conversion completes, you can click "Open" to find the .mpg videos which can be directly imported to After Effects CC/CS6/CS5.5/CS5/CS4. You've done.