"I have some old DVDs which have .VOB video files on them. I want to copy them to my external hard drive which I generally use to playback content on my smart TV. (Most videos on this drive are MP4/Mkv and some Mpegs also). I want to know if I should just change the .VOB extension to .mpeg for playback on my TV or should I use proper format conversion? I heard that .VOB are same as .mpeg."
VOB is a container format commonly used for DVD-Video media. A VOB file can contain video, audio, subtitle, menu and DVD content information. The file data is multiplexed together into a streaming format that can be played on computer. It is under the VIDEO_TS Folder of a DVD and each VOB file is usually less than 1 GB. VOB format files may be encrypted. Players with built-in MPEG-2 files can usually play unencrypted VOB files.
However, almost all TVs can't play VOB natively. If you've some VOB files at hand and want to watch them on your TV via USB, DLNA, Plex etc., the most efficient and easiest solution is to transcode VOB files to MP4 or other TV compatible formats in advance. Here is the best solution to convert VOB files to play on your TV without quality loss.

Best VOB Converter to Encode VOB to TV Friendly Formats Easily and Quickly
There is a long list of free or paid VOB converter tools available. But if you are seeking for the excellent video output quality, fast encoding & decoding speed and the most formatsd supported, EaseFab Video Converter Ultimate will be your best choice. The program is actually an all-in-one audio and video processing software which utilizes hardware acceleration technologies to process media files at a lightening fast rate. It's available to cope with both unencrypted and encrypted VOB files, Video_TS folder and store-bought DVD discs and other mainstream video formats or discs formats like Blu-ray, ISO, BDMV folder, etc.
As a professional VOB converter, this ultimate software tool empowers users to fast convert any VOB file to MP4, AVI, WMV, MOV, H.264, 3GP, and more without quality loss. Moreover, it offers many TV-specific profiles for Samsung TV, LG TV, Panasonic TV, Philips TV, Sony TV, etc. Besides the TV profiles, it also provides hundreds of device profiles hundreds of device profiles, running the gamut from phones, tablets, to game consoles.
Tutorial: How to decode VOB to play on your TV on PC/Mac
To begin with, you need to download and install EaseFab Video Converter Ultimate Windows or Mac version on your computer. The guide below takes the Windows version for an example. Mac version has the same process.
Step 1. Load VOB File(s)
After downloading, install and run EaseFab Video Converter Ultimate on your PC or Mac, click Add Video button to load your source VOB files. (Note: batch conversion is supported, so you can load more than one file to save time to convert at a time.)
Note: If your VOB files are in a VIDEO_TS folder folder, you can drag the whole VIDEO_TS folder directly to the program, or open the VIDEO_TS folder, and pick the VOB files one by one. There are various VOB files in VIDEO_TS folder including adverting and trailers mostly main video file with the name VT_01_1.VOB. If not, select other big files in size.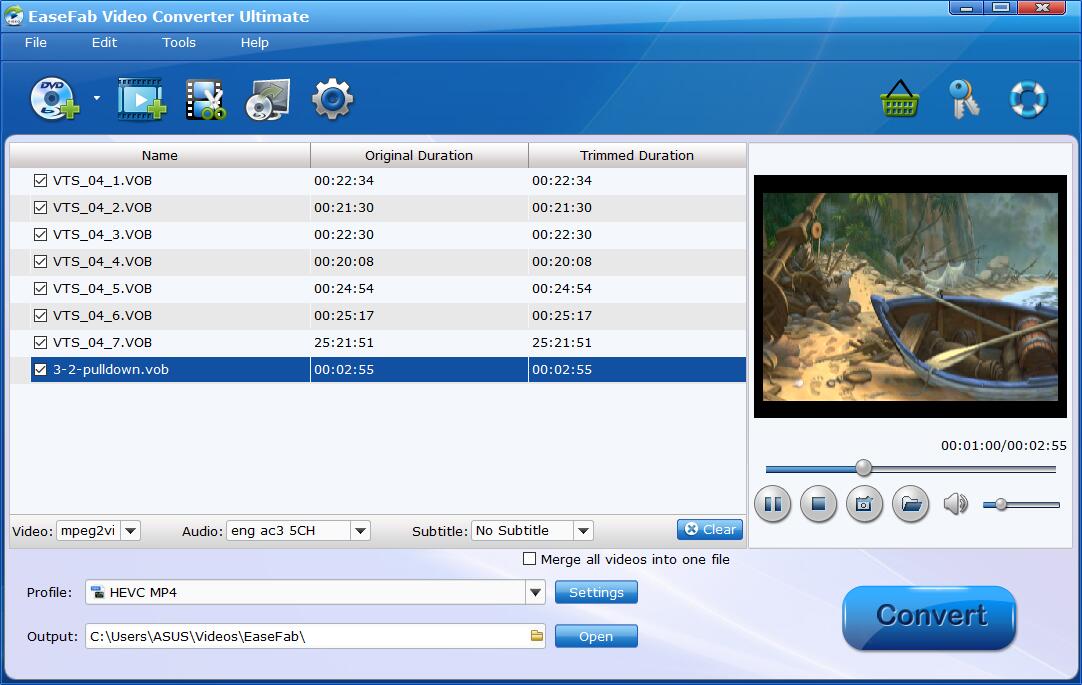 Step 2. Choose a proper output format for your TV
The selection of output format depends on the video and audio formats that supported by your TV. For general uses, MP4 (codec: h.264 + aac) in Common Video category is recommended, as it is widely supported by almost all TVs and DLNA, Plex, etc. media servers. Moreover, it strikes the best balance between file size and output quality.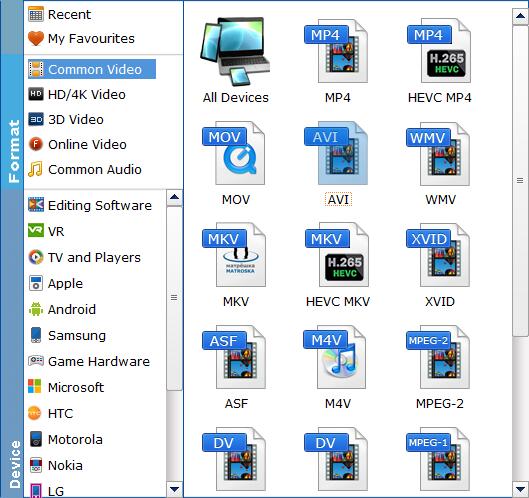 Tips: You can tap "Settings" button to customize the output parameters like video/audio codecs, pixel dimensions, frame rate, bit rate, audio sampel rate, etc. to get a decent video for encoding VOB files for playing on your Smart TV, LED TV, LCD TV, etc. If you want to get 5.1 surround sound, you can select "5.1 Channels" as output.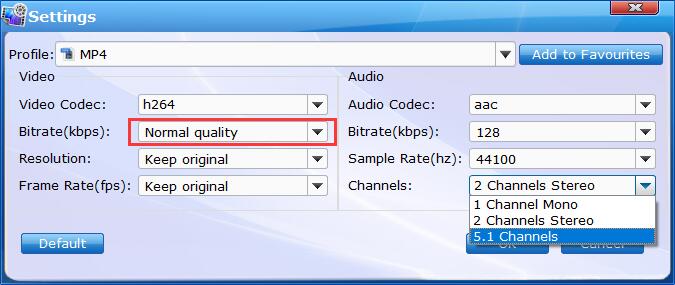 Please note: Adjusting these variables have some effect on the re-encoded video quality. Remember the file size and video quality is based more on bitrate than resolution which means video/audio bitrate higher results in big file size, and lower visible quality loss.
Step 3. Ready for VOB to TV conversion.
Hit Convert, and you will be led to the process of VOB conversion. After that, you can play VOB file on your TV via USB port, DLNA, Plex, etc. without errors.