As a container format in DVD-Video media, a VOB file contains the actual Video, Audio, Subtitle, and Menu contents. VOB is based on MPEG-2 program stream format, but with additional limitations and specifications. At present, VOB's playback on applications and devices is quite limited: only VLC, Mplayer such universal players, or Windows Media Player (but not in Windows 8/10) and the regular DVD players. If you want to move some VOB movies or videos to different screens such as the handheld smartphone and tablet to kill the time, converting VOB to MP4 will be the best bet since the MP4 files can be played on almost any media player, computer, laptop, tablet, mobile device, gaming system, or HD TV.

If you're wondering about how to convert VOB to MP4 easily, this article is just right for you. In this article, we're going to introduce the most helpful desktop, online and free ways to convert VOB to MP4. These severn methods will help you achieve your goal in easy steps.
Part 1: Best VOB to MP4 Converter with Fast Speed, High Quality & Small Size
There is a long list of free or paid VOB to MP4 conversion tools available. But if you are seeking for the excellent video output quality, fast encoding & decoding speed and the most formatsd supported, EaseFab Video Converter Ultimate will be your best choice. The program is actually an all-in-one audio and video processing software which utilizes hardware acceleration technologies to process media files at a lightening fast rate. When using it as the best video conversion software, you can convert VOB to MP4 with H.264/HEVC codec in just several easy steps.
Highlights of the Best VOB to MP4 Converter
● Intuitive and easy for beginners to handle. 30x faster file conversion speed by GPU hardware acceleration technologies like Intel Quick Sync, Nvidia CUDA, and AMD Acceleration.
● Powered by the exclusive and industry-leading technology, it can convert VOB to MP4 with zero quality loss or video compression.
● Provide a quality set of video customization settings where you can easily configure resolution, bit-rate, video quality.
● Not just MP4, almost all all types of known video formats are supported by this one-stop video converter.
● Offer a library of preprogrammed optimization profiles for specific devices.
● Edit, enhance & personalize your videos by trimming, cropping, adding subtitles, and more.
● Supported OS: Windows 111/0/8/7/XP/Vista, macOS 12 Monterey, 11, 10.15, 10.14 or lower.
Tutorial: How to convert VOB to MP4 fast with best quality-size tradeoff
The step-by-step guide is almost the same on PC and Mac. Here we will take EaseFab Video Converter Ultimate for Windows as the example.
Step 1. After downloading, install and run EaseFab Video Converter Ultimate on your PC or Mac, click Add Video button to load your source VOB files. (Note: batch conversion is supported, so you can load multiple VOB files to convert at a time.)
Note: If your VOB files are in a VIDEO_TS folder folder, you can drag the whole VIDEO_TS folder directly to the program, or open the VIDEO_TS folder, and pick the VOB files one by one. There are various VOB files in VIDEO_TS folder including adverting and trailers mostly main video file with the name VT_01_1.VOB. If not, select other big files in size.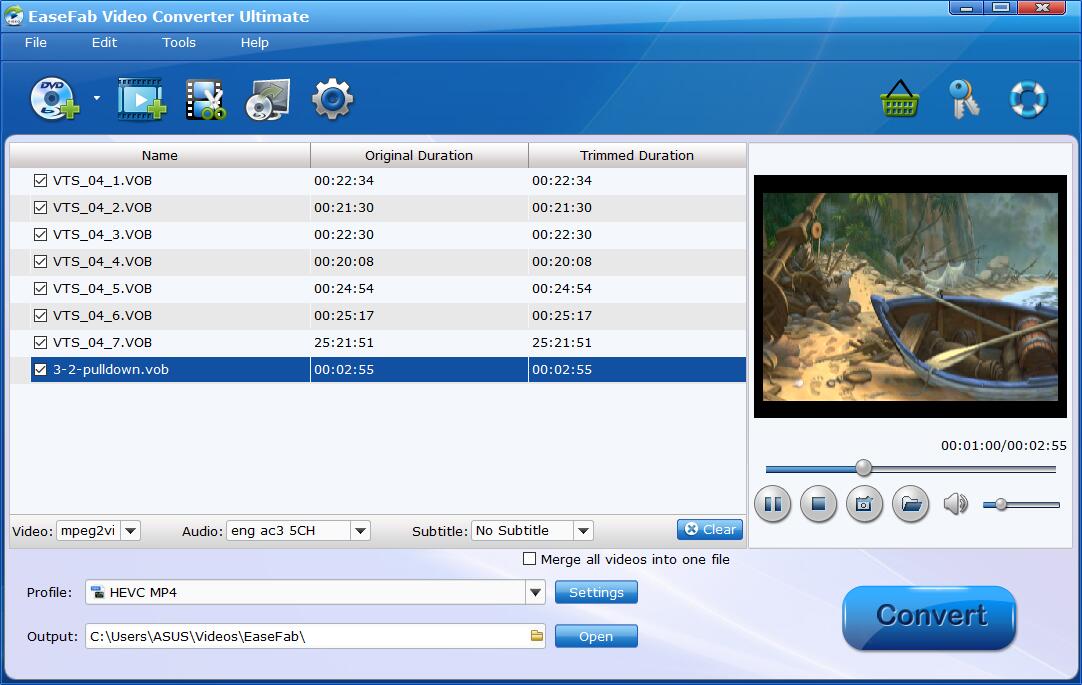 Step 2. Click Profile and select MP4(encoded by H264 codec) or HEVC MP4 as the output format. If you want to convert VOB to MP4 for iPhone, iPad, Android, game console, TV, etc., you can browse to find any video preset from the correspoding category as the output format.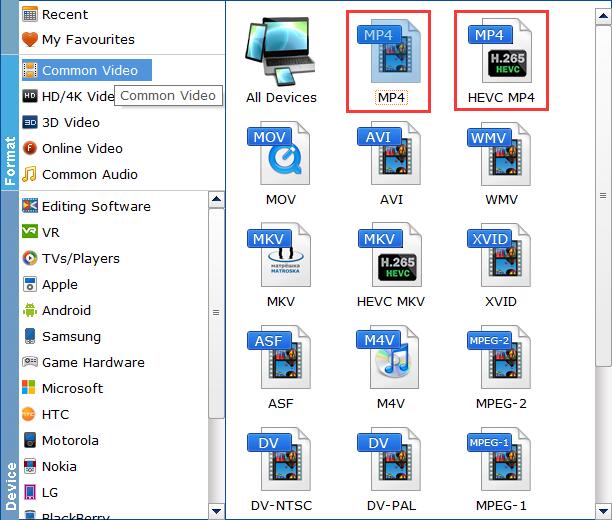 Tech details for VOB to MP4 conversion with best quality-size balance:
1. To get the best possible output quality and smallest file size, convert DVD to HEVC MP4. It has 50% smaller size at the same quality. But please make sure that your device or media player does support HEVC for playback.
2. The default setting works well. Of course, if you want to customize video and audio encoding settings, just click the Settings button to customize these settings.
Recommended settings:
1. You're not suggested to adjust the frame rate and aspect ratio, if not necessary.
2. Use the codec H.264 or H.265 and lower the bitrate to a lower level. For example, adjusting the original Normal quality to bitrates of around 1800-2000 is acceptable without noticeable pixellation.
3. Lower the resolution. DVD VOB videos are 720×480 (NTSC) and 720×540 (PAL). Adjust the resolution to 640×480 won't make any quality difference.
Please note: Adjusting these variables have some effect on the re-encoded video quality. Remember the file size and video quality is based more on bitrate than resolution which means bitrate higher results in big file size, and lower visible quality loss.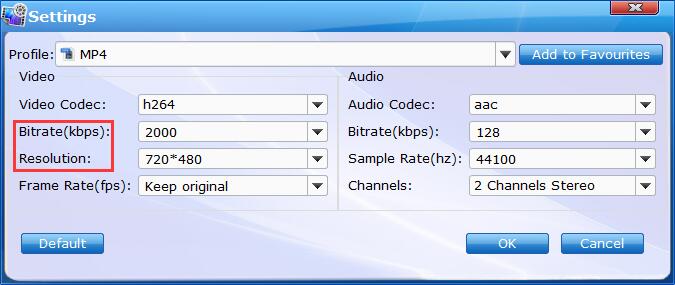 Step 3. After selecting your desired format and the destination file you can opt to make changes or settings and if you are OK with the way the format is click the Convert button to initiate the conversion. This might take some time; however, it is important to note that the conversion time depends on the quality and duration of the output movie.
Part 2: 5 Free Desktop Software Tools to Convert VOB to MP4
#1. VLC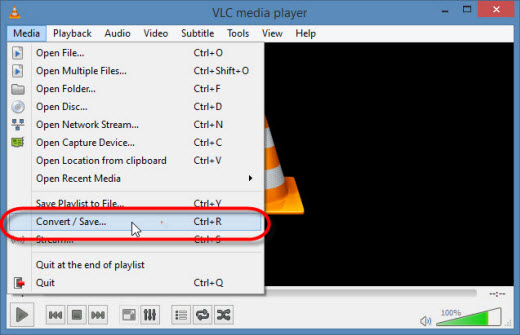 VLC media player is open source and a free-to-use software that enables you to access a wide range of audio files, video files, images, and other multimedia files. VLC media player can also be used to stream on popular websites such as Netflix, Disney, Hulu. Besides these, you can also use VLC as a video converter tool to convert VOB files to MP4.
For the detailed steps of converting VOB to MP4 with VLC, you can refer to our article - "How to use VLC to convert MKV to MP4" to get the job done. The conversion process is almost the same.
#2. Handbrake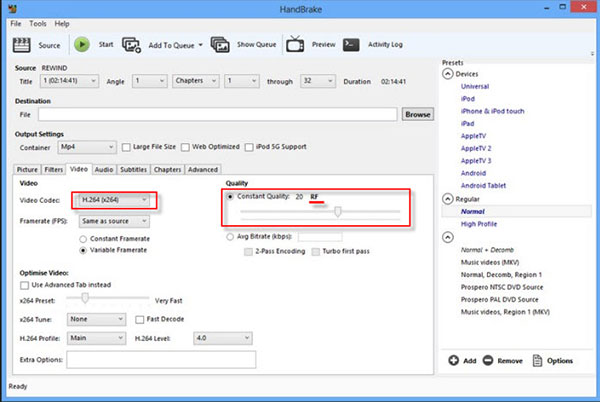 Handbrake is available on different platforms, Windows, Mac, and Linux. It supports different formats and encoders including MP4(m4v), MKV, H.264(x264), MPEG-4 and MPEG-2 (libav). You can convert videos directly to iPhone, iPad, iPod, and other Android phones with the optimized presets. Of course, you also use it to convert VOB to MP4 with no problem.
#3. Ffmpeg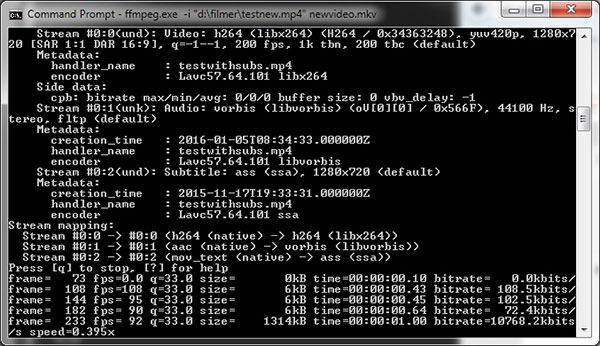 Ffmpeg is a free software project to record, convert and stream audio and video, of course, including converting VOB file to MP4. It can be used on many platforms and earns good reputations among users. Following the steps below to converter your VOB videos to MP4 with FFmpeg.
Step 1: Download the FFmpeg program on your computer. The only disadvantage is that it is not available for Mac OS X.
Step 2: Type the code in command line. Copy and paste the code below: ffmpeg -i input -acodec libfaac -vcodec mpeg4 -b 1200k -mbd 2 -flags+mv4+aic -trellis 2 -cmp 2 -subcmp 2 -metadata title=X output.mp4.
Step 3: Give a new name to the output MP4 video in the metadada title where X is. After you entitle the new movie, click on Enter.
Step 4: Type the location where the VOB video is saved, and click Enter again to luanch the transform process. When the process completes, the VOB movie has been turned to MP4 successfully.
#4. Freemake Video Converter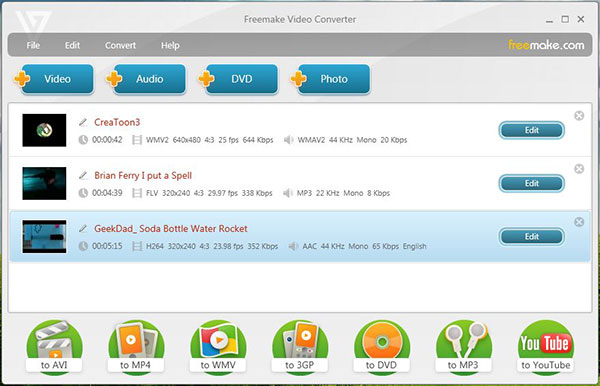 Freemake has a straight forward and instructive interface. The most important thing for this Windows video converter is its versatility. It supports 200+ video formats and has presets for iPod, iPhone, iPad, PSP, Android, etc. Also, you can use it to edit video, share photos or music to YouTube, create slideshows and make multiple DVD copies. It can also be used as a free VOB to MP4 converter.
Step 1: Open a VOB video in the main interface of AnyMP4 Video Converter Ultimate.
Step 2: Choose the video format you want to convert to, such as MP4. And then adjust the video settings.
Step 3: finally click "Convert" button to convert your VOB video to MP4.
#5. MPEG Streamclip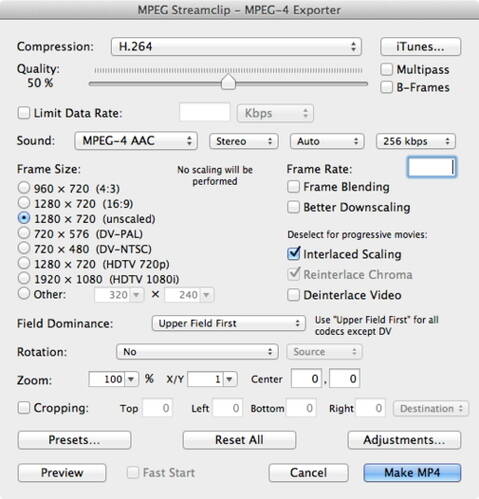 MPEG Streamclip is also included on the top 5 video converters for Windows 8. It allows you to play and open most of the movie formats that include the MPEG files. The formats can also be transported and edited with TRIM, PASTE, COPY and CUT. They can also be converted into a demuxed or muxed files and are exported to an AVI, MPEG-4, DV or QuickTime files with such professional quality.
Another good thing is that you can also import them through the use of DVD authoring tool and even use them with other devices and applications. Its supported input formats include the M2P, DAT, MP4, PS, MPEG, VOB, TS, M2T, REC, MPV, M1A, AC3, M1V, AVR, REC, MMV, AIFF, MP2, MPA, MOD, M1V and more.
Editor's Note: If you cannot use the free video converter tools to recognize VOB files, then it is possible that your VOB source is encrypted. In this case, firstly you need to confirm that: all your VOB files contained in a folder called VIDEO_TS and then And if you have done it but still cannot use Handbrake to recognize VOB files, then it is possible that your VOB source is encrypted. If you are not quite sure that you can handle with this issue, then you're recommended to adopt EaseFab Video Converter Ultimate (which can easily deal with encrypted VOB files) for help.
Part 3: Best Free Online Converter to Convert VOB to MP4
A more convenient way to convert VOB to MP4 maybe find an online solution. Here we recommend you an online tool to help you convert your VOB files without downloading any software. Convertfiles is a free online file converter. It has a lot of different source formats and supports you to convert video and audio files from one format to another (including VOB to MP4), which brings great convenience to many users.
Step 1: Search Convertfiles on Google and Log in the website.
Step 2: Upload the desired VOB file from your computer to this website.
Step 3: Select MP4 as the export format and click on convert.
You can tick the option of "Send a download link to my email". Then you will get a link after running for a few seconds.