Summary: This post shows you how to free convert VOB to MKV with Handbrake, Online, VLC, FFmpeg and EaseFab Video Converter. You can use these five methods to change VOB to MKV with lossless or high quality.
VOB is a container format commonly used for DVD-Video media so often the VOB files we see are saved in DVD Video_TS folders. Also, there are streaming VOB files online that have complete data and information for playback. Chances are these DVD VOB files, encrypted or unencrypted, pose a format incompatibility issue when you try to have them played on your Windows computer, Mac,or other platforms. In this case, converting VOB to MKV is a good choice since MKV the format that can preserve lossless or high quality and provide better compatibility.
If you are on the hunt for a feasible way to change VOB into MKV file format, you've come to the right place. In this article, we'll introduce the top five easy-to-use VOB to MKV converters that can convert VOB to high-quality or lossless MKV files that can be stored on your computer or an external hard drive.

Top 5 Programs to Convert VOB to MKV with Lossless or High Quality
1. Convert VOB to MKV with EaseFab Video Converter Ultimate
EaseFab Video Convreter Ultimate is the best VOB to MKV converter. It provides a seamless and user-friendly solution to transcode multiple DVD VOB files to MKV file format in batch with lossless or high quality. Besides MKV, it can also convert VOB videos into any other video formats, including MP4, HEVC, MOV, H.264, AVI, WMV, FLV, MP3, etc. and it offers over 500 optimized presets for various mobile devices, TVs, and web platforms.
As an all-in-one media converter, EaseFab Video Converter Ultimate can also cope with any homemade or protected Blu-ray and DVD discs, BDMV folder, Video_TS folder, ISO image files and any video files up to 4K/8K. With the support for Nvidia, Intel, and AMD GPU acceleration technologies, this program can convert VOB to MKV at super-fast encoding speed. Moreover, you're allowed to seelct the subtitle/audio tracks, add subtitles, crop, trim and edit the original VOB videos before conversion.
Now, free download and install EaseFab Video Converter Ultimate on your computer. After that, you can follow the steps below to convert VOB to MKV.
Guide: How to convert VOB to MKV with lossless or high quality using EaseFab
Step 1. Load Source VOB Files
Launch this VOB to MKV converter on your PC or Mac, click Add Video button to load your source VOB files. (Note: batch conversion is supported, so you can load more than one file to save time.)
Note: If your VOB files are in a VIDEO_TS folder folder, you can drag the whole VIDEO_TS folder directly to the program, or open the VIDEO_TS folder, and pick the VOB files one by one. There are various VOB files in VIDEO_TS folder including adverting and trailers mostly main video file with the name VT_01_1.VOB. If not, select other big files in size.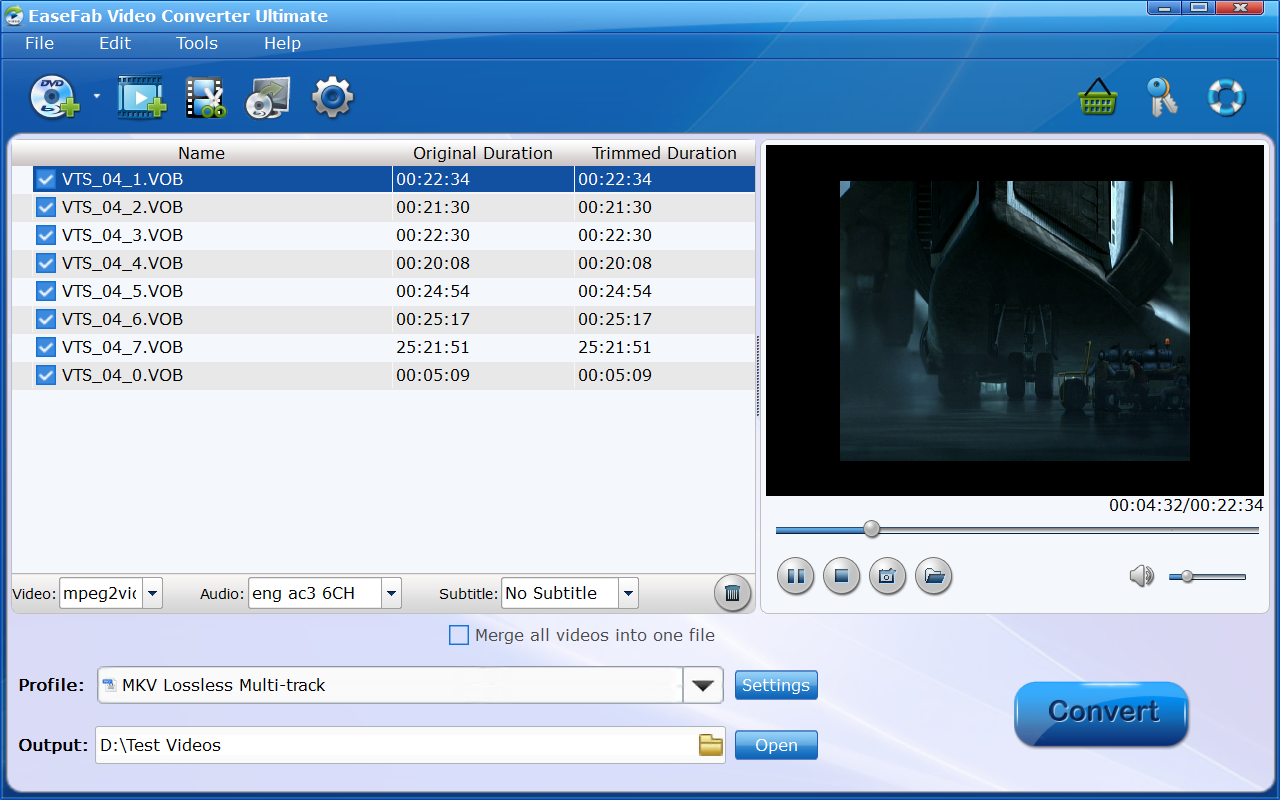 Step 2. Select Multi-track MKV or Common MKV as the Output File
You can use this software to convert VOB to a lossless or encoded MKV file. The lossless MKV file can help you keep the original quality of the VOB video while the encoded MKV can keep the high quality.
➀ Convert VOB to lossless MKV with multiple subtitles and audio tracks
Click Profile bar and move mouse cursor to Multi-track Video category and select MKV Lossless Multi-track as the output format. You can click Settings button to change the video/audio/subtitle settings.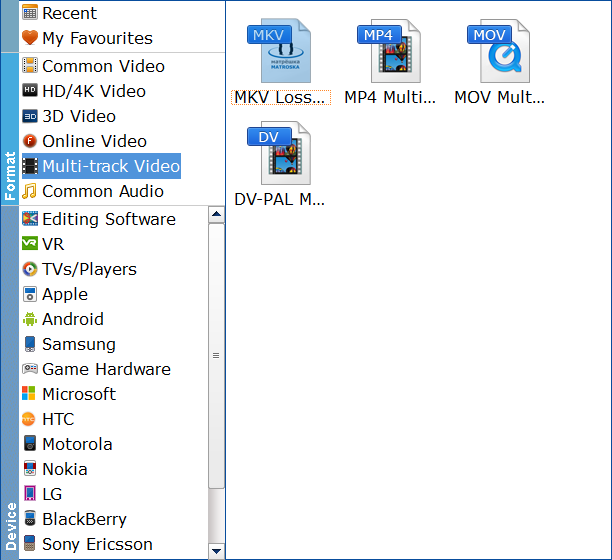 ➀ Convert VOB to common MKV file with high quality
Click Profile bar and move mouse cursor to Common Video category, here you can select MKV (codec: h.264) or HEVC MKV as the output profile.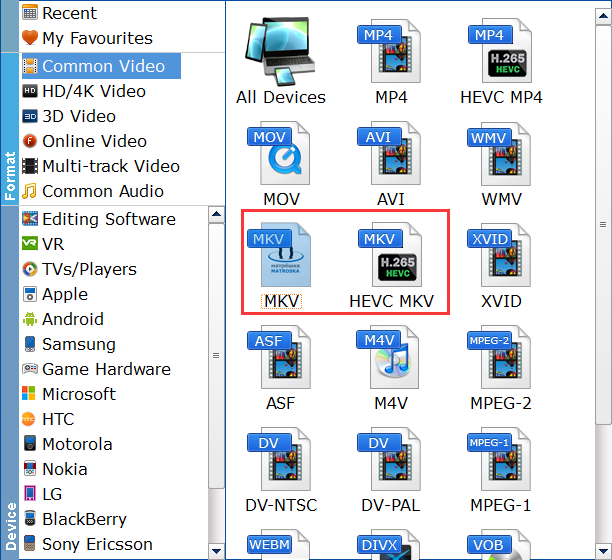 Tech details:
1. To get the best possible output quality and smallest file size, convert VOB to HEVC MKV. It has 50% smaller size at the same quality.
2. In addition to selecting HEVC MKV as the output format, flexible options are offered to further reduce the size of the encoded MP4 video. Click the Settings button beside the profile and enter into the parameter settings page. A slew of other variables such the video/audio codecs, pixel dimensions, frame rate, bit rate, audio sampel rate, etc. will help convert and compress a VOB file to a smaller MP4 file.
Step 3. Start VOB to MKV Conversion
Click the Folder button in the Output bar to select a folder to store the converted MKV video.
Finally, you can click the big Convert to start converting VOB to MKV with lossless or high quality with EaseFab Video Converter Ultimate.
2. Convert VOB to MKV Free with Handbrake
Handbrake is enormously popular as a free and open-source video transcoder software working on Windows, Mac, and Linux. It not only functions as a video converter but also a stunning DVD ripper for unprotected DVD sources. That means whether your VOB files are stored at the root of your DVD within the Video_TS folder or saved in your computer hard drive separately, Handbrake will help to transcode these DVD VOB files into MKV, MP4 or WebM format easily, as long as they are unencrypted. For CSS protected DVD VOB file, you need to install libdvdcss to do the task.
On top of that, Handbrake offers buckets of other useful features under the hood, ranging from encoding settings, adjusting frame rates, changing codecs, applying effects, cropping large video frames, etc. These features come at the cost of user friendliness to some degrees. So if you are a beginner, they may intimidate you. But with a little bit of a learning curve, you will be fond of using the video encoder.
Guide: How to transcode VOB to MKV videos using Handbrake
Step 1. Download and install Handbrake on your computer. Note: Windows 10 is the minimum version supported in Hanbdrake 1.4.0 or above. And Microsoft.Net 5 Desktop Runtime is required for successful installation.
Step 2. Click File to open a single VOB video from the computer. You can also click Folder to open more files located within the folder.
Step 3. Under the Summary tab, choose MKV from the Format drop-down list. Moreover, you can click the Video tab to further set the MKV encoder such as H.264 and H.265. You can find and select the options to customize the MKV encoding settings.
Step 4. Click Save As to set a new destination folder to save the converted MKV file. If you're converting multiple VOB files to MKV in a batch, you need to click Add to Queue on the top menu bar and select all the VOB videos.
Step 5. Next, click the Start Encode or Start Queue icon at the top side and Handbrake will start to convert the VOB videos to MKV.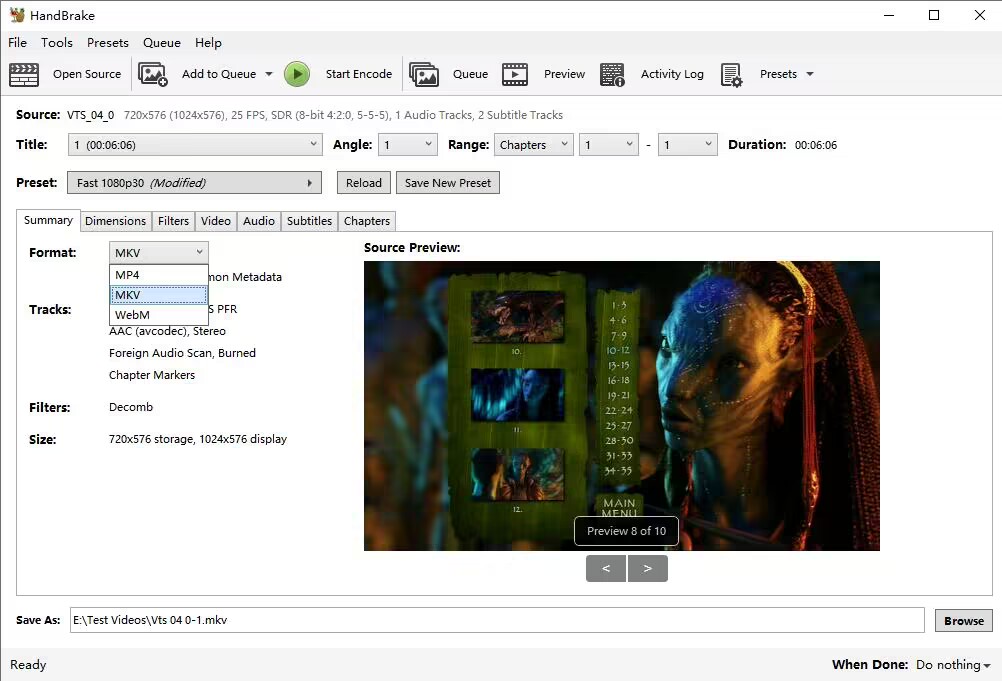 3. Convert VOB to MKV Free with VLC Media Player
As the most powerful and acclaimed media player, VLC can not only play VOB and more files lightly, but also do many video transferring jobs, including converting DVD VIDEO_TS VOBs into MKV. Although VLC is left behind by other desktop video converters in more complex steps and slower conversion speed, it's still an ideal choice if you just need to convert multiple VOB titles to MKV once in a while.
Guide: How to convert VOB to MKV using VLC
Step 1. Download, install and launch VLC media player on your computer.
Step 2. In the VLC menu bar, click on "Media" and then select "Convert/Save".
Step 3. In the "Open Media" window, select the "File" tab. Check the "+ Add" button to choose the VOB file(s) you want to convert. Then, click on the "Convert/Save" button.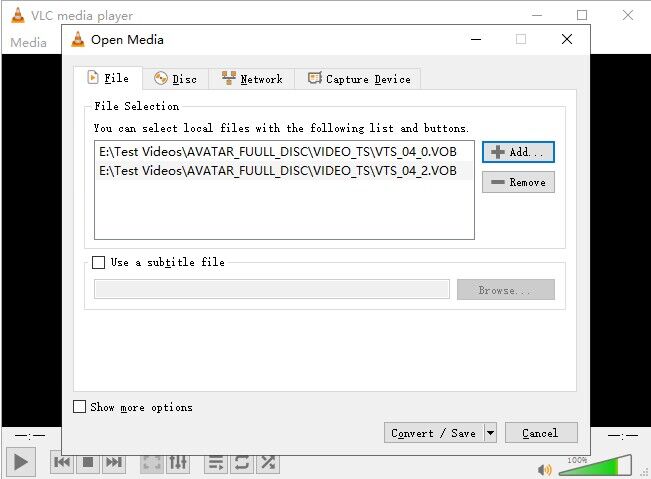 Step 4. In the "Convert" window, select the MKV format as the desired output format. If you cannot find MKV profile from the drop-down menu of Profile, click the "Create a new profile" button and then choose MKV under the "Encapsulation" tab. You can also adjust the video and audio settings if needed.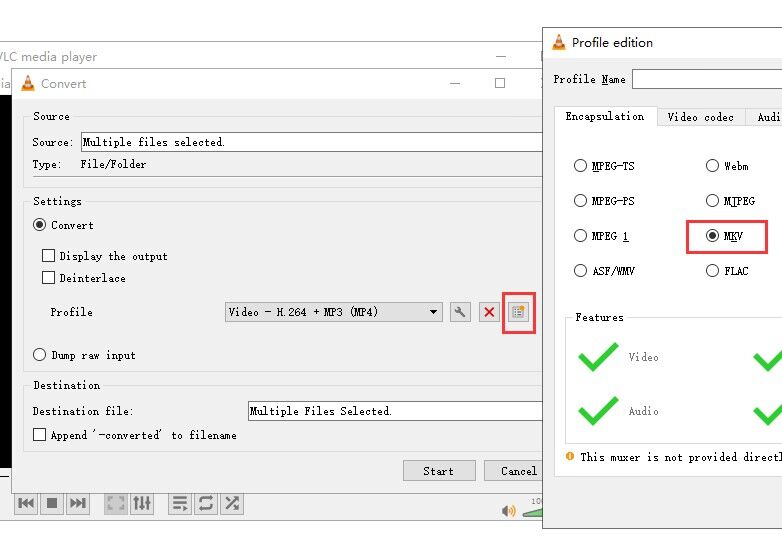 Step 5. Click on the "Browse" button next to the "Destination file" field and select the location where you want to save the converted MKV file.
Step 6. Click on the "Start" button to begin the conversion process. VLC will start converting the VOB file to MKV format.
4. Convert VOB to MKV Free Online with CloudConvert
If you don't want to download additional software on your computer, there are some online VOB to MKV converters for you. Take CloudConvert for example, this tool can help convert multiple VOB files to MKV in batch. It is totally free with limited number of conversions each day - up to 25 file conversions per day, as long as the file is no bigger than 1GB. Subscriptions starts from $9 per month for larger files and 1000 conversion minutes.
There is something specials need to be notified: CloudConvert relies on internet connection, which can be slow while uploading a VOB file, since it is nearly 1GB, reaching the max file size limit of CloudConvert. And make sure the VOB files you are going to convert is unencrypted.
Guide: How to convert VOB to MKV with CloudConvert online
Step 1. Copy and paste https://cloudconvert.com/vob-to-mkv, open it in your browser.
Step 2. Click big red Select File button, then you can upload VOB files from your local computer, Google Drive, Dropbox, or One Drive. You can add maximally 5 VOB files at a time.
Step 3. Wait for uploading and click Convert button. It will take a few minutes to turn vob files into mkv, depending on your internet connection.
5. Convert VOB to MKV Free using FFmpeg
FFmpeg is a free and open-source command line tool. It's very flexible to handle different video tasks. FFmpeg supports remuxing VOB to MKV losslessly without losing quality. It can also help you compress VOB to MKV H.264, H.265 for a smaller file size and combine multiple VOB files into one MKV video at different quality settings, encoder parameters, etc. using various FFmpeg lines. This free VOB to MKV converter is versatile and powerful but the downside of FFmpeg is the steep learning curve, which may be daunting for beginners.
Guide: How to free convert VOB to MKV using FFmpeg?
Step 1: Go to the official site of FFmpeg at http://ffmpeg.org/ and download the zip file on your computer.
Step 2: Unpack the zip filex, extract the the FFmpeg.exe and save it to the same folder where you store the VOB videos.
Step 3: In the folder where the VOB and the FFmpeg are, hold down the shift key and right-click the empty space. Select Open command window. Then you need to enter the command lines for VOB to MKV conversion and hit Enter. Below are some examples:
● Copy VOB to MKV without losing quality: ffmpeg -i your_VOB_file.VOB -c:v copy -c:a copy output.mkv
● Convert multiple VOB to MKV H.265: ffmpeg -i "concat:VTS_01_1.VOB|VTS_01_2.VOB" -vcodec libx265 new-video-h265.mkv
● Combine VOB with cat *.VOB > combined.vob then encode with ffmpeg -i combined.vob -c:v libx264 -crf 10 -vf "yadif; scale=1620:1080" -c:a aac -b:a 448k -metadata title="Movie name" converted.mkv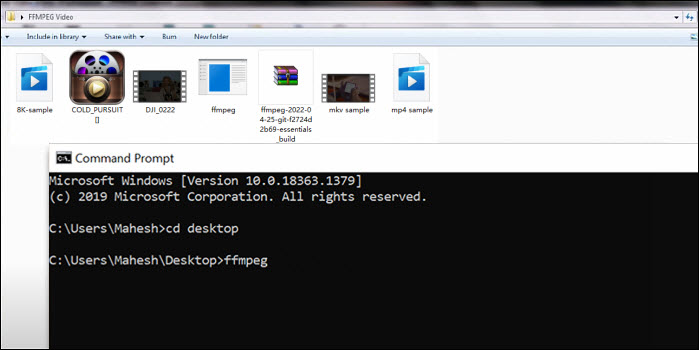 Conclusion:
Now you know how to convert a VOB file to MKV using these programs. As always, these applications have their strengths and weaknesses. If you have large VOB files to be converted and would like batch VOB file conversion, desktop programs may be you go-to solutions. If you are tired of getting and installing additional software and are on the hunt for converting a small-size VOB file to MKV only, resorting to an online way for conversion is a wise choice. But if you have some VOB files extracted from your commercial DVD disc, make sure to get a professional program with file decrypting feature.