Will a DVD Player play MOV files? When you try to do this, you'll find it's very difficult to do the job. As far as I know, DVD player may play various formats: DVD, CD, MPEG-2, Divx AVI. However, DVD player does not supoport MOV because MOV is a format with different encoders. So what is the best solution for this problem, will MOV played on DVD player nicely? Here we offer two solutions for you.
MOV is a multimedia format that is used for saving and creating video files. MOV was developed by Apple for their Macintosh systems. MOV is native to Mac's QuickTime Movie Player. As a universally accepted multimedia file, it is widely available for online downloads these days too. MOV may contain video, audio, animation, graphics, virtual reality, 3D, and text information. This file format is easily manipulated with the right software installed. MOV video files can also be used to create DVD movie discs. Once a MOV file is burned to DVD, the file can be played on any standard DVD player that has the ability to read DVD-Rs.
1. Power on your computer and launch the CD/DVD burning software. You need to have the MOV video on a disk for the CD/DVD player to read it.
2. Decide on if you want to burn CD/DVD. This may all depend on the size of the MOV video file. If the MOV video is larger than 700 megabytes you need to go with a DVD (700 megabytes is as much as a CD can hold).
3. Select either video CD/DVD on the menu of the burning software. Click and drag the MOV video into the main viewing screen of the software, title the disk and click "Burn." The burning process will begin. Depending on the size of the video file, the burning process may take a few minutes.
4. Remove the CD/DVD from the computer once it has finished burning. Power the DVD player on and insert the disk into the drive. Turn on the TV and switch it to the video setting for the DVD player.
5.Wait for the MOV video to load up on the television screen. Press the "Play" button on the DVD player to begin the playback.
Method 2. Encoding MOV to DVD Player playable format with only 3 steps
DVD player can player videos formatted in MPEG-2, DivX AVI, therefore another way to get MOV files to play on DVD player is transcode MOV to DVD Player compatible video format. To finish the task, EaseFab Video Converter is highly recommended to you. With it, you can do batch conversion from MOV, WMV, MKV, MP4, FLV, etc. to a fully compatible format by DVD player with fast encoding speed and excellent output quality. If you're using a Mac, simply turn to its equivalent Mac version - EaseFab Video Converter for Mac.
Step 1: Drag and drop MOV files to the app. Or you can click "Add Video" button to locate the MOV files you want to add. The app supports batch conversion, so you can add more than one file at a time.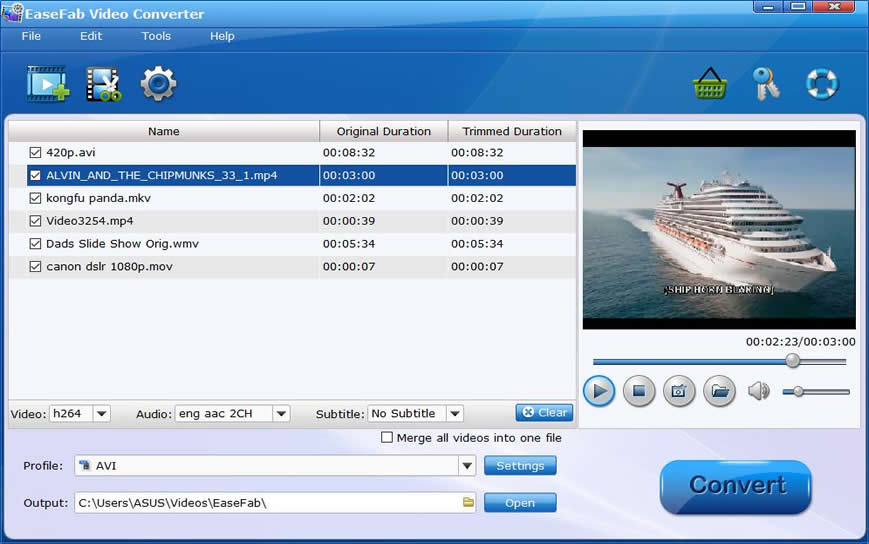 Step 2: From the drop-down list of "Profile" you can select "DIVX" from "Common Video" category as the output format. You can also choose "MPEG-2" as the output format. When you have selected the output format, you should select a destination folder for the output file by clicking "Output Folder", you can also let it be the default one.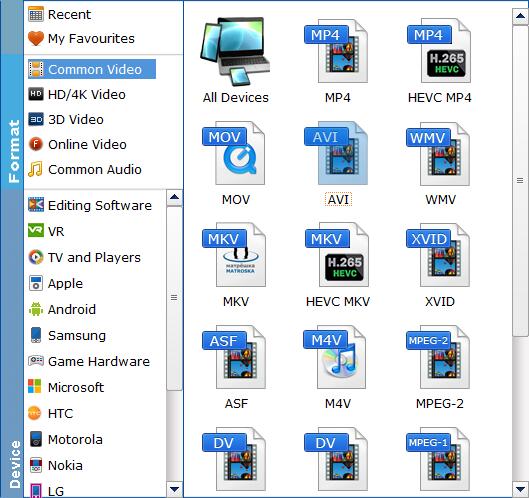 Tips: You can also click "Settings" to customize output video parameters such as video size, video bitrate, audio channels and so on depending on your needs.
Step 3: When all the work has been done, please click green arrow button to start converting your MOV files to MPEG-2 or DivX.
Once it is completed, you can click "Open output directory" to find your output DVD folder file. Afterwards, simply import converted MOV files to DVD player. At last, you can play MOV videos on DVD player at ease.