Subtitles improves the reach and the accessibility of the movies and have become an important part of videos nowadays. And if you're watching a foreign-language movie, you might have no choice but to use subtitles. Therefore, when it comes to digitizing your DVD collection, especially for foreign DVD movies, it's necessary to keep the subtitles for English or another language you speak in the DVD rips. For this purpose, this article aims to provide you an easy solution to rip DVD with preferred internal subtitles. Also we will share how to add external movie subtitles to a DVD movie and how to keep translated forced subtitles only.
Get An Easy-to-use & Efficient Program to Rip DVDs With Preferred Subtitles
There are lots of free or paid programs out there that allow us to digitize DVD discs. Most of you are likely familiar with the excellent Handbrake for ripping DVDs. However, if you try to use HandBrake to rip read-only DVDs, you will probably end in failure. Only with the help of libdvdcss, HandBrake can rip some read-only discs with CSS. But the annoying thing is that libdvdcss doesn't always work.
But it is different with EaseFab DVD Ripper, a totally clean, fast and user-friendly DVD ripper for Windows 10, 8.1, 8, 7, etc. And it has a Mac version compatible with macOS Big Sur and lower. This software is available to cope with both home-made and store-bought DVD discs without hassle. With it, you can easily rip any DVD to any videos/devices as MP4, MOV, MKV, WMV, AVI, iPhone, iPad, Android, etc. with perferred movie subtitles.
This software tool allows you to flexibly set the DVD movie subtitles in the DVD ripping process, including ripping DVD with internal desired DVD movie subtitle track (including forced subtitles), adding external movie subtitles to the DVD movie if these DVDs don't have subtitles in your native tongue, or keeping translated forced subtitles only on screen where a different language is being spoken.
How to Rip DVDs with Preferred Subtitles using EaseFab DVD Ripper
To begin with, you need to download and install EaseFab DVD Ripper Windows or Mac version on your computer. The guide below takes the Windows version for an example. Mac version has the same process.
Option 1: Rip DVDs with All Internal Desired Movie Subtitle Track
Generally, a commercial DVD always has several different built-in subtitle tracks. If you bought some French, Germany, Spanish-language DVDs which are foreign movies to you, you might want to rip these DVDs to MP4, AVI, MPEG, MOV etc yet still reserving its English subtitles to help you understand the movie, at this moment you could select English subtitle track to rip the DVD.
Step 1. Load the source DVD.
Insert the DVD disc into your computer's DVD drive and click Load DVD button to add the DVD files to the program. This powerful DVD ripper could auto analyze and detect the right DVD main title for you. You can also choose DVD ISO Image file or DVD folder as the input. All loaded files will be displayed on the left item bar. As you can see, you can preview them on the right and take snapshots of your favorite movie scenes.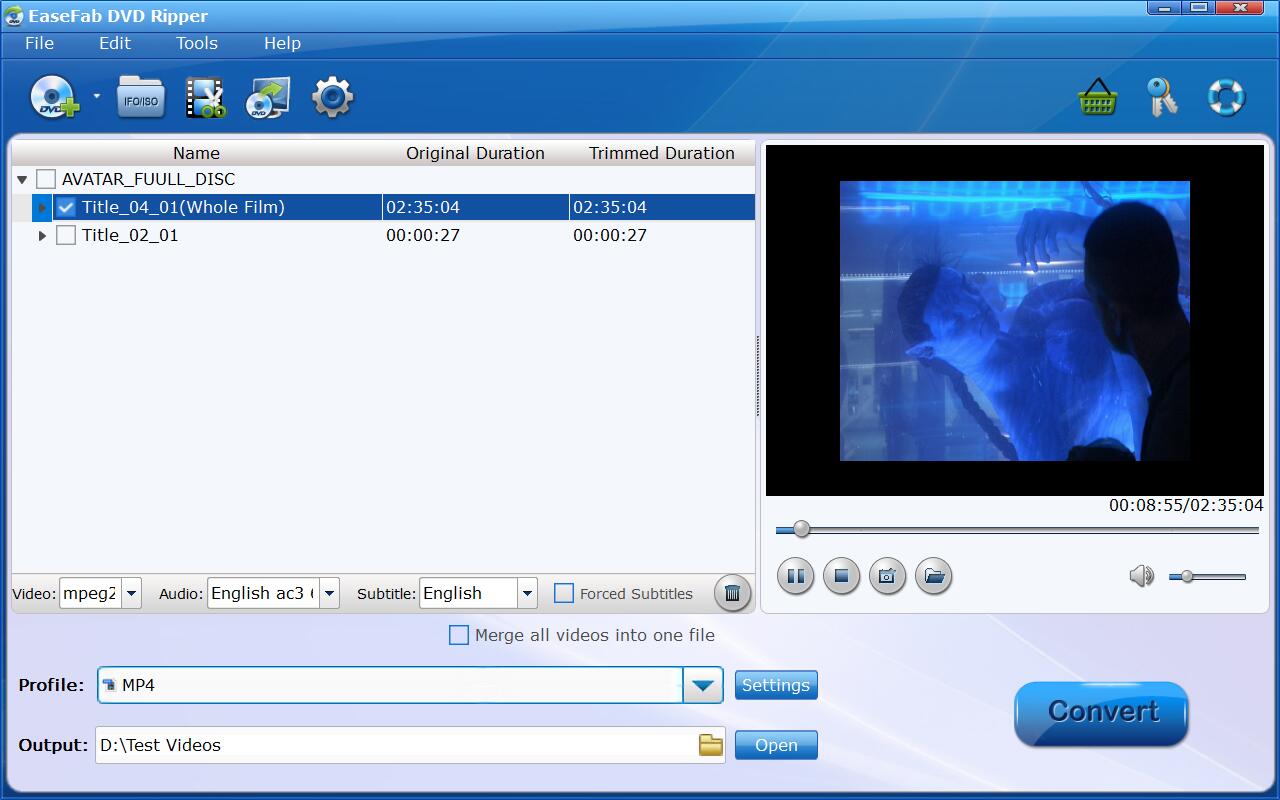 Step 2. Select an output profile.
Click Profile bar and select an output format or device profile you'd like to rip the DVD movie. EaseFab DVD Ripper offers 400+ different preset output profiles. You can select ripping DVD to MP4, MKV, MOV, M4V, iPhone, iPad, Android, etc. with subtitles.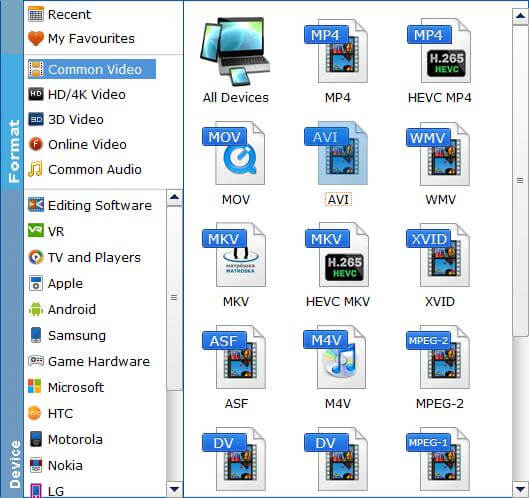 Step 3. Choose one subtitle you like.
Open the drop-down list of the subtitle column and choose one subtitle track you want. Options for you to choose: internal subtitle track such as English, French, No Subtitle (default), Add Subtitle, etc.

Step 4. Set a destination folder and start the DVD rip with subtitles.
Click the small Folder button (located in the output bar) to select a target folder to store the ripped DVD video. All things done, hit Convert button to start ripping the DVD with subtitles.
Option 2: Keep Forced Subtitle Only for Non-native Language Fragments
Some movies may include forced subtitles, which appear on screen when a foreign/alien language is spoken, or showed in a sign, location, or other text, aiming to explain the meaning but can not be placed in the dubbing. When ripping a DVD, it's directly titled "Forced Subtitle". What if you don't want the whole movie to have subtitles, but just keeps the forced subtitle only? Don't worry, EaseFab DVD Ripper can easily help you rip DVD with forced subtitle only and below are the simple steps.
1. Click "Load DVD" button to import the source DVD.
2. Choose an output format for your output video.
3. Tick off the "Forced Subtitles" option
4. Tap "Convert" button to start ripping DVD with forced subtitle only.
Option 3: Add External Subtitle to the DVD Movie
If the foreign language DVD movie do not contain any language subtitles you understand, you can download subtitles in SRT/ASS/SSA for your preferred language of the DVD movie from a safe and reliable subtitle download site (such as opensubtitles.org) and then use EaseFab DVD Ripper to add the external subtitle track to the DVD movie.
In the same way, load the source DVD disc > Select an output profile > Open the drop-down list of the subtitle column and click "Add Subtitle" to import the target .srt, .ass or .ssa subtitle file you downloaded from subtitle download site.
After that, you can have a preview of the subtitle effect to make sure all goes OK . And after all done, tap the "Convert" button to start the conversion process. For more details, you can check how to add external subtitles to the ripped DVD video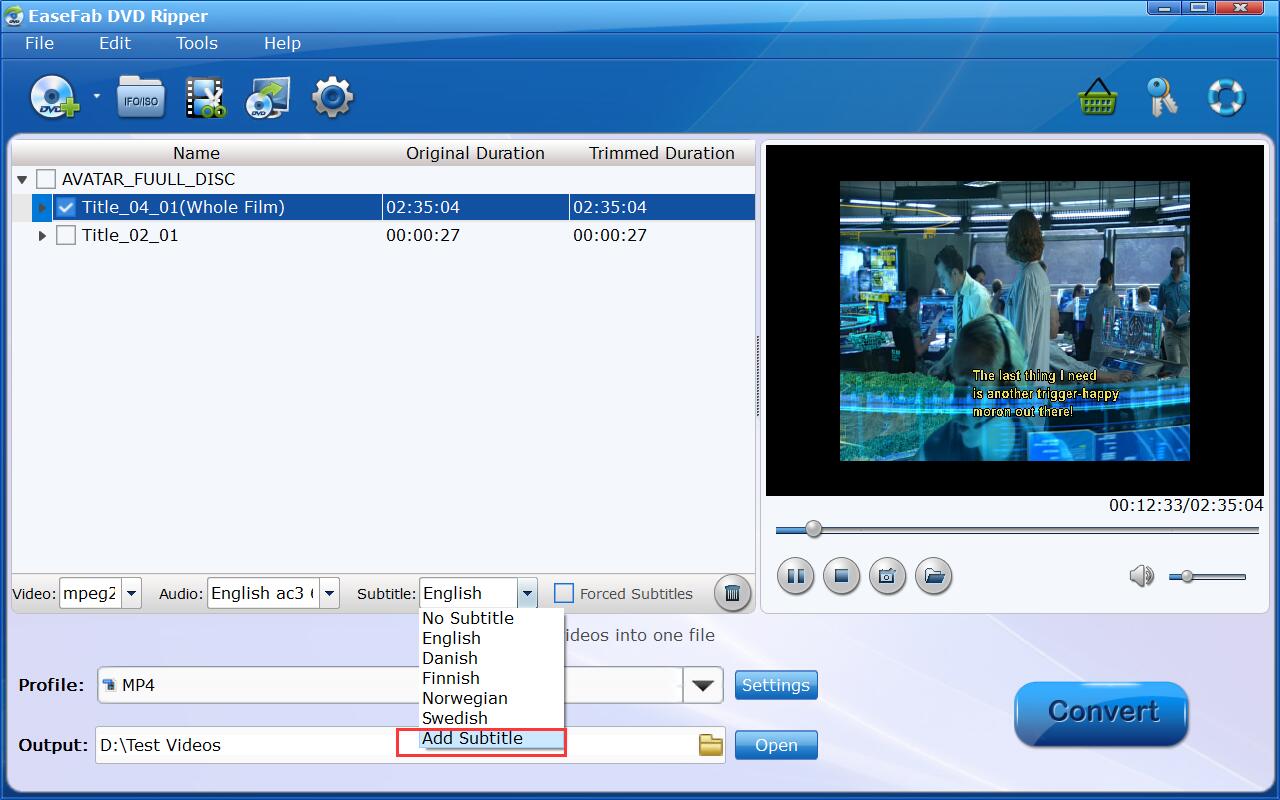 Know More about DVD/Movie Subtitles
DVD/Movie Subtitles are textual versions of the dialog or scene in DVD film videos displayed at the bottom of the screen, to have viewers understand the spoken dialogue or the signs better.
Soft Subtitle is involved in the actually DVD video, but is independent of the movie video. When ripping a DVD, it's usually titled "Track *".
Hard Subtitle, contrary to soft subtitles, attaches itself into the actual video and would always come along with the video.
Forced Subtitle appears on screen when a foreign/alien language is spoken, or showed in a sign, location, or other text, aiming to explain the meaning but can not be placed in the dubbing. When ripping a DVD, it's directly titled "Forced Subtitle".
Note: Generally, only the foreign dialogues and signs that matter the movie plot are translated in the forced subtitle.
Free Download EaseFab DVD Ripper to Decrypt DVD with Preferred Subtitles
With EaseFab DVD Ripper, you can easily select desired built-in subtitle track or add external subtitle files to the ripped DVD video Rip DVD movies. Moreover, you can rip DVDs to digital formats like DVD to MP4, AVI, MPEG, WMV, MOV, FLV, M2TS, MP3 etc., or backup DVD in 2 modes. By easily circumventing copy protection mechanisms, it makes whatever types of DVDs playable on iPhone, iPod, iPad, Android etc.